Islamophobia in India: The Hostile Treatment Against Muslims
In the diverse multi-religious and multicultural nation of India, over 204 million Muslims live in panic and fear due to the Islamophobic hate crimes committed by the followers of the extremist Indian right wing, who see Muslims as economic hardship. In addition to blaming them for crime, violence, and Islamic radicalism. 
Also Read: Religious Fascism in India & Israel: Tweedledum and Tweedledee
Overview
The Bharatiya Janata Party (BJP) has been the ruling political party of the Republic of India since 2014. This always prompted a wide-ranging debate regarding Hindutva, the religiously rooted nationalist ideology of the right wing.
Originally, Hindutva emerged as a response to British colonization, but now it evolved into a pseudo-nationalism that is constructed on otherization and the superiorization of Hindus as the archetypal Indian citizens to other identities in India.
Also Read: Why Is Indian PM Modi's Silent About Attacks Against Muslims?
For the purpose of establishing a state dominated by Hindus, Hindutva targets all minority groups in India, including Dalits, liberals, Christians, and feminists. However, Muslims bear the biggest brunt of this hostility as they represent 15% of the Indian population, second only to the greater 80% of Hindus. Additionally, Hindutva views Islam and Muslims as foreign, violent, and hostile to Hindus as well.
Also Read: Hindutva Pop: Anti-Muslim Music in India 
The BJP has always instilled a deep sense of Hindu victimhood in Hindus, all while stoking the otherization of Muslims through fake news, hate speech, reopening old religious wounds, manipulating a servile media, suppressing progressive voices, and empowering Hindu supremacist vigilante groups.
Islamophobic Governmental Speech and Actions
Islamophobia has always been present in India's far-right Prime Minister Narendra Modi's speeches. In December 2021, he made connections between Muslim figures from India's distant history and current-day "terrorism and religious extremism" in two of his public speeches, implying that India's Muslims should be held responsible and punished for the alleged crimes committed by their "ancestors".
Islamophobia is not only present in his speeches, but also his actions. At the approval of the Prime Minister, the Citizenship Amendment Act Bill was passed in the Indian parliament back in 2019. The CAA Bill enshrines a pathway to citizenship for immigrants including Hindu, Sikh, Jain, Buddhist, Christian or Parsi immigrants, but specifically excludes Muslims, which in itself sets a legal criterion for citizenship based on religion. 
Also Read: Racism – An integral part of India
This plain systematic discrimation was justified by Modi's government by arguing that they are only attempting to help non-Muslims who experience religious persecution in Pakistan, Bangladesh, and Afghanistan, by allowing them to stay in India, and that Muslims are the predominant population in those countries.
On that matter, the Indian Home Minister Amit Shah, declared back then that, "Not one refugee will have to leave. And we will not allow even one infiltrator to stay back." Modi's closest aide did not try to hide nor imply the Islamophobia in his declaration, as he so blatantly demonized Muslim immigrants and asylum seekers by calling them "infiltrators".
Also Read: 2 Billion Muslims must send a Stern warning to India's Nazi-like government to stop its anti-Islam discourse
On another occasion for hostile Islamophobic speech by politicians in power, Anil Bhanot, the Hindu Council UK director who refers to himself as "Hindutva", called Islam a 'violent religion,' described Muslims as 'Shaitans', and called Islamophobia 'a weapon of good able human beings' on his Twitter account. And while the Secretary General of the Council condemned Bhanot's social media posts and assured that it does not represent their office, no further actions seem to have been taken against Bhanot who remains a director and trustee.
In a similar Islamophobic manner, at a conference in India back in January, Pooja Shakun Pandey, a senior member of the right-wing Hindu Mahasabha political party, called on her supporters to annihilate Muslims and "protect" the country.
Her exact words were, "If 100 of us become soldiers and are prepared to kill 2 million (Muslims), then we will win … protect India, and make it a Hindu nation." 
Also Read: Global Condemnation Of India Over Anti-Islam Hate Speech
Such clear dehumanization of Muslims and incitement of violence against them was not met by any international rage.
Additionally, back in December 2021, Hindu monk Yati Narsinghanand Giri and several other Hindutva supremacists had called for violence against Muslims at a religious conclave held in the city from Dec 17 to 19. had called upon Hindus to pick up weapons, asserting that the "economic boycott" of Muslims will not work.
He was arrested on January 15th, and was granted bail on February 7th.
The Banning of Hijab in Schools
One of the most recent discriminatory actions against Muslims is the Karnataka High Court banning Hijabi girls from attending classes on the grounds that the hijab was not part of the school uniform. An article on the matter was published on our site, you can read it here.
Many heartbreaking scenes from Karnataka of girls pleading at the gates of schools, as they are turned away and denied dignity and education because of their headscarves are going viral on the internet, including this video.
Ban on Muslim Traders
The mistreatment of Muslims in Karnataka does not stop there. Following the hijab verdict in the state, temple administrations imposed a new law that stipulates that Muslim traders and vendors cannot pitch their stalls at the annual fair of Bappanadu Durgaparameshwari Temple near Mangaluru district. Posters barring Muslims –or non-Hindus– are now popped up in various temples across Karnataka.
Also Read: Islam in India: Then and Now!
Multiple political figures have stood up against this discriminatory law, including the Kerala Pradesh Congress Committee's spokesperson, Lakshmana, who claimed that the global reputation of Karnataka is at an all-time low currently due to its Islamophobic actions.
He commented further on the issue and said, "The very development of prohibiting Muslim traders at Hindu festivals and fairs has brought a shame to Karnataka at the global level. Hundreds of thousands of Hindus are working at Islam countries. If the Muslims boycott Hindus, lakhs of people will lose jobs. Who will give jobs to them?"
The Impact of the Kashmir Files
The Hindu ultra nationalist BJP-supported movie, the Kashmir files which talks about the exodus of Hindus – the Pandits – from India administered Kashmir during the early 1990s stands guilty to fuel the decades-long feud between Hindus and Muslims.
The movie is accused of stoking Islamophobic/Hindutva propaganda through historical revisionism, inexact storytelling, and weaponization of hatred against Kashmiri Muslims all with the purpose of legitimizing their violence.
Also Read: The Kashmir Files: Is India Hiding Inconvenient Truths
Putting aside the ongoing debate of whether the movie is accurate or not, the most concerning outcome is the hostile response of the Hindu extremists who are currently encouraging violence against Muslims. This video of a Hindu extremist monk spouting hatred against Muslims and urging Hindus to pick up weapons in a cinema theatre showing the aforementioned movie speaks the loudest about the movie's harmful, intended impact.
Hate Crimes Committed Against Muslims
All the pointed-above hate speeches were a mere call-to-action sort of invocation to Hindus to commit hate crimes on Muslims, including:
Genocide Watch began warning of genocide in India in 2002, when a three-day violent inter-communal religious riot tore through Gujarat and resulted in the killing of more than 1,000 Muslims.
In 2020, Fourteen Delhi mosques were burnt by Hindutva vigilantes in three days.
In the first half of 2019, Amnesty International recorded 37 attacks that were directed towards Muslims.
Also Read: Will the second most horrible Holocaust in history take place against the Muslims of India?
Aakar Patel, the former head of Amnesty International India commented on the issue and stated that "The pattern of hate crimes committed against Muslims with seeming impunity – many of them in states where the Bharatiya Janata Party is in power – is deeply worrying. Unfortunately, both the Prime Minister and various Chief Ministers have done little to show that they disapprove of this violence."
In November, Hindu hardliners set fire to the home of a Muslim former foreign minister, Salman Khurshid, who had compared the kind of Hindu nationalism that has flourished under Modi with "extremist groups" such as ISIL (ISIS).
on Dec 31, 2021, Indian Express, one of the leading newspapers of India, carried an Islamophobic ad on their front page.
On January 1, photographs of more than 100 Muslim women appeared on an app called Bulli Bai, with the claim that they were "for sale as maids". Prominent journalists, actresses and activists were among those who were targeted.
Following The Kashmir Files movie, a Kashmiri man was denied accommodation at Delhi Hotel, despite providing ID and other documents.
Experts have warned that this religion-tied community violence could lead to a rampant genocide throughout India. Yet, many influential and "democratic" nations that display themselves as international protectors of human rights are refraining from condemning crimes against religious minorities in India and are opting instead to protect their own interests.
Crime Against Humanity Under BJP Regime – Manipur Violence Explained
On May 3, 2023, the northeastern state of Manipur in India experienced severe ethnic violence involving the Meitei community living in the Imphal Valley and the Kuki tribal population residing in the nearby hills.
The horrific incident led to 181 fatalities, with over 300 people injured. The ongoing violence has forced over 55,000 residents displaced from their homes. And even after months, the situation remains critical, with communities in distress and an urgent need for help.
But what lead to the Manipur violence? How are the authorities dealing with the situation? And is there an end in sight?
Manipur Violence: A Brief Overview
In early May, tensions flared between the two major residential groups of Manipur – the Meitei and Kuki tribal communities, after a court ruling favoring the Meitei group was passed. Students from the Kuki community began protesting.
The ruling allowed Meiti population the right to buy land in the hills and secure reserved government jobs. These privileges escalated tensions.
To ease the initial tension, New Delhi sent thousands of paramilitary and army personnel to the region (with a population of 3.2 million). But, even with this action, sporadic violence and killings started again shortly after. Thus fueling further unease in the northeastern state.
But while the protests have been going on since May, the world's attention turned to Manipur when a video showed the distressing molestation of two women surfaced on the internet.
The blood-curdling incident prompted Prime Minister Narendra Modi to address the ongoing violence – marking his first public remarks on the matter that had persisted for months.
On May 3, 2023, ethnic violence shook the northeastern state of Manipur in India. The conflict pitted the Meitei community of the Imphal Valley. It is against the Kuki tribal population residing in the nearby hills.
The toll was immense, with 181 lives lost, over 300 injured, and a staggering 54,488 people displaced from their homes by July 29th. Today, the situation remains more dire than ever – leaving communities in distress and in urgent need of help.
Manipur Violence: The Video That Shook the World
On July 19, a disturbing video spread online. It showed two Kuki women, one in her forties and the other in her twenties, facing terrible mistreatment by a mob of men from the Meitei community.
These men stripped, paraded the women naked on the streets, and even assaulted them. The women were taken from a police station while trying to escape from a violent mob attack.
And while the violence in unfolding in Manipur, the state government was busy lauding trips to destinations. They are traveling to places like the USA, Dubai, and Egypt, then tackling Manipur's problems.
Their attention also extends to many international matters. It includes the Ukraine-Russian conflict, commendations for world leaders, and managing controversies like Mahagathbandhan and Adani scam. It's shocking to know that, despite the complaint being filed, the police didn't take any action for over two months until the video came out.
Government's Internet Limitation
On July 20, Manipur's Chief Minister Biren Singh explained why they limited internet access in the state. The Union government also asked social media platforms to take down posts with the upsetting video. The Supreme Court responded to the video, saying they'd step in if the government doesn't handle things immediately.
Media reports revealed that the National Commission of Women (NCW) was aware of the incident, having received a complaint in June. However, Manipur authorities did not respond despite forwarding the complaints many times – disclosed the chairperson of NCW.
It was only after the video went viral and the pressure from international media surmounted the authorities they acted on the complaint by arresting event culprits.
Why does the BJP Government have Nothing to Say?
To put it, the BJP government's efforts to bring peace to Manipur seem to be ineffective. While the BJP government says they've controlled the police and Rapid Action Police forces, Manipur still deals with ongoing unrest.
A solution doesn't seem to be in sight. It appears that the government is ignorant of this matter. If the video of those two women had not gone viral, the government would have brushed it under the rug and suppressed the issue. It seems like the government is more interested in hiding the truth behind this turmoil. It raises suspicions that there might be some hidden conspiracy at play behind the government's silence.
The BJP government is currently in power in Manipur, and so far, there have been no significant changes in the Chief Minister's approach. Even though Manipur is home to Olympic champion Mary Kom, who is also associated with the BJP government, she made an appeal to the state and the central government, led by Prime Minister Modi, through a video that has fallen on deaf ears.
The government puts more emphasis on lauding trips to destinations such as the USA, Dubai, and Egypt. Also their attention also extends to international matters like the Ukraine-Russian conflict, commendations for world leaders, and managing controversies like Mahagathbandhan and Adani scam. This suggests they're more invested in these matters and less attentive to pressing concerns in Manipur.
What is the Current Situation in Manipur, and What Will Happen Next?
The current situation in Manipur is horrifying. People are living in fear, facing violence, and being looted. The fresh violence on 5th, August claimed 5 lives in Manipur. The districts of Bishnupur and Churachandpur, located nearby, witnessed intense gunfire and incidents of arson throughout the day, despite the presence of a significant number of central security forces, including the army.
Among the casualties were three Meitei men who were brutally beaten to death in their homes while they were sleeping. Moreover, a clash occurred between tribal hills and Meitei valleys, resulting in the tragic loss of two Kuki village guards. The region continues to be extremely unstable, presenting major difficulties in upholding peace.
Yet, Manipur seems cut off from the rest of the world as internet services have been shut down, and curfews are enforced, making it a dire situation.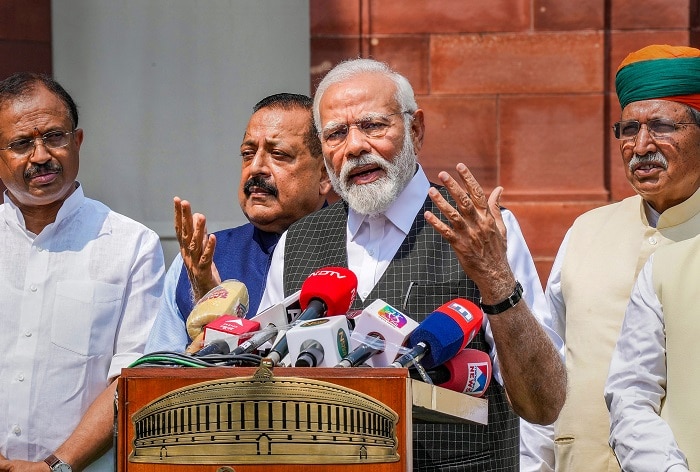 Prime Minister Modi's recent trip to France sparked criticism from the European Parliament. They voiced concerns about the government's policies promoting Hindu nationalism. But, the Indian government, including PM Modi, brushed aside these criticisms. They considered them meddling in the nation's internal affairs.
The situation in Manipur is extremely dire, with incidents of armed looting by both the police and military personnel. They have seized automatic guns, pistols, grenades, and even bulletproof jackets. It appears that the BJP government has no genuine intention of restoring peace in Manipur.
To improve Manipur's situation now and in the future, India's Supreme Court must step in, and global voices should highlight the issues. Urgent measures are necessary to avoid the situation worsening and spreading across the country, akin to incidents in Haryana and Uttar Pradesh.
India: Rise in Police Encounters in UP Under Yogi Adityanath's Leadership
Since Yogi Adityanath assumed office as the Chief Minister of Uttar Pradesh in 2017, the state has witnessed a significant rise in the number of police encounters, sparking intense debate and concerns over human rights violations and extrajudicial killings. While the government argues that these encounters are a necessary tool to combat crime, critics and human rights organizations contend that they raise serious questions about due process, transparency, and the rule of law.
Under the leadership of Chief Minister Adityanath, Uttar Pradesh has experienced a surge in reported encounters between the police and alleged criminals. These encounters often involve suspects in cases ranging from organized crime to petty offenses. The encounters typically result in the death of the alleged criminals, with the police claiming self-defence or retaliatory action.
An investigation of police records by The Indian Express reveals that since March 2017, when Yogi Adityanath took charge, and till date, the state has witnessed 186 encounters. This works out to more than one alleged criminal being killed by the police every 15 days.
Also read, The Appalling State of Muslims in post-colonial India
Supporters of Police Encounters
Supporters of these encounters argue that they have contributed to a decrease in crime rates and instilled a sense of safety among the public. The government points to statistics showing a decline in major crimes as evidence of the effectiveness of this approach. However, critics remain skeptical about the veracity of these claims and emphasize the need for a thorough and impartial investigation into each encounter.
Read here, "The Kerela Story" Controversy in India
Human Rights Organizations on Police Encounters
Human rights organizations and activists have raised serious concerns regarding the legality and propriety of these encounters. They argue that extrajudicial killings erode the foundations of a democratic society and undermine the principles of justice and fairness. These encounters bypass the judicial process and deny individuals their right to a fair trial, potentially leading to the abuse of power and the violation of human rights.
Also, read India Ranks 161st in Terms of Journalistic Freedom- RSF
Self-defence Claims on Police Encounters
There have been allegations of encounters being staged or manipulated to fabricate self-defense claims. Concerns have also been raised about the lack of transparency surrounding the circumstances of these encounters, with limited independent oversight or mechanisms to ensure accountability. Such issues further erode public trust in law enforcement agencies and the justice system.
Read here, Muslim OBC Reservation scrapped by BJP government of Karnataka
The Uttar Pradesh Government on Police Encounters
In response to mounting criticism, the Uttar Pradesh government has defended the encounters as necessary in the fight against crime and asserts that all encounters are conducted within the framework of the law. They emphasize that these operations are carried out to protect the safety and security of the citizens. However, the lack of independent investigations and public scrutiny has fuelled scepticism and calls for greater transparency.
Also, read India- The Killing of Gangster-Turned-Politician Atiq Ahmad
The Rise in Police Encounters
The rise in police encounters in Uttar Pradesh under Chief Minister Adityanath's tenure has drawn attention not only within India but also internationally. Human rights organizations, including Amnesty International and Human Rights Watch, have expressed concerns about the pattern of extrajudicial killings and the potential violation of human rights. They have called for independent investigations into these encounters to ensure that the principles of justice and human rights are upheld.
Critics argue that a comprehensive approach to law enforcement should prioritize measures such as professional training, intelligence-led operations, and an efficient and impartial judicial system. Strengthening these areas would provide a more sustainable and accountable framework for crime control while preserving the fundamental rights of all individuals.
Balancing the need for effective law enforcement with the protection of human rights and the rule of law remains a significant challenge. It is essential for the Uttar Pradesh government to undertake measures that address these concerns, ensure transparent and independent investigations into encounters, and establish mechanisms for accountability.
The police encounters in Uttar Pradesh since Chief Minister Yogi Adityanath assumed office have ignited a contentious debate over the methods employed in combating crime. Striking the right balance between security and the protection of individual rights is crucial for the state to foster a safe and just society. Upholding the principles of due process, transparency, and accountability will be key to restoring public trust and upholding the rule of law in Uttar Pradesh.
In recent developments, the controversial rise of police encounters in Uttar Pradesh has gained further attention and sparked renewed discussions about the need for accountability and transparency.
Also, read UN Defender Demands End to Crackdown on Kashmiri Activists
Civil Society and Human Rights Advocacy
Civil society organizations and human rights activists have been vocal in their condemnation of extrajudicial killings and the lack of accountability in encounters. They have continued to raise awareness about the issue through campaigns, public awareness programs, and legal advocacy. These efforts have played a significant role in keeping the issue in the public spotlight and demanding justice for the victims.
Read here, The Saudi-Iran Deal and its Implications
International Attention
The issue of encounters in Uttar Pradesh has drawn international attention. Human rights organizations and foreign governments have expressed their concerns over extrajudicial killings and violations of human rights. The international community has called for independent investigations and accountability, urging the Indian government to uphold its international obligations and protect the rights of all individuals.
While the recent developments indicate a growing recognition of the need for accountability and transparency in encounters, there is still much work to be done. It is crucial for the Uttar Pradesh government to take concrete steps to ensure independent and impartial investigations into encounters, establish mechanisms for accountability, and provide support to victims' families.
Addressing the root causes of crime, improving the professionalism and training of law enforcement agencies, and strengthening the judicial system are essential components of a comprehensive approach to law enforcement that respects human rights and upholds the rule of law.
The ongoing discussions, judicial interventions, and advocacy efforts are crucial in holding authorities accountable and bringing about systemic reforms. Only through a collective commitment to justice, transparency, and the protection of human rights can Uttar Pradesh strive towards a society where the rule of law prevails and the rights and dignity of all individuals are safeguarded.
Also, read Festival turns bloody after Hindutva Mob Burnt Centennial Mosque
Lack of Accountability
Critics argue that the government has failed to hold law enforcement officials accountable for their actions in encounters. The absence of independent and impartial investigations into these incidents has created an environment where impunity prevails. Without proper scrutiny and consequences for wrongdoing, there is little deterrent to prevent potential abuses of power.
Read here, Dehumanizing Representation of Tribals and Muslims in the Oscar fame RRR
Insufficient Reforms
While the government has established commissions or committees to examine select encounters, critics contend that these efforts are piecemeal and lack comprehensive reforms. There is a need for systemic changes that address the root causes and structural issues surrounding encounters, such as inadequate training, biased policing, and the absence of transparent protocols.
Also, read Pro-Khalistan Activist Amritpal Singh declared fugitive- What is happening in "India's Bread Basket" Punjab?
Lack of Transparency
Transparency is a crucial aspect of any democratic society. However, critics argue that the government has been reluctant to provide clear and detailed information about encounters, making it difficult to assess their legitimacy. The absence of publicly available data, including information about the number of encounters, the identities of the victims, and the circumstances leading to their deaths, hampers efforts to ensure accountability and justice.
Read here, India: Violence Against Women on Holi Reeks of Communal and Racial Tensions
Scepticism of Official Narratives
There is widespread scepticism among critics regarding the official narratives presented by law enforcement agencies in encounters. The claims of self-defence or retaliatory action are often met with doubts, given the lack of independent verification and the pattern of encounters being used as a means to eliminate alleged criminals without due process.
Also, read Demolition Drives in Kashmir- Is India following the Israeli Model in Kashmir?
Failure to Address Root Causes
Critics argue that encounters, as a response to crime, are a superficial approach that fails to address the underlying causes of criminality. They believe that the government should focus on comprehensive measures such as strengthening community policing, improving socio-economic conditions, and reforming the judicial system to ensure a more effective and sustainable approach to crime prevention.
Read here, Sopore Massacre 1993- When 57 Civilians Were Killed in Kashmir
The absence of robust action on the part of the current government has led to a growing sense of frustration and disillusionment among human rights activists, civil society organizations, and concerned citizens. They argue that addressing the issue of encounters requires proactive measures, including impartial investigations, reforms in law enforcement practices, and transparency to ensure justice for victims and uphold the rights of all individuals.
Manipur Violence Sparks Debate in Indian Parliament
For the past few days, India's Parliament is unable to function properly. The opposition has been pushing for a debate on the violence in Manipur under relevant rules of the parliament proceedings. However, the ruling BJP party has been refusing the opposition's request. As a result, the Indian lawmakers have not been able to carry out much business in the parliament. People have raised questions about the losing credibility of the parliament.
Also, read Modi Bats for Uniform Civil Code in India
Manipur Violence
Since May this year, Manipur has been engulfed in ethno-religious violence. The violence erupted on May 3 after a 'Tribal Solidarity March' was organised in the hill districts to protest against the Meitei community's demand for Scheduled Tribe (ST) status. More than 160 people have been killed in the violence so far. The government has imposed curfew in the state.
Read here, Modi Visits US Amidst Human Rights Criticism
GOI avoiding accountability on Manipur violence
While the law-and-order machinery in the state has broken, the state government has largely avoided accountability for the Manipur violence. Further, people at the helm of affairs in Manipur, including police have played partisan role in the violence. There are reports of police officers of one ethnic community inflicting violence against members of the other community. Reports and videos of sexual violence coming from Manipur this week shocked India except for the ruling party. There had been efforts to suppress the reports and videos of Manipur sexual violence. Despite attempting to delete the video clips from phones and internet ban in the state, the videos somehow went viral on social media.
Also, read Pakistan Establishment's Move Against Imran Khan and PTI
Opposition parties on Manipur violence
Given the gravity of the situation, various opposition parties in India had called for the resignation of the state government. The state government however continues to ignore these calls. Similarly, Prime Minister of India, Narendra Modi has not spoken a word on the issue. During these three months, Modi has attended various rallies and functions and spoken a lot about the achievements of his government, but Manipur does not seem to exist for him.
Read here, Karnataka Elections: Setback for Modi
Modi not attending parliament on Manipur violence
Modi has also not attended the parliament to talk about Manipur violence. He has been absent from the parliament. The opposition demanded his presence in the parliament to debate and discuss on Manipur. However, the ruling government has rejected the opposition demands. Even though the government agreed to have a short discussion on Manipur, it wanted to do it without the presence of Modi.
Also, read India's Opposition Leader Rahul Gandhi Disqualified
GOI's whataboutery on Manipur violence
One of the horrible things that was witnessed in parliament recently was the ruling government resorting to whataboutery. When the opposition demanded a discussion on Manipur sexual violence, the members of ruling party, including Minister for Women and Child Development, Smriti Zubin Irani resorted to whataboutery. If the opposition wants to discuss Manipur sexual violence, the ruling government wants to discuss sexual violence in opposition-ruled states. However, opposition members argued that while sexual violence against women was happening in other states, the sexual violence in Manipur had a genocidal intent.
Meanwhile, opposition leaders asked the Upper House to suspend all other business and take up the discussion on Manipur. Rajya Sabha chairman Jagdeep Dhankhar did not allow the discussion and rejected the demands for PM's presence in the House.
Read here, India Government Unleashes Bulldozer in Kashmir
Opposition parties demand discussion on Manipur violence
Aam Aadmi Party (AAP) Raghav Chadha cited an example from Congress days when the chairman had suspended all other businesses to take up the issue of attacks on migrants from Northeast. Manipur is one of the states located in the Northeast. The people from Northeast are discriminated and attacked in the mainland India. During the Covid-19 pandemic, there were various reports of violence on migrants from Northeast states.
"The images of brutality and monstrosity coming from Manipur have shaken the soul of India to its core. Is this India of 21st century? Is this the New India of which the prime minister sings paens across the world? Did the people of Manipur vote for this?" Chadha said.
"The ministers of BJP tweet if there is a small earthquake anywhere from Pakistan to Kazakhstan. And now when Manipur is burning, these people are not even bothered. The cries of Manipur have reached every corner of the world, but not the corridors of power in Delhi," he added.
Also, read BBC's Modi Documentary Rattles Modi Government
Indian parliament over Manipur violence
The way the current regime has handled parliament proceedings has made parliament a joke. The opposition is not being heard in the parliament. The only function of parliament for Modi's party is to pass bills and make laws conveniently with the help of its brute majority. The government does not want any inconvenience. It does not want discussion on anything inconvenient. The opposition can either toe the line or they can shout and stage a walk-out. However, the government will not concede, and it will do what it wants to do. One wonders what the function of the opposition in India's parliament is today. Currently, it seems it has none.
Read here, Turkey-Israel Relations: Erdogan is Using the Palestinian Cause for Electoral Gains