India Ranks 161st in Terms of Journalistic Freedom- RSF
On Wednesday, May 3, Reporters Without Borders (RSF) published the 21st edition of its World Press Freedom Index, and it was unfavourable for India. India has lost 11 places from 2022, when it was ranked 150, to 161st in terms of journalistic freedom. The index ranked 180 countries. Reporters Without Borders (RWB; Reporters sans frontières; RSF) is a worldwide non-profit organisation that has as its stated goal defending the right to freedom of information. According to its advocacy, everyone must have access to news and information, in accordance with Article 19 of the Universal Declaration of Human Rights, which recognises the right to receive and share information without regard to national boundaries, and other international human rights treaties.
The embarrassing score of India, according to critics, demonstrates rising hostility and pressure on journalists in India. India is now one of the 31 nations that RSF considers to have "very serious" journalistic conditions. According to the report from Reporters Without Borders, a group that assesses the conditions for journalism worldwide, press freedom in India has gone from "problematic" to "very bad,".
"The situation has gone from 'problematic' to 'very bad' in three other countries: Tajikistan (down 1 at 153rd), India (down 11 at 161st) and Turkey (down 16 at 165th)," said the report released on Wednesday, celebrated globally as World Press Freedom Day.
Also, read India- The Killing of Gangster-Turned-Politician Atiq Ahmad
Methodology of RSF
RSF has consultative status with the International Organisation of the Francophonie, the Council of Europe, the United Nations, and UNESCO.180 nations are included in the index, which rates conditions for journalists. From 0 (worst) to 100 (best), the five "contextual indicators" on which countries are assessed by RSF now replace the seven categories that it used to rate nations until 2021. With a total of 117 questions and sub-questions, these are the following contextual indicators: political context, legal framework, economic context, sociocultural background, and safety.
Following the compilation of the indicators, the countries are divided into five categories: good situation (85–100 points), satisfactory situation (75–85), problematic situation (65–75), difficult situation (45–65), and very serious situation (below 45). India has scored in the last category. According to the report from RSF, press freedom in India has gone from "problematic" to "very bad,". Therefore, India ranks 161st in terms of journalistic freedom.
Read here, Pro-Khalistan Activist Amritpal Singh declared fugitive- What is happening in "India's Bread Basket" Punjab?
The Remarks of RSF on India
In its opening remarks about why India has been classified this way, RSF states, "The violence against journalists, the politically partisan media and the concentration of media ownership all demonstrate that press freedom is in crisis in "the world's largest democracy", ruled since 2014 by Prime Minister Narendra Modi, the leader of the Bharatiya Janata Party (BJP) and the embodiment of the Hindu nationalist right."
The RSF draws attention to a number of grave issues with India's media environment, one of which is ownership concentration:
"…the abundance of media outlets conceals tendencies toward the concentration of ownership, with only a handful of sprawling media companies at the national level, including the Times Group, HT Media Ltd, The Hindu Group and Network18. Four dailies share three quarters of the readership in Hindi, the country's leading language. The concentration is even more marked at the regional level for local language publications such as Kolkata's Bengali-language Anandabazar Patrika, the Mumbai-based daily Lokmat, published in Marathi, and Malayala Manorama, distributed in southern India. This concentration of ownership in the print media can also be observed in the TV sector with major TV networks such as NDTV. The state-owned All India Radio (AIR) network owns all news radio stations."
The fact that these businesses and the Modi administration have overtly mutually beneficial partnerships only makes matters worse, it continues: "The prime example is undoubtedly the Reliance Industries group led by Mukesh Ambani, now a personal friend of Modi's, who owns more than 70 media outlets that are followed by at least 800 million Indians. Similarly, the takeover of the NDTV channel at the end of 2022 by tycoon Gautam Adani, who is also very close to Narendra Modi, signalled the end of pluralism in the mainstream media."
Anxiety in the newsroom has increased since controversial businessman Gautam Adani declared his plan to take over the channel in a hostile bid last August, and journalists like Ravish Kumar have left their positions as a result. NDTV had employed 48-year-old Ravish for 26 years. He was senior executive editor of the news organisation at the time of his resignation. He was noted for its scathing and critical coverage of public policies and opinions of the current government. These reasons explain why India ranks 161st in terms of journalistic freedom.
Also, read UN Defender Demands End to Crackdown on Kashmiri Activists
Lack of Diversity in Indian Newsrooms and Harassment of Journalists
RSF claims that there is a dearth of diversity in Indian newsrooms. "For the most part, only Hindu men from upper castes hold senior positions in journalism or are media executives ­– a bias that is reflected in media content. For example, fewer than 15% of the participants in major evening talk shows are women."
According to RSF, there are many legal methods that those in power harass journalists, including by accusing them of criminal defamation and sedition. "Indian law is protective in theory but charges of defamation, sedition, contempt of court and endangering national security are increasingly used against journalists critical of the government, who are branded as "anti-national"," the report notes.
Read here, The Saudi-Iran Deal and its Implications
India Ranks Among the Worst Performers in South Asia
India ranks among the worst performers on the rating, even within South Asia as it ranks 161st in terms of press freedom. At 163, Bangladesh performs somewhat worse than Pakistan, while India comes in at 150th, several positions behind Pakistan. With a rating of 152, even Afghanistan, where the Taliban administration is well known for being hostile to independent journalists, has performed better. Sri Lanka is at 135 and Bhutan is at 90. The report also added that the last three slots were occupied by Asian countries.
"The last three places are occupied solely by Asian countries: Vietnam (178th), which has almost completed its hunt of independent reporters and commentators; China (down 4 at 179th), the world's biggest jailer of journalists and one of the biggest exporters of propaganda content; and, to no great surprise, North Korea (180th),"
Also, read Festival turns bloody after Hindutva Mob Burnt Centennial Mosque
The Indian Press Voices Concern Over RSF Report
The Indian Women's Press Corps, Press Club of India, and the Press Association released a joint statement voicing their concern over the country's dip in the index.
"The indices of press freedom have worsened in several countries, including India, according to the latest RSF report," the joint statement said.
"For developing democracies in the Global South where deep pockets of inequities exist, the media's role cannot be understated. Likewise the constraints on press freedom due to hostile working conditions like contractorization have to also be challenged. Insecure working conditions can never contribute to a free press," it added.
Read here, Karnataka Elections: Setback for Modi
Pakistan Crisis Explained – Looming Threat of a Military Coup
Pakistan Crisis: struggle with terrorism, economy, and political Dispute – over 850 innocent lives lost in Q1 2023.
The South-Asian country is facing a perilous situation with a staggering toll of over 850 innocent lives lost to terror attacks in the first three months of 2023.
As the economy continues to struggle, with long-term allies like China refusing to provide bailouts and political disputes escalating, Pakistan finds itself at a critical crossroads. The judiciary is also not spared from the ongoing tug-of-war.
Now, the big questions are –
Can Pakistan recover from its current economic catastrophe?
Why terror attacks are on the rise?
And is Pakistan on the route of another military coup?
The Economy in Shambles
Over a dozen people were killed as the crowd rushed to grab a pack of flour. Sadly, it's not an isolated incident.
With inflation at 30% high – the highest recorded in five decades – the costs of essential goods have surged. But the situation only headed south, with Islamabad forced to remove subsidies as Pakistan's financial support from the IMF dries out.
And all this is happening in a nation still trying to recover from last year's flood, ravaging the country's vast swaths in October. A climate catastrophe that killed 1700 people and cost the nation 15 billion USD in damages.
Read More: Pakistan Flood Puts Climate Injustice in the Spotlight: The Age of Catastrophe
On top of it, the currency is in a tailspin. But nobody is ready to help Pakistan bail out.
Why Nobody is Rady to Bailout Pakistan?
In the past, Pakistan has received significant financial aid from countries like UAE and Qatar, amounting to 24.4 billion USD over the last five years, and Chinese commercial banks have loaned over 30 billion USD. These bailouts were primarily driven by humanitarian, common interest, and economic reasons.
However, due to the government's inability to fulfill previous promises, the countries are reluctant to help Pakistan.
IMF was another major lender of the South-Asian nation. But, the country finds itself caught in a catch-22 situation due to pressures from the International Monetary Fund (IMF) to reduce subsidies and curb inflation. On the one hand, to address inflation, the government needs to provide subsidies, but on the other hand, if they cancel subsidies to increase revenue, it may lead to citizen protests.
But this delay in IMF's bailout comes in contrast to its approval of a 15.6 billion USD loan for Ukraine and the United States' decision to print 300 billion USD to save a bank in Silicon Valley.
It clearly shows that the priorities of IMF and Western countries are different – which does not include countries like Pakistan and Sri Lanka.
And while stuck in one of the worst economic catastrophes, terror attacks in Pakistan are also on the rise.
The Alarming Surge of Terror Attacks
Terrorist attacks in Pakistan have been surging since the Taliban's takeover of Afghanistan, and 2023 has been one of the deadliest years yet.
The devastating bombing in January, which marked one of the deadliest blasts in Pakistan's history, is sadly not an isolated incident. Since then, several more attacks have resulted in loss of life and widespread destruction.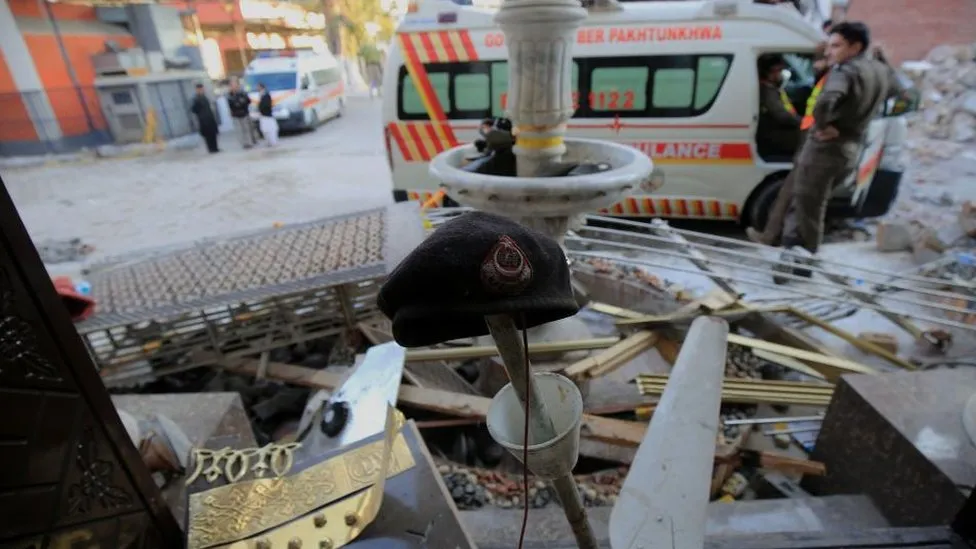 In Karachi, a police headquarters was targeted, resulting in the deaths of four individuals. In Balochistan's Khuzdar district, at least two policemen were killed in a "remote-controlled blast," and another attack in a crowded market in Balochistan claimed four more lives.
February alone recorded 58 terrorist attacks that killed 62 innocent civilians, including security personnel, civilians, and terrorists themselves, with 134 others injured.
The situation again escalated on March 4th when the TTP targeted a mosque in Peshawar, claiming the lives of around a hundred people, including most police officers. Despite the government's efforts, the TTP continues to defy authority, leaving the situation seemingly helpless.
These ongoing and frequent terror attacks highlight the persistent threat faced by Pakistan, with innocent lives being lost and communities being affected by violence and instability.
How is the Politics Further Worsening the Pakistan Crisis?
The government is stuck in a complex situation. The Shabbat Sharief government blames its predecessors for all the economic woes. While the former prime minister, Imran Khan, keeps challenging the very establishment. Today, Imran Khan is facing over 30 cases, including terrorism charges.
The government is also locking horns with the judiciary for control over institutions. Judges are openly called out for being biased.
Amidst the deterioration of the government institution, all eyes are now on the military front of Pakistan – where the real power lies.
Given the country's crumbling economy and politics, will the commander step in as they have done thrice earlier (1958, 1977, and 1999)?
Is a Military Coup Under Way in Pakistan?
The recent stampede in aid distribution centers paints a very dire picture of the Pakistan crisis. However, the country has come a long way since its last coups.
The situation on the ground is getting bad to worse. The desperation of the ordinary hard-working people is on the rise.
Experts fear there might be slight interventions in the decision-making process. But while the current upheaval might be ringing military coup bells, for now, the power still resides in the hand of the people.
Why is Zakir Naik Wanted in India – The Radical Preacher Explained
He has 3 million subscribers on YouTube, 593k followers on Instagram, and has delivered thousands of lectures on Islam worldwide. But Zakir Naik, the 57-year-old popular Islamic preacher, is wanted by Indian authorities, banned from entering the UK, Canada, and Bangladesh, and on the run since 2016.
Recently, the preacher made headlines after his controversial statement during a lecture in Oman – "Hindus in India love me so much that…."
But before we dive into the reality of the alleged 'radical preacher,' it's important to know – Who is Zakir Naik? Why is he called the 'radical preacher'? And What charges does Zakir Naik face in India?
Here's an explainer:
Who is Zakir Naik?
Zakir Abdul Karim Naik was born and raised in Mumbai, India, where he completed his education with an MBBS degree. His interest in socio-religious activities grew in his 20s, after which he founded the now-outlawed Islamic Research Foundation (IRF) in India.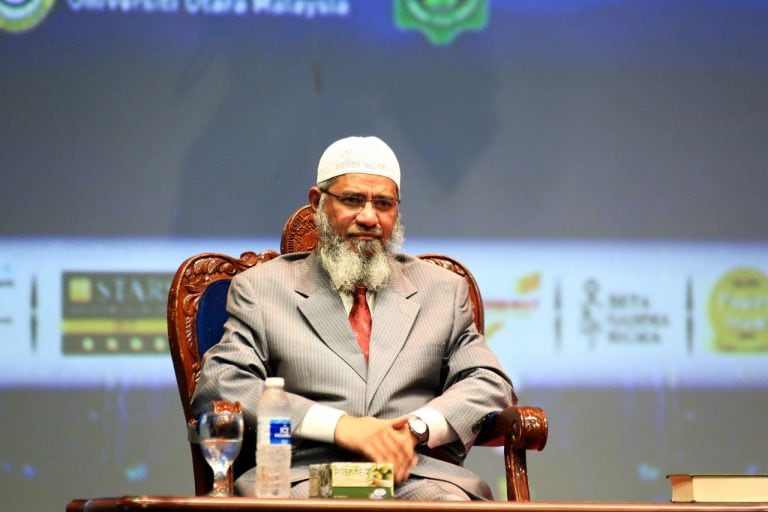 Zakir Naik also founded a Dubai-based broadcast, Peace TV, a channel now prohibited in the UK, Canada, India, and Bangladesh. And he is especially popular amongst Muslim youth, primarily due to his trademarks, Western suit, skullcap attire, and English lectures.
Over the years, Naik has become a subject of global attention after one of the attackers in the 2016 Dhaka attack (that killed 22 people) claimed to be inspired by his speeches.
Now 57 years old, the Islamic preacher left India in 2016 amidst accusations of promoting religious hatred and money laundering. Mr. Naik, however, denied the claim saying his remarks were taken out of context and distorted.
What charges does Dr. Naik face in India?
Soon after the Dhaka attack, India's counter-terrorism activity had filed a complaint against Zakir Naik. He was accused of unlawful activities and of stirring religious hate.
Today, Zakir Naik is wanted in India for instigating terrorism, inciting religious tensions, and money laundering (millions of dollars). However, the court judgment delivered by Judge Manmohan Singh halted the ED from seeing Naik's properties drawing similarities between Zakir and Asaram Bapu (self-styled spiritual guru now behind bars) in January 2018.
However, after the accusations, Naik fled India in 2016 and has been living in Malaysia ever since with permanent residency.
In 2017, India revoked Naik's passport and asked Malaysia to deport Naik in 2018. But, somewhere in between, even Malaysia banned Zakir from delivering public speeches after continuously trying to stir up religious feelings and making racial statements against the country's Hindu and Chinese minorities.
Read next: Qatar FIFA 2022, A Civilized Model Of Islam
Why is Zakir Naik called the "Radical Preacher" in India?
Zakir Naik's name often makes healing for his provocative and controversial statement. For example, at instances, Zakir supported suicide attacks in his speech while citing Salam Audah.
He has also defended temple bombing in Pakistan, arguing that Islamic nations should forbid saying, "How can we allow this (building of churches or temples in Islamic states) when their religion is wrong and when they are worshiping the wrong?"
His views on 9/11, homosexuality, girls' education, and more have constantly kept him in the spotlight, giving him the title of 'radical preacher.'
Where is Naik Today?
Recently, Zakir was spotted daring India to arrest the country's many godmen. Recorded on camera, he can be seen covering Indian Hindu women. It was at this lecture that he was found saying:
"The problem is that the majority of Hindus in India love me. They love me so much that it is creating a problem for the vote bank. "

Zakir Naik
While all this was happening in Oman, the Indian Ministry of External Affairs said it was talking to the government of Oman to extradite Zakir so that he could be sent back to India to face justice. But the latest report states that Naik's work in Oman is done, and he is returning to Malaysia.
Zakir Naik & The Indian Government – Bottom Line
According to Indian officials, Zakir Naik is a nuisance and a threat to any country's religious harmony.
"With his large following, he is just a speech away from promoting riots and acts of terror, and yet he remains a celebrity in a certain part of the world – the Gulf."

Wion, indian news channel
However, despite Indian authorities' immense efforts to apprehend Zakir Naik and seek his extradition from Malaysia, Qatar, and Oman, International police refused to grant New Delhi's requirements for a Ref Notice against him (with the most recent being in 2021).
Moreover, Interpol dismissed the NIA's charge sheet against Dr. Naik, stating that soliciting donations during speeches and endorsing a religion does not amount to any criminal offense.
UN Defender Demands End to Crackdown on Kashmiri Activists
UN Human Rights Defenders Demand an End to the Crackdown on Kashmiri Activists. India must immediately halt its crackdown on Kashmiri activists, Mary Lawlor, the independent UN Special Rapporteur on the situation of human rights defender, said on Friday, calling for greater accountability where abusive actions are taken and demanded an end to the crackdown on Kashmiri Activists. Lawlor took up the mandate of Special Rapport on the situation of human rights defenders on 1 May 2020, following the Human Rights Council decision 43/115.
Days after the National Investigation Agency (NIA) formally detained imprisoned Jammu and Kashmir Coalition of Civil Society (JKCCS) program coordinator Khurram Parvez in connection with its NGO, Mary Lawlor, the UN Special Rapporteur on Human Rights Defenders, made this statement and as a human rights defender she demands an end to the crackdown on Kashmiri Activists.
Also, read Pro-Khalistan Activist Amritpal Singh declared fugitive- What is happening in "India's Bread Basket" Punjab?
Khurram Parvez's second arrest after being jailed for a year
Khurram Parvez, who had been jailed since November 2021 on terrorism-related charges, was arrested in a second case on March 22, 2023, following two days of questioning by the National Investigation Agency, India's top counterterrorism agency. With his role in the Jammu and Kashmir Coalition of Civil Society, he is charged with financing terrorism in accordance with the Unlawful Activities (Prevention) Act (UAPA). UAPA is a "draconian Unlawful Activities Prevention Act (UAPA), a law that allows the government to designate someone as a "terrorist" and keep them in pretrial detention for years without needing to produce incriminating evidence" says Hafsa Kanjwal in the Washington Post.
"Indian authorities appear to be intensifying the long-standing repression of Kashmiri civil society," said Mary Lawlor. "The State must respect its human rights obligations and be held accountable where it violates them," she added.
In 2021, Khurram Parvez was charged with "conspiracy" and "supporting terrorism.". After conducting raids at his residence and workplace in Indian-administrated Kashmir, the National Investigation Agency (NIA) detained him. Yet, his detention sparked outrage and criticism around the world as well as immediate calls for his release. On social media, activists and others have described the arrest as an effort to "suppress and punish human rights campaigners." Mr. Parvez has long been a prominent opponent of the BJP-led administration that currently holds power and was also arrested in 2016 for two and a half months.
Mr. Parvez is also the chairperson of the Asian Federation Against Involuntary Disappearances (AFAD), an international rights organization that looks into forced disappearances in Kashmir and elsewhere in Asia.
Read here, India: Violence Against Women on Holi Reeks of Communal and Racial Tensions
Jammu Kashmir Coalition of Civil Society (JKCCS)
Mr.Parvez's Jammu Kashmir Coalition of Civil Society (JKCCS) has released a number of critical studies on the power abuses and disregard for human rights carried out by Indian security forces in the Kashmir Valley. Jammu Kashmir Coalition of Civil Society (JKCCS) was founded in 2000.
"We are an amalgam of various non-funded, non-profit, campaign, research and advocacy organizations based in Srinagar, Jammu and Kashmir. JKCCS through its constituents seeks to speak truth to power whether through reports, programmes, systematic documentation, litigation or other engagements in Jammu and Kashmir and outside. JKCCS believes that a vibrant civil society and institution building is essential for any society, particularly Jammu and Kashmir. JKCCS maintains that the people of Jammu and Kashmir enjoy all the internationally guaranteed civil, political, economic, social, and cultural rights including the right to self-determination.".
This is an excerpt from the wordpress website of JKCCS, an "already vulnerable civil society" which is now further being attacked and crushed on all fronts.
"The Jammu and Kashmir Coalition of Civil Society (JKCCS) carries out essential work monitoring human rights. Their research and analysis of human rights violations are of huge value, including to international organizations seeking to ensure accountability and non-repetition of abuses," Lawlor said.
Also, read Demolition Drives in Kashmir- Is India following the Israeli Model in Kashmir?
Recent Arrest of Other Activists
Irfan Mehraj, a journalist and human rights advocate who previously belonged to the Jammu and Kashmir Coalition of Civil Societies (JKCCS), was taken into custody in the same case before the second arrest of jailed Khurram Parvez on March 20, 2023. Mehraj was then transported to New Delhi post his arrest in the same case under the draconian UAPA. Other human rights defenders are verbal about how the authorities are using compulsion and intimidation against former JKCCS associates and volunteers.
Mehraj, a resident of Mehjoor Nagar in Srinagar, was ordered to appear at the Church Lane office of the central anti-terror agency on Monday evening, March 20, despite being away on business, according to his father, Mehraj-ud-Din Bhat.
"He was on a story when the investigators called him on his mobile phone. They told him to come over to their office [for questioning] for five minutes. Later, we got to know that he had been arrested and was going to be shifted to Delhi on Tuesday. My son and brother have gone there seeking legal assistance," Bhat, who is a Kashmir arts trader, told The Wire.
"My son is innocent. His work speaks for him loudly. I have full faith that truth will prevail and he will get justice," Bhat added.
"The arrest and detention of persons for exercising their human rights are arbitrary. There must be accountability and remedy where such abusive actions are taken." Lawlor said. "Time and time again, the Government has been called upon to address the fundamental issues with the country's anti-terrorism framework and its misuse to smear and silence human rights defenders," she added. As a human rights defender she demands an end to the crackdown on Kashmiri Activists.
Read here, How Practical is the Secular Democracy of India? Curbing of Religious Freedom in Kashmir