India: Attacks on Journalists and the Spread of Misinformation
Journalists are duty-bound to uphold the truth through verification. But more and more, public watchdogs in India are facing the wrath of people in power for reporting facts. India has always ranked low on the Press Freedom Index, which ranks countries based on the level of freedom their journalists enjoy. Yet, in recent years, the country appears to have become increasingly more dangerous for journalists. Attacks on journalists in connection to their work have increased alongside the rapid spread of misinformation.
200 serious attacks between 2014 and 2019
A new study notes that journalists in India faced 200 serious attacks between 2014 and 2019, including 40 killings, of which 21 have been confirmed as being in direct connection with their investigative work. Perpetrators include businessmen, politicians, politicians-and-police, right wing/Hindutva groups, state security forces, village officials, Maoists and/or splinter groups, and political party supporters.
The study points to the miscarriage of justice in bringing perpetrators to book, resulting from indifference by the police and their tendency to believe that the reason for the attack was personal enmity or corrupt practice on the part of the journalist.
Another finding is the increase in the number of attacks on women journalists, as seen in physical attacks and abuses against 19 women journalists during the Sabarimala row. And in further evidence of deepening religious fault lines, a large number of journalists belonging to the Muslim community were among those attacked and harassed by the police in the CAA-NRC protests.
According to a report by independent journalist Geeta Seshu, 154 journalists were arrested, detained, interrogated or served show cause notices for their professional work between 2010-20. A majority of them worked for non-English print publications and television channels, as freelancers, or published on social media platforms. During the same time, nine foreign journalists were interrogated, deported or denied entry into the country.
Of the 154 cases, 73 originated in BJP-ruled states while 30 were from states ruled by BJP and National Democratic Alliance (NDA). Among the BJP-led states, Uttar Pradesh topped the list with 29 cases. The remaining cases were from states under President's Rule or Governor's rule, over whom the central government has direct control. The report highlights the nexus between law enforcers and the local administration, businesses and political entities, in delaying or denying justice to affected media persons or their families.
Dismal ranking on World Press Freedom Index
In 2013, when the Indian National Congress (INC) was in power, eleven journalists were killed in India, putting the country in third position in the International Press Institute's list of media personnels killed around the world during the year. India was behind Syria, and joint second Iraq and the Philippines.
Five years later, Reporters Without Borders ranked India 138th on its World Press Freedom Index, noting the threat of smears and physical violence against journalists by radical nationalists. Just a year before, the country was shocked by the brazen murder of veteran journalist and progressive activist Gauri Lankesh, which lead to the arrest of 18 men who await conviction. The Special Investigative Team (SIT) constituted by the then Congress government in Karnataka held the extremist organization Sanatan Sanstha responsible for the murder.
Hindu fringe groups have come under scrutiny for practicing and engendering intolerance. Sometimes, their hatred culminates into violence against members of other religious communities, but also journalists they believe aren't on their side. Brazen acts of killing and serious attacks against members of the press also result from their courageous work on exposing corruption and illegal activities. In some cases, challenging entrenched social practices can prove deadly for journalists, as seen in the murder of three journalists in Bihar for reporting on child marriage.
Fake news factories
Over 400 million Indians use the internet but lack the know-how to cross-check claims in order to distinguish facts from falsity. While fact-checking websites have spawned to fight misinformation, they're struggling in the face of rapid dissemination of information on Facebook, Twitter and WhatsApp.
India has gained a dubious reputation for WhatsApp murders and lynchings stemming from the spread of rumours of organ harvesting, cattle trading or child kidnapping through the mobile app. It led WhatsApp to limit the forwarding option for Indian users as a measure to reduce the frequency of messages being forwarded.
However, WhatsApp groups remain a major conduit for propagating misinformation. Fact-checking within groups is sparse or it may not be proactive out of the fear of voicing the minority view or antagonizing dominant group members.
Social media also serves as an effective channel for political propaganda. While ministers themselves don't engage in propaganda, they have an army of foot soldiers to spin political narratives in their favour. The ruling party has a sizable presence on social networks, led by Amit Malviya, the national convener of its IT cell.
Religion angle
India's religious divide has also contributed to fake news online. Last year, after members of an Islamic group who had visited Delhi to attend a religious meet tested positive for COVID-10, disinformation targeting Muslims grew, and even resulted in incidents where Muslims were attacked for allegedly spreading the virus. In fact, the country earned the dubious reputation for producing the largest amount of social media disinformation on COVID-19.
Religious majoritarianism can manifest in insidious ways, from denying jobs to people of other faiths to renting to people only from a certain faith and generally harming the country's composite culture. Strict curbs on fake news and hate speech by social media are needed for the welfare of citizens.
The fourth estate
As the fourth estate, the press and news media are expected to resolutely stick to the values expected in their profession – even in the face of threats and attacks. Unfortunately, media houses have come to play an important role in reinforcing religious majoritarianism, toeing the line in an apparent move to appease the ruling right-wing party. However, keeping in mind that no political party remains in power forever, media houses and journalists face the risk of losing trust and sinking their business and reputation.
Delhi Air Pollution: 18 Million People at the Risk of Severe Health Problems
Delhi Air Pollution: Delhi, the capital of India, is one of the most polluted cities in the world. But winter is especially cruel here. Each year, October, November, and December bring together an exceptionally dirty environment, where over 18 million people are forced to live with a quilt of smog covering the capital and nearing cities.
2022 is nothing different. With the Air Pollution Index (API) at 337, the condition of Delhi's environment is worsening.
The big question now is: what causes such disastrous air pollution in Delhi? What are the inferno reasons that pollute the air of entire northern India? And how are Delhites coping with the pollution?
An Overview of the Problem: Delhi Air Pollution
According to an India Today Web Desk article, Delhi has topped the list of the most polluted cities worldwide for the fourth consecutive year. The survey was initiated by SoGA, where the organization listed 20 polluted cities around the world in which Delhi ranked in the first position.
The air quality here in Delhi gets so bad in winter that the government needs to declare a public health emergency in response to exacerbating air pollution.
Like every year, the state government shut down schools, stalled all construction and industrial activities, and implemented an odd-even scheme traffic rotation to prevent air pollution.
"We can't see the skyline. The air is unbreathable and traveling to work is extremely dangerous as you can see anything after 2 meters in the smog. This is not severe! This is an emergency—the next level of severity."

Abhishek singh, a Delhi resident told mzemo
This condition happens every year when Delhi experiences a massive spike in air pollution—unfortunately, initiating the reason for two deaths in the country "EVERY MINUTE."
What is Behind Delhi Air Pollution?
The unfortunate thing about the population of Delhi and the Delhi government is that they are not entirely responsible for the severe air pollution in their state.
According to SAFAR (System of Air Quality and Weather Forecasting and Research), 48% of Delhi's air pollution is responsible for stubble burning in Punjab and Haryana.
Delhi's AQI has been in the severe zone (401-500) for seven days between October 20 and November 14 this year. The percentage of farm fires that contributed to Delhi's PM 2.5 on each of these days ranged from 26% to 48%.
The primary contributors to the dangerous situation in Delhi include
Stubble Burners – The Deed Owners
Though stubble burning has been an agricultural practice for centuries, the combined mechanical harvesters leave behind the stalk of the crop in the soil, which is around 2 feet high.
Therefore, to save money and time, farmers, instead of cutting the remaining stalk, set fire to the entire field so that a new batch of crops could be grown as soon as possible.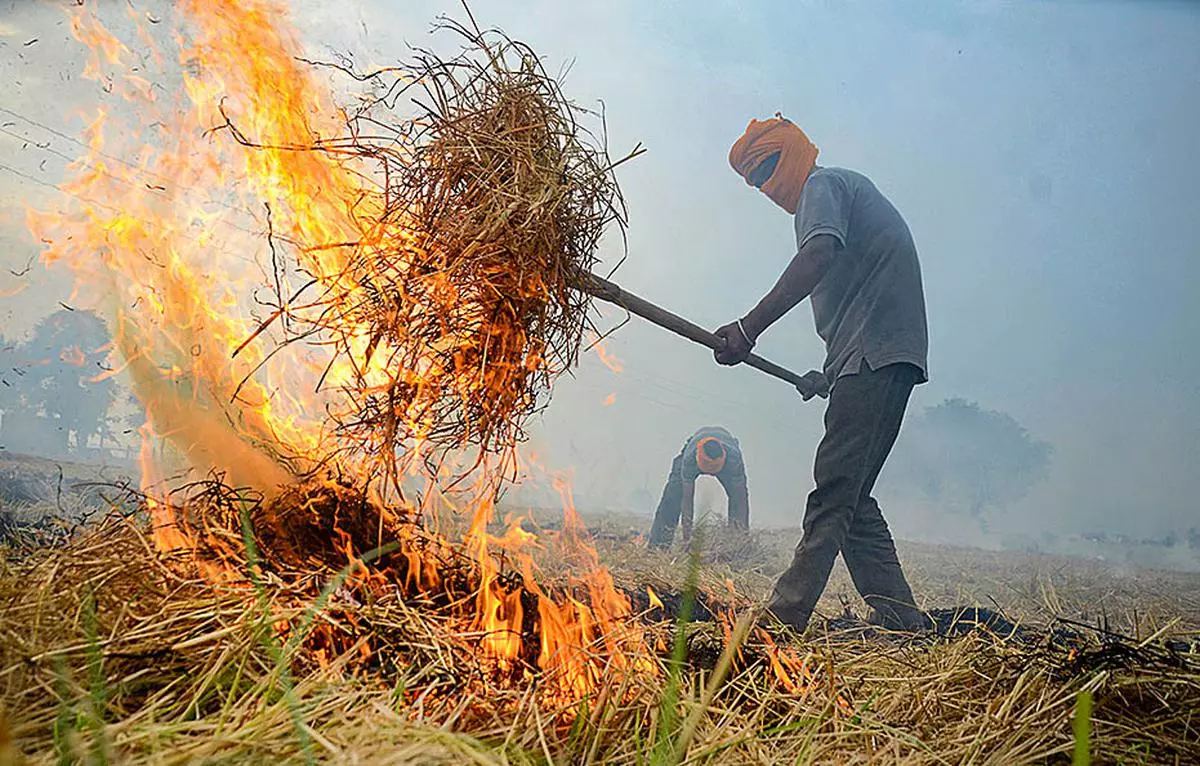 After the year 2009, stubble burning became even more popular when the governments of Haryana and Punjab passed a law order to conserve water.
However, despite the concerning issue of air pollution in the past few years, the stubble-burning culture still continues.
The Himalayan Cool Winds Worsen the Delhi Air Pollution
The stubble burning in Punjab, Haryana, and Western UP creates fumes that blow away toward Delhi due to the strong winds during winter.
Combined with the cold winds coming from the Himalayas, this smoke gets trapped in Delhi's air due to temperature inversion. The Himalayan mountain acts like a kind of barrier for Delhi, directing the smoke towards the capital.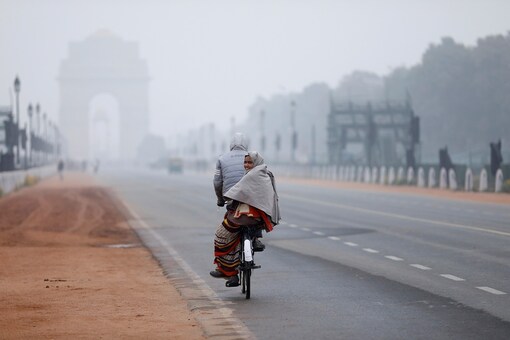 Additionally, the weather also plays a significant role in worsening Delhi's pollution. During the winters, cold mountain air rushes down from the Himalayas towards Delhi. Arriving cold air from the Himalayas beneath a layer of warm lowland air creates a dome over the state.
The warm air keeps pollution trapped on the ground with nowhere to go. So when stubble fire smoke reaches Delhi, it blends with urban pollution and forms toxic smog.
All these reasons combined, Delhi experiences dangerous air pollution that is so high that even air quality meters cannot accurately gauge its level.
The Co-Partners of Stubble Burners
During October-November, India celebrates their premier festival of Diwali, where lighting crackers worsen the situation in Delhi.
When the weather was considered, the survey discovered increases in PM2.5 concentrations, one of the most dangerous particles for human health, to approximately 40% high on the second day of the festival.
The Delhi government, however, made significant efforts to reduce the effects of burning crackers in Delhi pollution but failed to implement it thoroughly.
Stubble burning in Punjab and Haryana peaks in October end- and November. While the contribution of Diwali crackers significantly affects the air quality of Delhi.
Nevertheless, the contribution of stubble burning is Delhi's primary cause of air pollution.
Delhi Air Pollution: The Solution
The unique geographical location of Delhi, coupled with its huge population, puts the state in a fragile position. In the interview with Mzemo, Abhishek said that the condition is getting worse every year.
However, there are a few solutions.
The controllable thing for Delhi is to use public transport, the Metro, or trains to travel. Secondly, reduce the waste or bifurcate the plastics and dry waste from wet. Third, implement strict rules and regulations against the Punjab and Haryana governments.
And most importantly, the government needs to come up with policies that to restore quality air in Delhi, especially when the life of 18 million people are at risk.
Read Next: COP27 Climate Change Summit: Greenwashing Scam Imperilling Human Rights
What Does Shraddha Walker's Murder Mean for Love in India?
Earlier this month, India was shocked by the news of the murder of 28-year-old Shraddha Walker by her live-in partner Aftab Poonawalla. Aftab had killed Shraddha merely three days after they moved into their new home in Delhi in May this year. Aftab had cut the body of Shraddha into 35 pieces and stored them in a fridge. He was gradually disposing of the body parts in a nearby forest area.
Interfaith Couple and Sensational Murder Trial
After the news of Shraddha's murder broke in mid-November following the arrest of Aftab Poonawalla, it became a sensational murder trial. The murder was debated on prime-time debates on TV.
While the murder was chilling and one could expect it to cause a sensation, it became a sensational murder trial for very wrong reasons in India. The fact that Shraddha and Aftab were an interfaith couple made it a sensational murder.
Even though Aftab has claimed that he killed Shraddha in a fit of rage while they were fighting, the police are yet to establish the motive for the murder. The media trial, however, has given a religious colour to the murder. Some people, including those on TV debates, have dressed the murder in the language of religion.
Love Jihad?
The religious colour given to the Shraddha murder and the transcending of the murder beyond its context is a result of the Love Jihad discourse adopted by the ruling right-wing party BJP. BJP used Loved Jihad as an electoral issue in many state elections.
At present, eleven states where BJP is in power have passed legislation against Love Jihad. The argument by the Hindu nationalists is that Muslim men intentionally fall in love with Hindu women and then these men force the women to convert from Hinduism to Islam.
Also Read: Love Jihad: A Conspiracy or a Political Campaign?
Demonizing Muslims
There are also attempts to demonize Muslims after the murder of Shraddha. A man from the UP state recently went on TV to support the actions of Aftab. He claimed to be a Muslim, named Rashid Khan and justified the cutting of Shraddha into 35 pieces.
When the police arrested the said man, it was found that he is a Hindu, named Vikas Gupta.
Vikas Gupta's statement went viral on social media and Muslims were called out and demonized for his statement.
Also Read: Bollywood's portrayal of Kashmir- Journey Of Representation From Heaven To Hell
A Setback to the Freedom to Love in India?
Shraddha's sensational murder trial has raised questions about love in India. It will hurt the hard-won right of freedom to love.
There are two aspects to be considered. First is the freedom of young people to love or live in live-in relationships. Since the news of the murder reached almost every home in India, it will scare people from getting into live-in relationships. Further, society will also be suspicious of these relationships. Live-in couples already face difficulty in negotiating the conservative society in India and the case will only exacerbate it. For instance, live-in couples in India find it difficult to find a house or rented accommodation. Aftab and Shraddha also lived in rented accommodation. More people than ever before will now hesitate to rent their accommodations to live-in couples.
Second, as discussed above Shraddha's murder will make it worse for interfaith couples to negotiate everyday life in India. Even though India was never a safe place for interfaith couples, the case is going to make society hostile to interfaith love. Those who were already against interfaith love will use this case to further cement their position on Love Jihad.
Further, society in general parents of young people in particular will turn hostile against love.
Also Read: The mainstreaming of anti-Muslim Hindutva Pop in India
A Difficult Task Ahead
The sensational murder trial and the media trial of Shraddha's murder by Aftab have raised questions about love in India. Further, the discourse of Love Jihad is also back. Hindu nationalists will make sure that the case is exploited to its full to make a case for Love Jihad.
For those in India, who want to preserve the hard-won right of freedom to love, the task ahead is very difficult. Even though the case has already become sensational, they must make sure that it is restricted to its immediate context. If the case transcends its immediate context, hate will win against love. Love must triumph!
Kashmiri Journalists Caught in the Battle of Narratives
A proscribed militant outfit in Kashmir recently made anonymous online threats to over a dozen journalists belonging to several media organizations. The outfit published the threat on a website and people circulated it on social media. The Kashmiri journalists were accused of being "collaborators". Five of the journalists who were threatened have already resigned.
Subsequently, the Jammu and Kashmir Police registered a case under the anti-terrorist law Unlawful Activities (Prevention) Act (UAPA) and launched an investigation. On November 19, police raids were underway at the residences of journalists Gowhar Geelani, Qazi Shibli, Rashid Maqbool, Khalid Gul, Waseem Raja, Sajad Kralyari & militant Momin Gulzar, Mukhtar Baba and advocate Abu Adil Pandit.
The police alleged that The Resistance Front (TRF), which is an offshoot of Lashkar-e-Toiba (LeT), was behind the threat to journalists. The security agencies further found that journalist Mukhtar Baba was the mastermind behind putting out the list of journos accusing them of being informers for security forces. Baba, who is currently based in Turkey, is has worked as a journalist in Kashmir. He is familiar with the media environment in Kashmir. The police also revealed that Baba is very close to Pakistani intelligence agencies.
The police requested media houses "not to fall for sensationalism in discussing names of victims in reporting and also to behave responsibly and not endanger the safety and security of their fellow journalists".
Battle of Narratives
The ongoing battle of narratives in Kashmir between pro-India and anti-India has created a false and dangerous binary in Kashmir. Journalists, who work for various media houses and newspapers in Kashmir, increasingly face themselves choosing sides between anti-India and pro-India narratives. Choosing sides has led journalists into a trap. If they report and support the pro-India narrative, militant groups accuse them of being collaborators. If they report anti-India narrative, the Indian security agencies accuse them of supporting terrorism in the region. In this vicious cycle, many journalists have lost their lives, and many are languishing in jails.
Also Read: Political Activities Resume in Kashmir after Three Years
Kashmiri Journalists Face Killings and Jail
The same Let killedpProminent Kashmiri journalist Shujaat Bukhari in 2018 in Srinagar. The police alleged that Sheikh Sajad alias Sajjad Gul was responsible for his killing.
In February this year, the police booked and arrested Fahad Shah, the Editor-in-chief of the online news magazine, 'The Kashmir Walla', under anti-terrorism law and sedition for his reporting on Kashmir. He continues to be in jail. His online magazine faces several cases for reporting controversial news. The security agencies have alleged that Fahad was propagating fake news through his portal.
In August 2018, the police arrested Aasif Sultan, an assistant editor of the magazine Kashmir Narrator, under the anti-terror law. The police accused him of "harbouring known militants".
There are several other stories of Kashmiri journalists being harassed by militants and police alike. While militants make death threats to journalists, the security agencies in Kashmir arrest and intimidate the journalists. There are several cases where chilling details of threat and intimidation of journalists by police have emerged. 
In October this year, Indian authorities prevented Pulitzer-winning Kashmiri journalist Sanna Irshad Mattoo from travelling to the US. Mattoo, a freelance photojournalist, was part of a Reuters team that won the Pulitzer Prize for feature photography for their coverage of the COVID-19 pandemic in India. She was flying to the US to receive the award. Earlier in July this year, Indian authorities prevented Mattoo from travelling to Paris.
This was not the first time that Indian authorities prevented a Kashmiri journalist from flying abroad. Several other journalists were prohibited from flying.
Also Read: India Gags-up Media in Kashmir
Journalists in Dilemma
The threats by the militants and the harassment by the Indian agencies have put Kashmiri journalists in dilemma. They do not know when their reporting will invoke the wrath of Indian agencies or the militants. It is a huge risk to invoke the wrath of any one of them.
As a result, political reporting in Kashmir has become very difficult. Various news agencies, in order to evade the binary, do not cover political issues. They just restrict their reporting highlighting societal issues. 
Hence, in this battle of narratives, objective political reporting has become the real victim.
Also Read: The Rise of Hybrid Militants in Kashmir