Predictable, Unpredicted – The Looming Threat of Famine in Somalia
Famine is knocking at Somalia's door, with nearly 8 million people facing extreme hunger daily. The threat is even more concerning with the UN's head of humanitarian affairs warning that by the end of 2022, Somalia's central and southern areas will probably be under famine.
But, how did Somalia reach here? Exactly how bad is the condition? And, is there a way out?
What Factors are Responsible for the Impending Famine in Somalia?
East Africa is going through the worst drought in decades, killing crops and making food unaffordable for many. But, Somalia, especially, is extremely unfortunate with a string of crises hitting the already starving country, one after another.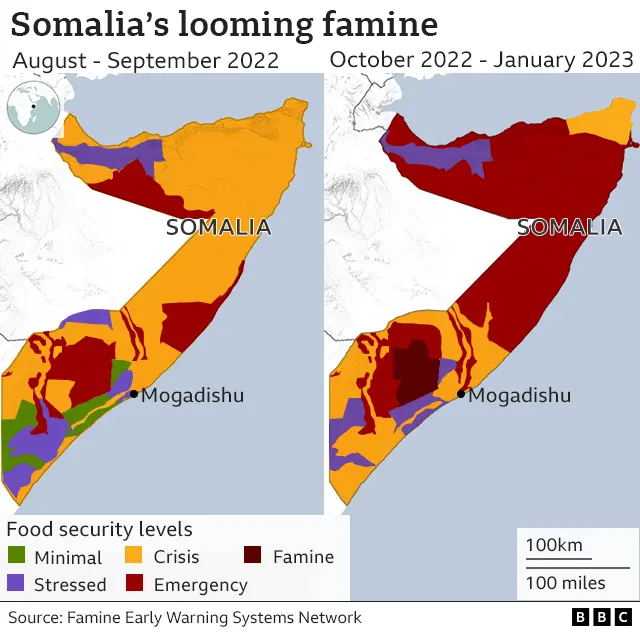 Water Shortage and Poor Hygiene
Today, 90% of Somalia's country is experiencing water shortages due to recent below-average rainfall, marking the fifth unproductive rainy season.
Unfortunately, a lack of water has caused lung ailments, diarrhea, cholera, and other diseases to spread throughout the nation. In addition, people are forced to drink polluted water, thus, further increasing the risk to their health.
Along with inadequate sanitary facilities and poor hygiene, the country lacks access to safe and clean drinking water. As a result, since January and July 2022, more than 7000 instances of diarrhea have been documented, with 37 death, and 53% of those cases involving young children below two years of age.
Locust Infestation & Russia-Ukraine War
Not long after the Covid-19 effect subsided, Somalia was severely affected by the 2019–2020 floods, which wiped off the majority of the country's crops and pasture.
This was followed by desert locust infestation, which wiped off the nation's major meager crops and pastures that had survived the floods.
Moreover, over 90% of wheat supplies in Somalia come from Russia and Ukraine. And, the ongoing Russia-Ukraine has resulted in skyrocketing food prices, grain shortage, and starvation in many countries, including Somalia.
Political Unrest and Its Link to the Looming Famine in Somalia
When talking about factors accelerating hunger throughout Somalia, the country's political unrest cannot be ignored.
Somalia is embroiled in a brutal civil war for more than three decades. And, its impact can be seen in the steep fall in agricultural production (Sorghum and maize ) since the early 1990s.
Additionally, Somalia's relations with its neighbors are likewise unstable. The civil war between Somalia and its neighbor Ethiopia began in 2020 and has prolonged the drought and complicated the whole humanitarian effort in the area.
Experts estimate that over 0.9 million Somalians continue to live in unstable areas as the drought crisis worsens and in the region where active pockets of warfare are still present.
Somalia, Ethiopia, and Kenya are pushed into severe food crises due to civil war, climate change, and the unpredicted global economic situation.
However, climate change is the principal reason behind this worsening situation in Somalia and other countries.
How is Somalia's Agriculture Affected due to Climate Change?
Global food security and agricultural productivity are urgently and continuously threatened by climate change. And the most apparent effect of climate change is on agricultural productivity.
Climate change has increased the frequency and intensity of extreme weather events, such as rising temperature and sea levels, changes in rainfall patterns, prolonged drought, extinction of groundwater, and land degradation.
Somalia occupies a region of around 6,47,540 km2 in the Horn of Africa. Over 16.9 million people call Somalia home, and 60% reside in rural areas. Besides, 65% of the total Somali GDP and employment is for agriculture and agricultural activities.
Variations in the climate primarily affect sorghum during the breeding or grain-filling stages, which results in crop loss. As Somalia has been severing affected by climate change, the country is experiencing high temperatures and brutal winds.
High temperatures and strong winds substantially impact sorghum yield. They primarily change the biomass accumulation rate and lengthen crops' growing seasons.
Additionally, such hard winds and high temperature in Somalia is not only affecting the productivity of crops, but it also impacts on quality of crops.
Furthermore, sorghum yield is substantially impacted by the repeated failure of the rainy season in Somalia, which inhibits fertilization and causes the spikes to dry up throughout the flowering phases, reducing yield.
Heavy sessions of drought, high temperatures, and an increase in sea level have dried out the groundwater in Somalia. The water and climate change crisis in Somalia is not only affecting the breeds of humans, but it also influences the foliage development of plants, leaves, and trees.
Issues in providing humanitarian aid to the needy in Somalia
The death rate since May 2022 has significantly increased in Somalia. Today, one Somalian dies every 48 seconds due to hunger and the water crisis. Up to 7.1 million people are still in need of urgent humanitarian aid in Somalia.
There are around 3,80,000 refugees that are taking assistance in neighboring countries like Ethiopia and Kenya.
The primary issue of providing humanitarian aid to Somalia was the first warning issued by the UN was hit on deaf ears.
Many developed countries like the US and UK did not react when needed. Hence, the coordinated plan to rescue Somalia from upcoming famine received only US$56 million in the month of march. The amount that was supposed to be received was US$1.5 billion. The humanitarian aid is still yet to receive half of its approved amount.
The Internal Bias
Another issue in providing humanitarian aid to the needy is a bias among the people in religion, ethnicity, race, religious identity, and different caste.
According to the latest study, people who were previously affected due to famine are precisely those who have been involved recently. The study found that due to bias in previous famines, the minors were not accessible to humanitarian aid. And it is believed that many of them still will not receive cash, food, medical, and other assistance.
Famine in Somalia: The Uncertain Future that Awaits
Famine in Somalia has long been coming. At Mzemo, we have been hinting at the lack of funding and aid response. Now, the situation has gotten out of hand.
Somalia will face its fifth sequential unsuccessful rainy season, with a fifth set to occur during the next three months. Due to consecutive failed rainy seasons and land degradation due to climate change, Somalia is facing extreme drought.
On the other hand, Somalia's situation is escalating rapidly due to the invasion of Ukraine and Covid-19's after-effects. Moreover, the purchasing power has been considerably reduced and significantly deteriorated by the food crisis in many regions of Somalia.
But, amidst the crisis, Somalia's new government is gleaming with a hope of better tomorrow. Speaking with BBC, Abdirahman Abdishakur says,
Pakistan Flood Puts Climate Injustice in the Spotlight: The Age of Catastrophe
The fight against climate injustice: About one-third of Pakistan is currently underwater from floods. With over 1500 deaths, thousands injured, and hundreds of thousands displaced, the catastrophe unraveling is not something new.
From Uganda to Pakistan, extreme climate events are devastating the lives of millions of already vulnerable populations. Yet, while the low-income nations continue to suffer, wealthy countries watch in silence.
This is Mzemo's The Age of Catastrophe and here's how the Pakistan flood is highlighting the global climate injustice:
Pakistan's Catastrophic Floods
Collapsed villages, millions displaced, and hundreds dead— the monsoon season this year is unravelling havoc. Across Pakistan, flooding induced by torrential rain (five to seven times the typical rain )that started in July and peaked in August has left millions homeless.
The devastation started with an extreme heatwave melting down snow from over Himalayan 7000 glaciers. Followed by heavy rainfall, causing massive flooding in mid-July, compounded by the melting glacier rushing downwards from the mountain.
Since June, Pakistan has recorded over 15,000 fatalities and over 13,000 injuries. The aftermath of the flood will bring increased diseases, poverty, hunger, and massive rebuilding costs. Especially now when over a million houses are damaged or destroyed. Early estimates show the damage to cost over $30 billion.
"This whole year we have borne the humanitarian payload of other people's carbon-rich lifestyles,"

Sherry Rehman, Pakistan's federal minister for lcimate change
Soon scientists will find the root cause of the devastating floods and long-term climate change is definitely an undeniable reason. However, when it comes to allocating responsibilities for the climate-attributable costs, the true culprits will likely back off.
And Pakistan is not the only one. Countries around the globe are suffering from similar cases of climate injustice.
Countries Most Vulnerable to Climate Injustice
2022 has been a devastating year for the human-induced climate crisis. From drought in the horn of Africa to mega-fires and typhoons in the US, the world is amidst climate change catastrophes.
Even though the developing countries have done the least to contribute, they are at the forefront of climate catastrophe. Heatwaves and droughts have become unbearably frequent in Africa.
Then there are storms—the warmer the air, the stronger winds and rain across the tropics. And, by 2050, the sea level will have risen so high that floods that used to hit once in a century will hit various coastal cities every year.
The inequality of climate change comes together hardest in these vulnerable countries. Even though these people have barely contributed to global warming, they are amongst the most susceptible.
But, here's the truth: building a climate-change resilient economy is expensive, and countries like Madagascar, Pakistan, Bangladesh, or Somalia don't have enough funds.
These heart-wrenching cases are a few of the millions highlighting the sheer inadequacy of global superpowers in raising sufficient funding and the climate injustice at the heart of it all.
Finding the Culprits
The current carbon-emitting hotspots, including China, India, and Brazil, look less guilty when you realize that they have only recently become part of the problem. Whereas, the real culprits are not ready to accept how unjust climate changes are.
The inequalities that have brought one-third of Pakistan under water are not discussed enough. In addition, the world's most significant carbon emitters have consistently failed to support climate change-induced loss and damage measures while also falling short on mitigation and adaptation efforts while committing to lessen the harm caused to the most vulnerable countries.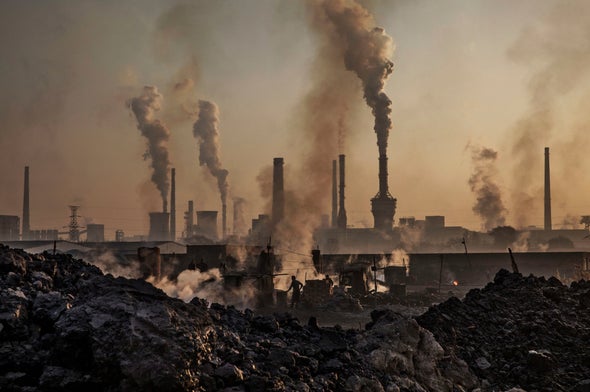 Research conducted in 2020 found that the Global North has emitted about 92% of the CO2 that has pushed the planet to today's catastrophe. Whereas Asia, the Middle East, Latin America, and Africa together account for less than 8% of the emission.
Countries are also overspending their carbon budgets. According to Oxfam International, the wealthiest 1% produces twice as much as the poorest 50%. The two countries most responsible for the climate crisis, China and the United States, aren't discussing climate solutions.
But, the Pakistan flood has put climate injustice in the spotlight once again. A climate justice movement planned for street protests and meetings on September 9, 2022, in a number of nations across the world to show support for Pakistan's flood victims.
It's high time to realize that what's happening to Pakistan will continue to repeat elsewhere. International cooperation is necessary to decent one another and put an end to climate crime.
Centuries-Old Injustice with a New Face
Be it climate change, slavery, or colonialism, and the rich and powerful nations are quick to dismiss their historical responsibility.
Yes, every country must decarbonize its energy system and focus more on sustainability. But, the rich and powerful countries frequently dismiss their historical responsibility, whether for colonialism, slavery, or climate change. All countries must decarbonize their energy systems and manage their land and ecosystems appropriately and sustainably.
However, the poor world will not forget the part that affluent nations played in causing today's global climate crises. As the cost of climate-related losses rises, so will global calls for climate justice.
Female Genital Mutilation in Somalia Reflects Deep-Rooted Gender Inequality
Background: Female Genital Mutilation in Somalia
Female Genital Mutilation (FGM) in Somalia reflects a deep-rooted gender inequality. Somalia has a 99% prevalence rate among women aged 15-49 years. Most girls are subject to FGM between five and nine years old. Thus, Somalia has the highest rate of FGM in the world. These were the latest statistics from the Somali Health and Demographic Survey 2022.
There is an international consensus that FGM is a violation of human rights. The prevalence of FGM in Somalia represents one of the most extreme forms of discrimination against girls and women. Consequently, this traditional practice has a catastrophic impact on women's health. FGM results in high health care costs for countries where it is practised. Additionally, women and girls subjected to this practice are vulnerable to mental health problems, reduced opportunities for growth, early marriages and early school dropouts.
What is Female Genital Mutilation?
FGM involves the partial or total removal of external female genitalia or another injury to the female genital organs for non-medical reasons.
Additionally, FGM can be divided into four subcategories. The most severe form is the total removal of the clitoris, the labia minora and the intersection of the labia majora. Additionally, the sides of the labia majora are typically sewn together, leaving only a small hole for urine and menstrual blood to pass through.
Moreover, Somalia is not the only country carrying out this harmful cultural tradition. Hence, the map below illustrates where FGM occurs worldwide based on four different severity categories. These categories are based on FGM media reporting, research and surveys conducted in different countries.
FGM Has No Health Benefits & Poses Many Serious Risks
FGM poses many short and long-term harmful complications for those subjected to the practice. Moreover, FGM does not have any health benefits for girls or women. Some short-term complications include bleeding, pain, fever, infection and urinary problems. However, some of the long term-complications include:
chronic pain,
urinary problems,
extreme bleeding,
menstrual problems,
sexual problems,
infections,
increased risk of complications in childbirth,
permanent disability,
psychological problems,
and possible death.
Eradicating This Harmful Cultural Tradition Through Self-Empowerment
The International Day of Zero Tolerance for Female Genital Mutilation is marked every year on the 6th of February. The UN sexual and reproductive health agency (UNFPA) continues to lead the UN in eradicating FGM worldwide.
The Ministry for Women and Human Rights Development, the UNFPA and Ifrah Foundation's "Dear Daughter Campaign" have taken a radically different approach to end FGM in Somalia. Thus, this campaign aims to change the FGM narrative in Somalia through education and dialogue. Furthermore, Dear Daughter targets rural and urban individuals and communities. Therefore, the principle of self-empowerment is central to their unique approach.
The campaign aims to encourage mothers to pledge not to cut their daughters. Accordingly, through letter-writing, Somali mothers pledge to protect and support their right to govern their bodies. When other families witness these pledges, it inspires them to follow in the same footsteps.
"Dear Daughter" engages in advocacy, media and grassroots campaigning nationally in Somalia. The campaign empowers women to promise their daughters a future free from FGM in Somalia.
Real-life Insights Into the Life of Halima
Halima, aged 50, is a mother of five daughters and five sons, living in an internally displaced camp on the outskirts of Mogadishu, the capital of Somalia. Hamlia works as a camp gatekeeper and is an influential community member. Therefore, she is an ideal person of interest for the Dear Daughter campaign to help advocate against FGM's dangers. Furthermore, Halima has not disclosed her real name while being interviewed for safety reasons.
FGM put her life and millions of other women in Somalia's lives at severe risk. When Halima reached adolescence, passing menstrual blood was difficult, and as a newlywed, sex with her husband was a painful experience. When Halima became pregnant, childbirth was excruciatingly painful, with her labour lasting for several days.
"The procedure was painful, with no anesthesia. I bled for days. I was in bed for more than three months and urinating was a problem"

Hamila (victim of FGM).
Halima subjected her first daughter to be cut despite her suffering, just like her mother had done.
FGM Reflects A Deeply Rooted Gender Inequality
Female Genital Mutilation represents a need for men to have sexual control over girls and women. FGM occurs across different religions, ethnicities, races and social classes.
Evidently, FGM represents a manifestation of deeply entrenched gender inequality within society. Consequently, girls and women who decide not to follow the social norm are likely to face condemnation from friends, family and potential husbands. Men often ridicule and reject girls and women who have not undergone the procedure.
Many girls and women continue to be subject to FGM despite its harmful impacts. Consequently, many perceive the social benefits of FGM outweigh the disadvantages. It is difficult for families to abandon the practice without support from the wider community.
Changing the Future of FGM for Women in Somalia and Worldwide
According to the WHO, an estimated 200 million girls and women living today have been subjected to FGM across 30 countries in Africa, the Middle East and Asia. Furthermore, UNICEF stated that an additional 68 million are at risk of being subjected to FGM by 2030.
Somalia has widespread conflict, political instability and resource scarcity. In addition to this, Somalia has a fragile government and is currently suffering from one of the most severe droughts the country has witnessed in 40 years.
Ultimately, despite the obstacles, we must take action to help women and eradicate FGM in Somalia and worldwide. This requires a holistic and multi-sectoral collaboration in addressing structural drivers of FGM and the social norms surrounding its practice.
FGM is a violation of girl's and women's fundamental human rights.
Digital Agriculture to Fight Poverty in Africa
Pandemic like COVID-19 and Russia-Ukraine war shows the vulnerability and dependency of poor countries for food security. One in every five people in Africa is facing hunger. In the African continent, 283 million people are fighting hunger. In such a scenario digital agriculture can pave the way for food security and reduction in poverty.
Read More: Impact of Technology on Human Rights
Conditions are particularly worsening for East African countries like Sudan, Somalia, Ethiopia, Kenya and Uganda witnessing extreme hunger and poverty due to armed conflicts, weather conditions, drought and global food inflation and supply chain disruption due to the Ukrainian war crisis. African people are on the verge of dying from the shortage of food and nutrition.
Also Read: Human Rights on the Brink of Tragedy Due to a Severe Drought in the Horn of Africa
World Bank Groups developed a COVID-19 Household Monitoring Dashboard for measuring the impact of COVID-19 on smallholders of around 83 poor and developing countries. According to such surveys, 80% of households reported a decline in their income due to COVID-19 impacts. In Ghana, 76% of families whose main source of income was agriculture reported a decline in their income.
Agriculture contributes 23% of African countries' GDP and is one of the major sectors of the economy. Around 60% of working population in Africa works in agricultural fields. That's the reason why agricultural failure leads to more than 12 million children being severely malnourished due to food insecurity and 33 million people are at the gate of starvation due to food shortages.
Hence, the development of the agricultural sector can help African nations to see prosperity and become food secure. Further, it can help the rising population growth and reduce the burden of shortage of arable land in future.
Most farmers in Africa explained challenges regarding lack of information and access to markets and logistics, need for money, inputs, agronomic advice, and transportation facilities.
In such a situation, there seems a hope in digital agriculture, which is the combination of agriculture and technology. Technology can help farmers to become resilient to unseen and random shocks like the Covid-19 pandemic.
Digital agriculture is the flawless integration of digital technologies with livestock and agriculture management and other agricultural processes.
Various technological tools and techniques are used to collect and analyse data for predictive agriculture. Farmers can have fast, accurate and efficient decision making.
Technologies that are commonly used in digital agriculture are sensors, UAVs, communication networks, cloud computing, data analysis, artificial intelligence and machine learning and other advanced machinery and tools.
Food and Agriculture Organisation of the United Nations (FAO) mentioned benefits that can help small farmers are access to data, information, market, reduced operational costs, enhanced production and better supply chain management.
The younger generation especially wants to go for digital agriculture but they are unable due to a lack of training and funds.
Hence, Governments can provide finance, develop knowledge dissemination centres and provide skills to the larger population to adopt digit solutions for agriculture.
Governments and people need to realise the immense potential of digital agriculture for the development of the African region and its people.
Opportunities for Agricultural Revolution
Digital agriculture has multiple benefits throughout the agricultural food chain as documented in a report, "Digital Technologies in Agriculture and Rural Areas", released by FAO.
Management of resources can be highly optimised with high anticipation, traceability, and accuracy.
Data and information can be readily available to the small farmers that will help them in the decision-making process.
Real-time decisions can be made for the care and utilisation of agricultural inputs like fertilisers, seeds, water and manure according to the exact need and climatic conditions. It will reduce the wastage of resources and make the agriculture output less costly. Farmers can avail themselves more market price.
Fields, crops and animals can be tracked at the farm level.
The health of livestock can be tracked on a real-time basis with health devices attached to them. So that required care is given to them on time.
Digital agriculture helps in developing agricultural systems that are highly predictable and productive and adaptive to climatic conditions.
There are benefits to a clean environment and climate change as resource optimization would lead to less resource burden and wastage.
People can reap social and cultural benefits as well with improved communication, development, peace and prosperity.
Overall farmers can achieve success in higher food security, sustainable livelihood and overall improvement in living standards.
Challenges to adopting digitalization
There is no denying that digital agriculture can change the landscape of the African economy. But it is also true that it would need dramatic changes in farming systems, communities' mindsets, rural ways of doing agriculture, and resource management. This would definitely be a challenge and requires systematic and holistic efforts from the top to down level. International Organizations like FAO, UNO, and World Bank Group, national Governments, domestic NGOs, knowledge centres, research groups, universities and farmers at large need to be adaptive and supportive. They need active collaboration and communication to make things a reality.
Also Read: The African Great Green Wall
Funds, knowledge creation and dissemination, and skills development are the important milestones to look after.
Conditions for implementing digital agriculture systems
Following are the bare minimum conditions that can be fulfilled to transform the agricultural sector towards more efficient and productive farming systems through digitalisation.
Development of basic ICT infrastructure.
Provide education in ICT.
Government policies and plans to support digital strategies and e-programs.
Spread the use of mobile, internet and social media.
Make the farmers aware of agriculture entrepreneurship and digital innovation.
Establish partnerships between agriculture research scientists working in labs to the farmers at the agricultural grounds. So that farmers can take knowledge and help from the scientific knowledge and skills while scientists can get the real time and behavioural data and feedback directly from the grounds to direct research more towards the local needs of the farmers.
Government can establish incubators and accelerators programmes to impart skills to the farmers to better utilise digital technologies at the farms.
Further, the government can provide easy access to equity funds and loans to the farmers.
Key Takeaways
Successful introduction and implementation of digital technologies in the agriculture sector depends on government support to provide enabling social, economic and policy infrastructure to fully develop the digital agricultural ecosystem in the countries. As technology makes changes with high disruptions, it takes time for society and economic systems to adopt changes and hence they change progressively. Hence, a balance can be created by the government to make an environment for the uptake and effective utilisation of digital agriculture.