Doomsday Glacier on the Brink of Collapse: Catastrophes of Climate Change
One of the biggest simmering dangers of climate change is the rising sea level. And with the Doomsday glacier on the brink of collapse, experts fear the tumultuous tides and 60-feet rise in sea level are near today than ever before.
But what is the doomsday glacier? Why are scientists worried about it? And how big of a risk does the melting glacier pose?
What is the Doomsday Glacier?
Thwaites Glacier has an area of 1,92,000 square kilometres, almost the same size as Florida or the United Kingdom, and is highly vulnerable to climate and ocean changes. The Thwaites Eastern Ice Shelf is the floating terminus of the Thwaites Glacier, which now contributes up to 4% of global sea-level rise.
The ice shelf works as a barrier, slowing the flow of ice from the continent into the sea. The Thwaites Glacier will accelerate if this drifting ice shelf breaks apart, increasing its contribution to sea-level rise by up to 25%.
The Doomsday glacier has changed more radically than any other ice sheet and ocean system in Antarctica during the last decade, owing to human-induced climate change and rising temperature in the Earth's atmosphere and seas.
According to The International Thwaites Glacier Collaboration, Thwaites has lost an estimated 1,000 billion tonnes (900 billion metric tonnes) of ice since 2000; its annual ice loss has doubled in the last 30 years, and it has now lost approximately 50 billion tonnes (45 billion metric tonnes) more ice than it receives in snowfall each year (ITGC).
What Will Happen if the Doomsday Glacier Melts?
If the doomsday glacier cracks and melts, the ice sheet would release hundreds of large icebergs into the Southern Ocean, posing a threat to shipping. Those icebergs, however, will have little effect on global sea levels. 
This is because a section of the Thwaites glacier is now floating, diverting the same amount of seawater released when the icebergs melt. The main issue is that the floating ice is presently holding back a significant chunk of the Thwaites Glacier on land.
Also Read: Terrifying effects of Climate Change are Threatening Humanity
Scientists believe that the landlocked ice will begin to flow three times quicker than it does now when the watery component of the glacier breaks away. It will also come into closer touch with the Amundsen Sea's comparatively warm waters, hastening to melt.
Furthermore, According to ITGC lead coordinator Ted Scambos, a senior research scientist at the Cooperative Institute for Research in Environmental Sciences, if Thwaites completely broke up and released all of its water into the ocean, global sea levels would rise by more than 2 feet (65 centimeters) (CIRES). This scenario is most likely to contribute significantly to increasing sea levels.
Other Unstable Glaciers
The ice shelf, which may be thought of as a drifting extension of the Thwaites glacier, is one of many in the Amundsen Sea Basin, West Antarctica, that scientists are keeping an eye on. Rising ocean temperatures are eroding many ice shelves that hold back glaciers in the area, including Thwaites and its next-door neighbor, the Pine Island glacier.
Warmer ocean water can penetrate these floating ice shelves, causing melting from below to thin and weaken the ice, allowing cracks and fractures to form. By ocean-driven melting at the bottom of the ice shelf, the anchoring point at which the ice contacts the seabed is also pushed backwards.
The Amundsen Sea's bottom slopes downhill, which might ultimately create a change when the glaciers lose their foothold and recede quickly. If the ice shelves go, the West Antarctic glaciers will have less resistance, allowing them to ramp up and contribute more to world sea levels.
Scientists are still working out how to use MICI, and there are still concerns about the sustainability of West Antarctic glaciers. So while the failure of Thwaites might undoubtedly set off a chain reaction, not everyone anticipates this to happen.
The Outpouring Threat of Doomsday Glacier
Thwaites glacier already accounts for around 4% of the global sea-level increase. The glacier has lost approximately 1000 billion tonnes of ice since 2000, and this has risen continuously over the previous three decades. Its flow rate has doubled in 30 years, dumping twice as much ice into the ocean as it did in the 1990s.
Also Read: Durban Flood: The Ringing Alarms On Climate Change
However, according to other research, the disintegration of the Thwaites ice shelf and glacier may not have the disastrous consequences that some fear. Sea ice and pieces of ice that break away from the falling ice shelf and glacier might have a similar constraining effect as the entire ice shelf, halting the chain reaction and preventing the entire West Antarctic ice sheet from collapsing.
However, while it is still unclear what will happen to the doomsday glacier, one this is certain: retreating Thwaites glacier will continue to contribute to world sea level for years to come.
Shein Exposed – The Dark Side of China's Fast Fashion Giant
Shein – one of the world's top fast fashion websites, popular for its cheap and trendy clothing, has enjoyed explosive growth over the past years. Courtesy of thousands of sponsored fashion hauls and cheap laborers, the company is more popular than ever.
But there's a dark side Shein doesn't want you to know – the real cost of fast fashion. In this article, we will unveil the reality of how Shien is providing ultra-cheap fashion, the toll it has on the environment, and how it's shaping today's mindless consumerism.
Shein – More than a Fast Fashion Brand
Over the years, She-in has gone from being a low-cost Chinese apparel merchant to a global online fashion giant. Its sales skyrocketed from $10 billion in 2020 to over $100 billion in 2022. The biggest Unique Selling Point (USP) of the brand is low-price trendy clothing, majorly catering to Gen Z women.
The company mass produces thousands of products daily in its 6,000 clothing factories across China. According to Rest of World, the brand includes 2,000 to 10,000 new styles each day, a majority of which are copied from other popular brands or small-scale designers.
But behind the glamourous shield of Shein lies the dirty reality about how the company is able to produce so much at low prices. Blue color laborers forced to work 75-hour shifts with very little time off, and mostly under unfit conditions, are at the heart of the company.
Atrocious Working Conditions
Multiple reports and investigations have exposed how the company consistently violates Chinese labor laws. Journalists have uncovered concrete evidence that Shien's $7 crop tops were made by workers in unsafe workshops working on minimum wage (often without contracts.)
"Inside The Shein Machine," a Channel 4 documentary, revealed the harsh reality of factory workers through undercover footage. These workers were made to work 17-hour shifts to produce hundreds of garments daily. In one factory, they were paid a base salary of $20 per day, which would be deducted by $14 for every garment with mistakes.
Environmental Impact
The cheap, readily available fabric of choice from Shein is virgin polyester, a material that is not only highly polluting but also incredibly persistent. Its production process releases three times more carbon than cotton, and unlike biodegradable cotton, polyester never breaks down. This is a devastating reality, and it's Time for a change.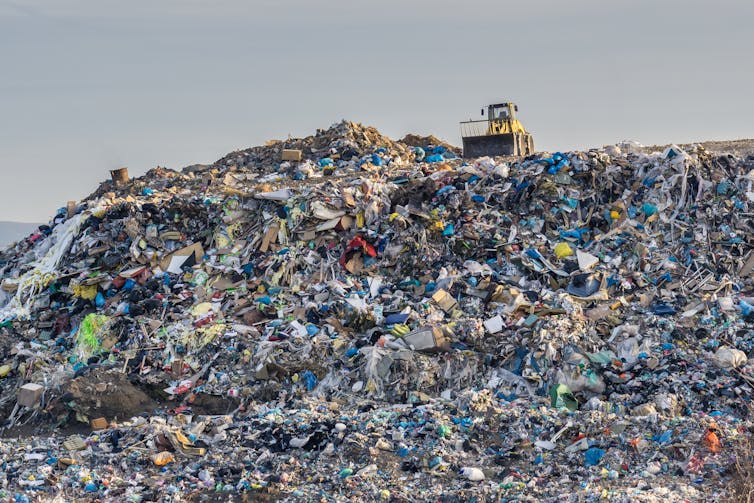 According to Time, the company releases over 6.3 million tons of CO2 per year. However, Shein is not alone climate culprit here. Across the board, the fashion industry accounts for about 10% of carbon emissions.
Landfills are overwhelmed with a staggering 93 million tons of textile waste annually, much of which is burned and releases harmful pollutants into the atmosphere.
The Impact of "Fashion Haul" Influencing
Social media is filled with influencers packing huge boxes of fashion-forward, cheap polyester clothing. For those unfamiliar, fashion hauls are young social media creators showing off their latest fashion purchase, rating the product, and recommending the right one to their millions of followers. Titled "Summer fashion haul" and "Bought all this under $50 only", these videos are mostly targeted to GenZ with the aim to spark a desire to buy the displayed look.
Evoking FOMO in the viewers, these hauls play a crucial part in glorifying fast fashion and normalizing shopping in large quantities. A majority of which is disposed of after a few times.
Promoting driven-to-shop psychology, these fashion hauls have become immensely popular with the hashtag #hauls over 13 billion views and #clothinghaul about 1 billion on TikTok. A majority of these hauls are powered by Shien, with the hashtag #sheinhauls 3.8 million views on the platform.
The fashion hauls are Shein's critical marketing strategy. Their affiliate collaboration with influencers who gets a 10%-20% commission on each purchase is one of the key reasons why the fast fashion website became the giant it is today.
Shein is on a Decline
Shein, the fast-fashion brand known for its cheap and trendy clothing, has seen a meteoric rise in recent years. However, its sales took a sharp turn in 2022 for the first time since the pandemic, with a few reasons behind the drop.
The slowing post-pandemic economy has left shoppers with less disposable income to spend, and persistent accusations of poor clothing quality, worker mistreatment, and unethical business practices may have finally caught up to the brand.
According to Brandwatch, 70% of online conversations about Shein were negative between 2020 and 2023. However, despite these challenges, Shein remains optimistic and reportedly seeks $3 billion to fuel its expansion in 2023.
The Problem is Bigger than Just Shein
Reports of Shein abusing its workers, producing harmful clothing, and worsening the planet have been circling for years. Still, the brand is thriving with more customers than ever.
This sparks the question – Is Shein really the problem?
And we know the answer. Shein, or any fast fashion brand, has transformed the fashion industry because of multifaceted factors, including affordability, convince, emotional connection, and above all, social pressure.
We are contributing to the exploitation of minimum-wage laborers
We see it, we are engaging with it every day on social media, and we are ridden with negative emotions like addiction and guilt. According to ThredUP, one in three Gen Z feels assisted to fast fashion, whereas one in five feels pressured to keep up with the latest fashion trends.
But that's not what fashion is about. Created as a medium of self-expression and creativity – today, the industry has taken a 180-degree turn. And sadly, it's no foreseeable end to the trend. However, a huge section of the population is standing up against fast-fashion brands like Shein.
The Need to Adopt Responsible Fashion
The industry is huge, and Shein is not the only culprit. By engaging in the fast fashion trends, we are giving the green light to brands like Shiens to continue labor exploitation and release humongous amounts of toxic chemicals.
But by educating and supporting ethical and truly sustainable fashion brands, we stand a chance to snowball a positive change in the industry. Fortunately, the trend of responsible fashion is already catching on with young shoppers.
COP27 Climate Change Summit: Greenwashing Scam Imperilling Human Rights
COP27 Faced Major Criticism
Morally, politically and economically COP27 climate change summit has been coined as a greenwashing scam imperilling human rights.
The world watched Egypt closely as it hosted the 27th United Nations Conference on Climate Change (COP27) in Sharm El-Sheikh from the 8th-16th of November. More than 190 governments attended COP27 to attempt to solve some of the world's most pressing environmental challenges.
Furthermore, Egypt hosting of COP27 sparked much controversy due to its abysmal human rights record. Additionally, COP27 faced heavy criticism due to some of the world's top polluters, such as Coca-Cola sponsoring the event. Furthermore, attendees arrived in private jets; meat and dairy products remained on menus; dozens of domestic civil society organizations were excluded. Additionally, the summit was overshadowed by persistent calls to release up to 65,000 political prisoners in Egyptian prisons.
Worlds Top Polluter, Coca-Cola, Sponsored COP27
The UN climate conference announced a sponsorship deal with Coca-Cola, one of the "world's top polluters". Coca-Cola recently retained its title for the fourth year as the world's top plastic polluter. The sponsorship deal is a greenwashing scam by campaigners, drawing intense criticism.
Coca-Cola produces 120 billion throwaway plastic bottles a year. 99% of plastics are made from fossil fuels, exacerbating the plastic and climate change crises.
Private Jets, Bottomless Cocktails and Beef Medallion Dishes
Surprisingly, attendees indulged in the very activities which got us into this mess in the first place. Moreover, world leaders flew to Egypt in private jets. Attendees enjoyed bottomless cocktails, one-hour unlimited wine and beer packages, $100 beef medallion dishes, and $50 seafood platters.
This begs the question: do these foods belong at a climate conference? We have missed the true purpose of the climate summit: to help save the planet.
Meat and Dairy On the Menu – Not on the Agenda
In the three-decade history of the UN Climate Summit, COP27 was the first UN summit to discuss the meat and dairy industry's contribution to global greenhouse gas emissions.
COP27 faced massive criticism this year from climate activists due to the unsustainable meat and dairy items on its menus. It seems unimaginable that globally we are trying to reduce our meat and dairy consumption to save our planet. However, our governments cannot stop eating these foods at the world's largest climate summit.
Cutting meat and dairy output are not yet on the agenda for governments at COP27. Many governments attending the summit give billions to livestock farmers in subsidies. Instead of focusing on plant-based diets, they are advancing policies to reduce greenhouse gas emissions using feed additives that make animals less gassy and technology that sucks up the methane wafting off manure heaps. Andy Reisinger, a farm emissions specialist and vice-chair of the UN's IPCC climate panel, said feed additives could worsen emissions by promoting intensive farming.
Read more: Is Veganism the Solution to Eradicating Food Carbon Foot Print?
Dozens of Domestic Civil Society Groups Excluded
Hundreds of prominent human rights defenders, researchers and environmentalists were exiled from Egypt. They were unable to attend Cop27 due to the nature of their work. Many voices from Egypt were absent at the conference due to the government's corrupt attempts to exclude dozens of domestic civil society groups.
"Arrests and detention, NGO asset freezes and dissolutions and travel restrictions against human rights defenders have created a climate of fear for Egyptian civil society organisations to engage visibly at the COP27"
Additionally, COP27's wifi blocked access to international human rights organizations such as Human Rights Watch, Amnesty International and other news websites needed during information talks. These prominent human rights organizations hosted talks at COP27 but could not access their sites due to previous work criticizing the Egyptian government. Egypt used this strategy to hide the nation's decades-long record of cracking down on human rights.
Read more: Pakistan's Climate Crisis: A Peek Into The Apocalyptic Future That Awaits.
65,000 Political Prisoners in Egyptian Prisons
Currently, there are an estimated 65,000 political prisoners inside Egyptian prisons. COP27 was overshadowed by persistent calls to release political prisoners.
A British-Egyptian detainee, Alaa Abd el-Fattah, was a significant focus in the media. As a leader of Egypt's 2011 revolution, he has been in prison for the past decade. He started a partial hunger strike in April 2022 to protest his detention conditions. He spent the last six months consuming just 100 calories a day. A week before COP27 started, he stopped eating altogether. Then, on the day the summit began, he stopped drinking water. He has since resumed drinking water but remains critically ill.
Greta Thunberg, who refused to attend COP27, signed a petition by a human rights coalition calling on Egyptian authorities to open up civic space and release political prisoners.
Read more: Accelerating Deforestation in the Amazon Severely Threatens Climate Change Crisis.
COP27 Cracks Down On "Greenwashing"
Companies, banks, cities and states worldwide have continuously made broken promises to achieve net-zero emissions. These corporate climate pledges amount to little more than a greenwashing scam. Evading net zero claims is a common greenwashing strategy. Companies claim to be carbon-free due to strategies such as buying carbon credits while simultaneously pursuing new fossil fuel projects emitting greenhouse gases.
Greenwashing is when an organization spends more time and money marketing itself as environmentally friendly than minimizing its environmental impact. It's a shady marketing gimmick that misleads consumers who prefer to buy environmentally friendly goods and services.
At COP27, the UN cracked down on greenwashing, laying down recommendations for how companies, financial institutions and cities must calculate their net zero emissions status. The new UN report aims to eliminate loopholes by laying out ten steps to bring integrity, transparency and accountability to net zero claims.
"I have a message to fossil fuel companies and their financial enablers. So-called 'net-zero pledges' that exclude core products and activities are poisoning our planet. They must thoroughly review their pledges and align them with this new guidance".

United Nations Secretary-General, António Guterres.
Read more: Doomsday Glacier on the Brink of Collapse: Catastrophes of Climate Change.
The UN cracked down on companies stating that they can't claim to be net zero if they are not in line with targets set out by the Intergovernmental Panel on Climate Change (IPCC). These targets include cutting global carbon emissions by 45% by 2030. The UN limited short-term carbon offsets and held that they could only be used sparingly in the long term.
Historic Deal: Governments Must Pay Poor Nations for Climate Damage
Governments at COP27 approved a historic deal to create a fund for compensating developing nations that are victims of extreme weather events worsened by rich countries' greenhouse gas emissions. However, many remained uncertain as countries argued over emission reduction efforts.
Moreover, this is a massive step for poorer countries bearing the brunt of climate change. These nations face extreme weather events such as floods, droughts, heat waves, and famines despite releasing the lowest greenhouse gas emissions. This historical "loss and damage" deal will provide financial assistance to developing nations stricken by climate disasters.
However, this loss and damage deal has several flaws. Some nations held that the pledges to limit global temperatures to below 1.5 degrees showed little progress compared to the COP26 conference in Glasgow in 2021. Furthermore, others criticized how the language and guidelines on phasing out fossil fuels were weak. Despite many different opinions between nations regarding the guidelines of this historic deal, it is still a vital step towards achieving climate justice.
Read more: Climate Refugees: Pain of Unseen Victims.
Concluding Thoughts
COP27 has faced significant criticism this year for many justifiable reasons. Many believe COP27 is a greenwashing scam failing humanity and the planet by not leading to significant changes. The UN climate summit is losing its credibility in being able to create meaningful change to save our planet.
World leaders and people in power continuously use high-profile gatherings like COP for attention and are greenwashing, lying and cheating their way through pledges and commitments. The UN Environment Programme released the Emissions Gap report stating that only an urgent system-wide transformation can deliver the enormous emissions cuts needed to stabilize global temperatures below 1.5 degrees by 2030.
World leaders consistently fail to fulfil their commitments and act on time. We cannot place trust in greenwashing scams like COP summits anymore. Instead, we need rapid, far-reaching, unprecedented changes in all aspects of society if we want to build a sustainable world for future generations.
Air Conditioners Exacerbate Climate Injustice
Air conditioners are the epitome of inequality and climate injustice.
Buying air conditioners is one of the most popular individual responses to climate change. As the temperature of the globe increases, most people are buying and using air conditioners to protect themselves from the scorching heat. As of 2020, there were 1.9 billion air conditioning units in the world. By 2050, the number of air conditioners is expected to grow to 4.5 billion. That means every 2 people out of 7 are using air conditioning. Further, 37% of all the world's electricity is used for air conditioning.
At an individual level, air conditioning seem good to protect oneself from the sweltering heat. However, the use of air conditioners possesses two inherent problems- (i) They only worsen climate change and (ii) the access to air conditioning is inequitable.
How do Air Conditioners Contribute to Global Warming?
Air conditioning is a trap- the warmer it gets, the more air conditioners we use. The more we use air conditioners, the warmer it gets. It is an irony that the technology we need to stay cooler only makes the climate hotter.
Air conditioners use refrigerants that also happen to be powerful heat-trapping gases. Hydrofluorocarbons (HFCs), the chemicals used in air conditioners are 12,000 times more potent at trapping heat in the atmosphere than carbon dioxide.
According to the calculations of the World Economic Forum, greenhouse gas emissions from air conditioning will account for as much as a 0.5-degree Celsius rise in global temperatures by the end of the century.
Also Read: Pakistan's Climate Crisis: A Peek Into The Apocalyptic Future That Awaits
Unequal Access to Air Conditioners
As of now, people have mostly focused on the technological aspect of air conditioners. Various countries have started funding initiatives to upgrade air conditioners. They aim to replace HFCs with harmless chemicals.
The problem of unequal access to air conditioners is mostly disregarded.
It is perhaps because almost all elites possess an air conditioner. Further, lower-class people who cannot afford an air conditioner right now desire one. In this race for buying air conditioners, no one is asking the right questions.
Given that air conditioners contribute towards global warming through the release of HFCs and consumption of huge energy, why should only some people be allowed to have air conditioners?
The harmful effects of air conditioning on climate are socialized. However, the benefits are not socialized.
Also Read: Climate Refugees: Pain of Unseen Victims
We are not in this Together
When it comes to climate change, it is often repeated that we are all in this together. However, nothing is farther from the truth. The rich people who afford air conditioning make life terrible for others who cannot afford an air conditioning. Further, they totally insulate themselves from the harm of the air conditioners.
The case of air conditioning makes any kind of technological progress to protect humankind from climate change look bleak. If there is technological progress, it appears that it may be private. Like air conditioning, technology may not be a public good.
When Jeff Bezos returned from space last year, he made it very clear that elites will not reduce their carbon footprint. He instead suggested moving the heavy industry into space. He said, "We need to take all heavy industry, all polluting industry, and move it into space. And keep Earth as this beautiful gem of a planet that it is. That's going to take decades to achieve, but you have to start. And big things start with small steps."
Bezos is the owner of one of the most polluting companies in the world. Instead of switching to green energy, he is talking about taking polluting industries to space.
It may, in fact, be possible for Bezos to start his life in space permanently. He may be able to give his future generations a better climate up in space. Unfortunately, he will take this step only after he has done damage maximum to the earth, to an extent that life may not be possible here.
That is exactly what air conditioning is- make life terrible for others but also make technological progress to insulate yourself from the harmful effects inflicted on others.
Also Read: Climate Change Deepening Gender Inequalities: A Reality Check
The Way Forward
Before taking any step towards mitigating climate change or making any technological progress to protect humankind from the effects of climate change, it must be kept in mind that climate change affects different classes of society differently.
Any future technology that is not public good should be rejected by the people. Although air conditioners are now beyond the stage where they could be regulated but governments must ensure that air conditioners are taxed heavily. The revenue thus generated can be channeled for green energy initiatives.