Looming Food Crisis in 2022: Why Are Food Prices Skyrocketing Globally?
2021 witnessed a stark spike in food prices. The UN food agency reports prices jump of 28% during the years, touching the highest level since 2011, along with the warning of a potential global food crisis in 2022.
So, why are food prices escalating globally? And what can be done to bring them down?
The Looming Food Crisis
After two years of the pandemic, 2022 was looking hopeful. However, As the new Omicron variant rips across the globe, any sense of normalcy does not seem likely regarding agricultural commodity prices, the bank stated in its report titled Hell in the Handbasket.
Other than a month of slight relief in December 2021, food prices were peaking all-time high throughout the year. In 2021, vegetable oil prices increased 65.8%; sugar prices rose to their highest level since 2016, and meat prices were 12.7% above 2020 prices.
So, what is driving this sudden spike in food prices globally? Experts believe the following three to be the primary driver of the current food crisis:
1. Extreme Weather
Extreme weather events caused spikes in agricultural commodities prices in 2021, which is likely to be continued into 2022 as a consequence of damaged crops.
In response to extreme temperatures and flooding last year, the price of goods including Belgian potatoes, Brazilian coffee, and Canadian yellow peas – in demand as a plant-based protein substitute – rose sharply.
Brazilian Coffe
In July, Brazilian coffee prices soared to near seven-year highs after severe frosts hit the country's coffee belt. A shortage of container ships and disruptions in the global supply chain also contributed to higher prices later in the year. In addition, Brazil has continued to experience erratic weather, raising concerns that could further worsen the crop damage.
Unprecedented Heatwave
During mid-2021, an unprecedented heatwave and drought-hit Canadian production and sent pea prices soaring. It drove the prices of peas, a key ingredient in plant-based meat alternatives, to double up.
According to the Stockholm Environment Institute report, sugar cane yields could fall 59 percent by 2100 compared to yields between 1980 and 2010, while Arabica coffee yields and maize yields could fall 45 and 27 percent, respectively.
Soaring Wheat Prices
Wheat is one of the commodities that encapsulates the pressures on global food prices and the risks that come with it. Globally, wheat is experiencing its largest deficit since 2012–13, while Chicago wheat prcies are near a nine-year high. In addition, it is the second consecutive year in which wheat inventories are low — following ten previous years when wheat production exceeded demand.
Also Read: Lab Food: The Ultimate Solution to Skyrocketing Population's Dietary Needs?
Drought and high temperatures ravaged major wheat producers, including the Canada, U.S., and Russia, which was exacerbated by two consecutive La Nia events.
2022 Food Crisis
Researchers warn that climate change will make these conditions more frequent and intense as it progresses.
Also Read: Terrifying effects of Climate Change are Threatening Humanity
Concurrent crises, such as droughts that follow one another, are also likely to exacerbate shortages and become more common as temperatures rise.
2. COVID-19 Pandemic
The global pandemic halted the world for a substantial amount of time. As a result, lockdowns and travel restrictions have severely impacted food production and manufacturing, along with distorting the global supply chain.
Also Read: Food Scarcity: The Pitfall Beneath Pandemic
Sticker Shock
Grocery store shoppers continue to face sticker shock as prices have risen over the past year. According to the U.S. Department of Agriculture, consumer prices in November 2021 rose 7% over the same month last year. The increase is a 39-year high and the biggest since 2008.
The Bureau of Labor Statistics reports that meat prices have gone up 16%, and steaks have seen a 25% increase in price. According to the Wall Street Journal, a number of major food companies dealt with labor strikes, including Kellogg's and Nabisco, in 2021.
Furthermore, owing to the labor shortage, higher prices of animal feed, gas, and other raw materials in the COVID-19 pandemic, many companies are planning to increase their product prices in 2022.
Sri Lanka: Acute Food Shortage
The COVID-19 pandemic in Sri Lank has resulted in severe food and basic supply crisis for the island country coupled with the plunging currency and depleting forex reserves. While the country's currency is on a steep downfall, the infection surge and curbing measures is worsening the matter.
Also Read: Sri Lanka: What Led the Island Nation to Bankruptcy?
With around 22 million population, Sri Lanka is heavily dependent on imports for food products. But, the drop in tourism, which accounts for over 10% of the country's GDP, caused the Sri Lankan economy to shrink by about 3.6%
3. Conflicts, Uprising, and Protests
Intensifying conflicts, protests, and escalations in different parts of the world are further compounding the global food crisis. Despite the pandemic and extreme climate events, conflicts continue to be the overarching drive of acute hunger.
Central & West Africa: Acute Food Insecurity
A record 28 million people in West and Central Africa are now experiencing acute food insecurity, and if efforts to stem the spread of hunger are not ramped up, the situation can worsen exponentially in 2022.
Also Read: Human Rights on the Brink of Tragedy Due to a Severe Drought in the Horn of Africa
During the harvest season (October-December 2021) in the Sahel and West Africa, 26 million people lack enough food. According to the Cadre Harmonisé (CH) report on food security, this should signal the end of the lean season. Separate data from the Integrated Food Security Phase Classification (IPC) indicates that 2 million additional Central Africans were acutely food insecure during the same period.
Severe Food Crisis in Afghanistan
In late 2021, nearly half of Afghans experienced food insecurity or worse levels of crisis- the highest level ever recorded in Afghanistan and a 37% increase over six months earlier. Nearly 9 million Afghans will experience acute food insecurity in early 2022, one step short of famine conditions.
Also Read: Looming Food Crisis in Afghanistan: 1.1 Million Children on the Verge of Starvation
Food shortages and rapidly rising food prices, coupled with the ongoing drought, are likely to exacerbate food insecurity in 2022. IRC assessments conducted in five provinces in mid-2021 indicated that hunger and lack of livelihoods play a major role in driving further displacement.
Food Crisis: Grim and Uncertain Future
Despite prices already sitting at 10-year highs, that upward pressure on food prices is unlikely to let up anytime soon because of a perfect storm of unpredictability, inflation, and labor problems.
Shein Exposed – The Dark Side of China's Fast Fashion Giant
Shein – one of the world's top fast fashion websites, popular for its cheap and trendy clothing, has enjoyed explosive growth over the past years. Courtesy of thousands of sponsored fashion hauls and cheap laborers, the company is more popular than ever.
But there's a dark side Shein doesn't want you to know – the real cost of fast fashion. In this article, we will unveil the reality of how Shien is providing ultra-cheap fashion, the toll it has on the environment, and how it's shaping today's mindless consumerism.
Shein – More than a Fast Fashion Brand
Over the years, She-in has gone from being a low-cost Chinese apparel merchant to a global online fashion giant. Its sales skyrocketed from $10 billion in 2020 to over $100 billion in 2022. The biggest Unique Selling Point (USP) of the brand is low-price trendy clothing, majorly catering to Gen Z women.
The company mass produces thousands of products daily in its 6,000 clothing factories across China. According to Rest of World, the brand includes 2,000 to 10,000 new styles each day, a majority of which are copied from other popular brands or small-scale designers.
But behind the glamourous shield of Shein lies the dirty reality about how the company is able to produce so much at low prices. Blue color laborers forced to work 75-hour shifts with very little time off, and mostly under unfit conditions, are at the heart of the company.
Atrocious Working Conditions
Multiple reports and investigations have exposed how the company consistently violates Chinese labor laws. Journalists have uncovered concrete evidence that Shien's $7 crop tops were made by workers in unsafe workshops working on minimum wage (often without contracts.)
"Inside The Shein Machine," a Channel 4 documentary, revealed the harsh reality of factory workers through undercover footage. These workers were made to work 17-hour shifts to produce hundreds of garments daily. In one factory, they were paid a base salary of $20 per day, which would be deducted by $14 for every garment with mistakes.
Environmental Impact
The cheap, readily available fabric of choice from Shein is virgin polyester, a material that is not only highly polluting but also incredibly persistent. Its production process releases three times more carbon than cotton, and unlike biodegradable cotton, polyester never breaks down. This is a devastating reality, and it's Time for a change.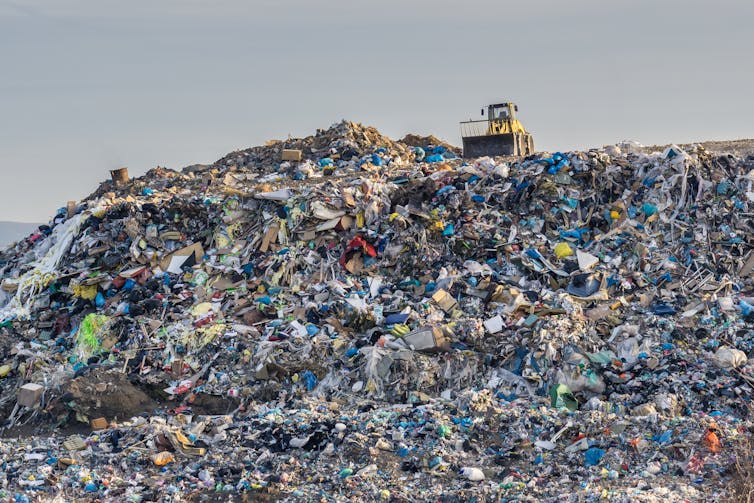 According to Time, the company releases over 6.3 million tons of CO2 per year. However, Shein is not alone climate culprit here. Across the board, the fashion industry accounts for about 10% of carbon emissions.
Landfills are overwhelmed with a staggering 93 million tons of textile waste annually, much of which is burned and releases harmful pollutants into the atmosphere.
The Impact of "Fashion Haul" Influencing
Social media is filled with influencers packing huge boxes of fashion-forward, cheap polyester clothing. For those unfamiliar, fashion hauls are young social media creators showing off their latest fashion purchase, rating the product, and recommending the right one to their millions of followers. Titled "Summer fashion haul" and "Bought all this under $50 only", these videos are mostly targeted to GenZ with the aim to spark a desire to buy the displayed look.
Evoking FOMO in the viewers, these hauls play a crucial part in glorifying fast fashion and normalizing shopping in large quantities. A majority of which is disposed of after a few times.
Promoting driven-to-shop psychology, these fashion hauls have become immensely popular with the hashtag #hauls over 13 billion views and #clothinghaul about 1 billion on TikTok. A majority of these hauls are powered by Shien, with the hashtag #sheinhauls 3.8 million views on the platform.
The fashion hauls are Shein's critical marketing strategy. Their affiliate collaboration with influencers who gets a 10%-20% commission on each purchase is one of the key reasons why the fast fashion website became the giant it is today.
Shein is on a Decline
Shein, the fast-fashion brand known for its cheap and trendy clothing, has seen a meteoric rise in recent years. However, its sales took a sharp turn in 2022 for the first time since the pandemic, with a few reasons behind the drop.
The slowing post-pandemic economy has left shoppers with less disposable income to spend, and persistent accusations of poor clothing quality, worker mistreatment, and unethical business practices may have finally caught up to the brand.
According to Brandwatch, 70% of online conversations about Shein were negative between 2020 and 2023. However, despite these challenges, Shein remains optimistic and reportedly seeks $3 billion to fuel its expansion in 2023.
The Problem is Bigger than Just Shein
Reports of Shein abusing its workers, producing harmful clothing, and worsening the planet have been circling for years. Still, the brand is thriving with more customers than ever.
This sparks the question – Is Shein really the problem?
And we know the answer. Shein, or any fast fashion brand, has transformed the fashion industry because of multifaceted factors, including affordability, convince, emotional connection, and above all, social pressure.
We are contributing to the exploitation of minimum-wage laborers
We see it, we are engaging with it every day on social media, and we are ridden with negative emotions like addiction and guilt. According to ThredUP, one in three Gen Z feels assisted to fast fashion, whereas one in five feels pressured to keep up with the latest fashion trends.
But that's not what fashion is about. Created as a medium of self-expression and creativity – today, the industry has taken a 180-degree turn. And sadly, it's no foreseeable end to the trend. However, a huge section of the population is standing up against fast-fashion brands like Shein.
The Need to Adopt Responsible Fashion
The industry is huge, and Shein is not the only culprit. By engaging in the fast fashion trends, we are giving the green light to brands like Shiens to continue labor exploitation and release humongous amounts of toxic chemicals.
But by educating and supporting ethical and truly sustainable fashion brands, we stand a chance to snowball a positive change in the industry. Fortunately, the trend of responsible fashion is already catching on with young shoppers.
Argentina wins the World Cup; are there any other winners?
Obviously, the standard of winning in the world cup is winning the Cup, yet others have joined the honor of moral winning and entered history at its sharpest edge. First, among other winners, Qatar has achieved super outstanding success in hosting the World Cup, which befits its place. Second, many Arab teams won and scored well in some matches such as Tunisia and Saudi Arabia which succeeded in defeating the legend Messi. Third, some of the Arab teams have qualified for the World Cup finals for the first time such as Morocco. Thus, this has demolished the idea of the inability of Arab youth to achieve success in football and to consider the West as a criterion for success.
That idea of misfortune, which lived in our minds and traced the minds of Arab youth, brought them into the circle of disability, lack of initiative, improved performance, attempt, confrontation, and achievement, Unfortunately. Nevertheless, this is no more happening. Among all, Palestine, Qatar, Israel, Racism, and Islam are all topics that took great attention and importance during the tournaments. Mainly, talking about other winners is our focus here.
Qatar: What a pride!
The small but influential State of Qatar was able to realize the Arab dream of hosting the FIFA World Cup as well as organizing a unique version of the World Championship. This is not strange nor unlikely for a country like Qatar, which has accumulated long experience in organizing global events. Qatar organized several global events, including the Climate Conference (COP18) in 2012. The closest example is the mini "rehearsal" that preceded the World Cup, the 2021 FIFA Arab Cup.
Since the first day of the tournaments, the world has been dazzled and fascinated by Qatar's legendary uplifting World Cup opening. Harmoniously, the opening, which was a wonderful art, blended local and Arab national cultures with Qatar's customs and traditions. The football masses have praised Qatar's generosity, hospitality, and creativity.

Qatar has beautifully reflected the Islamic culture theme in the event's hosting laws that reflected the authentic Islamic culture. For example, opening the event included many arts with a musical background, and video scenes reflecting the link between the authenticity of the past and the rhythm of the present by modern technical means.
It managed to overcome the West's offensive campaign regarding the workers' crisis, the imposed Islamic rules, and refuting the thought of being an incompetent country. It was also able to overcome the political crisis with its Gulf surroundings and the stifling blockade it suffered. Seriously, Qatar has thoroughly considered every tiny detail of the event. Consequently, none can deny the fact that Qatar has made unparalleled success along with moral values rooted in its blood. The last day of tournaments was a day of pride and a day of success. The people of Qatar shared their joy on Qatar's National Day in scenes expressing the fulfillment and joy of the achievements of these people for a moment, from the beginning of the World Cup to the final. Moreover, building infrastructures with paying attention to the principle of sustainability was yet another field of success.
Read more on this/ Qatar FIFA 2022, A Civilized Model Of Islam
Western Racism toward Arabs and Muslims
Arabs have long suffered systematic attacks for portraying them as a nation unable to achieve success and participate effectively in major global events. But, now came the time to demolish all these ignorant racist views. For example, Morocco's best international achievement came at the 2022 World Cup. Morocco became the first African team to qualify for the semi-finals of the World Cup after the previous three African quarter-finalists were eliminated. Morocco was unbeaten in their last six World Cup matches (winning 3 and drawing 3), the longest-unbeaten African team in the history of the World Cup by counting their 2-2 draw against Spain in Morocco's last encounter with the Russian World Cup. Most importantly, their greatest win is being crowned with the love of Arabs.
Qatar's success in hosting the World Cup gives Arabs hope that they can catch up with civilizations at all levels. But it needs great time and effort. It also requires sincerity of intent, decision, will, deviation from dependence, and focus on the interests of our people. Another aspect includes no more considering the west as a criterion for judgments and laws. The masses not only accepted the imposed Islamic rules but also praised them and considered them a good choice. Despite all these fabulous achievements, some will never abandon the racist look for Arabs. For example, Qatar's Emir, Sheikh Tamim bin Hamad al-Thani, draped Lionel Messi in an Arab bisht before lifting the World Cup as an act of courtesy and appreciation. BBC host Gary Lineker said, "it was a shame they had covered his shirt," during what was "a magical moment."
On the other hand, the moment when Sofiane Boufal along with his mother made a celebratory victory dance at the pitch went viral. This exact scene warmed our hearts, not just us as Muslims or Arabs but also the westerners too. They were amazed by the Islamic values present during the tournaments. They felt the unity, love, gratitude, and family values of the Muslims especially. In addition to the Islamic preaching made by Qatar's efforts, many football fans converted to Islam. Yet, again, some will insist to believe and increase Islamophobia to deviate us from the track of success, of course.
Read more on this/ The World Cup in Qatar and Die-hard Western Racism
Love for Palestine, hatred for Israel
Others have joined the honor of moral winning like Palestine, for instance. At the World Cup, Palestine's presence was evident, and the absence of Israeli media and flag as an intolerable guest. Some people did not know anything about the Palestinian cause while some believed the misleading story of Israel. However, thanks belong to the supporting campaign, with Qatar as a contributor, things have changed. For instance, non-Arab and Muslim audiences (for example, the Brazilian public) appeared to celebrate their win by singing to Palestine.
Read more on this/ Palestine is Entrenched In the Heart of Qatar World Cup
Today, we are the one who is writing history from an Arabic land by our rules. It is worth mentioning that people must stop saying that it is all about anti-Semitism. This is either based on ignorance or claims of stupidity. Qatar, Palestine, and Muslims, in general, are all other winners too. The question remains in our minds. If the World Cup were in another Arab country, would it have succeeded in this way and left moral impacts on the world?
The Crises of Multiculturalism In Europe And The Question Of The Muslim Immigration
The Crises of Multiculturalism in Europe
In the part of the world considered to be the West, multiculturalism initially originated in the nineteenth century in the American context. Even then it was a broad phrase that was difficult to define since it has descriptive, strategic, and normative connotations. This discussion to this date still often pops up in political debates and government gatherings in Europe aimed at discussing what all things should be considered to encompass it. However, the generic definition refers to a society's cultural, ethnic, and religious variety on an empirical level and clearly differs from monoculturalism or the presence of only one culture in a society. To understand the crises of multiculturalism in Europe, its important to understand generic meaning of multiculturalism.
Terence Turner, an anthropologist at the University of Chicago attempts to define multiculturalism in his 1993 essay in the following terms:
"In calling for the formal equality of all cultures within the purview of the state and its educational system, multiculturalism represents a demand for the dissociation (decentering) of the political community and its common social institutions from identification with any one cultural tradition." (Turner)
Unlike other western countries such as the United States, Australia, and Canada, European countries were not very quick to welcome cultural diversity until the late twentieth century. Even the contemporary reality of Europe, keeping in view particular incidents like hate crimes in places like London and Germany against Muslims to the passing of laws such as the veil ban in France; dictates a crises of multiculturalism in Europe.
Read here, The Scope of inter-religious pluralism within Islam
When did European Nations Embrace Multiculturalism?
It is a widely held belief that European nations did not outrightly embrace multiculturalism until the late twentieth century. And that it was specifically the post-war immigration and country-specific measures to integrate incoming immigrants seeking asylum in Europe that preceded this newly approved transformation. As a result, when considering crises of multiculturalism in Europe, multicultural policies and in fact understanding this colossal concept in its entirety are almost always limited to the integration of immigrants who arrived during the post-war wave of migration.
The tense relationship that Europeans have with religiously and ethnically diverse minorities, notably Muslim immigrants, is at the center of both national and international discussions and disputes.
These current disputes and the debatable state of Muslim minorities in Europe, however, cannot be understood in isolation solely from the point of view of the present migrant or refugee crisis.
Even before the tragic 9/11 attacks or attacks in other parts of Europe like the London bombings on 7 July 2005 referred to as 7/7, ethnic and religious conflicts had already begun to prompt a reconsideration of multiculturalism as a sustainable ideology for Europe.
Multiculturalism, on the other hand, has become ingrained in most European countries' daily lives and it won't be incorrect to say that it cannot possibly be entirely reversed. However, issues arising at both the institutional and decision-making levels, as well as on the societal level through general public opinion, have made daily life more difficult for Muslims of various ethnocultural groups who are either living or wish to live their lives according to their religious and cultural traditions.
Also, read Communalism and Economic Marginalisation of Muslims
The question of Muslim migration in Europe
Europe has seen a record surge of asylum seekers from countries that are predominantly Muslim in recent years. This influx of Muslim migrants has sparked a huge debate in some nations concerning immigration and security policy, as well as concerns about the existing and future numbers of Muslims in Europe. The crises of multiculturalism in Europe is dictated to a very large extent by the question of the Muslim migration. Migration has been a contentious subject almost since the time of its inception.
But the more intriguing debate around the question of migration is always the largest influx of Muslim migrants. However, it is important to understand the history of Muslim migration in Europe. There are primarily two reasons why Muslim migrants were coming to Europe in large numbers and at a fast pace.
The first reason was the economic migration of Muslims from third-world countries in search of jobs and earning opportunities. The second reason was the numerous and continuous wars in predominately Muslim nations that pushed the fleeing Muslims to migrate to Europe.
Read here, Islamic Democracy: Is Democracy Compatible with Islam?
Economic migration of Muslims from third-world countries
Those who had previously left their nations in quest of work, social benefits, and greater earnings were the earlier migrants. The vast majority of these first-generation migrants arrived from third-world countries in the 1950s and 60s when they were young and looking for work. They had no intention of settling permanently, rather they only planned to come to earn enough money to save in order to send it back home. These migrants rarely got white-collar jobs and usually were restricted to doing manual work in factories and industries regarded as the "unprofessional work sector".
Overall, these migrants helped towards the economic prosperity of many European countries by building railroads and roads, cleaning and maintaining the streets, government, and private offices, working in coal mines and industries, and taking up occupations that Europeans were unwilling to do themselves.
In Western Europe, there was no "migrant crisis" till then and, by extension, no "Muslim migration influx" until 1970 as such. In public spaces, migrants were mainly unnoticed, and Europeans were not only insensitive but indifferent to them. These migrants did not explicitly exhibit any radical or specific religious obligations, nor did they demand any space for it, since they did not want to dwell permanently in Europe.
Muslim migrants were not explicitly discriminated against or prejudiced due to their identity because they contributed to the well-being of European societies. While there was classism as well as racism, there was no manifestation of anything that would be recognized as Islamophobia. In short, migration was regarded as a benefit rather than a burden, and even less so as a threat.
Read here, The Forgotten Jammu Massacre
Muslims fleeing war and conflict in predominantly Muslim Nations
The second reason for the Muslim migrant influx in Europe is people fleeing war and conflict zones. Millions of people have been forced to escape their homes around the Muslim world due to a variety of such factors, including interstate conflicts, civil wars, US-led military campaigns in Afghanistan and Iraq, in addition to a variety of other natural calamities like earthquakes and Tsunamis. Many people have crossed national boundaries and are now living as refugees in neighboring nations. Most of these migrants however preferred to go to European countries in search of asylum and larger educational and earning opportunities, but besides everything for a safe war-free environment.
While fleeing war and death in their own countries millions of Muslim migrants are still in limbo waiting for confirmation on whether they can make stable lives for themselves in European countries. However, many of the migrant Muslims who were seeking asylum in Europe and did actually manage to get in are still unsure if they can call Europe their home.
Despite the fact that the Muslim migrants were escaping war, they were later subjected to intolerance, discrimination, and violence in the countries in which they sought refuge.
Since, unlike the earlier economic migrants, these migrant Muslims came to Europe looking for a place to call home, they were exhibiting their religious identity in public, and it did not settle well with the Europeans this time. These Muslims living in Europe were started to be seen as outcasts based on the visibility of their "Muslimness'. Any outward display of Islam like the wearing of a hijab by Muslim women or the growing of a beard and wearing a skull cap by Muslim men started to be seen with contempt and resulted in the phenomenon of Islamophobia. While the roots of Islamophobia are widely contested, it only came to be recognized as an existing phenomenon around this time.
Also, read How Practical is the Secular Democracy of India? Curbing of Religious Freedom in Kashmir