Japan's Last Chance to Boost Its Birth Rate (A Warning For the World)
"Japan is on the verge of whether we can continue functioning as a society." These are the words of the distressed Prime Minister of Japan, Fumio Kishida. While addressing the island country's strikingly declining population, one could clearly witness the urgency in Mr. Fumio's 45-minute speech.
The threat of Japan's population dropping from 125 million today to 88 million in less than half a century is terrifying. But Japan is not alone when it comes to declining birth rates and an aging population. Developed countries across the world are facing the very same population crisis.
And Japan's 'last chance' to boost its birth rates is sending shock waves worldwide, warning of a similar fate in the foreseeable future.
Japan's Demographic Crisis Explained
The worrying trend of falling population growth has persisted for decades. Japan's annual births have almost halved since the recorded high of 1.5 million in 1982. With the fertility rate at 1.3 (well below the 2.1 needed for a stable population), the leaders are now facing a ballooning elderly population.
The death rate has outpaced the birth in the island country for over a decade now. In addition, overwhelming funds requirements for the aging population's health care and pensions further put immense strain on the already shrinking workforce.
Exploring the Reasons Behind Low Birth Rates in Japan
One primary reason behind Japan's current demographic crisis is the high cost of living that makes it difficult for couples to raise children.
According to Jefferies's research, Japan ranked amongst the top three most expensive places to raise a child after China and South Korea. Even though the country's economy has stalled since the early 1990s, with the average annual household income declining to $43,000 in 2020 from $50,600 in 1995, the cost of raising children has only increased.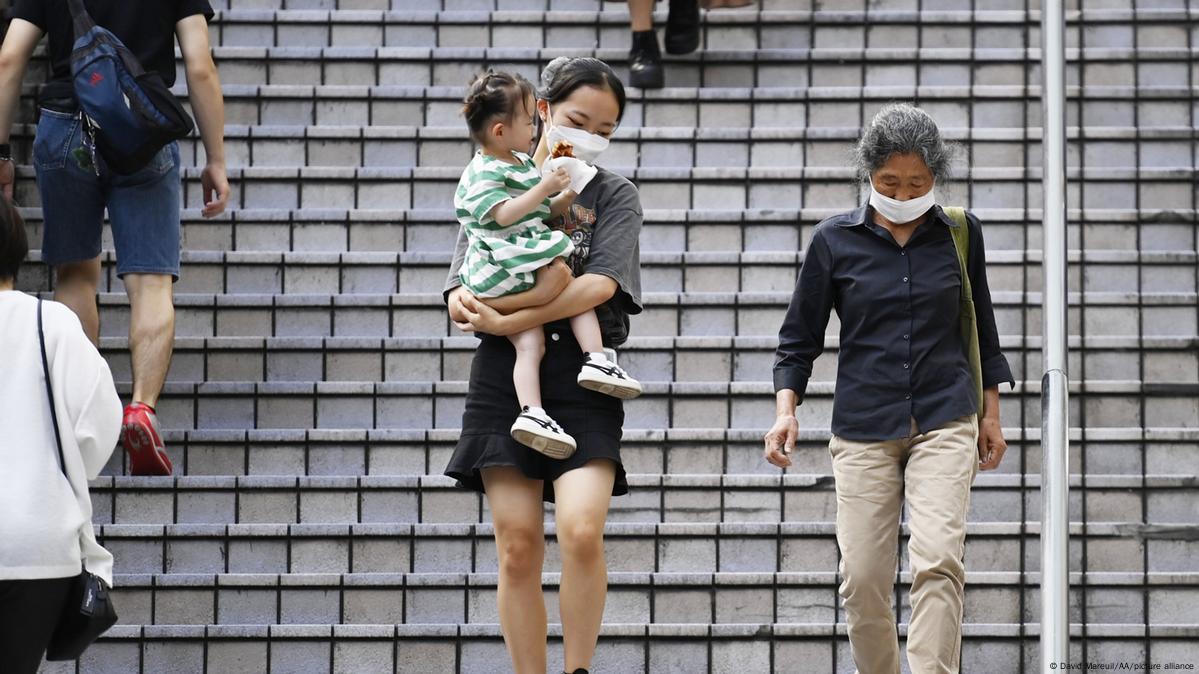 The financial burden is further exaggerated by the gender pay gap, with Japanese women earning 26% less than their male counterparts.
Furthermore, Japanese women are torn between raising a family or building a fulfilling career. And the skyrocketing cost of raising a child coupled with almost stagnant salary growth, more women lean towards a child-free life, enjoying their career and freedom above getting married and having children.
All the above and much more complicated reasons have discouraged coupled from starting families – leading to falling birth rates.
Japan in search of solutions
According to Fumio Kishida, 2030 is the 'last chance' for japan to reverse its sharply declining birth rates. That's why his government is strongly encouraging couples to start new families. In addition, establishing a Child-first social economy is at the top of Kishida's plans, which will be detailed more in the coming months.
"The government will make creation of a 'children first"

Prime minister Fumio Kishida, japan
The prime minister has also promised to double childhood spending by increasing after-school care initiatives and childcare initiatives. In his recent news conference, Kishida said that his government also plans to provide housing assistance and childcare allowances along with reducing the cost of education and raising the wages of younger individuals.
In the fiscal year 2023, the government allocated 4.8 trillion yen ($36 billion) to a new agency created for children and their families.
But, only some think the policies will be effective.
The world on the path to a demographic crisis
The declining birth rates in major developed countries, including Japan, China, and the US, is a mild way to describe what could become a global demographic crisis.
At 0.79 births per woman, South Korea has the lowest birth rate, followed by China and Japan. Western nations, including the US, with 1.64 births per woman, also witness a fast-aging population.
Therefore, it's high time for governments to start looking for short-term and long-term solutions.
China's three-child policy and Japan's Child-first nation are the aging countries' attempts to reverse their declining birth. And while the youth population in the developing world is still growing, many countries like India struggle to create enough jobs for their working people. Here, the immigration economy can be an obvious short-term solution. But its political implication can be hard to overcome.
In the long term, the government must form deeper structural systems to help improve childcare and the cost of raising children.
The Uncertainty of a Better Tomorrow
The falling birth rates bring an existential threat to the world – especially at a time when the majority of women face complications during pregnancy.
But the sad reality is the majority of the world is following the same steps as South Korea and Japan. The skyrocketing cost of living isn't the only reason. The younger generation doesn't feel the world is safe, given the uncertainty of a better tomorrow (owing to climate change, threats of nuclear war, and more).
How successful Japan's new Child-first social economy will be decided in the future. But despite the current policies, it's tough to comeup with a sustainable solution when you leave out 50% of the population (women) out of the decision-making process.
Countries aiming to resatablize their population growth need to be more inclusive with the female representation for creating solution that can get real, tangible results.
Crime Against Humanity Under BJP Regime – Manipur Violence Explained
On May 3, 2023, the northeastern state of Manipur in India experienced severe ethnic violence involving the Meitei community living in the Imphal Valley and the Kuki tribal population residing in the nearby hills.
The horrific incident led to 181 fatalities, with over 300 people injured. The ongoing violence has forced over 55,000 residents displaced from their homes. And even after months, the situation remains critical, with communities in distress and an urgent need for help.
But what lead to the Manipur violence? How are the authorities dealing with the situation? And is there an end in sight?
Manipur Violence: A Brief Overview
In early May, tensions flared between the two major residential groups of Manipur – the Meitei and Kuki tribal communities, after a court ruling favoring the Meitei group was passed. Students from the Kuki community began protesting.
The ruling allowed Meiti population the right to buy land in the hills and secure reserved government jobs. These privileges escalated tensions.
To ease the initial tension, New Delhi sent thousands of paramilitary and army personnel to the region (with a population of 3.2 million). But, even with this action, sporadic violence and killings started again shortly after. Thus fueling further unease in the northeastern state.
But while the protests have been going on since May, the world's attention turned to Manipur when a video showed the distressing molestation of two women surfaced on the internet.
The blood-curdling incident prompted Prime Minister Narendra Modi to address the ongoing violence – marking his first public remarks on the matter that had persisted for months.
On May 3, 2023, ethnic violence shook the northeastern state of Manipur in India. The conflict pitted the Meitei community of the Imphal Valley. It is against the Kuki tribal population residing in the nearby hills.
The toll was immense, with 181 lives lost, over 300 injured, and a staggering 54,488 people displaced from their homes by July 29th. Today, the situation remains more dire than ever – leaving communities in distress and in urgent need of help.
Manipur Violence: The Video That Shook the World
On July 19, a disturbing video spread online. It showed two Kuki women, one in her forties and the other in her twenties, facing terrible mistreatment by a mob of men from the Meitei community.
These men stripped, paraded the women naked on the streets, and even assaulted them. The women were taken from a police station while trying to escape from a violent mob attack.
And while the violence in unfolding in Manipur, the state government was busy lauding trips to destinations. They are traveling to places like the USA, Dubai, and Egypt, then tackling Manipur's problems.
Their attention also extends to many international matters. It includes the Ukraine-Russian conflict, commendations for world leaders, and managing controversies like Mahagathbandhan and Adani scam. It's shocking to know that, despite the complaint being filed, the police didn't take any action for over two months until the video came out.
Government's Internet Limitation
On July 20, Manipur's Chief Minister Biren Singh explained why they limited internet access in the state. The Union government also asked social media platforms to take down posts with the upsetting video. The Supreme Court responded to the video, saying they'd step in if the government doesn't handle things immediately.
Media reports revealed that the National Commission of Women (NCW) was aware of the incident, having received a complaint in June. However, Manipur authorities did not respond despite forwarding the complaints many times – disclosed the chairperson of NCW.
It was only after the video went viral and the pressure from international media surmounted the authorities they acted on the complaint by arresting event culprits.
Why does the BJP Government have Nothing to Say?
To put it, the BJP government's efforts to bring peace to Manipur seem to be ineffective. While the BJP government says they've controlled the police and Rapid Action Police forces, Manipur still deals with ongoing unrest.
A solution doesn't seem to be in sight. It appears that the government is ignorant of this matter. If the video of those two women had not gone viral, the government would have brushed it under the rug and suppressed the issue. It seems like the government is more interested in hiding the truth behind this turmoil. It raises suspicions that there might be some hidden conspiracy at play behind the government's silence.
The BJP government is currently in power in Manipur, and so far, there have been no significant changes in the Chief Minister's approach. Even though Manipur is home to Olympic champion Mary Kom, who is also associated with the BJP government, she made an appeal to the state and the central government, led by Prime Minister Modi, through a video that has fallen on deaf ears.
The government puts more emphasis on lauding trips to destinations such as the USA, Dubai, and Egypt. Also their attention also extends to international matters like the Ukraine-Russian conflict, commendations for world leaders, and managing controversies like Mahagathbandhan and Adani scam. This suggests they're more invested in these matters and less attentive to pressing concerns in Manipur.
What is the Current Situation in Manipur, and What Will Happen Next?
The current situation in Manipur is horrifying. People are living in fear, facing violence, and being looted. The fresh violence on 5th, August claimed 5 lives in Manipur. The districts of Bishnupur and Churachandpur, located nearby, witnessed intense gunfire and incidents of arson throughout the day, despite the presence of a significant number of central security forces, including the army.
Among the casualties were three Meitei men who were brutally beaten to death in their homes while they were sleeping. Moreover, a clash occurred between tribal hills and Meitei valleys, resulting in the tragic loss of two Kuki village guards. The region continues to be extremely unstable, presenting major difficulties in upholding peace.
Yet, Manipur seems cut off from the rest of the world as internet services have been shut down, and curfews are enforced, making it a dire situation.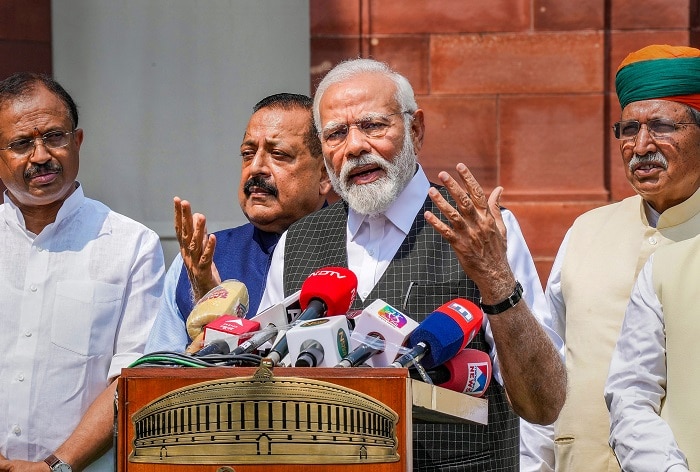 Prime Minister Modi's recent trip to France sparked criticism from the European Parliament. They voiced concerns about the government's policies promoting Hindu nationalism. But, the Indian government, including PM Modi, brushed aside these criticisms. They considered them meddling in the nation's internal affairs.
The situation in Manipur is extremely dire, with incidents of armed looting by both the police and military personnel. They have seized automatic guns, pistols, grenades, and even bulletproof jackets. It appears that the BJP government has no genuine intention of restoring peace in Manipur.
To improve Manipur's situation now and in the future, India's Supreme Court must step in, and global voices should highlight the issues. Urgent measures are necessary to avoid the situation worsening and spreading across the country, akin to incidents in Haryana and Uttar Pradesh.
LGBT Rights in India: The Long and Difficult Battle to Legalizing Same-Sex Marriage
"They might be a minority, but the majority cannot decide the rights of the minority," utters the Supreme Court advocate during the hearing on same-sex marriage.
Same-Sex Marriage in India
On January 6, 2023, the Supreme Court of India decided to address the pending petitions for same-sex marriage pending in different high courts.
Homosexuality was decriminalized in India in 2018. But, same-sex marriages are still not accepted by the law.
However, in a discussion during parliament on the same petition, BJP minister Sushil Modi's position was completely different. According to him, "Same-sex marriages go against Indian culture." He also added, "Same-sex marriage is neither recognized nor accepted in any uncodified personal law."
The statement from the BJP MP manifested a completely different outlook and belief for the Indian government regarding same-sex marriages. Marriage laws in India are governed by personal laws, which vary based on an individual's religion.
Currently, Indian law defines marriage as a union between a man and a woman. Hence, the concept of same-sex marriage is a hard pill to swallow for Indian culture and society.
Legalizing Same-Sex Marriges – Fighting for Equality
The current situation of the LGBTQ+ community in India is not yet entitled to the same legal recognition as other communities. The LGBTQ+ members often live in shadows, rejected by their families or society at large.
Their efforts to legalize same-sex marriage in India are still ongoing, with various advocacy groups and individuals working towards achieving marriage equality with little hope in sight.
In 2018, the Supreme Court of India decriminalized homosexuality. According to the law, same-sex couples can live together legally in India.
Then a question might arise – what could be the reason behind not legalizing same-sex marriage?
Understanding What is the LGBTQ+ Community-Fighting?
Here, the battle is to legalize same-sex marriage and get the same legal rights and protections that heterosexual couples enjoy or gain in India.
According to the law, a same-sex couple cannot adopt a child. The law also allows a single woman to adopt a child of any gender. But a single man is eligible to adopt only a male child.
Thus, LGBTQ+ individuals can apply for the adoption of a child as a single parent. But their partner will not have legal rights to the adopted child. Thus, supporters of LGBTQ+ rights emphasize how such laws give rise to prejudice in society.
In India, there are many family laws that regulate matters of adoption, surrogacy, inheritance, etc. However, in all such laws, "Marriage" plays a crucial part. As LGBTQ+ couples cannot legally marry, they are deprived of rights afforded by these laws.
Moreover, the LGBTQ+ couple is not eligible to get life insurance for their partner. They cannot buy a joint home loan as there is no legal recognition of their marriage, and they experience a lack of safety and security from society and the government. Further, there is no law specifying who inherits the property in case of the absence of a will. Thus, the LGBTQ+ community wants to legalize same-sex marriage in India.
The On-going Arguments by LGBTQ+ supporters
The LGBTQ+ supporters argue that the Supreme Court of India has intervened in many inter-caste and inter-religious marriages in the past. Then, why can't the Supreme Court support same-sex marriages? Many legal experts have pointed if we legalize same-sex marriage, we do not necessarily involve in changing the articles of the Constitution.
All it requires are a few amendments to the Special Marriage Acts. Legal experts claim that the act should be made gender-neutral. That is if a man's marriage to a woman is a legal procedure, then same-sex marriage should be legally recognized under the Act.
Changing the Law
The second argument that LGBTQ+ supporters proposed is that by changing the law. They argue that by changing the law, the people's opinions towards them will also change.
According to the reports, after the decriminalization of homosexuality, there has been an increase in societal acceptance of the LGBTQ+ community.
Existence of Same-Sex Relationships in the History
The third argument that LGBTQ+ supporters proposed is that same-sex relationships in India date back to the past. According to Harbans Mukhia, a well-known historian, homosexuality in India was criminalized by the British government under Indian Penal Code 377 in the 19th century due to their Christian belief system.
But both Hindu and Muslim histories show multiple mentions of homosexual relationships in India. For example, the Khajuraho temple in Madhya Pradesh has an ancient sculpture chronicling four women having homosexual or the Hindu text Kamasutra.
Moreover, Devdut Patnayak, the famous Indian author, shared that in the Rigveda, Mitra, and Varuna, both male gods, are said to have a child. In the Mahabharata, the story of Shikandi, who was responsible for the death of Bhisma. She was born as a daughter but raised as a man.
In Muslim history, Shah Hussain, the Sufi poet, is believed to have fallen in love with a Hindu boy, Madho Lal. Even a Mughal Emperor had a similar experience. In his Memoir, Baburnama, Babur enunciates his attraction towards a boy named Baburi in Kabul.
However, the counterargument is: Indian history may have seen same-sex relationships, but there is no evidence of same-sex marriages.
India Is Not Ready for Same-Sex Marriage
The people who oppose the legalization of same-sex marriage in India argue that same-sex marriage violates the fundamental unit of our society—the family. Many also argue that legalizing same-sex marriages is an acceptance of Western culture and a violation of Indian values.
Moreover, Indian society also believes that marriage is not just an instrument of enjoyment but it is procreation. As same-sex couples can't procreate, what's the use of their marital union?
However, India's society and culture are designed on the basis of exceptions, which makes India not ready. Moreover, to make Indian society accept such a community, the first thing it needs is a change in their perspective of thinking and adoption of what is truthful and natural.
Read Next: Islamophobia in France – The Worst Country to be a Muslim?
Khalid Amayreh: A Resonating Legacy of Palestinian Advocacy
The passing of 66-year-old veteran journalist Khalid Amayreh sent shockwaves of deep sorrow and regret throughout the journalist community on Wednesday, July 12, 2023.
Revered as the voice of Palestinians, journalist Khalid dedicated his entire career to amplifying the truth and advocating for the Palestinian cause.
In his remarkable journey as a journalist, Khalid Amayreh fearlessly ventured into conflict zones, penning stories that shed light on the plight of the Palestinian people.
With unyielding determination, he braved dangers and obstacles, ensuring that the world could not turn a blind eye to the injustices faced by his compatriots.
Khalid Amayreh: A Life Dedicated to Palestinians' Rights
Born on February 9, 1957, in Dura, Hebron, in the Occupied West Bank, Khalid Amayreh's remarkable journey as a journalist relentlessly pursued justice and the truth. He was educated and knowledgeable, obtaining his bachelor's in journalism from the University of Oklahoma in the United States. And later on, his master's in Political Science from Southern Illinois University.
These accomplishments helped him hone his abilities and establish himself as a dominant figure in the journalism industry.
Khalid's goal was always clear: to counter Zionist propaganda by distributing factual and reliable information through his works in both Arabic and English.
Each and every word he penned was infused with his persistence, courage, and enthusiasm for the Palestinian cause.
Khalid Amayreh encountered difficulties at every turn throughout his illustrious career. But he never wavered because he believed that journalism was more than simply a profession. For him, it was a mission.
His work stirred debate and promoted dialogue. And most importantly, it bought much-needed attention to the complexities of the Israeli-Palestinian conflict.
Khalid Amayreh's Journalism Career
Khalid Amayreh's impactful career spanned various reputable media outlets, where his dedication to truth and justice shone through in every word he penned.
Among the media organizations he worked with were:
The al-Ahram weekly newspaper
The well-known Arab monarchy media Al-Jazeera Net in English
England Times Palestine,
The famous Israeli–Palestinian conflict-focused NGO – Middle East Monitor (MEMO) and Mondoweiss.
Through these platforms, Khalid's voice resonated globally, offering insightful perspectives on critical geopolitical issues. He penned the Ukraine-Russia war, and regional politics focused on Iran. In particular, however, his articles focused on the Israeli-Palestinian conflict.
Globally, he was known as a veteran Palestinian journalist who worked for foreign media and addressed the globe in English.
Beyond his work as a journalist, Khalid Amayreh was also a prolific author, enriching the world with his written contributions. "Refutation of Western Myths and Misconceptions about Islam and the Palestinian Question" in Arabic, published in 1988, is one of his famously authored books. Additionally, he translated a voluminous book titled "Atlas of Palestinian Rural Heritage" into English.
Fluent in Arabic, English, Hebrew, and Farsi, Khalid's multilingual abilities allowed him to bridge cultural gaps and communicate the Palestinian narrative to diverse audiences worldwide.
The Price of Voicing Palestinian Stories
Khalid Amayreh's unwavering commitment to journalism came with a high price. Throughout his career, he faced numerous challenges and restrictions due to his fearless reporting.
The Israeli occupation authorities imposed a ban on his travel outside of Palestine for many years. All in an attempt to stifle his efforts to expose the crimes committed under their rule.
Nevertheless, Mr. Khalid continued to shed light on the realities faced by Palestinians. Because he was determined to bring their plight to the attention of the world.
In January 2009, Khalid Amayreh found himself facing a grave ordeal when the Palestinian Authority (PA) arrested him. There, he was subjected to harsh interrogation and imprisonment in a blacked-out room for two days.
The accusation was suspicion of affiliation with Hamas. However, the arrest backfired, as it triggered a mass outcry and protest in response to the blatant infringement on press freedom and human rights. The public's demand for justice prevailed, leading to his eventual release.
Khalid Amayreh, "Your Words Will Never Die."
Mr. Khalid's passing leaves a void that will be challenging to fill.
But, with his fearless articles, he has motivated future generations of journalists to carry on his legacy and fight for a free Palestine.
He will be remembered as a significant contributor to the idea that ethical, moral, and principled reporting can contribute to creating a more informed and compassionate society.
As colleagues, friends, and admirers mourn the loss of this legendary journalist, we are also proud of his indomitable spirit and the immeasurable contributions he made to journalism and the Palestinian cause.
Khalid Amayreh's words will forever echo in the hearts of those he touched. Resonating with the yearning for a just and peaceful resolution to the longstanding conflict in the region.
In memory of Khalid Amayreh, the voice of Palestinians, Mzemo pays tribute to the Veteran journalist. And we will remember his contribution and guidance towards Mzemo for a lifetime.
His legacy will forever endure, and we will cherish each moment, conversation, direction given, and exchange between us.
Mr. Khalid's incredible work will continue to inspire us to embrace the power of the pen, to report with integrity, and to strive for a world where truth and justice prevail.
Khalid Amayreh's Contribution to Mzemo
May Khalid Amayreh's soul rest in eternal peace. We, Mzemo, believe – Your voice may be silenced. But your legacy and your penned words will continue to echo in our hearts forever.
Thank you for your every contribution, guidance, and direction!