Muslim Women's Empowerment and Inheritance Rights 
Despite Islam giving Muslim women the right to inheritance, it is rare to see Muslims follow this Islamic law. The recently released National Family Health Survey 2019-20 (NFHS-5) fact sheet for Jammu and Kashmir states that only 57.3% of women in the Union Territory of Jammu and Kashmir own a house and/or land, alone or jointly (PDF of the survey). J and K is a Muslim-majority region. According to 2011 census, 68.3% of the region's population is Muslim.
Even though we can read these figures as "at least more than half women own property", however, given that all women are coparceners in one or the other way, it raises vexing questions.
Islam entitles a sister to inherit half of what a brother gets as a coparcener. Despite this fact, the number of women owning property is almost half of that of men.
The data on women's inheritance in Pakistan and other Muslim-majority South Asian countries is much worse. There are very few women who own property in South Asian countries.
Inheritance Rights, a Taboo?
Women asking for their coparcenary rights is considered taboo here. Further, women also seem to have internalized that asking for inheritance rights will break their relationship with other members of the family, especially brothers. As a result, they sign relinquishment deeds without giving a second thought about it.
Also Read: Death of Mahsa Amini: How Governments are Denying Women's Right to Choice?
Women's Empowerment through Inheritance
People mostly see the inheritance of property as a matter of money and wealth. However, it goes beyond that, at least for women. Economically speaking, ownership of any kind of property by women is a very important determinant in the quest for women's empowerment.
In a realist world where everyone is responsible for their own survival, women should not expect their male relatives to care for them. Unless women do not attach economical value to their lives, they will have no power. This is especially true for unemployed women who do not have financial independence. Since inheritance of property is a given- however small value it may have, they do not have to get an education or work to get it. The only thing they need to do is not to sign the relinquishment deed.
Also Read: Why Are Muslim Women Still Behind Bars
Militating Against Women's Empowerment
Relinquishment of coparcenary rights militates against women's empowerment. It is high time that women ask for the inheritance rights that the constitution as well as the religion gives them. The right to inheritance also seems one of its kind means to women's empowerment where people peddling religiosity may not find a reason to oppose it. Women should know that signing a relinquishment deed may lose them a lifetime opportunity for leading an independent and respectful life in this patriarchal world.
Also Read: The women behind #Blacklivesmatter movement
The Debate on Equality of Rights
It is generally accepted that Islam entitles a sister to inherit half of what a brother gets as a coparcener. However, the interpretation of the Quran regarding this law is debatable. According to Mohmmad Iqbal, "the share of the daughter is determined not by any inferiority inherent in her, but in view of her economic opportunities, and the place she occupies in the social structure of which she is a part and parcel." Iqbal goes on to justify the case of inheritance law in Islam arguing that the daughter "is held to be the full owner of the property given to her by both the father and the husband at the time of her marriage." Further, "she absolutely owns her dower-money which may be prompt or deferred according to her own choice, and in lieu of which she can hold possession of the whole of her husband's property till payment, the responsibility of maintaining her throughout her life is wholly thrown on the husband."
Therefore, for Iqbal, if we "judge the working of the rule of inheritance from this point of view, you (we) will find that there is no material difference between the economic position of sons and daughters."
However, Iqbal made this point in 1930. Since then, there has been a significant change in the economic positions of men and women. If the motive behind inheritance laws, as mentioned by Iqbal, is applied to modern-day conditions, sons and daughters may well get an equal share in inheritance.
Towards Muslim Women's Empowerment
Inheritance rights bestowed by Islam on Muslim women show Islam's inherent quest for women's empowerment.
Even though the West blames Muslims for repressing women's rights, Islam has its in-built laws for women's empowerment. These laws, unlike West's feminist rhetoric, go beyond symbolic empowerment like sartorial choice, and hence materially empower women.
However, it is a shame that Muslims do not follow Islamic laws like inheritance law in letter and spirit. If all Muslims obeyed these laws, the world would become a better place for Muslim women.
Shein Exposed – The Dark Side of China's Fast Fashion Giant
Shein – one of the world's top fast fashion websites, popular for its cheap and trendy clothing, has enjoyed explosive growth over the past years. Courtesy of thousands of sponsored fashion hauls and cheap laborers, the company is more popular than ever.
But there's a dark side Shein doesn't want you to know – the real cost of fast fashion. In this article, we will unveil the reality of how Shien is providing ultra-cheap fashion, the toll it has on the environment, and how it's shaping today's mindless consumerism.
Shein – More than a Fast Fashion Brand
Over the years, She-in has gone from being a low-cost Chinese apparel merchant to a global online fashion giant. Its sales skyrocketed from $10 billion in 2020 to over $100 billion in 2022. The biggest Unique Selling Point (USP) of the brand is low-price trendy clothing, majorly catering to Gen Z women.
The company mass produces thousands of products daily in its 6,000 clothing factories across China. According to Rest of World, the brand includes 2,000 to 10,000 new styles each day, a majority of which are copied from other popular brands or small-scale designers.
But behind the glamourous shield of Shein lies the dirty reality about how the company is able to produce so much at low prices. Blue color laborers forced to work 75-hour shifts with very little time off, and mostly under unfit conditions, are at the heart of the company.
Atrocious Working Conditions
Multiple reports and investigations have exposed how the company consistently violates Chinese labor laws. Journalists have uncovered concrete evidence that Shien's $7 crop tops were made by workers in unsafe workshops working on minimum wage (often without contracts.)
"Inside The Shein Machine," a Channel 4 documentary, revealed the harsh reality of factory workers through undercover footage. These workers were made to work 17-hour shifts to produce hundreds of garments daily. In one factory, they were paid a base salary of $20 per day, which would be deducted by $14 for every garment with mistakes.
Environmental Impact
The cheap, readily available fabric of choice from Shein is virgin polyester, a material that is not only highly polluting but also incredibly persistent. Its production process releases three times more carbon than cotton, and unlike biodegradable cotton, polyester never breaks down. This is a devastating reality, and it's Time for a change.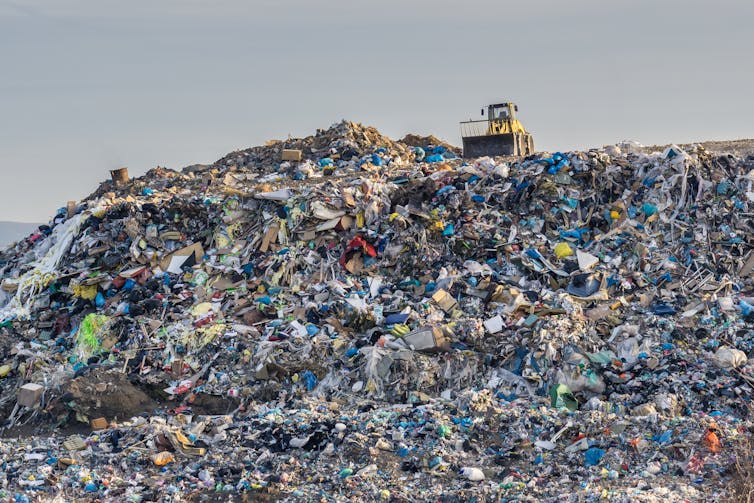 According to Time, the company releases over 6.3 million tons of CO2 per year. However, Shein is not alone climate culprit here. Across the board, the fashion industry accounts for about 10% of carbon emissions.
Landfills are overwhelmed with a staggering 93 million tons of textile waste annually, much of which is burned and releases harmful pollutants into the atmosphere.
The Impact of "Fashion Haul" Influencing
Social media is filled with influencers packing huge boxes of fashion-forward, cheap polyester clothing. For those unfamiliar, fashion hauls are young social media creators showing off their latest fashion purchase, rating the product, and recommending the right one to their millions of followers. Titled "Summer fashion haul" and "Bought all this under $50 only", these videos are mostly targeted to GenZ with the aim to spark a desire to buy the displayed look.
Evoking FOMO in the viewers, these hauls play a crucial part in glorifying fast fashion and normalizing shopping in large quantities. A majority of which is disposed of after a few times.
Promoting driven-to-shop psychology, these fashion hauls have become immensely popular with the hashtag #hauls over 13 billion views and #clothinghaul about 1 billion on TikTok. A majority of these hauls are powered by Shien, with the hashtag #sheinhauls 3.8 million views on the platform.
The fashion hauls are Shein's critical marketing strategy. Their affiliate collaboration with influencers who gets a 10%-20% commission on each purchase is one of the key reasons why the fast fashion website became the giant it is today.
Shein is on a Decline
Shein, the fast-fashion brand known for its cheap and trendy clothing, has seen a meteoric rise in recent years. However, its sales took a sharp turn in 2022 for the first time since the pandemic, with a few reasons behind the drop.
The slowing post-pandemic economy has left shoppers with less disposable income to spend, and persistent accusations of poor clothing quality, worker mistreatment, and unethical business practices may have finally caught up to the brand.
According to Brandwatch, 70% of online conversations about Shein were negative between 2020 and 2023. However, despite these challenges, Shein remains optimistic and reportedly seeks $3 billion to fuel its expansion in 2023.
The Problem is Bigger than Just Shein
Reports of Shein abusing its workers, producing harmful clothing, and worsening the planet have been circling for years. Still, the brand is thriving with more customers than ever.
This sparks the question – Is Shein really the problem?
And we know the answer. Shein, or any fast fashion brand, has transformed the fashion industry because of multifaceted factors, including affordability, convince, emotional connection, and above all, social pressure.
We are contributing to the exploitation of minimum-wage laborers
We see it, we are engaging with it every day on social media, and we are ridden with negative emotions like addiction and guilt. According to ThredUP, one in three Gen Z feels assisted to fast fashion, whereas one in five feels pressured to keep up with the latest fashion trends.
But that's not what fashion is about. Created as a medium of self-expression and creativity – today, the industry has taken a 180-degree turn. And sadly, it's no foreseeable end to the trend. However, a huge section of the population is standing up against fast-fashion brands like Shein.
The Need to Adopt Responsible Fashion
The industry is huge, and Shein is not the only culprit. By engaging in the fast fashion trends, we are giving the green light to brands like Shiens to continue labor exploitation and release humongous amounts of toxic chemicals.
But by educating and supporting ethical and truly sustainable fashion brands, we stand a chance to snowball a positive change in the industry. Fortunately, the trend of responsible fashion is already catching on with young shoppers.
Who is Winning the Microchip War: India or China?
The world is running out of computer chips. And due to the unprecedented shortage of electric chips and semiconductors, a new microchip war is brewing between the two largest manufacturers: India & China.
But, who is winning it? Here's an explainer:
The Semiconductor Crisis: Explained
Semiconductors are used to make integrated circuits. These microchips are the lifeblood of all electronic appliances, from smartphones, laptops, and gaming consoles to supercomputers and modern weapons.
Powering the technological evolution over the last two decades, the demand for semiconductors has skyrocketed. However, the 2020 pandemic halted the chips' manufacturing, sparking a global semiconductor crisis.
The crisis was so bad that Apple lost 6 billion dollars in revenue, Maruti had to cut down 40% of its production, and Mahindra had to cut down 20% of its production. Due to chip shortages, the auto industry has already lost 100 billion dollars in revenue.
Even though production has resumed, manufacturers are still unable to fill out the shortage caused by COVID.
So, why is there a sudden shortage of semiconductors and their impact on different industries?
The Rush of people with Electronic Gadgets
The first reason for the shortage is that the industry had already been growing rapidly and was already on the brink of shortage. According to the semiconductor industry association, more than 100 billion integration circuits are used daily worldwide.
The market is so huge that the industry's biggest players, including Intel, Micron, Nvidia, and Qualcomm, can't keep up with the demand, given the enormous size of the market.
The Microchip War & Impact of Covid-19
Lockdown-induced online work dramatically increased demand for electronic devices. But with the manufacturing and transportation services primarily halted, demands outstripped supply.
Another the reason why the shortage is so difficult to recover is that manufacturing a microchip typically takes more than four months. Additionally, microchip manufacturers need giant factories with dust-free rooms, multi-million-dollar machines, molten tin, and lasers.
Since manufacturing cannot be increased on such short notice, the wait times for chips increased alarmingly. The situation has worsened so severely that the waiting time spiked from 11.8 weeks in September 2019 to 21 weeks in August 2021.
Consequently, the market value of semiconductors grew over 20% ($600 billion) in 2021.
Hence, the radical difference in supply and demand has turned the table, and this is why companies from various areas across the world from various sectors have started facing production issues.
The four major industries that have furiously faced the heat of crisis are auto, LED lighting, consumer electronics, and the appliance industries.
What is the position of India in the semiconductor market?
Despite homing big heads like Intel, Micron, and Samsung housing and R&D centers in India. India doesn't have a significant chip manufacturing industry.
When looked at India's semiconductor trade situation, India became the 13th largest importer of semiconductor devices in the world in 2020, with $2.38 billion in semiconductor device imports.
And now comes the story's climax behind the semiconductor war between India and China.
The terrifying part is that about 68.1% of India's semiconductors were imported from China in 2020. Followed by 40% in and 26% from Hongkong in 2022.
So, what is India doing to fix the situation and reduce its dependence on China? And How is India indirectly in the position of war with China in the semiconductor industry?
India Vs. China: The Microchip War
The roots of India & China's microchip war can be traced back to the Quad Summit.
During the quad summit conference held by US president Joe Biden on the 24th of September 2021 debated on how to tackle several aspects of economic challenges that come through different countries' economic development. And one such aspect was the semiconductor shortage in the world.
Long story short, chip manufacturing is a complex process requiring multiple steps. So if each country sets up five divisions for five different processes, it is both costly and time-consuming.
Because of this, India, Australia, Japan, and the US have chosen to work together to execute only those processes that best suit their strengths while transferring the remaining ones to other nations.
That means the US will design the semiconductor; Japan will provide resources to make semiconductor that is raw materials and chemicals like silicon wafers and ICs. While Australia will come up with an electronic supply chain as it has access to critical materials and advanced mining.
Meanwhile, India has many skilled engineers and laborers for cheap assembling and manufacturing.
So, in the quad summit US, Japan, Australia, and India joined hands to build a robust semiconductor supply chain based on their strength to eliminate their dependence on China, Hongkong, and Taiwan.
Thus India's INR 76000 cores production incentives program is indirectly threatening Chinas mega semiconductor chip industry.
Will the Microchip Program Really Benefit India?
The US is very well aware of future weapons and is acting smartly to overcome China in supercomputing and AI tech. That's why the US wants semiconductor technology to be kept away from the hands of China.
Hence in October 2022 US banned all semiconductor exports to China. Alongside baning all the technologies that China can use against the US.
The US does not want China to develop weapons that may use against the US military. Consequently, fostering India to come up with semiconductor manufacturing to cut the wings of China in the field of making chips.
As discussed above, the US is king in designing the chips, but with sanctions on exporting any such technology from the US, China will face heat.
While the US has joined hands in the quad summit to design semiconductors for India, here comes the answer to that incentive program.
Is India Winning the Microchip Chip War?
Over the next two years, the Indian government plans to establish 20 semiconductor plants. To tackle the shortage of semiconductor Government of India has lined -up with attractive incentive support for companies engaged in silicon conductors, photonics, semiconductor packaging, compound semiconductor manufacturing, sensors fabs, and semiconductor design.
Moreover, India is also tying up with Taiwan and encouraging semiconductor companies to manufacture semiconductors in India by providing land at affordable prices for their setup.
India is in an overstated circumstance where it is a semiconductor-importing nation and is about to switch to a semiconductor-exporting nation. Here is some heat in China. And that sparks an unintentional semiconductor war between China and India.
The UK Economy Braces for 2-Year Long Recession: What Went Wrong?
The UK economy is witnessing one of the worst crises in its history. The downfall of the pound, war-infused energy crisis, skyrocketing electricity bills, collapsing stock market, changing Prime ministers, and whatnot?
Nothing has gone in the UK's favor since the passing of the Queen. And now the country is bracing for a prolonged two-year recession with contracting third quarters.
But what went wrong in the first place? How did this trigger an economic catastrophe in the UK? And can Rishi Sunak save the UK?
Here is a detailed explainer:
UK Economy: An Overview of the Problem
With the political upheaval and the pandemic, the already suffering economy of the UK reached its brim when the Russia-Ukraine war ignited.
In response to Ukraine's invasion, Britain halted the import of fuel, gas, or coal from Russia since June for the first time in the past 25 years.
As a result, Russia stopped its critical gas pipeline to Europe, thus creating an energy crisis.
All this led to the UK's economic downfall.
Today, inflation is at an all-time high of 9.9%, a 40-year high. Energy bills are shot up by almost 80%despite capping. Finally, and most importantly, the pound has become one of the worst-performing currencies, with its value dropping by 24% against the dollar.
The Mini Budget Turmoil
With such disruptive environments in the UK, former Prime Minister Liz Truss came up with the mini-budget. The mini-budget baskets a slew of tax changes, including the elimination of the high rate of income tax for the wealthy and the energy subsidies policy platform.
However, the mini-budget backfired and now has snowballed from an energy crisis into debt, housing, currency, and even a banking crisis.
The pointer mentioned in the mini-budget has been so terrifying that it shook the economy of the UK and plunged the London Stock Exchange horribly.
With such an unstable situation inside the UK economy, Truss changed her mind about company taxes after days of adamantly defending her budget and firing finance Minister Kwarteng.
"I still agree with my policies, but I've sacked my finance minister because he announced them, and the market didn't like them."

She said
A Cold and Long Winters Awaits the UK
The three major events that make the incoming winter snug for the UK are:
First, Russia has entirely cut off gas, which causes the cost of electricity to shoot up by almost 80%.
Secondly, on top of the existing gas storage, the incoming winter energy consumption is about to hit a new peak from September to December.
Third, even if Europe had 90% of its Energy storage complete in September 2022, it could take only 90 days for it to reach dangerously low levels.
Long story short, a gas shortage during a peak consumption time, with no storage option, will further increase energy prices. It has already been shot up at extreme levels resulting in high electricity bills that eventually heated inflation and the economy of the UK.
Even though the UK is receiving help from the US and other countries, gas prices are still very high. Hence the cost of production and inflation has hit a record 9.9%.
"It is going to be tough. But protecting the vulnerable – and people's jobs, mortgages, and bills – will be at the front of our minds as we work to restore stability, confidence, and long-term growth,"

British finance minister Jeremy Hunt twitted
Bond Market Crisis with Collapsing Pound
The UK's property market, pension industry, and overall economy are at risk of recession. The reason behind this is the decline in the price of UK government bonds and the ensuing rise in interest rates.
10-year bond rates in the UK have gone above almost 300%, going from just about 1% to 4.11% in just nine months.
Even though the bonds yield a 4% interest, the currency has depreciated to such an extent that it has become a disaster for foreign investors. As a result, foreign investors are quitting the UK market, further decreasing the demand for the pound.
Such a crisis in the bond market resulted in currency depreciation further, and the sterling slid against the US dollar. Furthermore, during the Ukraine-Russia war, Russia cut off gas supplies, and oversized reliance on imports further surge Euro.
Rishi, the Third Prime Minister in Three Months
After the resignation of Boris Johnson with 27 ministers, the office was handed over to Liz Truss. When Boris left the office, there was a sensation in the UK that it was time for stability and competence.
However, due to poor politics and policies, Liz Truss abruptly resigned from the post of Prime Minister within 45 days. The shortest and most disastrous spell that slung the economy of the UK and crashed the pound forced Liz Truss to step down from the post.
With the resignation of Liz Truss, the reign was entrusted to Rishi Sunak, the third PM of the UK in the last three months. Sunak's appointment ended another period of political unrest in the UK.
But many analysts and Westminster observers are still of the opinion that there will soon be another crisis. With the opposition Labor Party presently leading in the polls, all opposition parties are pleading for a general election.
Can Rishi Sunak Save UK Economy?
The political unpredictability has led the UK economy into a two-year-long recession. The previous two prime ministers were unqualified to steer the UK economy's flimsy ship. Hence Rishi has some challenging tasks to do.
Now, everything will depend on how Rishi approaches the challenging work of rescuing the UK economy from disaster, and it will be interesting to watch how he advances.