Extreme Heatwaves: India Facing the Hottest Summers Since 112 Years
As the peninsula country reels into severe heatwaves, environmentalists fear this to be the worst summer India has seen in a long time.
Climate Change Infused Extreme Heatwaves
Due to the sweltering heatwave, India has recorded over a dozen deaths in the past two months. Experts are pushing the blame on high temperatures driven by climate change.
Over the weekend, the capital recorded a temperature of 49.2 degrees Celcius. Though a temperature spike in India is not new, the blistering heatwaves since the beginning of March have been quite staggering, making it the hottest summer recorded.
According to an ongoing study by the Met Department, the frequency of heatwaves days in India has rapidly increased every the last ten years. The reports highlight that the number of days with exceptionally hot temperatures has risen steadily at 103 weather stations, mainly in inland areas, from 413 in 1981-90 to 600 in 2011-20.
The most recent figures, which have yet to be released, are an update of a previous study conducted at the same meteorological stations through 2010. According to the researchers, most of the 103 weather stations documented a considerably growing trend in heatwave frequency between April and June between 1961 and 2020.
Sweltrting Capital: The Overflowing Landfills of Delhi
The impact of rising heat is visible. In Delhi, the capital city, fires broke out in two of the largest landfills, devastating lives working and living near the garbage heaps.
The dump in Bhalswa, north of Delhi, is taller than a 17-story structure and extends over 50 football fields. Thousands of people living and working at the landfill had begun the risky task of trying to save waste from the fire earlier this month.
Summers are especially difficult for the rag-pickers in the region. The decomposition of wastes in the landfills produces methane, a highly combustible gas that often leads to fire in extreme weather conditions. With the air filled with strong-smelling gases, the workers are forced to work in life-risking conditions.
The current fire's landfill was scheduled to close more than a decade ago, yet more than 2,300 tonnes of waste from the city is being deposited there every day. As organic garbage decomposes in landfills, extremely flammable methane gas accumulates.
"This spontaneous combustion will occur at high temperatures."

Stated Ravi Agarwal, the director of Toxics Link.
Understanding the Complexities of Heatwaves & Landfills
Scientists believe that the spiking cases of landfill fires result from the rising global temperatures. These fires, in turn, contribute to an increase in heat and air pollution. And those living in the vicinity of the landfills are especially vulnerable.
For example, the Ghazipur landfill, one of the three tallest and largest garbage yards in the capital, is dumped with tons of new waste every day. And when the temperature rises during summers, these landfills catch fire almost every year. This year, the Gazipur landfill has already witnessed three fire outbreaks, with the largest flaming up in the last week of March, which lasted three days.
Furthermore, fire is not the only problem in landfills. For example, methane produced in such landfills is a significant source of global warming. To tackle the problem caused by the huge dump yards in India, proper waste management must be implemented. And until the authorities manage to catch up with the needed changes, the vicus circle of high temperature, poor waste management, and smoldering landfills will continue to make life difficult for many in the region.
Heat Waves Transforming the Himalayas
The high temperatures in March did not spare the Himalayan states of Uttarakhand and Himachal Pradesh, which generally have milder temperatures at this time of year, showing a nationwide spike in temperatures.
According to Pai, the IMD study indicated that the mountainous region's number of cold wave days has decreased over the last three decades.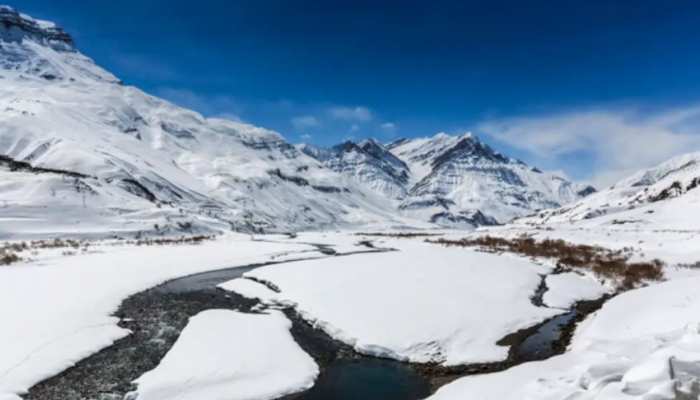 Furthermore, parts of western Rajasthan, Andhra Pradesh, and Odisha were the most impacted within India's core heatwave zone between 1961 and 2020, according to the Atlas, including heatwave occurrences in April, May, June, and July.
The worldwide average covers regions like Antarctica, but it does not apply to all of India, where average temperatures have risen quicker. And to add more fuel to the fire, the IPCC study concludes that India would see more frequent and extreme heatwaves in the foreseeable future.
Climate Change: Finding Solutions
India has entered into a new era of extreme heat, driven by global warming. However, with the heatwaves hitting the region as early as March and extremely prolonged-lasting months and hitting the areas that were not previously susceptible to heatwaves, the catastrophe of climate change is unravelling.
"The heat waves that we are experiencing in Southern-east Asia, especially in India and Pakistan, are primarily driven by global warming."

Chandra Bushan, Environmentalist and CEO Forrest
The extreme heat is again disproportionally affecting the poor and marginalized. Furthermore, 50% of India's population work in agriculture, while most are engaged as construction workers and laborers, which requires hours of outdoor heat exposure.
Heatwaves killed over 1,300 people in Ahmedabad alone in 2010, spurring attempts to build synchronized heat response strategies.
Many cities and regions around the country have also hurried to build and execute city-centric and regional heat action plans to alleviate the effects of high heat on the general public, particularly those working outside, since they initially started 5-to 6 years ago.
High summer temperatures and ensuing heatwaves require prompt mitigation. Therefore, both short-term actions such as advisories and long-term ones such as afforestation must be implemented simultaneously to tackle the worsening issue of climate change, not only at the national but a global level.
COP27 Climate Change Summit: Greenwashing Scam Imperilling Human Rights
COP27 Faced Major Criticism
Morally, politically and economically COP27 climate change summit has been coined as a greenwashing scam imperilling human rights.
The world watched Egypt closely as it hosted the 27th United Nations Conference on Climate Change (COP27) in Sharm El-Sheikh from the 8th-16th of November. More than 190 governments attended COP27 to attempt to solve some of the world's most pressing environmental challenges.
Furthermore, Egypt hosting of COP27 sparked much controversy due to its abysmal human rights record. Additionally, COP27 faced heavy criticism due to some of the world's top polluters, such as Coca-Cola sponsoring the event. Furthermore, attendees arrived in private jets; meat and dairy products remained on menus; dozens of domestic civil society organizations were excluded. Additionally, the summit was overshadowed by persistent calls to release up to 65,000 political prisoners in Egyptian prisons.
Worlds Top Polluter, Coca-Cola, Sponsored COP27
The UN climate conference announced a sponsorship deal with Coca-Cola, one of the "world's top polluters". Coca-Cola recently retained its title for the fourth year as the world's top plastic polluter. The sponsorship deal is a greenwashing scam by campaigners, drawing intense criticism.
Coca-Cola produces 120 billion throwaway plastic bottles a year. 99% of plastics are made from fossil fuels, exacerbating the plastic and climate change crises.
Private Jets, Bottomless Cocktails and Beef Medallion Dishes
Surprisingly, attendees indulged in the very activities which got us into this mess in the first place. Moreover, world leaders flew to Egypt in private jets. Attendees enjoyed bottomless cocktails, one-hour unlimited wine and beer packages, $100 beef medallion dishes, and $50 seafood platters.
This begs the question: do these foods belong at a climate conference? We have missed the true purpose of the climate summit: to help save the planet.
Meat and Dairy On the Menu – Not on the Agenda
In the three-decade history of the UN Climate Summit, COP27 was the first UN summit to discuss the meat and dairy industry's contribution to global greenhouse gas emissions.
COP27 faced massive criticism this year from climate activists due to the unsustainable meat and dairy items on its menus. It seems unimaginable that globally we are trying to reduce our meat and dairy consumption to save our planet. However, our governments cannot stop eating these foods at the world's largest climate summit.
Cutting meat and dairy output are not yet on the agenda for governments at COP27. Many governments attending the summit give billions to livestock farmers in subsidies. Instead of focusing on plant-based diets, they are advancing policies to reduce greenhouse gas emissions using feed additives that make animals less gassy and technology that sucks up the methane wafting off manure heaps. Andy Reisinger, a farm emissions specialist and vice-chair of the UN's IPCC climate panel, said feed additives could worsen emissions by promoting intensive farming.
Read more: Is Veganism the Solution to Eradicating Food Carbon Foot Print?
Dozens of Domestic Civil Society Groups Excluded
Hundreds of prominent human rights defenders, researchers and environmentalists were exiled from Egypt. They were unable to attend Cop27 due to the nature of their work. Many voices from Egypt were absent at the conference due to the government's corrupt attempts to exclude dozens of domestic civil society groups.
"Arrests and detention, NGO asset freezes and dissolutions and travel restrictions against human rights defenders have created a climate of fear for Egyptian civil society organisations to engage visibly at the COP27"
Additionally, COP27's wifi blocked access to international human rights organizations such as Human Rights Watch, Amnesty International and other news websites needed during information talks. These prominent human rights organizations hosted talks at COP27 but could not access their sites due to previous work criticizing the Egyptian government. Egypt used this strategy to hide the nation's decades-long record of cracking down on human rights.
Read more: Pakistan's Climate Crisis: A Peek Into The Apocalyptic Future That Awaits.
65,000 Political Prisoners in Egyptian Prisons
Currently, there are an estimated 65,000 political prisoners inside Egyptian prisons. COP27 was overshadowed by persistent calls to release political prisoners.
A British-Egyptian detainee, Alaa Abd el-Fattah, was a significant focus in the media. As a leader of Egypt's 2011 revolution, he has been in prison for the past decade. He started a partial hunger strike in April 2022 to protest his detention conditions. He spent the last six months consuming just 100 calories a day. A week before COP27 started, he stopped eating altogether. Then, on the day the summit began, he stopped drinking water. He has since resumed drinking water but remains critically ill.
Greta Thunberg, who refused to attend COP27, signed a petition by a human rights coalition calling on Egyptian authorities to open up civic space and release political prisoners.
Read more: Accelerating Deforestation in the Amazon Severely Threatens Climate Change Crisis.
COP27 Cracks Down On "Greenwashing"
Companies, banks, cities and states worldwide have continuously made broken promises to achieve net-zero emissions. These corporate climate pledges amount to little more than a greenwashing scam. Evading net zero claims is a common greenwashing strategy. Companies claim to be carbon-free due to strategies such as buying carbon credits while simultaneously pursuing new fossil fuel projects emitting greenhouse gases.
Greenwashing is when an organization spends more time and money marketing itself as environmentally friendly than minimizing its environmental impact. It's a shady marketing gimmick that misleads consumers who prefer to buy environmentally friendly goods and services.
At COP27, the UN cracked down on greenwashing, laying down recommendations for how companies, financial institutions and cities must calculate their net zero emissions status. The new UN report aims to eliminate loopholes by laying out ten steps to bring integrity, transparency and accountability to net zero claims.
"I have a message to fossil fuel companies and their financial enablers. So-called 'net-zero pledges' that exclude core products and activities are poisoning our planet. They must thoroughly review their pledges and align them with this new guidance".

United Nations Secretary-General, António Guterres.
Read more: Doomsday Glacier on the Brink of Collapse: Catastrophes of Climate Change.
The UN cracked down on companies stating that they can't claim to be net zero if they are not in line with targets set out by the Intergovernmental Panel on Climate Change (IPCC). These targets include cutting global carbon emissions by 45% by 2030. The UN limited short-term carbon offsets and held that they could only be used sparingly in the long term.
Historic Deal: Governments Must Pay Poor Nations for Climate Damage
Governments at COP27 approved a historic deal to create a fund for compensating developing nations that are victims of extreme weather events worsened by rich countries' greenhouse gas emissions. However, many remained uncertain as countries argued over emission reduction efforts.
Moreover, this is a massive step for poorer countries bearing the brunt of climate change. These nations face extreme weather events such as floods, droughts, heat waves, and famines despite releasing the lowest greenhouse gas emissions. This historical "loss and damage" deal will provide financial assistance to developing nations stricken by climate disasters.
However, this loss and damage deal has several flaws. Some nations held that the pledges to limit global temperatures to below 1.5 degrees showed little progress compared to the COP26 conference in Glasgow in 2021. Furthermore, others criticized how the language and guidelines on phasing out fossil fuels were weak. Despite many different opinions between nations regarding the guidelines of this historic deal, it is still a vital step towards achieving climate justice.
Read more: Climate Refugees: Pain of Unseen Victims.
Concluding Thoughts
COP27 has faced significant criticism this year for many justifiable reasons. Many believe COP27 is a greenwashing scam failing humanity and the planet by not leading to significant changes. The UN climate summit is losing its credibility in being able to create meaningful change to save our planet.
World leaders and people in power continuously use high-profile gatherings like COP for attention and are greenwashing, lying and cheating their way through pledges and commitments. The UN Environment Programme released the Emissions Gap report stating that only an urgent system-wide transformation can deliver the enormous emissions cuts needed to stabilize global temperatures below 1.5 degrees by 2030.
World leaders consistently fail to fulfil their commitments and act on time. We cannot place trust in greenwashing scams like COP summits anymore. Instead, we need rapid, far-reaching, unprecedented changes in all aspects of society if we want to build a sustainable world for future generations.
Air Conditioners Exacerbate Climate Injustice
Air conditioners are the epitome of inequality and climate injustice.
Buying air conditioners is one of the most popular individual responses to climate change. As the temperature of the globe increases, most people are buying and using air conditioners to protect themselves from the scorching heat. As of 2020, there were 1.9 billion air conditioning units in the world. By 2050, the number of air conditioners is expected to grow to 4.5 billion. That means every 2 people out of 7 are using air conditioning. Further, 37% of all the world's electricity is used for air conditioning.
At an individual level, air conditioning seem good to protect oneself from the sweltering heat. However, the use of air conditioners possesses two inherent problems- (i) They only worsen climate change and (ii) the access to air conditioning is inequitable.
How do Air Conditioners Contribute to Global Warming?
Air conditioning is a trap- the warmer it gets, the more air conditioners we use. The more we use air conditioners, the warmer it gets. It is an irony that the technology we need to stay cooler only makes the climate hotter.
Air conditioners use refrigerants that also happen to be powerful heat-trapping gases. Hydrofluorocarbons (HFCs), the chemicals used in air conditioners are 12,000 times more potent at trapping heat in the atmosphere than carbon dioxide.
According to the calculations of the World Economic Forum, greenhouse gas emissions from air conditioning will account for as much as a 0.5-degree Celsius rise in global temperatures by the end of the century.
Also Read: Pakistan's Climate Crisis: A Peek Into The Apocalyptic Future That Awaits
Unequal Access to Air Conditioners
As of now, people have mostly focused on the technological aspect of air conditioners. Various countries have started funding initiatives to upgrade air conditioners. They aim to replace HFCs with harmless chemicals.
The problem of unequal access to air conditioners is mostly disregarded.
It is perhaps because almost all elites possess an air conditioner. Further, lower-class people who cannot afford an air conditioner right now desire one. In this race for buying air conditioners, no one is asking the right questions.
Given that air conditioners contribute towards global warming through the release of HFCs and consumption of huge energy, why should only some people be allowed to have air conditioners?
The harmful effects of air conditioning on climate are socialized. However, the benefits are not socialized.
Also Read: Climate Refugees: Pain of Unseen Victims
We are not in this Together
When it comes to climate change, it is often repeated that we are all in this together. However, nothing is farther from the truth. The rich people who afford air conditioning make life terrible for others who cannot afford an air conditioning. Further, they totally insulate themselves from the harm of the air conditioners.
The case of air conditioning makes any kind of technological progress to protect humankind from climate change look bleak. If there is technological progress, it appears that it may be private. Like air conditioning, technology may not be a public good.
When Jeff Bezos returned from space last year, he made it very clear that elites will not reduce their carbon footprint. He instead suggested moving the heavy industry into space. He said, "We need to take all heavy industry, all polluting industry, and move it into space. And keep Earth as this beautiful gem of a planet that it is. That's going to take decades to achieve, but you have to start. And big things start with small steps."
Bezos is the owner of one of the most polluting companies in the world. Instead of switching to green energy, he is talking about taking polluting industries to space.
It may, in fact, be possible for Bezos to start his life in space permanently. He may be able to give his future generations a better climate up in space. Unfortunately, he will take this step only after he has done damage maximum to the earth, to an extent that life may not be possible here.
That is exactly what air conditioning is- make life terrible for others but also make technological progress to insulate yourself from the harmful effects inflicted on others.
Also Read: Climate Change Deepening Gender Inequalities: A Reality Check
The Way Forward
Before taking any step towards mitigating climate change or making any technological progress to protect humankind from the effects of climate change, it must be kept in mind that climate change affects different classes of society differently.
Any future technology that is not public good should be rejected by the people. Although air conditioners are now beyond the stage where they could be regulated but governments must ensure that air conditioners are taxed heavily. The revenue thus generated can be channeled for green energy initiatives.
Pakistan's Climate Crisis: A Peek Into The Apocalyptic Future That Awaits
One-third of Pakistan Submerged By "Monsoon On Steroids"
The world has faced much climate crisis devastation over the decades. However, in August 2022, the climate carnage in Pakistan brought this crisis into a whole new ball game. The image above is from the New Humanitarian, showing people attempting to flee the floods. The climate-induced flooding has affected over 50 million people. This disaster has left one-third of Pakistan underwater, with some parts resembling "a small ocean".
The Pakistan flooding indicates the consequences of the universal and rapacious climate crisis unravelling at unprecedented speed. However, it seems that most of the world hasn't considered Pakistan's epic humanitarian crisis for what it represents.
Pakistan has a famine looming, $30 billion in economic loss, 50 million people internally displaced, and a high threat of a malaria epidemic present as floodwater lies stagnant. Furthermore, an entire generation in Pakistan is deprived access to essential services in health and education. Deaths will rise with colder winter months approaching and millions left without homes.
Climate Crisis in Pakistan is Beyond Bleak
For decades, Pakistan has seen record-breaking temperatures, torrential rains, glacial melt, droughts, and floods. This current weather disaster is the most extreme torrential rainfall and devastating flash floods Pakistan has seen in 73 years. Millions have fled their homes with little more than rags to protect them from scorching high temperatures of 40 degrees Celsius. Pakistan is one of the world's top ten most vulnerable countries on the Climate Risk Index but only contributes to less than 1% of global greenhouse gas emissions.
Pakistan's National Disaster Management Authority updated the death toll from the crisis since mid-June to 1,545 people and 552 children. This disaster spurred the United Nations to issue its largest-ever disaster appeal, at over $2 billion.
The Plight of Pakistani Children During A Climate Crisis
The flooding has adversely affected millions of children since the crisis started. Due to the extreme flooding, children in Pakistan are battling diarrhoea, malaria, dengue fever, and painful skin conditions. According to UNICEF, 3.4 million children urgently need immediate life-saving support and humanitarian assistance.
Approximately 16 million children are without homes, lack access to safe drinking water, and live in unsanitary conditions. Millions of children are at increased risk of water-borne diseases, drowning, and malnutrition. In addition, the flooding exacerbates the threat of snakes, scorpions and mosquitoes, all of which carry life-threatening diseases.
The International Communities Response to The Climate Crisis
There has been silence from prominent international figures and western media outlets concerning Pakistan. In the first week of the floods, more newspaper articles covered the Finnish prime minister's social life than the unfolding weather event. This questions the global outlook and prioritization concerning climate change.
The flooding has sparked an ongoing debate regarding broader issues of responsibility for loss and damage endured by nations affected by climate change. Global warming is primarily caused by the Global North's disregard for the environment and excessive release of greenhouse gas emissions. However, despite the Global North's overwhelming contribution to the crisis, there is still a complete disregard for the pain suffered by Pakistanis in its international response.
Read also: Pakistan Flood Puts Climate Injustice In The Spotlight: The Age Of Catastrophe.
Double Standards and Racism in response to Various Humanitarian Crisis'
The international response to Pakistan is minuscule compared to Ukraine, where around 12 million people were displaced. Comparatively, this figure represents a third of the displaced people in Pakistan, reaching over 50 million. World leaders criticize the international community's focus on the war in Ukraine. The same attention is not given to crises in other parts of the world. The mass media apply double standards to reporting depending on the race and nationality of those affected by the humanitarian crisis.
Read Also: Israel's Apartheid Against Palestinians Reveals West's Double Standards.
The international communities' weak response is either a form of racism and ideology that terrible things happen in places like Pakistan or an utter failure of compassion.
Climate Change Discriminates Against Women and Girls
Women and children are facing a dangerous downwards spiral of hunger and malnutrition. In Pakistan, there are 650,000 pregnant women and girls. Moreover, 73,000 mothers are expected to deliver in the coming weeks. The United Nations Population Fund (UNFPA) says many women lack access to health-care facilities and support to deliver their children safely.
Climate change continues to exacerbate maternal and newborn health inequities. Aid groups report that many mothers are anaemic and malnourished and deliver very low-weight babies. In addition, mothers are too ill to breastfeed their children.
Pakistan has one of the highest maternal mortality rates in South Asia. The majority of Pakistani women give birth at home. However, with millions of homes destroyed, many women do not know where they will deliver their babies in the coming months or years.
The Pakistani crisis highlights how climate change disproportionately impacts women and girls. In Sindh province, more than 1,000 health facilities have been fully or partially destroyed. In Balochistan province, flooding damaged 198 health facilities.
"I am deeply concerned about the potential for a second disaster in Pakistan: a wave of disease and death following this catastrophe, linked to climate change, that has severely impacted vital health systems leaving millions vulnerable"

World Health Organization (WHO) chief Tedros Adhanom Ghebreyesus.
Political Instability in Pakistan
In August 2022, Pakistan had a 27% inflation rate. The Pakistani rupee crashed, and net foreign reserves fell to $8 billion. Pakistan continues to face political instability due to a showdown involving the government, the military, and ex-prime minister Imran Khan. This makes it difficult to carry out an effective flood response and begin rebuilding people's lives.
Furthermore, political instability has resulted in food insecurity and electricity and fuel shortages.
Government Inaction and Lack of Disaster Preparedness
The government should have done more in the past few decades to flood-proof communities within Pakistan and prepare.
Climate scientists warned that this situation would arrive. Moreover, it will take years to rebuild infrastructure and homes in Pakistan. The damage is worse than the 2010 flooding, which killed 1700 people. The death toll is expected to be higher, indicating that the Pakistani government did not learn anything from the 2010 flooding.
While climate change is the critical driver behind Pakistan's extreme weather, policy experts held that the flooding was exacerbated by government inaction and mismanagement, structural inequalities in marginalized areas, and poor policy-based decisions.
Thousands of villages saw broken drainage systems and swamped roads. Although raising climate awareness is essential, we must shift the discourse to climate preparedness. Pakistani officials place much blame on climate change but use this as a scapegoat for their incompetence. Developed countries should be helping poorer nations to prepare for climate change disasters. This is the responsibility of more prosperous nations in the Global North, who are responsible for the level of greenhouse gas emissions currently in the atmosphere.
Concluding Thoughts
This humanitarian crisis has shown us that we must develop an impactful, inclusive, and holistic climate preparation plan to address future flooding. International assistance is essential to help Pakistan's fragile political and economic environment.
This climate crisis should also serve as a wake-up call for world leaders in the Global North to reduce emissions drastically.
UN secretary-general António Guterres held that the world should stop "sleepwalking" through this climate crisis. We must start thinking more seriously about how to prevent such disasters in the future.
Today it is Pakistan, but tomorrow it could be your country.