Water Crisis: The Worseing Global Problem
Water, the lifeblood of the blue planet, the core of every civilization ever existed. But, we have changed this rare chemical. Polluting it with toxins from industries and runoff from agriculture, from draining aquifers to the entire sea, human development, especially industrialization, has wrecked the environment, in just a geological blink of an eye, creating a wide-scale water crisis.
Despite its apparent ubiquity, it is becoming increasingly scarce. 90% of natural disasters are caused by a lack of access to it. More than 10% of humanity lacks access to it. Water issues have triggered wars. In poor countries, women haul it around all day long. Some major cities, including So Paulo and Cape Town, are running low on it.
Also Read: Billions to Suffer Water Insecurity by 2030
An unprecedented water crisis has arrived after decades of warnings. With the warming climate and growing population, freshwater resources dwindle. Scientists, activists, and entrepreneurs lead the charge to provide clean water.
But, how severe is this water crisis? What are the main reasons behind the increasing misuse and pollution of water? And, is there any way out?
Also Read: Plastic Pollution: How Vulnerable Communities Are Adversely Affected By Plastic Wastes
Correlation Bettwen Climate Change and Water Crisis
Climate change is exaggerating everything happening in relation to water. The increasing imbalance is being felt around the world. For the last two decades, droughts across the globe have devastated more people worldwide than any other natural disaster.
Somalia, for example, was always a drought-prone region. But, the current drought, also called the "The Elder Giant," has been going on since 2015. Years of drought have killed most of the livestock and drove almost 50% of the population to the verge of famine.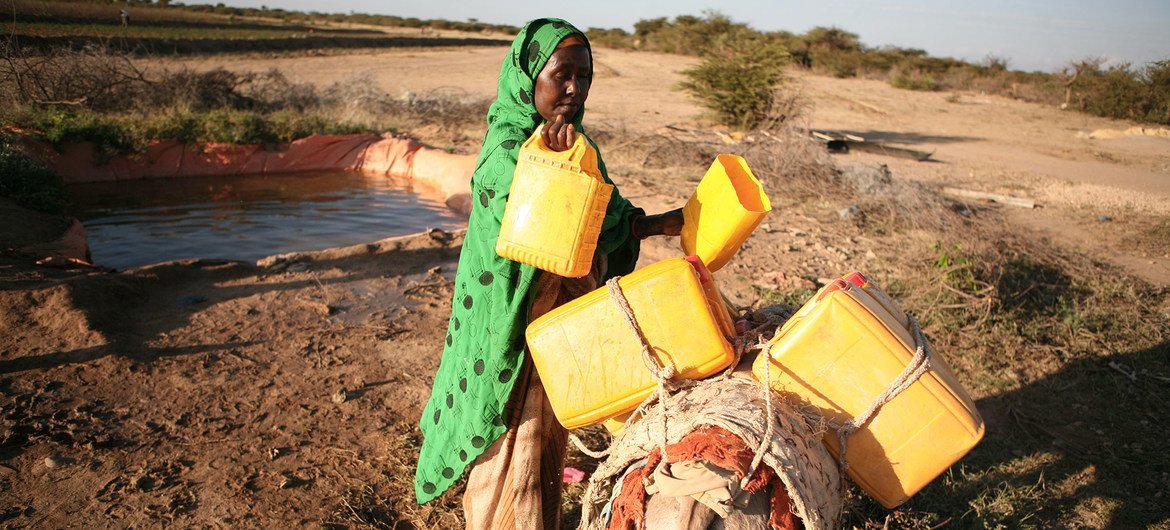 The melting ice caps and glaciers are also reducing the global supply of freshwater. The Himalayas and Ande's melting glaciers have long provided drinking and agricultural water to one-fifth of the globe. At the same time, the receding snowpack of Eastern Sierras is adversely affecting millions of Californians.
According to the latest finding by NASA, seven areas globally are losing nearly 300 billion tonnes of water every year. Scarce access to water is triggering migration in countries globally, creating millions of climate change refugees in just the past couple of years.
Also Read: Climate Refugees: Pain of Unseen Victims
The lack of water is dropping crop yield in central America's golden triangle. Crippling droughts year after year have left the farmers with only one option, to migrate for a better life.
But, though many claim climate change to be the primary culprit, there is a far more powerful force at work.
The Hiddle Culprit: Farming
70% of all freshwater is deployed in agricultural activity, and it is a huge source of greenhouse gas emissions. Industrial agriculture sucks up a significant amount of water. Draining rivers and streams to irrigate corn to feed cattle. On average, every farm animal needs up to 125,000 gallons of water in its lifetime. Since many of these cattle farms are getting water for free, we are enjoying the cheap meat at the cost of depleting groundwater.
California's San Joquin Valley is one of the most fertile places on the planet, which now is running out of water. But, depleting groundwater is not a problem confined to the US. Things have gotten south in some of the major parts of the world.
Experts fear that almost half of the world's population will be living in scarcity of water. Whereas, by 2040, the chances are that most of the world won't have enough water to keep up with the water demand all year long.
The anti-government protests in Iraq are the best example of the flaring up tensions, resulted from the lack of enough water. Moreover, the world economic forum has listed the looming water crisis amongst the top ten global risks to humanity.
Water Quality
Yet, the main cause of the water crisis isn't just climate change, and it is rooted in our relationship with water. Even with no chance of survival without water, the UN did not pass the resolution of water being a basic human right until 2010.
Access to water is not the only concern. Poor water quality is another danger hovering around. Nearly 3.5 million people, mostly children, die each year from water-borne diseases. Millions of people lack access to safe, clean water. 1.6 billion gallons of raw sewage and industrial waste is poured into the Ganges, India's major water body, each day.
Also Read: Iraq is Suffering from Water Crisis
This inequitable burden is placed upon the people downstream, surviving with the severely contaminated water. Furthermore, the release of chemicals and contaminants into freshwater has had devastating impacts on the natural world.
Water Crisis: Finding Solutions
Businesses and governments need to identify their drought vulnerabilities and improve resilience. Water conservation and increasing the efficiency of water usage throughout landscapes, city plans, and water infrastructure can help prepare communities for future droughts and upcoming water crises. Furhtrmeo, a drought emergency plan can be created, and farmers can be encouraged to plant drought-resistant crops.
Also Read: Global Water Crisis, day 0 and some band-aid solutions
Resilience to drought can also be improved by actions that reduce other stressors, such as deploying green infrastructure for stormwater management (so less power is required from water-intensive plants) and using renewable energy like solar (one that is not reliant on water).
If these measures are combined with attempts to reduce greenhouse gases, they will be most effective at minimizing climate change's final magnitude. Moreover, there are many solutions that can build agri-climate resilience, like improving soil health and water conservation while also reducing emissions.
Conclusion
At the core of our water crisis is the way we manage and distribute water. If the misuse, wastage, and pollution of freshwater continue, not only will our entire food system be disrupted, but it will also push societies and ecosystems off the verge of no return.
Qatar FIFA 2022, A Civilized Model Of Islam
Qatar is the first country in the Middle East to host the FIFA World Cup 2022. This was after Qatar's award hosting in December 2010. This is a tremendous opportunity for Qatar to represent Qatar FIFA 2022 as a civilized model of Islam. The country converted to Islam in the 7th century. Since winning the hosting, it has been constructing some of the most eco-friendly and architectural advanced sporting facilities ever seen. It is the kind of country that has the power to host the greatest show of FIFA ever on Earth.
First, Qatar has always drawn its strength from discovering oil, fishing, and pearl hunting. In addition, it is the world's second-largest exporter of liquefied natural gas. Hosting the tournament presents tremendous opportunities for Qatar to prove itself as a powerful country. Significantly, Qatar has always been taking advantage of the tournament hosting to develop local Industries, expertise, and infrastructure. This was for Innovation and application of excellent standards and support of Qatar's transition to a knowledge-based economy. This edition of the FIFA World Cup 2022 is being themed by Qatar on its culture, history, identity, and hospitability. As a result, efforts have made the event an unforgettable historical experience.
(more…)
"The Worst is Yet to Come"— Recession 2023 & the Looming Uncertainty
Recession 2023 is just around the corner.
The global economic crises are now inducing the certainty of a looming recession. Economists and financial organizations warned of upcoming uncertainty; however, regrettably, the world failed to decode the uprising of the economic catastrophe.
Today's economies around the globe are confronting an urgent economic crisis and is on the brink of a recession. And, the experts fear the worst is yet to come!
Shear Impact on Leading Economies – US, UK, China, and India
"Global growth is slowing sharply, with further slowing likely as more countries fall into recession. My deep concern is that these trends will persist, with long-lasting consequences devastating for people in emerging markets and developing economies,"

World Bank Group President David Malpass.
For the first time since 2009, the US declared negative GDP growth two quarters in a row, which officially qualifies as a recession.
The British Pound is at its historic low of $1.038 against US dollars due to rare emergency interventions. Cities and states in China are still in lockdown because of a rise in Covid-19 cases. On the other hand, Indian Rupee is at its 75-year low of Rupees 82.11 against the US dollar, soaring the hike in repo rates to 5.90%.
Srilanka already declared insolvency earlier this year. Russia and Ukraine war had already set the stage for World War III. And the recent resilience of china on Taiwan has tarnished the world economic environment.
Read More: Sri Lanka: What Led the Island Nation to Bankruptcy?
All these together indicate the harsh truth: Recession 2023 will worsens the conditions of all major economies and push the globe into undefined circumstances like:
Central banks hiking the interest rates
Hike in energy and food prices
Depreciation of major currencies against the dollar
Central Banks Hiking the Interest Rates
To counteract rising inflation and the impact of a strong currency on the economies, central banks are hurriedly raising interest rates. This happens as the US Federal Reserve keeps up its aggressive interest rate hikes.
On the other hand Reserve Bank of India is also struggling with persistently high inflation, which is made worse by geopolitical unrest, droughts, and supply-chain disruptions.
Hike in Energy and Food Prices
Russia is the world's third-largest oil-producing country. It provides 7-8 million barrels of crude oil per day, or 14% of global production, to international markets.
The US and UK's restrictions and many other nations' decisions to stop purchasing Russian petroleum have exacerbated the crisis.
Russia and Ukraine are the biggest sunflower oil producers globally and the second most frequently used cooking oil. However, sunflower oil cannot yet be exported from Russia due to the tightening of import restrictions.
Plus, due to the increasing demand for sunflower oil in the market, other edible oils are now more expensive, raising the cost of food and other products across borders.
Depreciation of Major Currencies Against the US Dollar
Compared to the US dollar, the Japanese yen has dropped to its lowest level since August 1998. The Indian rupee is hitting its lowest in history, and for the first time in 20 years, the euro is now lower than the USD.
The decline of major currencies indicates the current state of the global economy. Moreover, it provides a crystal-clear forecast of how disastrous the recession 2023 would be if significant steps are not taken to control the situation.
The Decelerating Global Economy: IMF Forecast for Recession 2023
The International Monetary Fund (IMF) is warning that over a third of the economy is headed for a recession this year or next. Its world outlook shows growth withering from 6.0% in 2021, 3.2% in 2022, and an estimate of just 2.7% in 2023.
Recession 2023 will be different from all the recessions the world has faced to date. Different factors are driving economic crashes in different countries, for example:
The ongoing turmoil in the national and global market is further sparking the threat of World War III.
Rising Certainty of World War III
Russia has already invaded Ukraine, and in opposition to Ukraine's protection, the US cleared this support with Ukraine by immediately sending weapons to Ukraine. Such US behavior infuriated Russia, leading to increased attacks.
Russian President Vladimir Putin warned the US and European countries that further expansion of support to Ukraine might lead the situation to a 'Global catastrophe.'
On the other hand, China assaulted Taiwan due to the recent visit of the US finance minister. The current clash of China and Indian troops erupt seriously, leading to grim conflict on north-east Indian borders.
Additionally, civil wars in countries like Somalia, Yemen, Syria, Ethiopia, Afghanistan, and Mali are raising the certainty of World War III.
Needless to say, World War III will destroy the world economy, resulting in more financial turmoil, starvation, a hike in oil prices, and the depreciation of currencies.
Recession 2023: The Worst is yet to come
Slowing down economies, high repo rates, depreciation of currencies, bankrupted countries, and looming wars between nuclear countries are further solidifying the onset of a cold economic winter.
The circumstance indicates what is coming. The indication of recession, the yell of "the worst is yet to come."
However, to wrench the global situation on track, policymakers should continue to give needy powerful tailored assistance to respective governments while also putting in place reliable medium-term fiscal strategies.
Death of Mahsa Amini: How Governments are Denying Women's Right to Choice?
Millions of Muslim women proudly wear Hijaab as a symbol of their religion. What makes them different from those protesting against obligatory hijab in Iran is the women's right to choose.
But when you widen your horizon, you'll realize that the dilemma of women's right to choose is apparent across borders. Be it Iran, India, France, or the US, women are constantly fighting for control of their bodies.
The History of Pro- & Anti-Hijab Protests in Iran
Looking at Iran today, it can be hard to picture that only four decades ago, Iranian women were protesting for the right to wear hijabs. The pro-hijab movement sparked when Iran's Reza Shah Pahlavi government outlawed any type of veil or head scarfs in an attempt to westernize the country.
At times, the government even forced a complete ban on hijabs, with police scrapping off women's hijabs in public. During this period of Iranian history, the hijab becomes the symbol of freedom, revolution, and democracy.
The pro-hijab uprising brought down Shah's government and put Ruhollah Khomeini in office. The Khomeini government, however, was far from ideal. By 1983, the new administration mandated the hijab for Iranian women.
Women were now forced to wear headscarves to an extent where they were punished with prison and even lashes for not abiding by the dress code. The worst phase started after 2005 when Dictator Mahmoud Ahmadinejad introduced the Morality Police; a police department made up of both men and women to keep an eye on women's clothing in public.
All this brings us to 13 September 2022, when Mahsa Amini, a 22-years old Iranian Kurdish woman, was arrested for violating the hijab code. In police custody, she was subjected to brutal violence that ended up taking her life three days later, on 16 September.
And it was her horrific death that sparked Iran's historic anti-hijab protest we are witnessing today.
Women's Right: The Death of Mahsa Amini & the Dirty Politics
The death of Mahsa Amini has sparked unprecedented protests in Iran. Despite a visible crackdown by the Iranian security forces, which includes mass arrests and internet interruption; women are taking the movement to the streets at a scale never seen before.
However, let's put protests aside for this article. Because what's happening in Iran right now is much more than just women fighting for their right to choose.
There has been no shortage of individuals, groups, and foreign entities weaponizing these protests to push their political and geopolitical goals.
Many gulf countries, for example, are using these protests to push back the nuclear deal. Backing on the demonstrations, the Western governments, including the US and EU, are considering further sanctions on Iran — even though the economic sanctions have already caused more than enough problems for Iranian women and their families.
And above all are Islamophobes who are using the protest to criticize hijabs, Muslims, and Islam in general. But how is any of this going to help the protesting women in Iran?
Everybody is currently striving to further their agendas, while Iranian women are risking their lives on the street.
Iran and the US: Not So Different Countries for Women's Rights
Although the US and the Iranian government have polar ideologies, the US is in no state to police Iran morally regarding women's rights.
It is the US, where a 10-year-old victim of rape from Ohio is not allowed to go through an abortion because of the new state law. Women in the US are protesting against the blanket ban on abortion, with no hope for reforms.
On the other hand, the anti-hijab protest in Iran has reignited the hijab debate in India. Why is it so difficult for the Karnatak government to respect the choice of Muslim women students to wear a hijab to college? It's absurd that these students have to fight their own government for their choice to be respected.
But be it Iran, Pakistan, India, or the USA, the debate remains the same: do women have the right to choose? Or is the word choice totally non-existential for women?
The Courageous Women of Iran
Women protesting in Iran are not again the hijab but against the imposition of the hijab. But when religion takes over governments, it creates an illusion of unlimited power. This is the case of Iranian authorities who are practicing absolute power by virtue of morality police.
But is it acceptable to restrain women against their will like literal goons?
The protest that started with the death of Mahsa has now become an international movement for women's right to choose. And, make no mistake, women are not alone here. Most Iranian male population stands with courageous Iranian women on the frontline against injustice in the name of religion.
Let Women Exercise their Right to Choice
Yes, when it comes to hijab rights in Iran, India, or the US, choosing the right side is not always straightforward. It's complicated with numerous factors, including individuality, choice, and religion, at play.
We should stand with Iranian women protesting for their freedom, fundamental rights, and liberation. I will continue to speak against governments banning women from wearing hijabs and against regimes that force them to wear them.
Hijab or no hijab: how about we let women everywhere have the right to choose?