A Mirror to The deep-rooted domestic violence culture in India
The coronavirus pandemic is revealing the hidden pandemic that the world has been shrouding. With COVID19 triggered lockdowns, many are trapped in their house; for some the experience is fine but a substantial portion of them are confronting their worst nightmare. Vulnerable are condemned to live with their abuser under the same roof for a very long time; as a result during the pandemic cases of domestic violence against women has seen a sharp spike, globally.
But what is the main cause of domestic violence? How COVID19 pandemic has made the situation more worse for the vulnerable? And what can be done to protect women from falling prey to domestic violence?
Domestic Violence: The Shadow Pandemic
Brutality on women by her partner is a common occurrence as says the UN; one in every three women globally suffers violence, and mostly by their spouse. According to the United Nations Women 2020, in last year close to 243 million girls and women of the age group 15 to 49 were subjected to some form of physical or sexual violence by their intimate partner.
Now with everyone bound to stay in their homes, the cases have astoundingly grown; says the survey of 122 community organisation, conducted by the UN Trust Funs and End Violence against Women and Girls (VAW/G), 2020. The surging domestic violence cases are becoming a global concern and have been named as "The Shadow Pandemic".
'This is the Shadow Pandemic growing amidst the COVID-19 crisis and we need a global collective effort to stop it' UN Women. With the surging cases of coronavirus infection and domestic violence; along with hospital helping-homes sheltering abused women and girls have also reached their full capacity. Physical or sexual harassment, cyberbullying and other forms of persecution are on uprising amid the pandemic.
It is difficult to pinpoint what exactly causes domestic violence. This mainly reflects the learned behaviours of the culprit; which make them feel having a sense of control over their partner. It is very widely found because of the belief that they can get away with it. Lack of education, social forces (gender-role identity), impunity, etc play a very important role in shaping abuser's values and attitude.
Home: not a safe place
The restrictions imposed during the pandemic is making the truth crystal clear; home is still not a safe place for many women and girls globally. India has never been a safe country for women but; the staggering increase in the number of domestic violence cases during the lockdown is gut-wrenching.
According to the National Commission of Women (NCW), between March-September, there have been outpouring, 13,410 complaints of domestic violence; crime against women in the highly restricted zones (red zone) was 131% higher than the zones with fewer restrictions (green zone). The cases hit a peak in July with 2,914 complaints of misdoing against women, highest since November 2018 (#MeToo movement).
774 of the 2,914 complaints were filed under clause Right to Live With Dignity; which accounts for the emotional abuse of the victim. The number surely do not paint the real picture because according to a study, only 14% of the women experiencing violence reach out for help, true figures are much greater.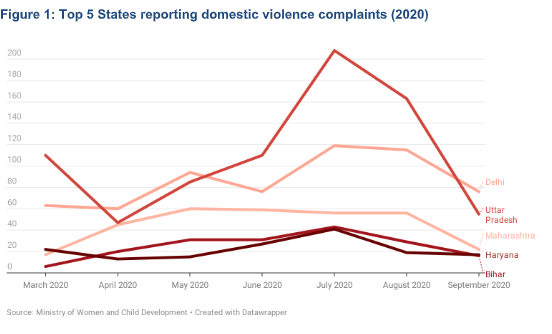 Domestic Violence: is there a way out?
The patriarchal society of the country have objectified women for a long time, now in the modern time things have changed but evidence of the deep-rooted misogyny can be ascertained in headlines every day. Rapes, honour-killing, Dowry related abuses, domestic violence, sexual assault and gender-based discrimination in the country have made India to becomes the most dangerous country for women in the survey of the Thomson Reuters Foundations in 2018.
Eradicating crime against women especially domestic violence is a far-fetched dream but attainable. Reaching out for help whenever in suffering is the shortest route to the dream's accomplishment. In most cases, women do not go for help because of family reputation. India is a country where despite one of every 3 women is a victim of domestic violence, 52% women and 42% men believe it is fine for women to be abused by its family.
According to the United Nations violence against women and girls is a violation of human rights, therefore being tormented and abused by in-laws or partner is not okay. Schemes like Emergency Response Support System and One Stop Centres are the initiatives by the government to ensure the safety of women in the country but as long as people themselves don't step forwards to speak up, these are of no use.
Financial Independence, community support, more attentive and supportive women helping agencies and most importantly advocacy and awareness can together India a better place for women too.
"Systematic creation of support infrastructure (easy access helplines, secure shelter services with enabling cultures), bystander intervention awareness and gender violence sensation of the police and administration especially for crisis context, would have mitigated the epidemic of violence. But the truth is we simply don't care enough"; says Swarna Rajagopalan (Writer, Political Analyst, Consultant, Social Entrepreneur) in dissapointment.
Israel's intense Practices to Uproot the Palestinians in Jerusalem
Palestinians experienced the bloodiest and most brutal year of all time in 2022. They witnessed an unprecedented increase in the number of settlers, settlement expansion, martyrs, and confiscation of lands, especially in Jerusalem. The occupation's relentless endeavours aim at uprooting the Palestinians in Jerusalem by controlling more Palestinian lands. They try to impose facts on the ground by building and expanding settlements and legitimizing building settlements, especially in Jerusalem.
Jerusalem is like no other city in Palestine. Israel's ideology puts more greed in Jerusalem than any other city in Palestine. The focus on Jerusalem pictures a conflict between two histories, two geographies and two very different identities. It includes the Palestinian Arab native and the trespassing zionist. Accordingly, Israel's ideology directs at eliminating the cultural landmarks of the capital or the Holy City. In addition, it aims to fake history aimed at reshaping the city with its exclusive Jewish output. They make it after erasing the Arab historical identity and its expression of Christian and Islamic diversity. Consequently, taking into consideration all intense practices to uproot the Palestinians in Jerusalem.
Geographical and Demographical Judaization
Israel's Jewdization ideology plan started its first steps in Jerusalem by initially cutting off Jerusalem from its perimeter. Their point was isolating Arab Jerusalemites from their civil, national and administrative institutions and from any activity that would maintain their interdependence. Their first planned step was initiating a vast campaign to isolate Jerusalem from its Palestinian surroundings, politically, geographically, economically, socially and demographically. They also erected the apartheid wall around the Holy City as well as settlement belts around it entirely. Israel also constructed and strengthened settlements in the heart of Arab neighbourhoods and the Old Town in Jerusalem.
Read more on this: Israel is Hiding Crucial Demographic Facts About Palestinians
Land Confiscation
Moreover, Since Israel's occupation of Jerusalem in 1967, Israel has begun confiscating lands inside Jerusalem, and other Palestinian cities until it expanded to the ghetto of the Old Town which Arabs inhabited and had no trace of Jews. Land confiscation expanded until it reached the Mughrabi neighbourhood, Beit Safafa village, Beit Jala, al-Nabi Ya 'qub, and Sheikh Jarrah area lands. Land confiscation has been happening and still happening until this day under Israel's false pretexts. Israel has also promulgated legislation and laws prohibiting construction in large areas covering various areas of the city. In addition, they have announced other areas as "green areas" for no building.
To this day, The Israeli occupation exploits the classification of Palestinian lands according to the Oslo Accord (a, b and c) to tighten control over Palestinians, especially in areas classified as (c) under its full control over security, planning and construction. Israel's occupation directly exploits 76% of the total area classified as (c); 63% of which regional colonial councils control. Equally important, the areas confiscated for military bases and military training sites represent about 18% of the West Bank area, as well as the apartheid wall and expansion that isolated more than 10% of the West Bank area.
Shamelessly, Israel's military forces forcibly expel Palestinian citizens from their homes, inhabit them by Jewish settlers arriving from abroad, and transfer Palestinian properties to the settlers. For example, Sheikh Jarrah's neighbourhood has been suffering from this issue. In 2008, the occupation authorities forcibly expelled the first Palestinian families from the neighbourhood and were repatriated by Jews. They expelled the Al-Ghawi family by force of arms from their homes in the Sheikh Jarrah neighbourhood. To date, 28 Palestinian homes remain threatened with expulsion and transfer of their homes to settlers.
Demolishing "Unauthorized Construction"
In order to build homes in East Jerusalem and Area C, Palestinians must apply for a permit from the Israeli authorities, who control these areas. The vast majority of demolition orders are issued because a home or structure has been built without an Israeli permit. Every year Israel demolishes hundreds of Palestinian homes under the pretext of what Zionists call illegal construction in East Jerusalem (unauthorized construction).
Zionist authorities impose doubled penalties on Jerusalemites such as high financial fines reaching tens of thousands of shekels, actual imprisonment, and instructions requiring Jerusalemites to prove ownership of their land by highlighting the land registry. They would also oblige Palestinians to obtain the consent of their neighbours including the Mukhtar of the village or the village chief. Generally, demolition orders are based on false pretexts that Israel considers demolishing their homes itself or even making the situation harder by issuing self-demolition for the Palestinians.
Residence, Mariage, and family reunion
In order to maintain its grip over Jerusalem, Israel took racist Judaizing uprooting practices for the Palestinians in Jerusalem. They included the withdrawal of Jerusalemites' identities, based on a series of racist regulations, laws and judgments. This policy abolished the residence right of Palestinians living in Jerusalem, on the outskirts of Jerusalem, and outside Palestine. In that case, when the families of the banned Palestinians from entering Jerusalem apply for permission to visit them, they grant them an exit permit without returning, nonetheless.
Israel has also applied a compulsory approach to students studying outside Jerusalem. It requires them to renew their identity cards in a manner that disrupts their studying. The right of residence is revoked for those who spend seven years outside Jerusalem for the sake of education. Israel can, under its laws, easily deprive any Palestinian of residence in the city. Internal staff shall apply these instructions automatically without referring to any other reference.
Apart from this, Israel prohibits Palestinians from marrying or reuniting with their spouses from the West Bank and Gaza. As racial discrimination reflects the demographic conflict between Israel and the Palestinians. Consequently, all these tyrannical practices serve the interest of Israel to forcibly uproot the Palestinians in Jerusalem.
For more: Israel Has No Right to Exist if Palestine Has No Right to Exist
General view
Psychological warfare is Israel's best-known ideology for uprooting Palestinians to clamp down on Palestinians compelling them to leave their lands. Palestinians will never forget Israel's true face. They will never forget the execution of the veteran journalist Shirin Abu Akleh. They will never forget the illegal assassinations, willful injuries, arbitrary arrests, torture and other ill-treatment, persecutions and collective punishments against Palestinians, including many children. violence has always been a key feature of Israel. Palestinians will never forget. And they will never forgive.
What Does Shraddha Walker's Murder Mean for Love in India?
Earlier this month, India was shocked by the news of the murder of 28-year-old Shraddha Walker by her live-in partner Aftab Poonawalla. Aftab had killed Shraddha merely three days after they moved into their new home in Delhi in May this year. Aftab had cut the body of Shraddha into 35 pieces and stored them in a fridge. He was gradually disposing of the body parts in a nearby forest area.
Interfaith Couple and Sensational Murder Trial
After the news of Shraddha's murder broke in mid-November following the arrest of Aftab Poonawalla, it became a sensational murder trial. The murder was debated on prime-time debates on TV.
While the murder was chilling and one could expect it to cause a sensation, it became a sensational murder trial for very wrong reasons in India. The fact that Shraddha and Aftab were an interfaith couple made it a sensational murder.
Even though Aftab has claimed that he killed Shraddha in a fit of rage while they were fighting, the police are yet to establish the motive for the murder. The media trial, however, has given a religious colour to the murder. Some people, including those on TV debates, have dressed the murder in the language of religion.
Love Jihad?
The religious colour given to the Shraddha murder and the transcending of the murder beyond its context is a result of the Love Jihad discourse adopted by the ruling right-wing party BJP. BJP used Loved Jihad as an electoral issue in many state elections.
At present, eleven states where BJP is in power have passed legislation against Love Jihad. The argument by the Hindu nationalists is that Muslim men intentionally fall in love with Hindu women and then these men force the women to convert from Hinduism to Islam.
Also Read: Love Jihad: A Conspiracy or a Political Campaign?
Demonizing Muslims
There are also attempts to demonize Muslims after the murder of Shraddha. A man from the UP state recently went on TV to support the actions of Aftab. He claimed to be a Muslim, named Rashid Khan and justified the cutting of Shraddha into 35 pieces.
When the police arrested the said man, it was found that he is a Hindu, named Vikas Gupta.
Vikas Gupta's statement went viral on social media and Muslims were called out and demonized for his statement.
Also Read: Bollywood's portrayal of Kashmir- Journey Of Representation From Heaven To Hell
A Setback to the Freedom to Love in India?
Shraddha's sensational murder trial has raised questions about love in India. It will hurt the hard-won right of freedom to love.
There are two aspects to be considered. First is the freedom of young people to love or live in live-in relationships. Since the news of the murder reached almost every home in India, it will scare people from getting into live-in relationships. Further, society will also be suspicious of these relationships. Live-in couples already face difficulty in negotiating the conservative society in India and the case will only exacerbate it. For instance, live-in couples in India find it difficult to find a house or rented accommodation. Aftab and Shraddha also lived in rented accommodation. More people than ever before will now hesitate to rent their accommodations to live-in couples.
Second, as discussed above Shraddha's murder will make it worse for interfaith couples to negotiate everyday life in India. Even though India was never a safe place for interfaith couples, the case is going to make society hostile to interfaith love. Those who were already against interfaith love will use this case to further cement their position on Love Jihad.
Further, society in general parents of young people in particular will turn hostile against love.
Also Read: The mainstreaming of anti-Muslim Hindutva Pop in India
A Difficult Task Ahead
The sensational murder trial and the media trial of Shraddha's murder by Aftab have raised questions about love in India. Further, the discourse of Love Jihad is also back. Hindu nationalists will make sure that the case is exploited to its full to make a case for Love Jihad.
For those in India, who want to preserve the hard-won right of freedom to love, the task ahead is very difficult. Even though the case has already become sensational, they must make sure that it is restricted to its immediate context. If the case transcends its immediate context, hate will win against love. Love must triumph!
Depp v Heard: Underlying the Nuances of Domestic Violence
The recent verdict in the defamation trial, Depp v Heard, highlighted the nuances of domestic violence and was, from gavel to gavel, a singularly baffling, unedifying and depressive spectacle.
Background to the Domestic Violence Case – Depp v Heard
Johnny Depp prevailed in his three counts of defamation against his ex-wife, Amber Heard, on June 1st 2022. Depp sued Heard for $50 million for implying he abused her in the 2018 Washington Post op-ed. The world was anticipating the final verdict in Depp v Heard, which underlined the nuances of domestic violence and abusive relationships.
Heard did not name Depp directly in the article but wrote that she was "a public figure representing domestic abuse." Depp claimed her allegations impacted his career and ability to appear in future films. Heard pursued a $100 million counterclaim.
The trial consisted of graphic testimonies highlighting Depp and Heard's horrifically abusive relationship. The trial was televised worldwide for seven weeks.
A Fairfax County Circuit jury, after 13 hours of deliberations, found that Heard defamed Depp on all three counts and awarded him $10 million in compensatory damages. Additionally, Depp received $5 million in punitive damages. However, because punitive damages were automatically reduced to $350,000 – the legal limit according to Virginia law – Depp's actual damages amounted to $10.35 million.
Moreover, the jury decided that Depp defamed Heard on one of three counts in her countersuit through his lawyer Adam Waldman. Thus, Heard received $2 million in compensatory damages.
The Cultural Phenomenon of Depp v Heard Underlying the Nuances of Domestic Violence
Depp v Heard turned into a cultural phenomenon underlying the nuances of domestic violence. This case brought up emotional experiences for many viewers who have been subject to abusive relationships. It is personal for many people worldwide, and this sensitive topic should be treated with respect and dignity. The conduct of the trial highlighted the difficulty victims face when speaking up about their abuse. The case had both positive and negative consequences for abuse victims.
The case highlighted that men are also victims of physical and emotional violence within a relationship. Following Depp coming forward and admitting he was a victim of domestic abuse in his relationship, this inspired other men online to admit they were subject to similar abuse.
However, viewers' hostile reaction towards Heard highlighted the difficulty women could potentially face when speaking about their abuse.
The trial re-establishes the need to create the "perfect victim" within an abusive relationship. It creates a false expectation that a woman or any other victim of abuse seeking justice must be likeable and without any fault in the relationship. This case exemplifies how abusive relationships are not always black and white, and the "perfect victim" does not always exist.
Why Depp Won His Libel Case in the US but Lost in the UK?
The Depp v Heard verdict contradicts a similar case taken by Depp, where he sued the Sun tabloid newspaper for calling him a "wife-beater". Libel law has traditionally been more favourable to plaintiffs in the UK, even creating "libel tourism" allegations. "Libel tourism" is pursuing a case in the UK in preference to other jurisdictions, such as the US, which provide more extensive defences for those accused of making derogatory statements. Depp won his case in the US due to the difference in laws between the two countries. In the US, the burden of proof lies on the person filing the defamation claim, but it lies with the defendant in the UK, making it far more complex.
Heard testified in the UK case against Depp on several occasions. The judge held that the allegations made against Depp were accurate. Moreover, Depp appealed the decision but lost. In contrast to the British case, a jury decided the outcome of the US trial.
The Toxic Culture Surrounding Media
A critical difference between Depp's case in the UK and his case in the US is the media uproar online and outside the courtroom. Millions tuned to the live-streamed Depp v Heard trial. Millions dissected the testimony through social media platforms. While the UK case prompted outsize media coverage, the US trial took this to an entirely different level.
According to data from NewsWhip, social media interactions about the trial have trumped all other topics in the past month.
The "Saturday Night Live" show faces significant criticism for its insensitive parody of the trial. Many viewers felt it was unfair to make jokes about serious topics like domestic and sexual abuse while litigation proceedings were still ongoing. It felt as though the media had already judged Heard long before the court had made any legal decision.
The Media's Need To Create A Hero-Villan Dynamic
The trial played out on social media, where Depp fans dominated most coverage. There were social media generated hashtags to support Depp and many hashtags highly criticizing Heard. The trial was treated merely as a piece of celebrity entertainment and not as a domestic violence case.
Heard's accusations immediately appeared unfounded as social media trial footage was edited, mocking her throughout her testimonies. The #JusticeforJohnnyDepp received more than 19 billion views on TikTok. Concurrently, an estimated 69 million videos tagged #JusticeforAmberHeard. Social media posts needed to create a compelling hero-villain dynamic at the expense of many genuine victims of domestic abuse.
It was clear that Depp v Heard served as a cultural battleground in the politically divided US. Following the verdict, the Republicans tweeted a GIF of Depp on their official account as Captain Jack Sparrow, standing triumphantly on his ship in support of the trial verdict. However, this is not a Marvel movie; this is a real and influential precedent-setting case regarding abusive behaviour. A profoundly abusive relationship is portrayed in simple black and white thinking. The media creates an illusive scenario where one individual rises as the hero and the other as the villain.
The evidence emerging from the trial underscores how Depp and Heard have both perpetrated wrongdoing against each other. Commentators have tried to use the case to evangelize their long-held misogynistic beliefs. However, Depp is not entirely innocent despite the overwhelming support he has received through social media. The case's complexity underlines how neither party rises victorious, given the abusive behaviour highlighted throughout the trial.
The Aftermath of Depp v Heard & Moving Forward
Depp v Heard is a mirror of our overly toxic culture. We must not forget that domestic abuse can happen to men and women.
Abuse victims are commonly silenced, dehumanized and, in the most extreme cases, murdered by their abusers. Legal proceedings related to domestic abuse should respect both parties' right to privacy.
Depp v Heard highlights how we should re-consider televising victims' private lives to viewers worldwide during court proceedings. Censoring personal details in domestic abuse cases prevents personal information from spreading online and creating public entertainment. This would create a safer environment for future victims to come forward and speak about their abuse.
Shockingly, male intimate partners are responsible for 50% of female homicides in the US. However, female intimate partners are responsible for 5% of male homicides. Although statistics related to domestic abuse fall overwhelmingly on women, this does not undermine instances where men suffer as victims.
Depp v Heard represents a cultural phenomenon highlighting the horrors of domestic abuse. This case will serve as a landmark precedent for encouraging both men and women to come forward and talk in the future. In contrast, Depp v heard has the possibility of silencing abuse victims due to the negative backlash this high profile trial attracted.