Who is Winning the Microchip War: India or China?
The world is running out of computer chips. And due to the unprecedented shortage of electric chips and semiconductors, a new microchip war is brewing between the two largest manufacturers: India & China.
But, who is winning it? Here's an explainer:
The Semiconductor Crisis: Explained
Semiconductors are used to make integrated circuits. These microchips are the lifeblood of all electronic appliances, from smartphones, laptops, and gaming consoles to supercomputers and modern weapons.
Powering the technological evolution over the last two decades, the demand for semiconductors has skyrocketed. However, the 2020 pandemic halted the chips' manufacturing, sparking a global semiconductor crisis.
The crisis was so bad that Apple lost 6 billion dollars in revenue, Maruti had to cut down 40% of its production, and Mahindra had to cut down 20% of its production. Due to chip shortages, the auto industry has already lost 100 billion dollars in revenue.
Even though production has resumed, manufacturers are still unable to fill out the shortage caused by COVID.
So, why is there a sudden shortage of semiconductors and their impact on different industries?
The Rush of people with Electronic Gadgets
The first reason for the shortage is that the industry had already been growing rapidly and was already on the brink of shortage. According to the semiconductor industry association, more than 100 billion integration circuits are used daily worldwide.
The market is so huge that the industry's biggest players, including Intel, Micron, Nvidia, and Qualcomm, can't keep up with the demand, given the enormous size of the market.
The Microchip War & Impact of Covid-19
Lockdown-induced online work dramatically increased demand for electronic devices. But with the manufacturing and transportation services primarily halted, demands outstripped supply.
Another the reason why the shortage is so difficult to recover is that manufacturing a microchip typically takes more than four months. Additionally, microchip manufacturers need giant factories with dust-free rooms, multi-million-dollar machines, molten tin, and lasers.
Since manufacturing cannot be increased on such short notice, the wait times for chips increased alarmingly. The situation has worsened so severely that the waiting time spiked from 11.8 weeks in September 2019 to 21 weeks in August 2021.
Consequently, the market value of semiconductors grew over 20% ($600 billion) in 2021.
Hence, the radical difference in supply and demand has turned the table, and this is why companies from various areas across the world from various sectors have started facing production issues.
The four major industries that have furiously faced the heat of crisis are auto, LED lighting, consumer electronics, and the appliance industries.
What is the position of India in the semiconductor market?
Despite homing big heads like Intel, Micron, and Samsung housing and R&D centers in India. India doesn't have a significant chip manufacturing industry.
When looked at India's semiconductor trade situation, India became the 13th largest importer of semiconductor devices in the world in 2020, with $2.38 billion in semiconductor device imports.
And now comes the story's climax behind the semiconductor war between India and China.
The terrifying part is that about 68.1% of India's semiconductors were imported from China in 2020. Followed by 40% in and 26% from Hongkong in 2022.
So, what is India doing to fix the situation and reduce its dependence on China? And How is India indirectly in the position of war with China in the semiconductor industry?
India Vs. China: The Microchip War
The roots of India & China's microchip war can be traced back to the Quad Summit.
During the quad summit conference held by US president Joe Biden on the 24th of September 2021 debated on how to tackle several aspects of economic challenges that come through different countries' economic development. And one such aspect was the semiconductor shortage in the world.
Long story short, chip manufacturing is a complex process requiring multiple steps. So if each country sets up five divisions for five different processes, it is both costly and time-consuming.
Because of this, India, Australia, Japan, and the US have chosen to work together to execute only those processes that best suit their strengths while transferring the remaining ones to other nations.
That means the US will design the semiconductor; Japan will provide resources to make semiconductor that is raw materials and chemicals like silicon wafers and ICs. While Australia will come up with an electronic supply chain as it has access to critical materials and advanced mining.
Meanwhile, India has many skilled engineers and laborers for cheap assembling and manufacturing.
So, in the quad summit US, Japan, Australia, and India joined hands to build a robust semiconductor supply chain based on their strength to eliminate their dependence on China, Hongkong, and Taiwan.
Thus India's INR 76000 cores production incentives program is indirectly threatening Chinas mega semiconductor chip industry.
Will the Microchip Program Really Benefit India?
The US is very well aware of future weapons and is acting smartly to overcome China in supercomputing and AI tech. That's why the US wants semiconductor technology to be kept away from the hands of China.
Hence in October 2022 US banned all semiconductor exports to China. Alongside baning all the technologies that China can use against the US.
The US does not want China to develop weapons that may use against the US military. Consequently, fostering India to come up with semiconductor manufacturing to cut the wings of China in the field of making chips.
As discussed above, the US is king in designing the chips, but with sanctions on exporting any such technology from the US, China will face heat.
While the US has joined hands in the quad summit to design semiconductors for India, here comes the answer to that incentive program.
Is India Winning the Microchip Chip War?
Over the next two years, the Indian government plans to establish 20 semiconductor plants. To tackle the shortage of semiconductor Government of India has lined -up with attractive incentive support for companies engaged in silicon conductors, photonics, semiconductor packaging, compound semiconductor manufacturing, sensors fabs, and semiconductor design.
Moreover, India is also tying up with Taiwan and encouraging semiconductor companies to manufacture semiconductors in India by providing land at affordable prices for their setup.
India is in an overstated circumstance where it is a semiconductor-importing nation and is about to switch to a semiconductor-exporting nation. Here is some heat in China. And that sparks an unintentional semiconductor war between China and India.
China's Growing Foothold in the Middle East -The Rise of a New SuperPower
Overcoming the setback of the COVID pandemic, China is well on its way to establishing its foothold as the new superpower. And the most recent of its interest – The Middle East.
After trapping under-developing countries in South Asia and Africa in its debt trap, the dragon is searching for a new ally. An ally with equal resentment with the west and who can support China is becoming the next America, hence Saudi Arabia.
The Glamorous Welcome of President Xi Jinping on the Middle Eastern Soil
Saudi Arabia rolled out the purple carpet when Chinese President Xi Jinping visited Riyadh in December 2022.
Xi Jinping's journey to Saudi Arabia is his first since 2016, and it is only his third trip abroad since the coronavirus outbreak started. Chinese President Xi Jinping was in Saudi Arabia for a three-day visit that made dozens of agreements for trade, technology, and the economy.
The timing of Xi's three-day trip to Saudi Arabia is a bit perplexing. The organization of oil-producing countries' refusal to boost output and the West's decision to cap the price of Russian oil may indicate that China, Saudi Arabia, and Russia have aligned anti-Western policies.
Considering the warm welcome of Xi Jinping by Saudi Crown Prince Mohammed bin Salman (MBS) and a number of agreements and summits heralded, the White House urged – China's efforts to sway world events are "not favorable" to the international system.
According to a US spokesperson, the United States is aware of China's efforts to increase its global influence. Moreover, the USA is well aware that the Middle East is undoubtedly one of those areas where China wishes to expand its influence.
Beijing's focus on Riyadh may concern the US and its western allies as China is improving its relations with Middle East countries, which are growing further in weapon and oil supply.
Read Next: How China is Engulfing Poor Nations into its Vicious Debt Trap
The $30 million Deal with the New Superpower
The signing of 35 investment agreements worth $30 million between China and Saudi Arabia has dramatically improved the two nations' commercial ties.
Saudi Crown Prince Mohammed bin Salman and Chinese President Xi presided over the signing of the agreements. The first was an alignment plan between the nations' Vision 2030 and the Belt and Road Initiative.
Moreover, Prince Abdulaziz bin Salman, the energy minister of Saudi Arabia, and He Lifeng, the head of China's National Development and Reform Commission, signed a memorandum of understanding on hydrogen energy.
Notably, Chinese cooperation in nuclear energy, security, space, and technology was the highlight of all agreements. China is fostering this relationship with Saudi Arabia, in the region that was formerly under American influence.
During the three-day visit to Saudi Arabia, President Xi addresses a speech in the Saudi capital of Riyadh. The leaders and representatives from the six Gulf Cooperation Council nations – Bahrain, Kuwait, Oman, Qatar, Saudi Arabia, and the United Arab Emirates were present.
China is one of the biggest oil importers from Saudi Arabia, and the President indicated an unorthodox view during this speech. Mr. Xi specified using the Shanghai Petroleum and Natural Gas Exchange to settle oil and gas contracts in Chinese currency.
Crude oil, typically valued in US dollars, is exported by Saudi Arabia more frequently than any other country. Moves away from the US dollar could weaken the dollar's position as the world's reserve currency. However, Saudi Arabia is unlikely to make significant changes because it pegs its currency to the dollar.
China and Saudi Arabia both hailed Mr. Xi's visit as a historic occasion as the relations that were once limited to oil-based were extended into sales, technology transfers, and infrastructure projects.
The Pressure on the USA in the MiddleEast
Due to deteriorating relations with the US and other Western countries, China seeks to strengthen ties with Middle Eastern nations during Xi's visit. The links between China and Saudi Arabia are hurting the USA economically and globally.
Saudi Arabia has been a loyal ally of the US for a long time. But recently, its connections with China have significantly created pressure on the USA.
Joe Biden visited Saudi Arabia in the summer to calm skeptical friends and reaffirm American engagement in the Middle East. The President ensures the leaders of Arabs in Riyadh that the United States won't withdraw and let China, Russia, or Iran fill the void.
But he was unable to persuade the Saudis to increase oil output. Instead, Arab would shortly spearhead a plan to reduce oil production by almost 2 million barrels per day as part of an agreement with Russia.
Along with Saudi Arabia, the US has strained ties with China. Saudi Arabia and China have also adopted stances about the Ukraine War that differ from those of the West.
Both parties have refrained from backing sanctions against Russia. Riyadh has repeatedly maintained that Moscow is a significant energy-producing partner who needs to be engaged on OPEC issues.
UAE: Growing Influence of the New Superpower
In the United Arab Emirates, relatively youthful and forceful leaders are now in charge of the Gulf. Although these nations still significantly rely on the United States for their needs in terms of national security and the sale of weapons.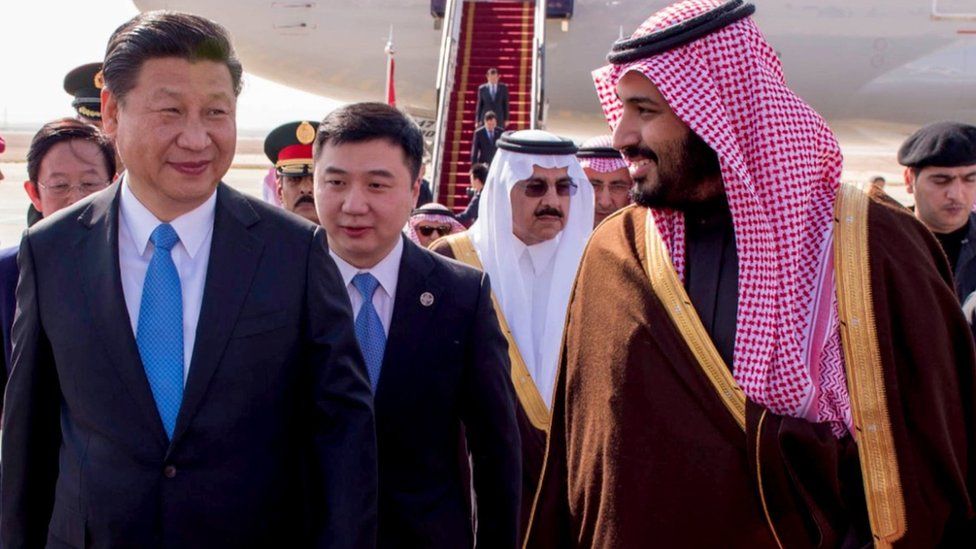 Although the entry of China into the Middle East has raised concerns and competition among western countries, the United Arab Emirates is taking advantage of the competition.
Moreover, Prince Mohammed wants to reduce Saudi Arabia's reliance on oil exports by diversifying the country's economy. He wants to develop a new Saudi military industry as part of a bigger plan to increase the kingdom's independence and economic might.
Prince is also planning to diversify the country using new technologies and improve internal infrastructure innovatively. China is regarded as a crucial ally in developing the nation's defenses and infrastructure since it can offer the necessary expertise and technology.
On the other hand, China's priority is energy, which depends on a steady flow of fossil fuels to function. China has been alert since price fluctuation due to Russia's invasion of Ukraine this year. As well as a Chinese energy crisis last year resulted in blackouts that shut down companies and towns.
China is therefore acting wisely by trading steady fuel exports for technology, nuclear energy, and space technology with Saudi Arabia.
Nevertheless, Xi's trip to Saudi Arabia showed that Saudi Arabia and the other Arab nations have options. And they will keep using their growth strategy for international stakeholders to their advantage.
China to Arrest USA Autonomy over Saudi Arabia?
Saudi Arab officials have already said that they have never supported polarization. Saudi Arabia is only striving for the nation's interest; their interests are in the West and the east too.
However, the young lead of Saudi Arabia is searching for an alternative to enhance the nation's economy without relying on oil exports. And China has a good chance to arrest US autonomy over Arab countries by providing all required help.
The relationship between Saudi Arabia and the US as it stands right now is fickle. However, China and Saudi Arabia's strong alliances make it the ideal time for China to seize the chance to replace the United States as Saudi Arabia's primary trading partner.
The new relationship will not only weaken the USA's influence in the region, but it will also hurt the US superpower's global image.
What Xi Jinping Aims, Acquires – The Return of Persistent President
The results of China's presidential election were known to the entire globe, and especially to the citizens of China. In the wake of the recently concluded party congress in Beijing, Xi Jinping has established himself as the kingmaker.
Xi Jinping was a driving force behind the repeal of presidential term limits in 2018, which opened the door for him to hold the position of leader for life if he desires.
Xi Jinping has broken the previous history by accepting a third term as party leader and significantly enhanced the concentration of power at the organization's top.
But what does the persistent president's return means for China and the world? Here's a detailed insight.
"The World Development needs China…". – Xi Jinping
After being elected as president of China for the third consecutive term in a closed-door election, Xi Jinping stated in his first address to the audience, "China cannot develop in isolation from the world. The world's development also needs China,"
This quote shows how China focuses on its growth to have a more prominent global effect as a superpower.
Additionally, Xi Jinping, with the proceedings of the new term, wants to focus on achieving economic, industrial, and technological goals. That will give the Chinese economic and technological sector a competitive edge to become the next prominent superpower.
However, the road ahead toward leading China as a top superpower for Xi Jinping needs to be smoother. There are unresolved domestic problems, economic difficulties, and hostile international relations with neighbors like Taiwan and India. One of his biggest concerns would be his relationship with rival America.
Nevertheless, Xi Jinping continues to hold the view that despite numerous challenges in becoming a superpower, the Chinese people would always support and remain steadfast on this side.
"On the road ahead, no matter high winds, choppy waters, or even dangerous storms, the people will always be our most solid support and strongest confidence,"

President Xi Jinping
Two Countries Share a Friendship with 'No Limits' – Xi Jinping on Relationship with Russia
Mr. Putin will need China, said Alicia Garcia Herrero, head economist for Asia Pacific at Natixis. Russia must continue importing semiconductors from China to keep military, industrial, and civil needs operational.
Due to restrictions from US and European alliances, Russia has no choice but to export chips from China to operate for civil and military purposes.
Chip export from China to Russia more than doubled to roughly $50 million in the first five months of 2022 compared to a year earlier. While exports of other components like printed circuit boards also witnessed a double-digit percentage increase.
However, Xi Jinping raised concerns over the Russia-Ukraine war during his visit to an international summit in Uzbekistan with President Putin.
The focus, though, was on Putin's oblique acknowledgment of Chinese "concerns" regarding the invasion.
"We highly value the balanced position of our Chinese friends when it comes to the Ukraine crisis,"

Putin, Russian Presidnt
Nevertheless, China has been cautious in its interactions with Moscow to avoid falling victim to any potential sanctions and alienating other nations, such as those in Central Asia, with China forging economic links.
Yet, with the ongoing trade across two borders of China and Russia, Xi Jinping's thought over Russia's invasion clearly — supports the friend firmly in the backend while criticizing and commending Russia in front of the world.
"Regard science and technology as our primary productive force" – Xi Jinping
The most potent president of decades in China, Xi Jinping, at the opening of the meeting, straight away displayed China's powerful ambitions and reliance on science and technology.
Violating a tradition that had been in place for 40 years, six out of politburo's 25 members now have a background in science. Compared to just one person in the previous politburo, who had no members with education or experience in science or technology.
And there was a significant turnaround of the party's top leadership after Xi Jinping was reinstated as general secretary for a third term.
Xi Jinping's choices emphasize building up Beijing's powerful military and technological capabilities so that China can defend or resist any pressure from the US and its allies, especially when it comes to enforcing territorial claims over Taiwan.
Moreover, China is also expected to prioritize research and development in aerospace and space science. To boost the aerospace and space science workforce, China aims to bring back Chinese scholars who are currently abroad or hired by foreign researchers.
Such initiatives and endeavors unequivocally show China's priority for science and technology in the years to come. In 2021, China spent around 2.8 trillion yuan, 2.4% of China's GDP, on Research and Development.
However, the current five-year plan for the nation sets a target of an annual increase of more than 7% every year.
"China must strengthen the unity of all ethnic groups."
As western countries continue to charge Beijing with committing genocide against the predominantly Muslim Uyghur population in the region, China's president, Xi Jinping, visited Xinjiang for the first time in eight years.
A supra-governmental group subject to US sanctions, the Xinjiang Production and Construction Corps (XPCC) was inspected by the president, who lauded the organization's "excellent progress" in reform and growth.
Nevertheless, President Xi Jinping's visit to the Xinjiang area comes out as more deliberate than opportunistic as the ruthless tactics employed by the Chinese government against the Uyghur minority in the northwest Xinjiang province have been brought to light by a cache of leaked documents and images.
Uyghurs are allegedly forced to unlearn their culture and religion via a network of institutes run by Chinese authorities in the area. The exposed documents state that
China has a shoot-to-kill policy for Uyghurs who attempt to flee the internment centers. The materials also go against the Chinese government's claim that the Uyghurs willingly attend the facilities.
However, China's Foreign Ministry has rejected the allegation and said the Media is spreading lies and rumors.
Though China was seriously condemned by the UN and western countries, knowing such ruthless behavior of China towards minorities is nothing new. Such criticism compelled President Xi Jinping to travel to Xinjiang, a region he hadn't been to in eight years.
However, the future of the oppressed Uyghur Muslims and other minority communities under Vi Jinping's third term is still uncertain.
Read More: Modern Uyghur 'Genocide' in Xinjiang China
Will China Invade Taiwan? The Looming Danger of World War 3 Explained
While the world is engulfed in the Ukraine-Russia war, global inflation, food shortage, and scorching heat, China is preparing to conclude its long-simmering plan to invade Taiwan.
Here's an in-depth report:
Will China Invade Taiwan: An Overview
China's goals for Taiwan are well known. Tensions between the two nations have been stoked for years by opposing perspectives over the sovereignty of the little island country. And now, they are reaching boiling point.
Beijing sees Taiwan as a breakaway province even though it has never been a part of China. Moreover, the so-called reunification with Taiwan has been a top priority for the Chinese president, Xi Jinping, ever since he came to office. And he hasn't ruled out using force to do this.
Taiwan's military, which has 169,000 active soldiers, is outnumbered by its superpower neighbors' million-strong army by over a 20 to 1 margin. And, with the looming danger of China's invasion of Taiwan; expert fear, the world is inching closer to a World War situation.
Why does Taiwan Matters to the World?
If China were to Invade Taiwan, two nuclear power heads, China and the US, could war head to head into what could escalate into world war three.
But why is Taiwan so important for the world, especially for the US?
South China Sea Dispute
The South China Sea is one of the most important regions for global trade because over 30% of the world's shipping passes through the passage, which amounts to $3.37 Trillion in trade per year. The sea also homes 11 billion barrels of untapped crude oil and 190 Trillion cubic feet of natural gas.
And most important of all, the country controlling this region will have significant military benefits.
For years, China has been keenly taking control of the region. To an extent, where the Sino military has created an artificial island to claim the South China Sea as its own.
So, if China succeeds in invading, it will have the upper hand in the second most important region in the world, handing China significant military dominance in the area.
US's Promise in Question
The US does not recognize Taiwan as an officially different state. But, the Taiwan Relations Act 1979 does require the US to aid Taiwan in self-defect. President Bidden also testified that in case of Chinese assault, Washington would protect Tawain with force.
Though Biden has framed US support for Taiwan in terms of ideals, such as the defense of democracy against despotism, many analysts point out that Washington also views the island as strategically significant.
Furthermore, if China invades Taiwan, the US will be forced to reciprocate to honor its promise. Failing to do so would put Washington in question even with its strongest allies, including NATO.
Taiwan: The Semiconductor Hotstop
From laptops to game consoles and automobiles, most of our electronic equipment is powered by semiconductors chips manufactured in Taiwan.
Taiwan alone has 63% of the market share in the global semiconductor industry. By one measure, TSMC (Taiwan semiconductor manufacturing company) holds over 54%. It's a vast industry worth over 100 billion USD in 2021.
Therefore, Taiwan is the world's semiconductor hotspot that powers significant tech companies, including Apple, Intel, and Nvidia. And, with China in control of Taiwan, it will directly take over one of the world's most vital industries.
Can China Takeover Taiwan By Force?
The People's Liberation Army has significantly improved under president Xi Jinping to an extent where invading Taiwan is possible.
However, one key determiner is how close PLA is to mastering the skills required to deploy thousands of troops to Taiwan by air or sea, take over the island and push over to size crucial areas like railways, ports, and communication.
However, even if LPA- the biggest military force in the world- wanted to annex Taiwan, doing so would be fraught with danger.
While subjected to naval and aircraft bombardment, the Sino military will have to cross Taiwan bay with over 100,000 soldiers. And, even if the military were to reach Taiwan's coast; landing aircraft to unload armored personnel carriers, artilleries, and tanks would be a challenge because of the island's rocky shoreline.
The invasion will further provoke large-scale combat between the US and China.
Taiwan Brace for China's Invasion
With China's aggressive military power demonstration near Taiwanese borders and Nancy Pelosi's visit, the Taiwanese authorities are preparing for the invasion. Now, allies are pumping in more military aid while the neighbors are arming with new fighter jets.
According to Chinese officials, live-fire sea and air exercises are being conducted in six different regions around Taiwan. The drill includes over 100 planes, including ten warships, bombers, and fighter jets.
However, Taiwan is also setting the stage for strong retaliation.
Last week, Taiwan conducted its largest ever military drills that stimulated the repulsion of an invading force. City across Tawin shut down for thirty minutes for nationwide military exercises.
And now, with China set to orchestrate fresh military drills near Taiwan; the island nations say, "Our military will be ready but will not ask for war."