Ukraine War: Understanding the Roots and Cause of the Russia-Ukraine Crisis
The long-feared Russian invasion of Ukraine continues to rage ever since president Vladimir Putin's announced "special military operation" against Ukraine on February 24. However, leading by example from the streets of Kyiv, Ukrainian president Volodymyr Zelensky has been tirelessly rallying the international community for support.
But what lead to one of the biggest military invasions of the decade?
History of the Russia-Ukraine Crisis
The current predicament can be better understood when walking back eight years. After Ukraine's pro-Russian president Viktor Yanukovych was forced out of office by major demonstrations in 2014, Russia seized Ukraine's Crimean Peninsula.
Weeks later, Russia backed two separatist insurgencies in Ukraine's east, culminating in pro-Russian insurgents with Donetsk and Luhansk declaring the DPR and LPR independent nations, despite the international community's complete lack of recognition.
The insurgencies cost 14,000 lives and ravaged Ukraine's easter industrial heartland, the Donbas.
However, both the West and Ukraine have accused Russia of arming and escalating the separatist movement in the country, but Russia has sided against the accusation.
Also Read: Ukraine War: Arms Suppliers Profiting From the Russia-Ukraine Crisis
France and Germany arranged a 2015 peace pact known as the Minsk II Accord. The 13-point accord required Ukraine to provide separatist areas autonomy and grant insurgents amnesty in exchange for complete control of its Russian border in rebel-held territory.
Fears of a new conflict erupted last year amid a surge in ceasefire violations in the east and a Russian army concentration near Ukraine. Still, tensions eased when Moscow withdrew the bulk of its units after rehearsals in April.
What has led to the Current Crisis?
The worst-case situation has already been realized with Mr. Putin's declaration of his "special military operation."
The Kremlin had previously rejected any preparations to invade, a claim that few accepted — and for a good reason.
Even after Russian President Vladimir Putin's latest announcement, a Russian UN envoy denied that Moscow had any grievances with the Ukrainian people, insisting that only those in power would be targeted.
That has turned out to be completely incorrect.
Western leaders have united in their condemnation of Russia, effectively making it a pariah state on the international stage. Sanctions are expected to cripple the Russian economy, putting renewed pressure on Mr. Putin in the country despite the attempts to censor critical media and nascent protest movements.
Meanwhile, Mr. Biden has attempted to reassure the international community that Russia will face the consequences of its conduct.
What is Putin's Problem with NATO?
Putin believes the goal of NATO, the Western military alliance of 30 nations, is to fracture and destroy Russian society.
He instructed that NATO go back to 1997 and halt its eastward expansion, remove its soldiers and military facilities from member nations that joined the alliance after 1997, and avoid placing "strike weapons near Russia's borders" before the conflict.
Mr. Putin is known to hate because he sees Nato's creeping eastward march since the demise of the Soviet Union in 1989, and he is keen to prevent Ukraine from joining the alliance.
How are the Peace Talks Going on?
President Putin has not abandoned peace talks that have been going on for weeks. Austrian leader Karl Nehammer, the sole Western leader to have visited Putin since the war began, noted the war had plunged into a "logic of war."
However, despite Russian forces' crimes on Ukrainian land, Ukraine's leader has stated that he will continue pursuing dialogue.
"Because Ukraine requires peace. We are in the twenty-first century in Europe ".
And he's already admitted that his nation won't be allowed to Nato. So while Mr. Zelensky stated that they don't want to waste prospects for a diplomatic settlement if we have them, he also cautioned that if Russia kills the last Ukrainian troops fighting in the conflict in Mariupol, then it will mean the end of peace talks.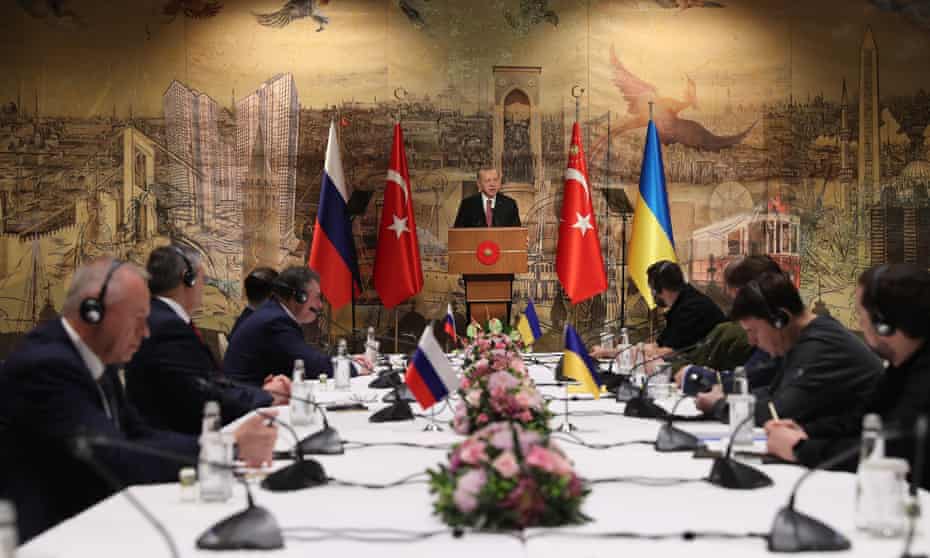 Kyiv proposed the following proposals during negotiations on March 29:
In the case of an assault, strict, legally enforceable assurances would oblige nations like the United Kingdom, China, the United States, Turkey, France, Canada, Italy, Poland, and Israel to safeguard a neutral Ukraine.
Ukraine would be able to join the European Union if guarantor states had discussions and came to Ukraine's defense within three days.
Ukraine would become a "non-bloc" and "non-nuclear" condition, with no international military facilities or contingents on its soil.
Ukraine would not join military-political coalitions, and any foreign exercises would be subject to the approval of guarantor countries.
Is Neutrality Enough for Putin?
According to Russia, this "neutral, demilitarised" Ukraine would have its army and navy, similar to Austria or Sweden, both EU members.
There is no clear indication as to whether or not it would suffice or what it would imply. However, despite Austria's neutrality, Sweden is rumoured to be considering joining NATO.
Ukrainians have pledged neutrality in exchange for security guarantees from allies. Putin has nonetheless stated that peace talks have ceased. As a result, Putin may still harbour ambitions to reintegrate Ukraine into Russia's area of influence, away from its Western orientation.
Since Ukraine gained independence in 1991, it has increasingly turned to the West, both the EU and Nato.
The collapse of the Soviet Union was viewed as the "disintegration of historical Russia" by Russia's Putin, who wants to change that. He has argued that Russians and Ukrainians are one people, ignoring Ukraine's ancient history and dismissing the country's independence as an "anti-Russia endeavour." In addition, he said that "Ukraine never had durable traditions of actual statehood."
His pressure on Viktor Yanukovych, Ukraine's pro-Russian president, to not sign a deal with the European Union in 2013 sparked riots that culminated in the president's ouster in February 2014.
After seizing Crimea in Ukraine's south, Russia sparked a separatist revolt in the east and a conflict that killed 14,000 lives.
He tore up an unfulfilled 2015 Minsk peace pact as he prepared to invade in February, accusing Nato of jeopardizing "our historic future as a nation," asserting without evidence that Nato members sought to bring the war to Crimea.
What is the Current Situation of the Russia-Ukraine Crisis?
The Russian invasion of Ukraine has progressed to a new stage. After facing stiff opposition from the Ukrainian military, Russian forces have shifted their focus to the south and east of the nation, where they will launch a new onslaught, hitting civilian targets and residential neighbourhoods.
Meanwhile, Ukraine claims to have discovered evidence of war crimes committed under Russian control in Bucha and other towns near Kyiv. Four million people have fled Ukraine due to Russian strikes on population centres.
Also Read: Russia-Ukraine Crisis: Russia Committing War Crimes in Ukraine War?
The United States and its NATO allies supply military weaponry to Ukraine and have imposed sanctions and other punitive measures on Russian President Vladimir Putin. President Biden has accused Putin of war crimes and called the invasion a "genocide," adding Putin is "trying to wipe out the notion of being Ukrainian." However, his comments were deemed unacceptable by the Kremlin.
While Mr. Putin has recognized Russia's economic effect, he has shown no sign of bending to pressure to cease the conflict. As a result, the two sides have been unable to reach an agreement.
Rasmus Baludan is racist, Ignoramus, provocateur, and liar
Seeking to become a publicity hound before contesting elections in Sweden, scheduled for September, the right-wing Danish-Swedish politician Rasmus Baludan has apparently decided to recruit supporters and fans by resorting to an unlikely and un-classical method: Setting copies of the Holy Quran on fire.
Rasmus Baludan, the racist hoodlum, hoped and probably still hopes that by showing off his Islamophobia by provoking Muslims and offending their religious sensibilities, he would woo supporters and potential voters in Sweden. To his chagrin, the vast majority of people in Denmark and Sweden ignored him. In the Swedish city of Jonkoping, A priest named Reverend Fredrik Hol drowned out an inflammatory anti-Islam rally by Baludan by ringing his church bells.
The feat succeeded in shutting up the racist harangue for some time. On behalf of nearly 1800 million adherents of Islam, I would like to salute Reverend Hol and thank him for his sublime gesture and noble behaviour.
Also Read: UN International Day to Combat Islamophobia: A Recognition to Hardships for the Muslims
Moreover, a special expression of gratitude goes to our Christian brothers and sisters in Sweden and Denmark who refused to allow the good name of Jesus Christ to be besmirched by the germ of bigotry, racism, and fanaticism. Jesus wouldn't stir up fitna ( tumult and turmoil) to attract voters and get elected.
Baludan reportedly intends to run in the upcoming Swedish elections, scheduled for next September. However, he seems to have failed to secure enough signatures to run for office, prompting observers to suggest that he may have taken the provocative act of burning copies of the Holy Quran, in order to woo Swedish voters.
In the 2018 elections in Denmark, Rasmus Baludan's party "Straam Cox",failed to win a single seat in Parliament, He was imprisoned in 2020 in Denmark for one month reportedly after being convicted of racism.
Also Read: Combating Racism – Lived Experiences
I believe setting the religious scripture of Islam on fire, besides being an uncivilized and outrageous act, is an expression of extreme ignorance and intolerance.
After all, there is absolutely nothing in the Quran that denigrates Jesus and his immaculate chaste mother, Mary." The opposite is true, Jesus is celebrated in the Quran as one of the five greatest messengers of God, who include beside him, Noah, Abraham Moses and Muhammed.
Interestingly, the fool of Copenhagen or Stockholm invoked the mantra of freedom of expression to justify his repulsive misdeed.
Well, what about the right to be free from being insulted and offended?

Doesn't one's freedom end, when another person's freedom begins? In Matthew 5:29 we read "If thy right eye offends thee, pluck it out and cast it away from you."
Thus, freedom of speech and expression is not absolute, otherwise, words soon morph into bullets and bombs, and bloodshed is the inevitable outcome of this folly.
Furthermore, life is not a straightforward mathematical equation. Besides the proscribed rights and privileges, there are other paramount values in life that are not recorded in a law book, such as respect, humility, kindness, tolerance, love, and wisdom.
Also Read Bike of Life: How to ride, survive, and Cheer!
Rasmus Baludan, instead of behaving like Peter the hermit who incited Europe against the Muslim near East, about a thousand years ago, causing the death of millions of people in the infamous Crusades, should behave like a messenger of love and peace. The Prophet Muhammed (may the peace and blessing of God be upon him) said in the authentic Hadith: You will not be able to win the hearts of people with your money, so win them with your love, kindness, and sound morality.
Also Read: Why Humanity Should Be Thankful to Prophet Muhammad
Finally, a few words to my Muslim brothers and sisters
Don't be provoked by fools like Rasmus Baludan. Don't lose your calm and composure, for this is his exact aim. This is because once you lose your mental equanimity, you let Satan take over you.
Remember this Aya "And do not insult those who invoke other than Allah, lest they insult Allah in enmity without knowledge. Thus We have made pleasing every community their deeds. Then to their Lord is their return, and He will inform them about what they used to do." [6:108]
I am not suggesting that we should succumb to apathy and passivity and do nothing. But we should do much more than just vent our frustration and indignation. For the sake of Islam, and in order to triumph over such fanatic ignoramuses, we often need to suppress our frustration.
More to the point, we must exhaust all efforts to cooperate with people of goodwill regardless of creed and ethnicity. Needless to say, this is undoubtedly a vital and crucial dimension for our
Success.
Also Read: 2 Billion Muslims must send a Stern warning to India's Nazi-like government to stop its anti-Islam discourse
Moreover, remember that every people under the sun has their own bran, and Rasmus Baludan should be viewed as the bran of his people. And yes, we are not perfect ourselves as we do have people like him or even worse!
In fact, it is absolutely unwise and immensely damaging for Muslims, especially Muslim expatriates in the West, to erupt in fury every time an anti-Islam villain provokes Muslims by making a stupid, offensive slur, or desecrating Islamic symbols, or even burning a copy of Islam's Holy Book. The Quran is preserved in our hearts, and no idiot or little man can extricate the word of Allah from a believer's heart. Indeed, instead of displaying convulsive rage, and shouting meaningless and pugnacious slogans, we should behave with serenity, calm, and dignity lest we inadvertently convey to the world a damaging message about ourselves and about our great religion. And if we don't behave, we will have only ourselves to blame, since the vast majority of non-Muslims don't distinguish between what Islam says and what some Muslims do.
Also Read: Islam in 2075: World's Largest Religion!?
So, let the dogs keep barking, and the caravan keep going. For if stones are thrown at the barking dogs, they will only bark more loudly and become more aggressive and ferocious.
Remember, nothing, absolutely nothing would hurt and disappoint these hoodlums more than your self-composure and non-violent reactions, and nothing would please them more than your screams and indulgence in violence, verbal and otherwise.
Display Islam's glorious message, and never act on your primitive impulses and defensive reflexes for revenge.
The Russian invasion of Ukraine: Will more states seek to acquire Nuclear weapons?
The Russian invasion of Ukraine is prompting many states around the world to reconsider their national defence strategies. Governments have privately and openly voiced their apprehension about the growing fragility of the post-WWII international order, especially the utter inability of the UN and its Security Council to prevent powerful hegemonic nations, such as Russia, from attacking and occupying and annexing large territories of less powerful neighbours, such as Ukraine.
Some leaders and diplomats have warned that, in light of the clear impotence of the UN in tackling the Ukrainian crisis, and in the absence of a nuclear deterrent of their own, some vulnerable non-nuclear states will be forced to either acquire Nuclear weapons to achieve a semblance of Mutual Assured Destruction (MAD) vis-à-vis potential predators or seek a military alliance with some established nuclear powers for the same purpose.
Zelensky: "Ukraine will be like a Big Israel"
Speaking to reporters a few days ago, Ukraine President Volodymyr Zelenskyy told reporters that post-war Ukraine would be like "a big Israel."
He didn't clarify what he exactly meant by drawing the Israeli analogy.
However, it was amply clear that he was alluding to the contemplated acquisition of a sizeable Nuclear weapon, like that of Israel, in order to deter a future possible Russian invasion. Ukraine had given up its Nuclear weapons to Russia following the downfall of the former Soviet Union.
Read Also: Rectifying Nuclear Imbalance with Israel should be a strategic priority for Egypt, SA and Turkey
However, experts argue that Ukraine could fairly quickly renew its Nuclear weapon since the country already possesses the technical and scientific infrastructure which it inherited from the Soviet era.
Hence, Ukraine wouldn't have to begin from scratch in case it decided to renew its nuclear weapon program. Moreover, Ukraine could start producing enriched uranium for military purposes in a few days, depending on the decision of the political leadership. Shortly after the start of the Russian invasion of Ukraine 11 months ago, Ukraine's defence officials voiced their deep remorse for having given up their former nuclear arsenal. In light, it is almost certain that the current leadership in Kyiv will decide to revive the nuclear option as soon as an opportune time arises.
Medvedev: Russian defeat in Ukraine would trigger a nuclear war
This weak, former Russian president Dmitry Medvedev warned NATO of nuclear war if Russia was defeated in Ukraine.
Medvedev, an ally of Kremlin chief Vladimir Putin, warned that a Russian defeat in Ukraine could trigger a nuclear war. "The defeat of a nuclear power in a conventional war may trigger a nuclear war," Medvedev, who serves as deputy chairman of Putin's powerful security council, reportedly said in a post on the Telegraph.
"Nuclear powers have never lost major conflicts on which their fate depends,".
Warning should be taken seriously

Undoubtedly, Medvedev's warnings contain an important element of rhetorical sabre-rattling and psychological warfare. However, this writer believes the West ought to take the warnings quite seriously.
There are sufficient reasons that should make us think twice before dismissing the above doomsday warnings as hot air. Indeed, a Russian defeat in Ukraine would have far-reaching global consequences and ramifications.
Indeed, a decisive and humiliating Russian defeat in Ukraine would very likely be the most important strategic international game-changer not only since the collapse of the former Soviet Union in 1989 but also since the 1917 Bolshevik revolution in Russia. Russia would morph into a boiling cauldron of anger and furious indignation.
Thus, the demand for the use of nuclear weapons to avert a possible Russian defeat in Ukraine would gain massive popularity throughout Russia. The galvanization of Russia's 145  million population would be the penultimate step leading to the kremlin's decision to press the nuclear button.
Nuclear is futile if not used when needed
After the Russian invasion of Ukraine, Advocates for the nuclear option would convincingly argue that nuclear weapons would lose their raison detre if they failed to protect the possessor country, the motherland, when needed most, e.g., when the country faces the prospect of defeat and humiliation in war. The question of who is the aggressor and who is the victim would be almost irrelevant in such an atmosphere. Moreover, the US, which used the first ever and last nuclear weapon against Japan in 1945, would not be in a moral position to lecture Russia on the evils of using nuclear weapons.
The Russian invasion of Ukraine: Gigantic Dilemma
A Russian victory or defeat in Ukraine would cause the current international order, instated after WWII, to collapse. A decisive Russian defeat in Ukraine, which seems unlikely at least now, would likely irreversibly paralyze or effectively terminate the UN and its Security Council. The UN would virtually become completely at the US beck and call.
On the other hand, a decisive Russian victory, which is also unlikely, would turn the international order upside down and transform the world into a real jungle.
Read Also: The Encircling of World War III – Iran Uranium Enrichment
A Russian victory would probably encourage certain states to emulate Russia and carry out naked aggressions of their own against militarily weaker foes or neighbouring states. Certain possible scenarios come to the mind in this regard.
China might be emboldened to invade and occupy Taiwan if Russia emerged as winner.
Israel might well decide to seize the opportunity and  wage an all-out war on Palestinians in the West Bank and Gaza Strip for the purpose of liquidating the Palestinian issue once and for all. In the process, Israel might carry out huge massacres of Palestinians and embark on the demolition of Islamic holy places in Jerusalem especially the Aqsa Mosque and Dome of the Rock.  Moreover, Israel might also decide to carry out massive airstrikes on Iranian cities or even drop nuclear bombs under the rubric of destroying the Iranian nuclear program and preventing the recurrence of the Holocaust!
Read Also: What Xi Jinping Aims, Acquires – The Return of Persistent President
Other possible scenarios would probably include a possible all-out war by North Korea against South Korea, and a naked aggression by Russian-backed  Serbia against  Bosnia and Kosovo.
Conclusion
I am not a prophet of doom and gloom, but it is always safer to assume that the worse could happen. There is no doubt that a new world order would appear after the end of the Russian invasion of Ukraine regardless of the outcome of the war . There is also little doubt that the post-Ukraine war will witness more military and strategic polarization than ever. However, the gravest problem facing the post-war world order would, almost certainly, take the form of many states seeking actively to acquire nuclear weapons for their own national defence. Therefore, the nuclear proliferation issue would be the number-1 problem facing the world, with the chances of a nuclear accident or miscalculation reaching terrifying levels. (end) 
BBC's Modi Documentary Rattles Modi Government
BCC recently released a documentary on India's controversial right-wing Prime Minister Narendra Modi rattling Modi and his ruling party Bharatiya Janata Party (BJP). The documentary's first episode titled "India: The Modi Question" which was released in the UK on 17th January drew a sharp reaction from the Modi government.
Modi Government Blocks the Documentary in India
The Modi government moved swiftly to block the documentary in India. Proving right the critics of IT Rules, 2021, the Modi government's Ministry of Information & Broadcasting invoked emergency powers under the IT Rules, 2021 to order YouTube to take down all the videos that had published the first episode of the documentary. Orders were also issued to Twitter to take down all the tweets that had posted the link to the documentary. Both YouTube and Twitter complied with the orders, removing all the posts and videos flagged by the government.
The government alleged that the documentary was found to be "undermining sovereignty and integrity of India, and having the potential to adversely impact India's friendly relations with foreign states", which allowed for the invocation of the emergency powers under the IT Rules, 2021. The government also alleged that the documentary questions the credibility of the Supreme Court of India and attempts to sow divisions among different communities while also making unsubstantiated allegations regarding the activities of foreign governments in India.

Earlier India's External Affairs Ministry spokesperson dismissed the documentary as a "propaganda piece that lacks objectivity and reflects colonial mindset". The spokesperson also questioned the timings of the release of the documentary.
Also Read: Why Is Indian PM Modi's Silent About Attacks Against Muslims?
The Documentary
The documentary's first episode produced by the BBC tracks Modi's "first steps into politics"- his association with the right-wing Hindu extremist organisation Rashtriya Swayamsevak Sangh (RSS), his rise through the ranks of the Bharatiya Janata Party (BJP), and further his appointment as Chief Minister of the state of Gujarat in 2001 till 2014. As the Chief Minister of Gujarat, Modi's involvement in and his response to a series of communal riots in 2002 remains a source of controversy.

The documentary highlights a previously unpublished report, obtained by the BBC from the British Foreign Office, which raises questions about Modi's actions during the religious riots. The report claims that Modi was "directly responsible" for the "climate of impunity" that enabled the violence.

The report cited by the BCC was part of an inquiry ordered by the then foreign secretary Jack Straw. The reports say that "the extent of violence was much greater than reported" and "the aim of the riots was to purge Muslims from Hindu areas".
Jack Straw is heard in the documentary saying, "these were very serious claims that Mr Modi had played a proactive part in pulling back police and in tacitly encouraging the Hindu extremists. That was a particularly egregious example of political involvement to prevent police from doing their job to protect the Hindus and the Muslims."
Also Read: Gujrat Riots: Has Indian Democracy Breathed its Last?
Modi's Role in Gujarat Riots of 2002
It is the documentary's highlight of the Gujarat riots of 2002 that has rattled the Modi government.

The Gujarat riots of 2002 claimed the lives of more than 1,000 people. Most of those killed were Muslims. Modi is alleged to have instigated the riots and further prevented the police and the army from taking any action to stop the riots. Most of the reports published on the Gujarat riots by the Indian media as well as the international media point out Modi's direct role in facilitating the riots. It has been claimed that Modi gave a free hand to Hindu extremists to kill Muslims and the aim was to purge Hindu localities of Muslims.

Modi has rejected these accusations. Further, in 2013 an investigation approved by the Indian Supreme Court absolved Mr. Modi of complicity in the rioting. Based on that finding, a court in the state of Gujarat found that there was insufficient evidence to prosecute him.
Also Read: Why BJP is Fascist Despite Contesting Elections.?
Action Taken by Foreign Countries against Modi
Like the above-cited British Foreign Office report, there were many countries that were convinced of Modi's role in the killing of Muslims during the riots. Concerned countries acted against Modi at different levels.

Modi was banned entry into the U.S. for more than a decade for his role in the riots. In 2005, Modi became the only person ever to be denied a U.S. visa under the 1998 law on violations of religious freedom. The U.S. State Department invoked a little-known U.S. law passed in 1998 that makes foreign officials responsible for "severe violations of religious freedom" ineligible for visas. The ban on Modi's travel to the U.S. was revoked by the Obama administration in 2014 after he became the prime minister of India.
Also Read: How Practical is the Secular Democracy of India? Curbing of Religious Freedom in Kashmir
A Permanent Stain on Modi's Career
Modi may have achieved great things in his political career, but the stain of the Gujarat riots is permanent on his career.

Modi loves the camera. He loves advertising and branding himself. Modi puts his picture on everything. He loves hearing his voice. However, ever since he became the prime minister of India, he has never given an unscripted interview to the media. He has also never held a press conference in India or abroad. It has been claimed that Modi does not want difficult questions about his attitude towards the Muslim minority of India thrown at him.

When Modi became the prime minister of India, Indian liberals were hopeful that Modi had changed. They were wrong in their assessment that Modi as a prime minister would be inclusive. However, after Modi's eight years as a prime minister now, he has not changed his attitude towards Muslims. As of now, Muslims are increasingly persecuted by his government.
This author highly recommends that you watch the BBC documentary on Modi. Its first episode has been released here (if you are outside the UK watch it here or use VPN). The next episode will be available on Tuesday, January 24, 2023, at 21:00.