Bike of Life: How to ride, survive, and Cheer!
A business-oriented approach for surviving people to make them live again!

Unknown
Bikes were invented in 1885 by J.H Lawson but life has existed for billions of years on Earth. That said, how can a comparatively recent invention explain life so well? What is the actual meaning of riding the bike of life? And what should be your destination while you're biking your way through life?
If you're one of the people who are riding the bike of life incessantly; without any clear termini in their minds, this article is for you.
Are you headed in the right direction?
First things first, before we plunge into the "life is a bike ride" paradox, let's take a moment and see if you are headed in the right direction. Obviously, not many of you would like to entrail a path leading to absolutely nothing.
Again, let's take some help from the bike itself that we do not pay any courtesy to because there are literally billions around yet they are more alike life than you anticipate.
So, how does a geared-powered bike resemble our life so much in terms of working?
Dive deeper into this paradox and unravel the secrets that will help you turn your dreams into reality and make you a lively person instead of a survivor!
Blueprints are of prodigious assistance for any designer or builder. They have a simple resolve and they effectively run baselines and goals for a project.
The lot from where to start and where to end is revealed in a blueprint. On that premise, a blueprint is what makes you think about what your life should look like, and how you'd imagine your bike of life to help design this blueprint for your life depends entirely on yourself.
Are you financially strong?
Yes, finances control how happy you live your life! Living payroll to payroll is not only going to make you financially dependent but also increases the likelihood of any economic crisis. Therefore, keep yourself ready and try to invest. Crypto, for example, is a very promising option these days especially if you have access to a watchlist of a reputed platform.
Also Read: Crypto Winter: What is Behind the Collapsing Crypto Market?
Stocks are also a good option to help you become independent and help secure yourself from any possible financial issues.
Blueprint of a happy lifestyle!
Only you can outline the things that will make you happy and design a blueprint that will define the path you'll entrail. After you have defined a blueprint for your life, ask yourself these questions.
– Does it explain why you have a life? Or is it a way to lead your life into something meaningful?
Admittedly, we all want to grow financially, emotionally, socially, and leave the family problems that we have learned to hide so well over the years.
Also Read: Important Tips to A Happy Married Life
But even if these are the core expectations of nearly 99% of people, we see everyone is doing different things to achieve them, that everyone is taking a different path on their bike.
Some do it through business, others take jobs, and most people are just thinking of doing it later in their lifetimes.
Redesigning your blueprint of life is important if you see people doing better and better while you are riveted to a single point in your life. Even if we blame others for our situations, we cannot expect others to bring our dreams to us. We need to work for it.
Also Read: Mahmoud Al-Arab, The billionaire Who Started His Life with 40 Pennies
What you'd need to do in this situation is to stop following the routine life. The routine that you have been labializing daily, over and over again, with the term "a life."
"Ride as much or as little, as long or as short as you feel. When your legs scream stop and your lungs are bursting, that's when it starts. It never gets easier; you just get faster."

– Greg LeMond.
Purposeful Lives Matter!
Just like businesses must clarify their purpose and envision their goals, it is exceedingly important to clarify the goal and vision of your life to get on the right track.
Knowing what your life or business will look like if you have already visioned it will make you open to creative ways to get there and that won't be a piece of cake.
Also Read: 996 Work Culture: The Blurring Line Between Work Life and Personal Life
This writing's goal is to help you design your path for riding your bike of life and achieve your goals. It might be only a few pages long but it's not just about how long it is and how good you're at reading, it's about all the templates, ideas, and exercises written here, and honestly, it takes more than a quick read.
Yep, it truly isn't a Sunday magazine you've got here and it just won't be a flick through.
If you'd like to plan and visualize or brainstorm your ideas of life, there are links for Miro and Notion at the end. They are great tools to get everything in a graphical format that is easier to follow.
Even if you don't like their templates, there are links for some custom templates in Madero so that you can redesign your blueprint and customize it to your own yourself 😊.
Auditing Your Current Life
Understanding where you are at this point of your life and where you need to be are two very different things but they are interconnected.
Without one, you can't think of the other. To be able to ride your bike without running into bumps more often, you need to keep an eye on the road. The road that symbolizes your current life.
Also Read: 5 Life-Changing Lessons from the Quran
Like life, this road is everchanging and will need to be constantly monitored by the rider; you.
Start with auditing your life, which is not the bank audit of course, but means evaluating your current life and resources. Categorize your habits, hobbies, work routines, and essentially everything that you spend time on.
Evaluating Selfness
After you have the time audit, you will need to evaluate yourself and cut off any habits and hobbies that take most of your time away for nothing.
Guess someone won't be watching Netflix that often then, huh?
Cutting these habits away will give you more time to work on your life and maybe start a side hustle. Freelancers do it all the time and generate billions of dollars every month. Are you sure you still want to miss out on your share out of those billions that clients pay willingly because they don't have the time?
Conclusion: Riding the Bike of Life!
You see, these audits, if done perfectly and implemented, your life will sometimes single-handedly improve your life's situation. You won't even have to worry about the next thing to do as nothing will be done in vain.
Here are some great tools to help you get started.
Want to read something else, here's an insightful article about Ukraine v/s Russia.
Delhi Air Pollution: 18 Million People at the Risk of Severe Health Problems
Delhi Air Pollution: Delhi, the capital of India, is one of the most polluted cities in the world. But winter is especially cruel here. Each year, October, November, and December bring together an exceptionally dirty environment, where over 18 million people are forced to live with a quilt of smog covering the capital and nearing cities.
2022 is nothing different. With the Air Pollution Index (API) at 337, the condition of Delhi's environment is worsening.
The big question now is: what causes such disastrous air pollution in Delhi? What are the inferno reasons that pollute the air of entire northern India? And how are Delhites coping with the pollution?
An Overview of the Problem: Delhi Air Pollution
According to an India Today Web Desk article, Delhi has topped the list of the most polluted cities worldwide for the fourth consecutive year. The survey was initiated by SoGA, where the organization listed 20 polluted cities around the world in which Delhi ranked in the first position.
The air quality here in Delhi gets so bad in winter that the government needs to declare a public health emergency in response to exacerbating air pollution.
Like every year, the state government shut down schools, stalled all construction and industrial activities, and implemented an odd-even scheme traffic rotation to prevent air pollution.
"We can't see the skyline. The air is unbreathable and traveling to work is extremely dangerous as you can see anything after 2 meters in the smog. This is not severe! This is an emergency—the next level of severity."

Abhishek singh, a Delhi resident told mzemo
This condition happens every year when Delhi experiences a massive spike in air pollution—unfortunately, initiating the reason for two deaths in the country "EVERY MINUTE."
What is Behind Delhi Air Pollution?
The unfortunate thing about the population of Delhi and the Delhi government is that they are not entirely responsible for the severe air pollution in their state.
According to SAFAR (System of Air Quality and Weather Forecasting and Research), 48% of Delhi's air pollution is responsible for stubble burning in Punjab and Haryana.
Delhi's AQI has been in the severe zone (401-500) for seven days between October 20 and November 14 this year. The percentage of farm fires that contributed to Delhi's PM 2.5 on each of these days ranged from 26% to 48%.
The primary contributors to the dangerous situation in Delhi include
Stubble Burners – The Deed Owners
Though stubble burning has been an agricultural practice for centuries, the combined mechanical harvesters leave behind the stalk of the crop in the soil, which is around 2 feet high.
Therefore, to save money and time, farmers, instead of cutting the remaining stalk, set fire to the entire field so that a new batch of crops could be grown as soon as possible.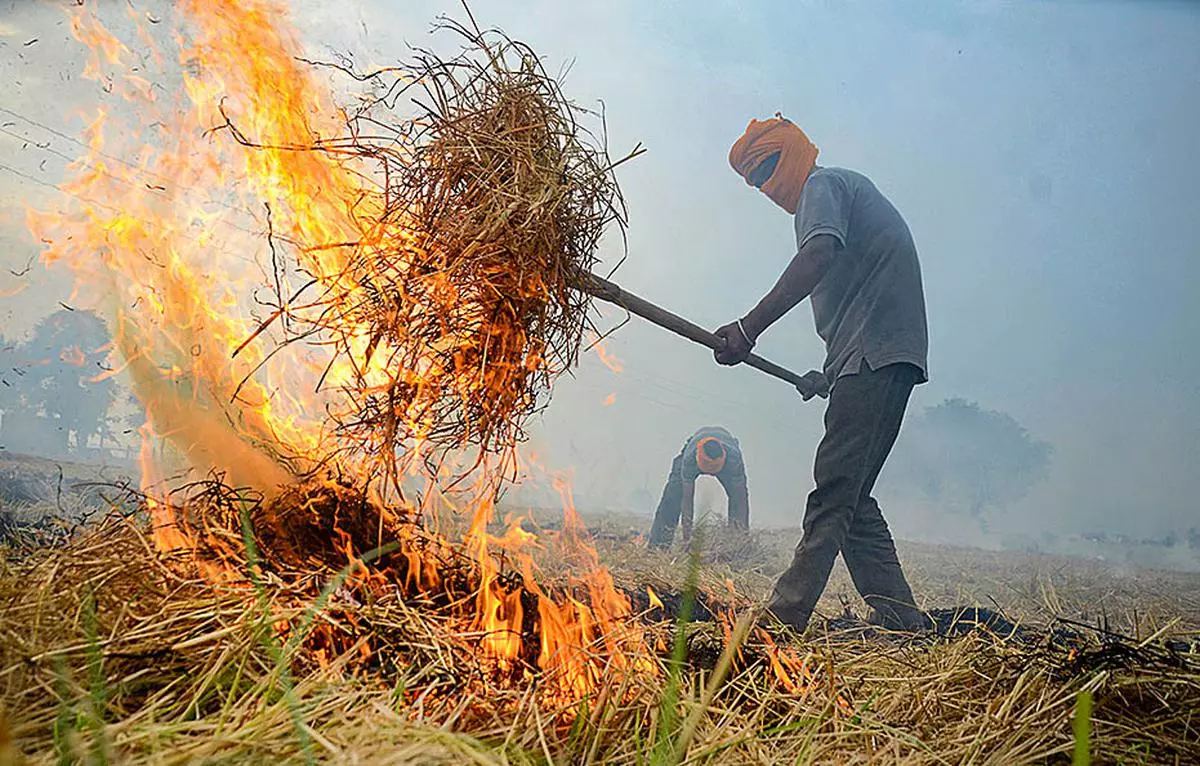 After the year 2009, stubble burning became even more popular when the governments of Haryana and Punjab passed a law order to conserve water.
However, despite the concerning issue of air pollution in the past few years, the stubble-burning culture still continues.
The Himalayan Cool Winds Worsen the Delhi Air Pollution
The stubble burning in Punjab, Haryana, and Western UP creates fumes that blow away toward Delhi due to the strong winds during winter.
Combined with the cold winds coming from the Himalayas, this smoke gets trapped in Delhi's air due to temperature inversion. The Himalayan mountain acts like a kind of barrier for Delhi, directing the smoke towards the capital.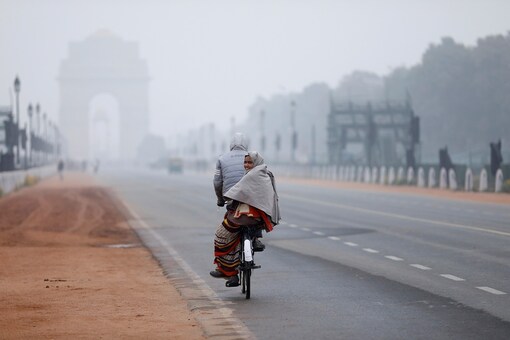 Additionally, the weather also plays a significant role in worsening Delhi's pollution. During the winters, cold mountain air rushes down from the Himalayas towards Delhi. Arriving cold air from the Himalayas beneath a layer of warm lowland air creates a dome over the state.
The warm air keeps pollution trapped on the ground with nowhere to go. So when stubble fire smoke reaches Delhi, it blends with urban pollution and forms toxic smog.
All these reasons combined, Delhi experiences dangerous air pollution that is so high that even air quality meters cannot accurately gauge its level.
The Co-Partners of Stubble Burners
During October-November, India celebrates their premier festival of Diwali, where lighting crackers worsen the situation in Delhi.
When the weather was considered, the survey discovered increases in PM2.5 concentrations, one of the most dangerous particles for human health, to approximately 40% high on the second day of the festival.
The Delhi government, however, made significant efforts to reduce the effects of burning crackers in Delhi pollution but failed to implement it thoroughly.
Stubble burning in Punjab and Haryana peaks in October end- and November. While the contribution of Diwali crackers significantly affects the air quality of Delhi.
Nevertheless, the contribution of stubble burning is Delhi's primary cause of air pollution.
Delhi Air Pollution: The Solution
The unique geographical location of Delhi, coupled with its huge population, puts the state in a fragile position. In the interview with Mzemo, Abhishek said that the condition is getting worse every year.
However, there are a few solutions.
The controllable thing for Delhi is to use public transport, the Metro, or trains to travel. Secondly, reduce the waste or bifurcate the plastics and dry waste from wet. Third, implement strict rules and regulations against the Punjab and Haryana governments.
And most importantly, the government needs to come up with policies that to restore quality air in Delhi, especially when the life of 18 million people are at risk.
Read Next: COP27 Climate Change Summit: Greenwashing Scam Imperilling Human Rights
Palestine is Entrenched In the Heart of Qatar World Cup
Almost every match of the Qatar 2022 World Cup has witnessed signs of having Palestine entrenched in the heart of World Cup's fans by either raising the Palestinian flag, wearing a Palestinian kufiyah or chanting slogans in solidarity with the people of Palestine. Palestine is a kind of country that is physically absent but spiritually present in the heart of the World Cup in Qatar. There is hardly a match, event, or promotional activity without the presence of the Palestinian flag, even though its team does not participate in the tournament. This edition of the World Cup tournaments is, by all means, different and holds significant importance since its beginning 92 years ago for the Arabs and the Palestinians. Since the beginning of the tournaments, Palestinians have been looking forward to spreading awareness about their suffering and getting their voice heard on a large scale.
What is in the heart, is in the heart
Arabs' unity at its best in supporting Palestinians is present in a chilling way in the Mondial. This is almost the first time for Muslims, Arabs, and especially Palestinians to have their powerful platform to speak aloud. They need to speak loudly about their suffering in the largest gathering ever. The Palestinian flag has been flown with pride at stadiums across Doha since the tournament kicked off.
The unifying power of football has been unmistakably displayed, with Palestinians eager to throw their support behind Arab teams upsetting football's international elite. On the other hand, Arabs have also shown signs of solidarity with the Palestinians during the tournaments. "My friends and I have been exchanging videos posted online showing Arab people waving the Palestinian flag, it's a testament that we are one and Palestine is alive in the hearts and minds of all Arabs," a fan said. Furthermore, Arab activists on "Twitter" launched a campaign to boycott companies supporting the "Israeli" occupation, and widely raised Palestinian flags during the World Cup Qatar 2022. Beautifully, Tunisian fans chanted for Palestine and raised the Palestinian flag outside the stadiums beautifully displaying Palestine entrenched in the heart of the World Cup.
Qatar encapsulates timeless universal solidarity with Palestine
It is not surprising to see the Qatari fans' support for the Palestinians in the Mondial. On top of all supporting countries, Qatar has always shown solidarity with the Palestinian question whether spiritually or financially. Significantly, Qatar has seized the chance not only to spread Islamic culture and history but also the Palestinian question as well. Likewise, a Qatari man filmed a video on social media showing him distributing Palestinian armbands.
Several Qataris wore armbands featuring a pro-Palestinian design at the Mondial, according to photos posted on Twitter. The armbands bore the black-and-white design of the kufiyah scarf that is synonymous with the Palestinian cause. They were an apparent response to players and officials protesting FIFA's players who wear the gay armband on the pitch. On top of all of that, Winterhill Hospitality, the official Qatar 2022 FIFA World Cup hospitality-booking site, has put 'Occupied Palestinian territories' as a country option, without mentioning 'Israel' on its list. Moreover, it launched a popular campaign called "The Palestinian Dream" in Qatar. It aims to raise awareness of the Palestinian cause and the crimes of the occupation. It also has another aim: taking advantage of the major global event "World Cup".
In addition, a Qatari man appeared in a video refusing to talk to an Israeli reporter as a way of showing solidarity with the Palestinian cause. Not only him, but also many Qataris showed refusing to interact with Israeli reporters. They also held the Palestinian flags high in every street, car, and stadium.
Israel is hopelessly isolated as Palestine is entrenched in the heart of the masses
As a sign and a result of showing solidarity with Palestinians, the masses have hopelessly outcasted and isolated Israeli media in front of the world. The Israeli media appeared isolated amidst large numbers of Arab fans. Whenever knowing their Israeli identity and hear their broken Arab accent, pro-Palestinians rally around them with dozens of Palestinian flags. For more, click here. "We feel hated, surrounded by hostility and unwanted," an Israeli journalist said. Another Israeli reporter interviewing a Saudi fan burst into anger shouting that "Israel stays for doomsday." This is a sign of covering up the distress and anger in which he is. This Mondial has proved the hatred of Arabs, Muslims, and some Westerners worldwide for the Israelis. A Saudi fan was overwhelmed in a video telling an Israeli reporter that he is not welcome here.
As a result, Israeli media started to flounder for being a redundant intolerable guest. "After a while, we decided to claim we were Ecuadorian when someone would ask us where we were from," an Israeli reporter said. Read more on this: Is anti-Semitism essential for the survival and growth of Zionism and Jewish peoplehood?
The Yemeni, Saudi, and Tunisian masses gave a harsh lesson to the Israeli journalist Jay Hochmann. This happened when he stood among their groups to impose himself among them, so they cheered "Palestine". Furthermore, Yediot Ahrnot said that their coverage of the World Cup showed the magnitude of the Arabs' hatred of Israel. It also noted that Iranian, Qatari, Jordanian, Moroccan, Syrian, Lebanese, and Egyptian fans were looking at them with hate looks.
General view
Summing up, it is the instinct of Arabic peoples to show such solidarity with Palestinians. All the presented signs show that Palestine is entrenched in the heart of World Cup fans. Through their unity and awareness, the Palestinian question is strongly dominant in the scene. Most importantly, let us not forget the enormous efforts of Qatar of supporting Palestinians in all circumstances. One of the most critical factors to make full benefit of the Qatar World Cup in support of the Palestinian cause is to communicate directly with match commentators, presenters, and influencers. This can be via television, radio channels, or social media sites to highlight, talk about, and address the Palestinian issue during their comments on the games.
In addition to the need to interact on social media sites via several tags, most notably Palestine in the World Cup, to get the issue to the extreme and the most significant gatherings. This interaction proved that the question of Palestine is still alive and still entrenched in the hearts of all Arabs and Islamic peoples in the World Cup. Qatar World Cup FIFA has become the main platform to convey the Palestinian question to the whole world. On the other hand, negligence and outcast, at least, are what Israelis got due to their bloody deeds against Palestinians. From our platform, we announce our support for Qatar and the Palestinian question as well.
The UK Economy Braces for 2-Year Long Recession: What Went Wrong?
The UK economy is witnessing one of the worst crises in its history. The downfall of the pound, war-infused energy crisis, skyrocketing electricity bills, collapsing stock market, changing Prime ministers, and whatnot?
Nothing has gone in the UK's favor since the passing of the Queen. And now the country is bracing for a prolonged two-year recession with contracting third quarters.
But what went wrong in the first place? How did this trigger an economic catastrophe in the UK? And can Rishi Sunak save the UK?
Here is a detailed explainer:
UK Economy: An Overview of the Problem
With the political upheaval and the pandemic, the already suffering economy of the UK reached its brim when the Russia-Ukraine war ignited.
In response to Ukraine's invasion, Britain halted the import of fuel, gas, or coal from Russia since June for the first time in the past 25 years.
As a result, Russia stopped its critical gas pipeline to Europe, thus creating an energy crisis.
All this led to the UK's economic downfall.
Today, inflation is at an all-time high of 9.9%, a 40-year high. Energy bills are shot up by almost 80%despite capping. Finally, and most importantly, the pound has become one of the worst-performing currencies, with its value dropping by 24% against the dollar.
The Mini Budget Turmoil
With such disruptive environments in the UK, former Prime Minister Liz Truss came up with the mini-budget. The mini-budget baskets a slew of tax changes, including the elimination of the high rate of income tax for the wealthy and the energy subsidies policy platform.
However, the mini-budget backfired and now has snowballed from an energy crisis into debt, housing, currency, and even a banking crisis.
The pointer mentioned in the mini-budget has been so terrifying that it shook the economy of the UK and plunged the London Stock Exchange horribly.
With such an unstable situation inside the UK economy, Truss changed her mind about company taxes after days of adamantly defending her budget and firing finance Minister Kwarteng.
"I still agree with my policies, but I've sacked my finance minister because he announced them, and the market didn't like them."

She said
A Cold and Long Winters Awaits the UK
The three major events that make the incoming winter snug for the UK are:
First, Russia has entirely cut off gas, which causes the cost of electricity to shoot up by almost 80%.
Secondly, on top of the existing gas storage, the incoming winter energy consumption is about to hit a new peak from September to December.
Third, even if Europe had 90% of its Energy storage complete in September 2022, it could take only 90 days for it to reach dangerously low levels.
Long story short, a gas shortage during a peak consumption time, with no storage option, will further increase energy prices. It has already been shot up at extreme levels resulting in high electricity bills that eventually heated inflation and the economy of the UK.
Even though the UK is receiving help from the US and other countries, gas prices are still very high. Hence the cost of production and inflation has hit a record 9.9%.
"It is going to be tough. But protecting the vulnerable – and people's jobs, mortgages, and bills – will be at the front of our minds as we work to restore stability, confidence, and long-term growth,"

British finance minister Jeremy Hunt twitted
Bond Market Crisis with Collapsing Pound
The UK's property market, pension industry, and overall economy are at risk of recession. The reason behind this is the decline in the price of UK government bonds and the ensuing rise in interest rates.
10-year bond rates in the UK have gone above almost 300%, going from just about 1% to 4.11% in just nine months.
Even though the bonds yield a 4% interest, the currency has depreciated to such an extent that it has become a disaster for foreign investors. As a result, foreign investors are quitting the UK market, further decreasing the demand for the pound.
Such a crisis in the bond market resulted in currency depreciation further, and the sterling slid against the US dollar. Furthermore, during the Ukraine-Russia war, Russia cut off gas supplies, and oversized reliance on imports further surge Euro.
Rishi, the Third Prime Minister in Three Months
After the resignation of Boris Johnson with 27 ministers, the office was handed over to Liz Truss. When Boris left the office, there was a sensation in the UK that it was time for stability and competence.
However, due to poor politics and policies, Liz Truss abruptly resigned from the post of Prime Minister within 45 days. The shortest and most disastrous spell that slung the economy of the UK and crashed the pound forced Liz Truss to step down from the post.
With the resignation of Liz Truss, the reign was entrusted to Rishi Sunak, the third PM of the UK in the last three months. Sunak's appointment ended another period of political unrest in the UK.
But many analysts and Westminster observers are still of the opinion that there will soon be another crisis. With the opposition Labor Party presently leading in the polls, all opposition parties are pleading for a general election.
Can Rishi Sunak Save UK Economy?
The political unpredictability has led the UK economy into a two-year-long recession. The previous two prime ministers were unqualified to steer the UK economy's flimsy ship. Hence Rishi has some challenging tasks to do.
Now, everything will depend on how Rishi approaches the challenging work of rescuing the UK economy from disaster, and it will be interesting to watch how he advances.