Features of Life Under the Taliban?
The US military and its allies have left Afghanistan since the end of August.
They evacuated tens of thousands of Afghans. The rest of the Afghan people are now under the role of the Taliban.
The movement's spokesmen confirmed that the Taliban has changed than it was in the 1990s.
But have you changed?
How are the features of life under their role?
Let us find out
Artists on the frontline
In the pre-Taliban era, which ran from 1996 to 2001, its elements chased artists and their creative works, banned music, and destroyed paintings, statues, and other art objects.
Today, after the Taliban's return to power, and despite its promises to build a new era, the artists of this country are not reassured by these bright promises and have begun to prepare for a long battle.
They are weaponized by painting and graffiti on street walls, on social media platforms, or at international exhibitions and forums.
Women artists have no future
Two days after the Taliban seized Kabul last month, 26-year-old artist Sara (this is not the real name) took the clay dishes on which she painted inspiring Afghan women and threw them to the ground
She believes that she has no future in the country anymore.
"The art for me is to express everything that I can't express in words," tells the young woman, who prefers not to reveal her real name.
Poets in Afghanistan
Ramin Mazher was a child when the Taliban took power.
Two decades later, he became one of the most famous poets in Afghanistan and today lives in France.
"I am not afraid of love, of hope, of tomorrow," says the poet in Dari language
His poets were converted into songs that have been viewed hundreds of thousands of times on YouTube.
But when the poet recently searched for them he discovered that it's removed from the internet.
He says that people make artistic suicide with the destruction of works and the removal of publications from social media sites as they fear for their lives.
However, Ramin Mazhar refuses to surrender.
He notes that art exists where humans. Perhaps art will continue in secret.
New school year kicks off in total absence of female students
Schools began in Afghanistan, but for males only in the complete absence of female pupils.
The new school year in Afghanistan worries the international community because the Taliban did not mention the return of female students to school. Indicating that the country is on the same path as the 1990s when the Taliban ruled.
The Taliban abolishes the Ministry of women affairs
Taliban has canceled the Ministry of women's Affairs and replaced it with the ministry of "Promotion of Virtue and Prevention of Vice"
No official has indicated the veracity of these reports.
The Afghan Ministry of Education announced the reopening of schools and secondary schools for boys and the return of male teachers to work without any mention of female pupils or teachers.
But there are workers placing a banner bearing the words " Promotion of Virtue and Prevention of Vice" on the building of the Ministry of women's affairs in the Afghan capital Kabul.
Several social media posts have appeared in recent hours showing ministry employees demonstrating in front of the building in protest at the loss of their jobs.
They said, "No one hears our women," one activist said, while another wondered "what else can we expect from these animals?".
The Taliban establishes its new government and excludes women.
The Taliban unveiled the rest of its government formation after it announced initial appointments to an interim government.
The government formations were completely devoid of female elements.
Afghan women launch 'don't Touch My Clothes' Campaign
Some Afghan women launched a campaign on Twitter under the hashtag
# don't touch my clothes
they posted photos of them wearing costumes that they said were traditional Afghan costumes with bright colors and beautiful decoration.
This was in response to a march organized by Afghan Taliban supporters on September 11 in Afghanistan. They appeared wearing the black niqab that the movement imposes on Afghan women.
Taliban asks to represent Afghanistan at the organization's General Assembly meetings
The Taliban asked the United Nations to allow it to address Afghanistan at the UN General Assembly in New York. The former Afghan government ambassador in turn demanded that the country be represented at the meetings. For his part, the UN spokesman confirmed that it had not decided who would represent Afghanistan at these meetings, explaining that the two competing requests were in the hands of the Appropriations Committee
Death of Mahsa Amini: How Governments are Denying Women's Right to Choice?
Millions of Muslim women proudly wear Hijaab as a symbol of their religion. What makes them different from those protesting against obligatory hijab in Iran is the women's right to choose.
But when you widen your horizon, you'll realize that the dilemma of women's right to choose is apparent across borders. Be it Iran, India, France, or the US, women are constantly fighting for control of their bodies.
The History of Pro- & Anti-Hijab Protests in Iran
Looking at Iran today, it can be hard to picture that only four decades ago, Iranian women were protesting for the right to wear hijabs. The pro-hijab movement sparked when Iran's Reza Shah Pahlavi government outlawed any type of veil or head scarfs in an attempt to westernize the country.
At times, the government even forced a complete ban on hijabs, with police scrapping off women's hijabs in public. During this period of Iranian history, the hijab becomes the symbol of freedom, revolution, and democracy.
The pro-hijab uprising brought down Shah's government and put Ruhollah Khomeini in office. The Khomeini government, however, was far from ideal. By 1983, the new administration mandated the hijab for Iranian women.
Women were now forced to wear headscarves to an extent where they were punished with prison and even lashes for not abiding by the dress code. The worst phase started after 2005 when Dictator Mahmoud Ahmadinejad introduced the Morality Police; a police department made up of both men and women to keep an eye on women's clothing in public.
All this brings us to 13 September 2022, when Mahsa Amini, a 22-years old Iranian Kurdish woman, was arrested for violating the hijab code. In police custody, she was subjected to brutal violence that ended up taking her life three days later, on 16 September.
And it was her horrific death that sparked Iran's historic anti-hijab protest we are witnessing today.
Women's Right: The Death of Mahsa Amini & the Dirty Politics
The death of Mahsa Amini has sparked unprecedented protests in Iran. Despite a visible crackdown by the Iranian security forces, which includes mass arrests and internet interruption; women are taking the movement to the streets at a scale never seen before.
However, let's put protests aside for this article. Because what's happening in Iran right now is much more than just women fighting for their right to choose.
There has been no shortage of individuals, groups, and foreign entities weaponizing these protests to push their political and geopolitical goals.
Many gulf countries, for example, are using these protests to push back the nuclear deal. Backing on the demonstrations, the Western governments, including the US and EU, are considering further sanctions on Iran — even though the economic sanctions have already caused more than enough problems for Iranian women and their families.
And above all are Islamophobes who are using the protest to criticize hijabs, Muslims, and Islam in general. But how is any of this going to help the protesting women in Iran?
Everybody is currently striving to further their agendas, while Iranian women are risking their lives on the street.
Iran and the US: Not So Different Countries for Women's Rights
Although the US and the Iranian government have polar ideologies, the US is in no state to police Iran morally regarding women's rights.
It is the US, where a 10-year-old victim of rape from Ohio is not allowed to go through an abortion because of the new state law. Women in the US are protesting against the blanket ban on abortion, with no hope for reforms.
On the other hand, the anti-hijab protest in Iran has reignited the hijab debate in India. Why is it so difficult for the Karnatak government to respect the choice of Muslim women students to wear a hijab to college? It's absurd that these students have to fight their own government for their choice to be respected.
But be it Iran, Pakistan, India, or the USA, the debate remains the same: do women have the right to choose? Or is the word choice totally non-existential for women?
The Courageous Women of Iran
Women protesting in Iran are not again the hijab but against the imposition of the hijab. But when religion takes over governments, it creates an illusion of unlimited power. This is the case of Iranian authorities who are practicing absolute power by virtue of morality police.
But is it acceptable to restrain women against their will like literal goons?
The protest that started with the death of Mahsa has now become an international movement for women's right to choose. And, make no mistake, women are not alone here. Most Iranian male population stands with courageous Iranian women on the frontline against injustice in the name of religion.
Let Women Exercise their Right to Choice
Yes, when it comes to hijab rights in Iran, India, or the US, choosing the right side is not always straightforward. It's complicated with numerous factors, including individuality, choice, and religion, at play.
We should stand with Iranian women protesting for their freedom, fundamental rights, and liberation. I will continue to speak against governments banning women from wearing hijabs and against regimes that force them to wear them.
Hijab or no hijab: how about we let women everywhere have the right to choose?
Child Marriage in Afghanistan: Poverty Bearing More Child Brides
It is difficult to be a young woman in Afghanistan. Parents stuck in poverty are forced to sell their underage daughters into marriages, and the horrible nightmare repeats itself. Over and over again, in a different family, a different young girl, a different village, but the same gloomy fate.
But, what is behind the increasing child marriage in Afghanistan? Here's an in-depth report:
A Year into Taliban's Afghanistan
Last week marked a year of the Taliban's takeover of Afghanistan. And the sudden government shift and violence have given rise to a massive refugee wave in the country.
Since the takeover, this southeast Asian country's poverty has gotten worse. From food and financial recourse to healthcare and education, the Taliban have made Afghanistan, a living nightmare.
And, amongst the worst hit are children, especially young girls.
Arranging marriages (monetary deals) in the rural regions of Afghanistan has now become a common practice. While the groom pays the girl's parents to close the agreement, the young girls traded in the deal often stay with the parent till they are 15 years old.
However, even before the Taliban, child marriages were ordinary in Afghanistan. For example, between 2018 and 2019; UNICEF reported 10 cases of the sale of children and 183 child marriages in Baghdis and Herat.
But, the stark increase in poverty after the Taliban's takeover has forced thousands of desperate families into this ridiculous practice for survival.
Child Marriage in Afghanistan
In the rural regions of Afghanistan, populated by people displaced by drought and war, families are desperate for food and money. So much so that they are forced to marry off (sell) their daughters.
Today, girls as young as five are traded for marriage. This CNN report records a heart-wrenching case of a 9-year-old girl sold as a bride to a 55-year-old man.
Aziz, a ten-year-old girl, is amongst thousands of other child brides of Afghanistan whose fates have been sealed at such a tender age.
These young brides forced into marriage are robbed of their childhood. In addition, they frequently confront barriers to education and a future they are not mentally, physically, or emotionally prepared for. Thus terribly affecting their health.
For example, maternal mortality is a serious repercussion of child marriage in Afghanistan, which is estimated to be 28% nationally. In Asia, Afghanistan has the highest rates of maternal and newborn mortality. Around 700 to 1,600 moms pass away for every 100,000 deliveries.
And the worse the deprivation, the more children will be sold off as enslaved people or child brides and more often.
The Taliban regime has imposed a prohibition on selling women and girls and forcing women into marriage some months after seizing power. Afghan families, however, claim that there have been unconfirmed reports of women and children being forced into marriages with males, including Taliban leaders.
But, the forced trades are not just limited to young girls.
Children for Sale: Child Trafficking On a Rise
In an interview with ABC news; when Nosheen described how her family decided to sell her unborn child, she remarked;
"Sad doesn't even come close to how I feel."

Nosheen
With five other children to support, her husband Aziz, whose identity has also been altered, said they were forced to accept the $US565 offer for their unborn child.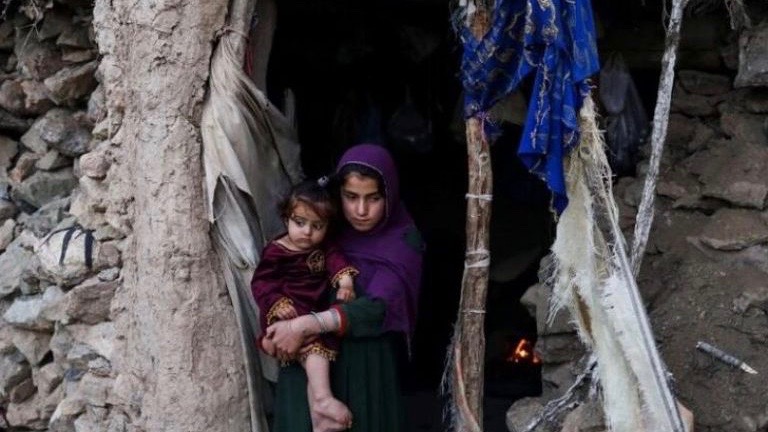 When the families cannot secure food, they are left with no choice but to sell their young children. In cases like Nosheen, infants are sold to couples searching for a baby. However, most young girls are traded as wives too much older men.
Most trafficked children come from internally displaced populations: families either forced to flee by the Taliban or voluntarily displaced due to a lack of livelihood.
Child Marriage in Afghanistan: The Role of the Crippling Economy
As a country strained with decades of natural disaster, poverty, and insecurity, Afghanistan's economy has suffered a steep downfall for years. And a year into the Taliban's rule has further worsened the economic condition of Afghanistan.
Economic sanctions and banking crisis depict the sharp end of the country's economic collapse.
Over 95% of households across the country are experiencing food insecurity. Afghan children are starving. A report by UNICEF estimates that over 13,700 newborn babies have already died in 2022, as per data from the Ministry of Public Health.
The reasons are clear, the forced removal of women from the workforce and school is taking a toll on the country's economy. An analysis by UNICEF highlights that depriving girls of education has cost the Afghan economy at least $500million in the last 12 months.
Humanitarian Aid: Drastically Under-funded
Life is tough in Taliban-ruled Afghanistan. Poverty is rampant, and families who, despite all atrocities, have managed to be together are forced to send their underage children out for work. Many parents unable to make the excruciating choice of selling their children are selling their organs to make ends meet.
Afghans need humanitarian needs now more than ever. But, despite seeking the largest ever humanitarian monetary aid of $4.4 billion; the dire humanitarian situation in Afghanistan is drastically underfunded.
Ayman al-Zawahiri Killed In a Drone Strike By The US
The US killed Ayman al-Zawahiri, the leader of al-Qaeda, in an Afghani drone operation over the weekend, confirms President Bidden.
United States President Joe Biden has revealed that the US killed Ayman al-Zawahiri, the leader of al-Qaeda, in an Afghani drone operation over the weekend. The operation killed him on Sunday during a CIA counterterrorism operation in Kabul, the capital of Afghanistan. He was one of the most wanted terrorists in America and collaborated with Osama Bin Laden in the planning of the 9/11 attacks. The United States confirmed that it was a CIA drone that attacked and killed Zawahiri. The US claims that his death is the biggest blow to al-Qaeda since it killed Osama bin Laden in 2011.
Zawahiri was rumored to be hiding in the tribal region of Pakistan or within Afghanistan prior to his killing. A senior administration official told reporters that Zawahiri had been hiding for years. He confirmed that the operation to find and kill him was the result of "careful patient and persistent" work by the counter-terrorism and intelligence community.
Read here, Is America embracing dictatorship in the Arab world?
Justice Has Been Delivered- Claims US President Joe Bidden
Bidden who was isolated by a recurrence of covid-19 was aware of the attack on Zawahiri. He spoke outdoors on Monday from the Blue room Balcony at the White House. He said that he had given the final approval for the "precision strike" after months of planning. This strike comes a year after Biden gave the order to remove US forces from Afghanistan. It was immediately afterward that the Taliban captured power there.
Talking about the withdrawal of the US troops from Afghanistan, Bidden made the following statement. " I made the decision that after 20 years of war. The United States no longer needed thousands of boots on the ground in Afghanistan to protect America from terrorists who seek to do us harm. And I made a promise to the American people, that we continue to conduct effective counterterrorism operations in Afghanistan and beyond. We've done just that."
"Our intelligence community located Zawahiri earlier this year — he moved to downtown Kabul to reunite with members of his immediate family," he continued.
Biden further stated that "For decades, he was the mastermind of attacks against Americans."
"Now, justice has been delivered and this terrorist leader is no more. People around the world no longer need to fear the vicious and determined killer," Bidden said.
Also, read America Decides To Change Course: #byebyetrump
Ayman al-Zawahiri After The Killing Of Osama Bin Laden
Zawahiri, who turned 71 this year, had continued to be a prominent international face of the organization. This happened during the11 years after the US killed Osama bin Laden. He had served as bin Laden's personal physician, political partner, and right-hand guy at one point. Al-Zawahiri had occupied the official page of the FBI under the "Most Wanted" title. The FBI page informs from the color of his eyes to his various aliases. Under his name the page mentions "Murder of U.S. Nationals Outside the United States; Conspiracy to Murder U.S. Nationals Outside the United States; Attack on a Federal Facility Resulting in Death". It also mentioned that the United States Department of State offered a reward of up to $25 million for 'information leading directly to the apprehension or conviction of Ayman Al-Zawahiri'. On Monday the FBI updated its Most Wanted Terrorist poster with Zawahiri's status as "Deceased."
Read here, Israel and U.S. fanning flames of Fitna between Iran and Arabs
Who was Ayman Al-Zawahiri?
Zawahiri was born in Egypt in 1951 and raised in Maadi, several miles from the capital Cairo. As a student, Syed Qutb's work greatly influenced him. Qutb was an Egyptian writer who was one of the foremost figures in modern Sunni Islamic revivalism. Zawahiri became a highly educated professional and trained in one of the country's leading universities. He went on to become a doctor and an eye surgeon to the successor of Osama bin Laden.
When he was fifteen years old, he organized his first movement in an effort to overthrow the then Egyptian government. He made headlines for himself for the first time in a courtroom cage. It was following the 1981 assassination of the then Egyptian President Anwar al-Sadat. The court apprehended Al-Zawahiri for his involvement in the assassination as a member of the Egyptian Islamic Jihad. Al-Zawahiri rose to prominence as a veteran of the Egyptian Islamist jihad. The government detained him along with a large number of other Islamists.
Merger with Al-Qaeda
Al-Zawahri fled Egypt shortly after Sadat's murder and he made his way to Peshawar, where he joined Osama bin Laden. The Gulf war and the entry of the American troops into Saudi Arabia impacted Zawahiri's ideology. It was due to these reasons he believed that Sadat had betrayed the Islamist cause. Soon Osama bin Laden completely shared his thoughts and made a similar opinion about the House of Saud. However, at one point al-Zawahiri advocated for striking the 'distant enemy' (the United States) first. He believed it would be better to topple the 'close enemy' (the Arab governments) later.
After bin Laden's death, Ayman al-Zawahiri formally became the new leader of Al-Qaeda Central. Instead of a natural leader, his role in Al-Qaeda had always been that of a strategist and master planner. However, Zawahiri held the organization together. Under his leadership, Al Qaeda and its affiliates grew from an estimated 400 members on 9/11 to possibly 40.000 now.
Also, read How Russia Built A Channel to Taliban
How The World Reacted to The Killing Of Ayman Al-Zawahiri
Saudi Arabia
A statement from the foreign ministry of Saudi Arabia on Tuesday hailed the US declaration of Zawahiri's killing. "Thousands of innocent people of different nationalities and religions, including Saudi citizens, were killed," it stated. "The Kingdom of Saudi Arabia welcomed the announcement by US President Joe Biden of the targeting and killing of the terrorist leader of Al-Qaeda Ayman Al-Zawahiri," it said.
Canada
Canadian Prime Minister Justin Trudeau took to Twitter after the news of al-Zawahiri's killing came out.
"The death of Ayman al-Zawahiri is a step toward a safer world. Canada will keep working with our global partners to counter terrorist threats, promote peace and security, and keep people here at home and around the world safe." he tweeted.
Australia
Australian PM Anthony Albanese spoke in Parliament and sent his prayers to the family of the victims that died.
"For two decades, this man fled the consequences of his crimes. Our thoughts today are with the loved ones of all of his victims.
"So many lives have been lost and so much blood has been spilled since, including all those Australians who served, sacrificed, and gave their lives in Afghanistan," said Albanese.
Taliban
Taliban spokesman Zabihullah Mujahid on Monday confirmed an airstrike conducted by a drone in Kabul. He said the Islamic Emirate of Afghanistan views that as a clear violation of international principles.
Read here, Looming Food Crisis in Afghanistan: 1.1 Million Children on the Verge of Starvation