Cacti & Succulent Obsession: The Dark Side
In recent years, the love for indoor plants has boomed, giving a massive spike to the nursery business. 2020 especially witnessed millions of lone souls trapped indoors stepping into the trendy plant-keeping hobby. Today, the cacti & succulent placed on study tables and window sills are ruling Instagram. But, this close-to-nature hobby is endangering many cacti and rare plant species around the world, pushing them to the verge of extinction.
Let's understand how plant-keeping hobbies have given rise to black marketing of cacti and succulents? What are the implications of the theft? And how we, as plant-keepers can know if the plant we are purchasing is smuggled or not?
The Outbursting Love For Cacti & Succulent
In early February, a woman was arrested from New Zealand's airport for a very peculiar smuggling attempt. 38-years old Wenquing Li was trying to smuggle 1,000 different cactus, plants, and seeds species, out of the country. It consisted of eight of the most endangered or threatened species of cacti, and the entire material cost above $7,000. This weird smuggling attempt caught global medias' focus on the increasing demand triggered black marketing of the rarest species of home plants, especially succulents from their native ground. This was not the first time when someone was trying to smuggle a plant out of a country. In 2014 alone, the U.S. border seized about 2,600 stolen cacti.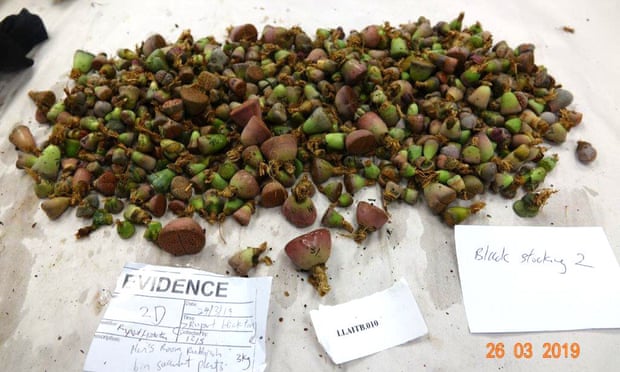 The inspecting officer, Simon Anderson, said, " (Wenquing Li's case is) a good reminder that anyone who smuggles plants or other endangered species into New Zealand can expect to be prosecuted."
According to a study by Conservation Biology, house plant obsession has put one-fifth of all the cactus species at risk of endangerment; some are on the brink of extinction. The booming black market triggered by skyrocketing demand of these unique groups of spiny plant species is causing severe habitat loss, invasive bugs, and poaching.
Why Are People Extensively Drawn Towards Indoor Planting?
The house plant obsession is not more than a decade old. In the U.S. alone, about six million residents, especially millennials, adopted gardening in 2015. Today, the obsession with plant-keeping hobbies has skyrocketed, especially by the COVID-triggered lockdowns. It gave the people time to decorate their homes, and the social media trend of plants, made cacti & succulents the apple of everyone's eye.
Between 2012 and 2017, the market of cacti and succulent have surged by 64%, and now worth millions of dollars. The pandemic increased the sale of house plants by 84% in the U.S. and near about a 32% increase in the nursery business.
Experts believe that the house plant demand has surged mainly because of the climate crisis. Keeping live plants is a form of repercussion for centuries of damaged done to the environment. This newest global obsession is a way of relieving ourselves from the guilt of wrecking the planet. Furthermore, along with beautifying our houses, having plants around us makes us feel more connected to our planet.
Cacti & Succulent Obsession: The Dark Side
But, the out bursting love of indoor plants has overwhelmed the market, thus making ways for black marketers to smuggle the rare species of plants, especially cacti and succulents. A few cactus species could take decades to reach their full size, like Saguaros, which can take more than 70 years to reach the 6 feet benchmark, which makes such species more susceptible to be smuggled. Poachers have been extensively smuggling the taller Saguaros, thus making it one of the most costly cactus, $100 for one foot.
Researchers fear that the growing black market might result in the complete extinction of many rare cacti species from the wild. In the past, the hipped demand of Tulip resulted in Tulipomania, which turned many Tulip gardens into bare land. In the 1800s, the craze for Fern gave way to decades of Fern theft. Air plant, Orchid, and Venus Fly Trap are the most recent examples of how increased demands led to voracious black marketing of plants from their native lands.
The living rock cactus that is native to Texas, U.S., faces grave danger of extinction. Given the fact, it grows nowhere else, makes it an immediate target of smugglers. This little cactus can take a decade to mature fully, and this would mean that once they are out of their natural habitat, it would take decades to repopulate the land with the cacti.
The extinction of a plant species from its natural habitat affects the cohabiting species of animals, reptiles, and birds in the region. Cactus is the source of food, water, and shelter to birds and invertebrates, and their endangerment is severely affecting the life cycle of the deserted regions.
Cacti & Succulent: The Bigger Concern
The biggest problem is that this black marketing is not happening in the quote-unquote darknet but on online shopping sites like eBay, Amazon, etc. It is tough to recognize which plant is smuggled and which is grown from seeds in the nursery. The fact that these cacti species can stay without water for a longer time makes their smuggling easy.
So, is there any way we can find whether the cacti we are purchasing is grown in a nursery or illegally smuggled? Though it is difficult to say for sure that any plant is grown, or smuggled, there is some precaution that we can keep while buying these spiny plants:
It is advisable not to buy cacti & succulent from an international seller who does not possess a permit from the Convention on International Trade in Endangered Species of Wild Fauna and Flora.
If buying online, try to go for the domestic seller, who clearly shows that their plants are grown from seed.
While buying from the nursery, you can ask where the cacti is from. Also, look out for scrappy-looking cacti, as they have higher chances of being smuggled because the nursery grows succulents, and cactus are mostly symmetrical.
Is anti-Semitism essential for the survival and growth of Zionism and Jewish peoplehood?
Unlike any other state around the world, Israel is constantly whining about its international image being tarnished and unfairly sullied. The apartheid entity routinely blames "anti-Semites" for " seeking constantly to lynch the Jewish state's image." Israeli Hasbara (propaganda) doctors would voice all sorts of unreasonable and preposterous "rationales" to explain the utter lack of love for the pariah state among the peoples of the world.
Israel, which the late American evangelist Jerry Falwell referred to as "the nation-state of the Lord" has effectively been transformed in the eyes of the bulk of humanity into the nation-state of the devil. Well, but even the devil itself is probably learning "useful" lessons from Israel.
While insisting that Israel's ugly image suffers due to anti-Semitism, not Israel's abominable behaviour in occupied Palestine, the professional twisters of truth would eventually invoke the mantra that "boys will always be boys and goys will always be goys"! (goys or goyem is a derogatory Jewish term for non-Jews)
Israel firsters, whose Chutzpah often transcends reality,  would never attribute the sullied image of the apartheid entity to its unceasing and unmitigated crimes against the helpless Palestinians. We all know that not a single day passes without a Palestinian boy, child, woman, worker, farmer, doctor, student or journalist getting murdered or maimed by the Gestapo-like Israeli army or the even more murderous paramilitary Jewish settlers all over the Occupied West Bank.
We kill them knowingly
Israeli officials and spokespersons are well aware of the  utmost gravity of these crimes. However, they would argue that these crimes, however nefarious and barbarian, should not lead to tarnishing Israel's image.
Read Also: Are Palestinians facing a pre-holocaust situation in the West Bank?
Moreover, the Zionists would argue that international critics of Israel's  "actions" are guilty of singling Israel out for their scathing criticisms, while conveniently ignoring other villains on the world's arena, such as Russia, the Syrian regime, and even the U.S. and its allies who killed and maimed thousands of innocent people in places like Iraq and Afghanistan.
Being hated is essential to being Zionist
Yes, the Zionists do admit, though begrudgingly,  that they indulge in all sorts of heinous crimes, including crimes against humanity, against the Palestinians.
Generally speaking, the Zionists don't claim that these crimes are correct and ethical, although religious Talmudic settlers thugs, such as Ben Gvir and Smotrich, who won recent Israeli elections, would cite numerous quotations from the Torah and Talmud "proving" the utter morality and perfect legitimacy of these crimes, including burning Palestinian kids alive.!
Read Also: The fanatic Zionist and me: Truth versus arrogance of power
None the less, the Zionists would insist that Israel has the right to defend itself as if self-defence justified an evil military occupation, dehumanizing repression and humiliating apartheid for over half a century. One settler leader from the settlement of Kiryat Arba near Hebron had the audacity to say "if Joshua did exterminate the Canaanites, why can't we do the same to the Palestinians"?
A little story that speaks volumes
Exposed and demoralized before the entire world, Zionist spokespersons would reveal, often inadvertently,  one of the most outrageous aspects of their collective evil mindset. A few days ago, an Israeli right-wing activist wrote in Ynet  that Jews can survive only if they are hated by Goyem, but in order to be hated, Jews must indulge in every evil act in order to draw hateful reactions from non-Jews."
Read Also: Even if a hundred  holocausts were committed against Jews, it gives them no right to slaughter Palestinians and steal their homeland
I really had thought that perhaps only a small esoteric Jewish cult did indulge in this strange behaviour.  But then a friend intimated to me a little secret.  He told me a story he said he had heard from his father who died many years ago. According to the friend, when Arab kids in a given Palestinian town were playing near the small local  Jewish neighbourhood, the mother of the only Jewish kid who was playing with them, gave the Arab kids some sweets and a few piasters , asking them to hit and curse her own kid!.  I remembered this little story when a Zionist settler activist told me during an internet chat  recently  that "we need to be hated in order to survive as Jews."
Some audacious rabbis would privately explain such bizarre behaviour by arguing that if Jews found absolute love and acceptance by non-Jews, they would eventually assimilate and perish as a people.
In other words, anti-Semitism is essential for the survival and growth of Zionism and Jewish peoplehood! One Israeli rabbi reportedly argued that if there were no anti-Semitism, it would be the moral and religious duty of the Jews to create "some" anti-Semitism to make Jews feel that they are different"!
Startling Open Secret
This startling open-secret should explain the fact that numerous trumped-up anti-Semitic incidents, including torching synagogues,  scrawling anti-Jewish graffiti, and vandalizing Jewish grave headstones are often committed  by Jews, not anti-Semites! Just ask Law-enforcement authorities in the U.S. and UK, and they would tell you some shocking stories in this regard.
And, yes, there are numerous rabbis and Talmudic sages who would argue that Jews will not survive and prosper if they were readily accepted and loved by goyem, since such cordiality and friendliness would lead to slackness, integration assimilation and ultimate extinction of Jews . Jews in America are often cited as a classical example. Due to their complete integration into the  American society, most American  Jews blended completely and thoroughly,  melting away into the general fabric of American life, leaving themselves,  their children and their grandchildren only nominally Jewish.
In light, Jews must accordingly show off their brutal ugliness and evilness to Goyem in order to generate a certain amount of anti-Semitism which would be highly beneficial, useful and even vital for Jewish survival and growth.
There is absolutely no doubt that  Israel's 75-year-old ongoing holocaust against the Palestinians can be explained, at least in part, in light of this criminal mentality, which actually constitutes a creed and ideology for millions of Zionist Jews.
Some readers, stunned by the utter shamelessness and diabolic oddity of this mentality might be prompted to think that the author of this article is perhaps exaggerating and blowing things out of proportion.
But there is no exaggeration here. I remember the late American Jewish author Alfred Lilienthal quoting a Zionist rabbi in his masterpiece-book, the Zionist Connection, as saying that "a little anti-Semitism is always useful since it reminds us of who we are."!  
Chasing the Mirage of the desert
Today, Israel and its tails, mouthpieces and allies in the U.S. and some European countries are fighting an anti-Semitism that doesn't really exist except in the sick mindsets of Zionist leaders. Thus, every legitimate criticism of the brutal Israeli occupation, including the apartheid regime in the West Bank, is twisted to imply hated for Jews. 
Read also: Israel Has No Right to Exist if Palestine Has No Right to Exist
The Zionists would argue cunningly and tendentiously that opposing Israel is opposing Jewish self-determination. They conveniently ignore the fact that Israel's right to exist is inextricably entwined with Palestine's right to exist and the Palestinians' right to self-determination. And. Yes, Israel has no right to exist as a criminal entity, practising open-ended occupation and apartheid and indulging in all forms of repression and savagery against a people whose only "crime"  is nothing other than being non-members in the "chosen-tribe club" So, let the Zionists chase the mirage of the desert for as long as they wish.
In the final analysis, humanity is under no legal or moral obligation to accept, condone or tolerate Jewish apartheid in Palestine  than it was to accept the apartheid of the former White supremacist regime in South Africa. Meanwhile the Zionists may seek to vent their endless frustration at humanity by threatening to unleash their stale scarecrow of anti-Semitism in the face of critics. It is too late for them. The peoples of the world have already wakened up.  The magic has been annulled! and we will continue to tell the truth about the evil entity even if telling the truth is perceived as anti-Semitic
What Does Shraddha Walker's Murder Mean for Love in India?
Earlier this month, India was shocked by the news of the murder of 28-year-old Shraddha Walker by her live-in partner Aftab Poonawalla. Aftab had killed Shraddha merely three days after they moved into their new home in Delhi in May this year. Aftab had cut the body of Shraddha into 35 pieces and stored them in a fridge. He was gradually disposing of the body parts in a nearby forest area.
Interfaith Couple and Sensational Murder Trial
After the news of Shraddha's murder broke in mid-November following the arrest of Aftab Poonawalla, it became a sensational murder trial. The murder was debated on prime-time debates on TV.
While the murder was chilling and one could expect it to cause a sensation, it became a sensational murder trial for very wrong reasons in India. The fact that Shraddha and Aftab were an interfaith couple made it a sensational murder.
Even though Aftab has claimed that he killed Shraddha in a fit of rage while they were fighting, the police are yet to establish the motive for the murder. The media trial, however, has given a religious colour to the murder. Some people, including those on TV debates, have dressed the murder in the language of religion.
Love Jihad?
The religious colour given to the Shraddha murder and the transcending of the murder beyond its context is a result of the Love Jihad discourse adopted by the ruling right-wing party BJP. BJP used Loved Jihad as an electoral issue in many state elections.
At present, eleven states where BJP is in power have passed legislation against Love Jihad. The argument by the Hindu nationalists is that Muslim men intentionally fall in love with Hindu women and then these men force the women to convert from Hinduism to Islam.
Also Read: Love Jihad: A Conspiracy or a Political Campaign?
Demonizing Muslims
There are also attempts to demonize Muslims after the murder of Shraddha. A man from the UP state recently went on TV to support the actions of Aftab. He claimed to be a Muslim, named Rashid Khan and justified the cutting of Shraddha into 35 pieces.
When the police arrested the said man, it was found that he is a Hindu, named Vikas Gupta.
Vikas Gupta's statement went viral on social media and Muslims were called out and demonized for his statement.
Also Read: Bollywood's portrayal of Kashmir- Journey Of Representation From Heaven To Hell
A Setback to the Freedom to Love in India?
Shraddha's sensational murder trial has raised questions about love in India. It will hurt the hard-won right of freedom to love.
There are two aspects to be considered. First is the freedom of young people to love or live in live-in relationships. Since the news of the murder reached almost every home in India, it will scare people from getting into live-in relationships. Further, society will also be suspicious of these relationships. Live-in couples already face difficulty in negotiating the conservative society in India and the case will only exacerbate it. For instance, live-in couples in India find it difficult to find a house or rented accommodation. Aftab and Shraddha also lived in rented accommodation. More people than ever before will now hesitate to rent their accommodations to live-in couples.
Second, as discussed above Shraddha's murder will make it worse for interfaith couples to negotiate everyday life in India. Even though India was never a safe place for interfaith couples, the case is going to make society hostile to interfaith love. Those who were already against interfaith love will use this case to further cement their position on Love Jihad.
Further, society in general parents of young people in particular will turn hostile against love.
Also Read: The mainstreaming of anti-Muslim Hindutva Pop in India
A Difficult Task Ahead
The sensational murder trial and the media trial of Shraddha's murder by Aftab have raised questions about love in India. Further, the discourse of Love Jihad is also back. Hindu nationalists will make sure that the case is exploited to its full to make a case for Love Jihad.
For those in India, who want to preserve the hard-won right of freedom to love, the task ahead is very difficult. Even though the case has already become sensational, they must make sure that it is restricted to its immediate context. If the case transcends its immediate context, hate will win against love. Love must triumph!
The Scope of inter-religious pluralism within Islam
Even though pluralism is a loaded term, its generic meaning suggests a phenomenon of peaceful coexistence between entities of diverse cultural, religious, and political inclinations. It is important to remember that pluralism does not mean the elimination of difference, nor does the word "tolerance" do justice to its intended purpose. Pluralism is not merely tolerating the other but engaging with the beliefs of others with peaceful dialogue and action. The scope of inter-religious puralism within Islam proposes this kind of pluralism.
Also, read Islamic Democracy: Is Democracy Compatible with Islam?
What does Pluralism mean in Islam?
Looking at the subjective meaning of pluralism within the ambit of Islam, the proponents of various Islamic discourses have proposed that pluralism is a pronounced feature of Islam. Many Muslim intellectuals claim that pluralism is central to the fundamental essence of Islam. A convincing case can be made for the presence of a compelling pluralistic ethos within the Islamic scriptures.
In his essay, Reformist Islam in Comparative Perspective, Mehran Kamrava claims that the rise in the level of religiosity amongst Muslims has given rise to other forms of Islam. One of which according to him is "likely to have the most resonating consequences for Islamic jurisprudence in both the near and the distant future" and calls it "intellectual Islam". He claims that it is through this form of Islam that a Muslim reformist discourse is introduced. Which has produced significant work to locate the place of inter-religious pluralism in Islam. He further derives some themes out of the reformist discourse, very important with their reference to pluralism in Islam:
"First is a deep and abiding conviction in Islam as faith and a system of belief. In its current manifestation, the discourse of reformist Muslim intellectuals does not seek to instrumentalize Islam for purposes of achieving modernity in a manner palatable to the masses at large. Islam is not a means to an end; it is an end in itself. It simply needs to be re-thought and reformulated. The reformists' reliance on and endless references to the Qur'an bespeaks of the text's cultural centrality to them.".
Such display of absolute faith by Muslim reformists whilst having reformist inclinations bespeak of their balanced position. A flexible modern vision can develop interfaith dialogue. The abiding conviction to Islam earns a sense of authenticity for their thought process in the eyes of fellow Muslims.
Read here, Islamophobia: Impacts on Muslim Women
What is Democratic Pluralism?
The next theme of the reformist discourse is "democratic pluralism": "Pluralism, the reformist discourse's proponents maintain, is a salient feature of the spirit of the Qur'an and the hadith." (Kamrava )
To support his claim he cites another Muslim intellectual Abdulaziz Sachedina who quotes:
The challenge for Muslims today, as ever, is to tap the tradition of Koranic pluralism to develop a culture of restoration, of just intrareligious and interreligious relationships in a world of cultural and religious diversity. Without restoring the principle of coexistence, Muslims will not be able to recapture the spirit of early civil society under the Prophet.
In the globalized world, the facets of modernity like its political model of the nation-state have become a governing principle for all ethnic, cultural, and religious pluralism. This means the only larger identity governing the religious identity of the people is that of the nation-state. In the religiously pluralistic society of today, people may have different identities, but the model of the nation-state promises all of them the same status. People might identify with different religious inclinations, but the state identifies them as either citizens or residents of the state. This is exactly the kind of challenge that Sachedina talks about when he implores Muslims to revive the tradition of pluralism that is central to the Islamic texts for peaceful coexistence in the globalized world.
Also, read Why should dignified Muslims never normalize with Israel?
The Case of Muslims living as a minority
If Muslims live in a minority in a nation-state that runs on one of the political models of modernity like democracy or secularism, then for the sake of the welfare of Muslims they need to fulfill the duties that the nation-state demands from them. Andrew March talks about the jurisprudence of Muslim minorities also called Fiqh al-aqalliyyat al-muslima in Arabic:
Fiqh alaqalliyyat tends to be a discourse where departures from traditional Islamic commitments are not seen as desirable, and certainly not goals in and of themselves, but where creative rethinking often occurs in subtle and pragmatic guises. It is thus an important object of study for those interested in the ideal moral encounter between a public religion like Islam and modern/post-modern secularism. (March 6).
Important questions of interest toward non-Islamic institutions have been addressed from within internal Islamic discourses that advocate for a positive Muslim attitude concerning the issue of pluralism.
Read here, How Practical is the Secular Democracy of India? Curbing of Religious Freedom in Kashmir
Islam's relation with other Faiths
The third theme within the reformist Islamic discourse is "Islam's relations with other great faiths". An important aspect central to the Muslim understanding of pluralism is the conception that god's message in the Quran is universal and that the revelation was made through more than just one prophet, which means that the revelations had multiple manifestations. The basic underpinning for this idea can be seen in the Quran which mentions the monotheistic traditions of Judaism and Christianity. Far from denying the Quran in fact validates that Torah and Bible were predecessor scriptures affirming that their message has come from the same god. Many Quranic verses echo the sentiments which envisage a world where diversified people are united by their pious intentions and mutual devotion to God.
Also, read Islam in 2075: World's Largest Religion!?
Some Important Milestones in the Islamic History
Apart from the theoretical contributions to promote Islamic pluralism, efficient action has also been taken within the Muslim discourse on a practical level to perpetuate inter-faith harmony.
One such historic step was the "1981 adoption of the Universal Islamic Declaration of Human Rights, whose article XIII states: Every person has the right to freedom of conscience and worship in accordance with his religious beliefs.".
Apart from this, another significant step was taken in 1990 when the Cairo Declaration of Human Rights in Islam was adopted, Article 1(a) of which states:
"All human beings form one family whose members are united by submission to God and descent from Adam. All men are equal in terms of basic human dignity and basic obligations and responsibilities, without any discrimination on the grounds of race, color, language, sex, religious belief, political affiliation, social status or other considerations. True faith is the guarantee for enhancing such dignity along the path to human perfection."
Read here, Is This the Ultimate Solution to Rising Islamophobia in India?
Islamic Tradition of Peaceful Coexistence
The Quran recognizes fundamental rights for all humankind whether Muslims or non-Muslims and explicitly forbids compulsion in faith. The Islamic texts also provide a practical model of implementing pluralistic ideals which have greatly affected the treatment of non-Muslims in Muslim lands. Contrary to the Islamophobic stereotypes, Islam not only acknowledges pluralism, but it also goes beyond the reductive concepts of tolerance and intolerance to endorse and encourages a tradition of peaceful coexistence.
Also, read Islamophobia: Impacts on Muslim Women