Rohingya refugees: how long will their suffering be overlooked?
The horrendous tales of Rohingya refugees' sufferings permeates in what is known as the world's largest refugee shelter. Cox's Bazar, a region situated at the southeastern part of Bangladesh shelters thousands of Rohingya refugees from Myanmar.
The growing population in the camp is concerning the government; and is now shifting the thousands of atrocious refugees in a remote, low-lying island in the Bay of Bengal; an area exceedingly prone to flooding and cyclone.
In the middle of the ongoing chaos; a new study's report dictating the aggravating mental health of traumatized refugees is nerve-racking.
Myanmar military crisis, 2017
Antonio Guterres, UN Secretary-General defines Rohingya as, "one of, if not the, most discriminated people in the world". Now numbering less than a few in million; before 2017, Rohingya Muslims were one of the many racial minorities and largest Muslim community in Myanmar; a predominantly Buddhist country.
Despite a considerable population existence; the Myanmar government deny citizenship to the Rohingya community, claiming them to be illegal immigrants from Bangladesh.
Long before the evacuation, due to racial discrimination and violence, hundreds of Rohingya have been fleeing out of the country. The governmental exodus begins on 25th August 2017 post the deadly attack on 30 police post by the Rohingya Arsa militants.
According to Médecins Sans Frontières (MSF), a medical charity group, more than 6,700 Rohingya; including an estimated 730 children were murdered in the military crisis of 2017. Police forces and local mobs attacked and burned Rohingya villages into ashes. Rape and sexual abuse of women by military forces of Myanmar were also seen in the confrontation; according to Amnesty International.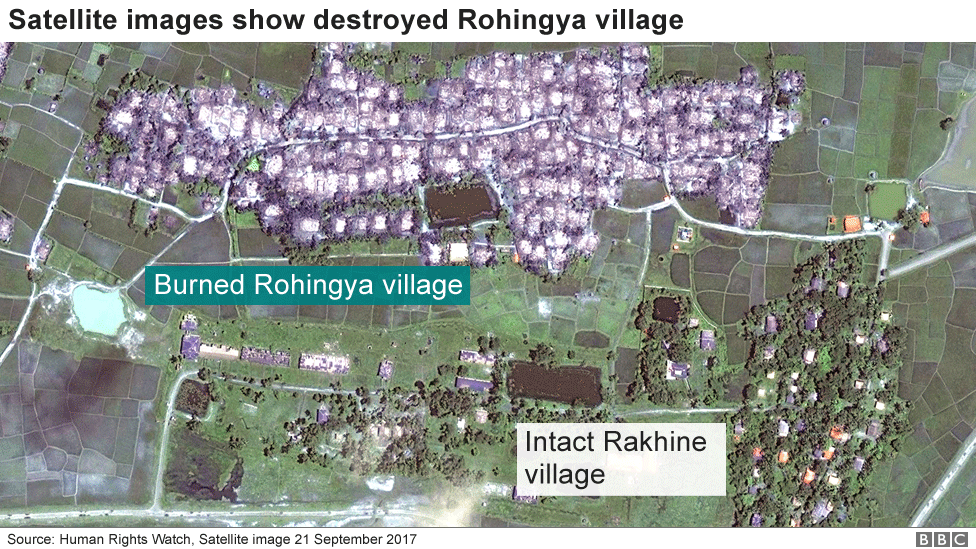 In 2018, the UN investigations' published report accused the country's military of "intended genocide"; the government was trying to carry out "ethnic cleansing". The case against the Myanmar military known as 'Tatmadaw' was also filed in the International Court of Justice (ICJ) by other Muslim countries.
Though, the Myanmar government denies any such genocide and says that the military was just executing the Rohingya militants. To this date also, the conflict between the military and the rebellion Buddhists of the Rakhine ethnic group.
Rohingya Refugees: Escaped for life
Hundreds of thousands of Rohingya refugees immigrated to Bangladesh during and post the military confrontation. All the refugees were living in Kutupalong, the largest refugee camp in the world, which shelters more than 600,000 refugees.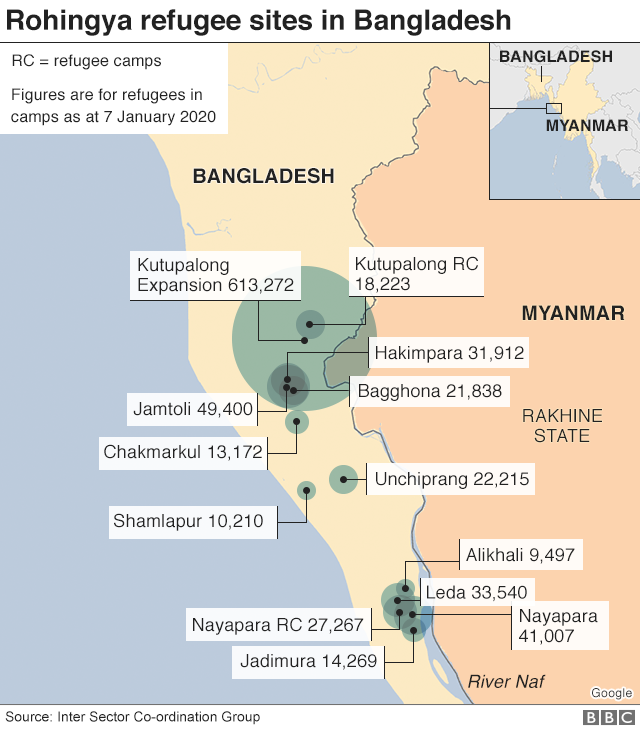 Already, Bangladesh is the most densely populated country in the world; witnessing the huge number of immigrating refugees, in 2019 the country's government set forth that they would no longer accept Rohingya refugees from Myanmar.
Each hut in the refugee camp holds horrifying stories of the genocide, their pain, and suffering to this day in unfathomable. Now with the controversially shifting them to the newly surfaced island of Bhashan Char is causing more distress amongst the already terror-stricken refugees.
Despite human rights groups claiming, the island not being safe for survival, with almost no facilities at all; on 4th December, the Bangladesh government transferred 1,642 Rohingya refugees from the camp to the wrecked muddy island, no bigger than a large city park.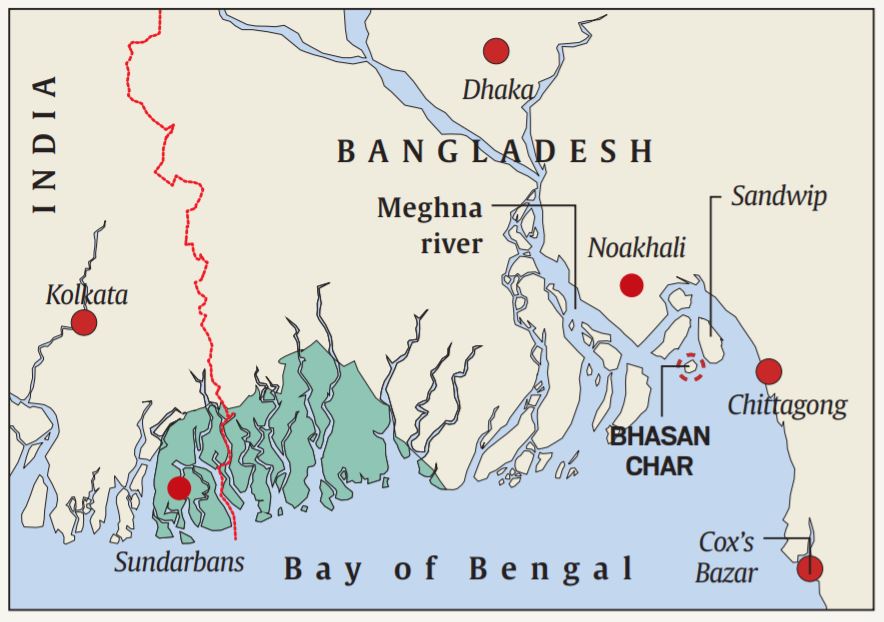 Though engineering firms from china tried to make the island suitable for human inhabitation aid agencies are still not satisfied and worry about the uncertain conditions of the island.
The worsening mental health condition
A new survey reports published on Thursday reveal that the genocide and poor live conditions in the camp have led to "severe mental health crisis" amongst the survivors not only in Myanmar but also in Bangladesh. The numbers are staggering if not surprising.
88.7% of Rohingya refugees shows either mild or severe symptoms of depression.
84% exhibit symptoms of emotional distress.
61.2% indicates symptoms of Post-Traumatic Stress Disorder (PTSD).
The report is a 99-page study, made after research conducted from March 2018 to November 2020 and was published by Fortify Rights. The title or the paper read; "The Torture in My Mind: "The Right to Mental Health for Rohingya Survivors of Genocide in Myanmar and Bangladesh".
The report also says, "91.3% of Rohingya refugees in Bangladesh face some level of difficulty carrying out common daily activities, such as maintaining basic hygiene, engaging in social or religious activities, or performing other daily tasks. Of those who experience functioning difficulties, 62.3% attributed these difficulties to their ailing mental health".
Some work is being done by the Bangladesh government, but it is not answering the needs of the refugee's Mental health. Now, shifting to a completely remote place will make their condition more abysmal.
Hunting a way out for the distressed Rohingya refugees
According to Dr Ambia Parveen, chairperson of the European Rohingya Council; the best solution to the crisis is peaceful and dignified reparation of Rohingya to Myanmar; she added: "Resettlement or relocation to an island or any other mechanism is not the sustainable solution to our crisis".
But returning to the place where, they have lost so much would surely not be easy. Many believe that genocide against Rohingya is still going on in Myanmar.
Dr Parveen says, "If the Rohingya sheltered in different countries mainly in Bangladesh are not returned to their home country Myanmar with citizenship rights and safety, it may prompt some other countries to operate the equal type of persecution against their minority people".
Myanmar's Genocide on the Rohingya Muslims: An Inspiring Interview with a Heroic Refugee
Authors Note – This week's article is a special edition as I have collaborated with a Rohingya refugee living in Cox's Bazaar camp in Bangladesh after fleeing the Myanmar genocide. His name is Jamal Hossain. I have also collaborated with Rohingyatographer Magazine, a unique project created by a team of talented photographers based in Cox's Bazaar. They have kindly allowed me to share some of their thought-provoking photography. A special thank you to both collaborations.
The above image is by © Sahat Zia Hero – The man is Hafsan, an 82-year-old Rohingya Islamic scholar.
Over One Million Rohingya Refugees in Bangladesh's Cox's Bazaar
Rohingya Muslims are still waiting for justice and the protection of their human rights after the Myanmar military launched a brutal regime of ethnic cleansing in Rakhine State on the 25th of August, 2017. The Myanmar military began a sweeping campaign of massacres, rape and arson against the Rohingya population. Approximately 750,000 Rohingya fled their homes and sought refuge in precarious, flood-type camps in Bangladesh.
Over 1.1 million Rohingya refugees have fled ongoing violence in Myanmar. Many stateless Rohingya live in the world's largest refugee camp, Cox's Bazaar, Bangladesh. Many Rohingya say the camp conditions and safety have deteriorated as the humanitarian crisis prolongs. In 2021, aid groups sought nearly $1 billion in donor funding as shortages have grown acute.
Additionally, hundreds of thousands of Rohingya have fled to neighbouring countries by land or boat for many decades due to ongoing violence and persecution. Five years later, the Myanmar government has still not been held accountable for crimes against humanity and acts of genocide. Moreover, an UN-mandated fact-finding mission on Myanmar says abuses and rights violations in Rakhine "undoubtedly amount to the gravest crimes under international law".
Who are the Rohingya?
The Rohingya are an ethnic group who lived for centuries in Myanmar until the government committed genocide on their population. The Rohingya are known as the "world's most persecuted minority".
Myanmar does not recognize the Rohingya as part of its 135 official ethnic groups. Since 1982 they have been denied citizenship in Myanmar, effectively rendering them stateless. Nearly all the remaining Rohingya in Myanmar live in the western coastal state of Rakhine. It is one of the poorest states in Myanmar, with ghetto-like camps and a lack of essential services and opportunities. Refugees are not allowed to leave without the government's permission.
Read also: Rohingya Muslims: Citizens Of Nowhere.
An Interview With Jamal, A Brave Rohingya Refugee
Who is Jamal?
While researching and writing this article, I had the privilege of interviewing Jamal, a Rohingya refugee currently living in Cox's Bazar refugee camp in Bangladesh.
Jamal is twenty-years-old and is originally from Myanmar, Rakhine state. In 2017, Jamal and his family fled to Bangladesh and are currently living in an uncomfortable makeshift camp. I am helping Jamal to get his story across to the international community. Jamal works at a local news agency, "The Territorial News", highlighting the Rohingya histories, cultures and traditions.
The image below shows Jamal helping a 75-year-old Rohingya refugee, Maher Khatun, who is suffering from serious health complications in the camp. The refugees have minimal access to health care services or supplies. Despite Jamal having very little, he talks about how he often brings her to the nearest shop to feed her milk and juices.
Jamal's Unforgettable Nightmare
On the 25th of August 2017, Jamal and his family fled Myanmar and walked for five days straight until they arrived in Bangladesh. They started living in makeshift camps in Cox's Bazaar while the World Food Programme provided them with essentials.
Jamal speaks of how he fled from the gunshots and the Burmese military as they eradicated his people.
"My journey was horrible and an unforgettable nightmare. It took me and my family a long time to escape Myanmar and to get safe and sound to Bangladesh. On our way here, we wandered like prey being hunted, hiding in paddy fields and forests, starving for days, and feeding on raw leaves or weeds. Those fields were full of wounded souls, crawling among corpses and blood, just trying to make it towards the safe zone. I often thought: "today is my last day in this world", but luckily God was beside me and he wished for me to be alive."

Jamal, Rohingya refugee living in Cox's Bazaar refugee camp.
"They Planted Nightmares in Me, but I Harvested Dreams"
Jamal began teaching children as a freelance volunteer in the refugee camps. Rohingya refugees must stay within the confinement of the camps. In addition, only informal education is allowed for children under the age of 15 years.
Jamal has lost everything his home, country, citizenship, friends, and education. Although they planted nightmares within him, Jamal used this trauma to harvest new dreams for himself. Remarkably, Jamal is brave and optimistic despite everything he has endured. Jamal hopes that one day he will settle down in a peaceful country. In the future, Jamal wishes to become a teacher and continue helping people.
The Lingering Trauma & Deplorable Camp Conditions
Five years later, the Rohingya still face many challenges in Cox's Bazaar camps. Fires have ravaged many camps, destroying many makeshift homes and personal belongings. Furthermore, severe monsoon floods have made conditions considerably worse. The Rohingya faced COVID-19 challenges with very few resources.
Read also: Rohingya Refugees: How Long Will Their Suffering Be Overlooked?
Since August 2017, human rights organizations have interviewed hundreds of refugees living in Bangladesh. They described brutal scenes where Burmese soldiers systematically killed and raped villagers before torching their homes. During the brutal crackdown, the security forces killed thousands of people and burned down nearly 400 villages.
There has been a rise in gender-based violence and reported sexual violence in the camps. A climate of impunity prevails as no formal justice system or accountability measures exist.
Most Rohingya refugees live in camps with population densities of less than 15 square metres per person. This is below the minimum international guidelines for refugee camps.
Moreover, Bangladesh has severely restricted the Rohingya's livelihoods, movement, and education. Hence, Bangladesh has closed community-based schools, arbitrarily destroyed shops, and imposed new travel restrictions.
International Court of Justice: Genocide Case Against Myanmar
In November 2019, Gambia filed a case before the International Court of Justice (ICJ). The case concerns Myanmar's alleged genocide against the ethnic Rohingya population in Rakhine State. The Gambian government alleged that the Myanmar military committed the genocidal acts of "killing, causing serious bodily and mental harm, inflicting conditions that are calculated to bring about physical destruction, imposing measures to prevent births, and forcible transfers intended to destroy the Rohingya group in whole or in part."
The ICJ hearings are the next step in this landmark case to break the cycle of violence and impunity. According to Human Rights Watch and the Global Justice Centre, this case could widely scrutinize Myanmar's longstanding international crimes.
What is the Rohingya Refugees' Future?
Myanmar Coup 2021
Prospects for the Rohingya people to return to their land have only grown dimmer following the Myanmar coup in February 2021. This has re-ignited conflicts in Myanmar and worsened the existing humanitarian crisis. The coup has further destabilized Myanmar triggering a nationwide civil disobedience movement.
Read also: Myanmar Coup: Why Are Soldiers Deserting The Military?
Since the coup, junta security forces have carried out mass killings, torture, sexual violence, and arbitrary arrests of the Rohingya. Rights groups claim this could amount to crimes against humanity. Additionally, over 1,500 Rohingya were killed since the coup was established. The Rohingya who are currently living in Rakhine State are facing systematic abuses. These abuses amount to crimes of apartheid, persecution, and deprivation of liberty.
Repatriate or Resettle?
The international community must help either repatriate or resettle the Rohingya people and end this ongoing humanitarian crisis. Moreover, the people in Bangladesh have already suffered enough. Thus, the international community must compensate them for their generosity in welcoming millions of refugees.
Jamal interviewed different community members at the refugee camp who spoke about wanting different outcomes for their futures. Some Rohingya want a dignified return to their land with equal rights and protection measures established. However, whether these protection measures could be effectively introduced remains uncertain. Other community members discuss their wishes to resettle in a third country with new opportunities and fundamental rights.
Final Thoughts
The international response to Myanmar's ethnic cleansing regime was fragmented and halting. Word leaders preferred quiet diplomacy that achieved little over strategic measures to place real pressure on Myanmar. We must establish a cohesive international response to protect the Rohingya people's fundamental rights effectively.
We hope for Jamal and all Rohingya refugees that one day they will have a safe and peaceful place to live. As Nelson Mandela once said, "to deny people their human rights is to challenge their very humanity".
The Nakba… the resistance continues
The "Nakba" is a term given by the Palestinians to the day on which the establishment of Israel was declared on most of their lands on May 15, 1948.
Over the years, preceding the "Nakba", the Palestinians were subjected to persecution, torture, displacement, the looting of their lands, and Jewish immigration to their land, with the planning of the global Zionist movement, and with the help of Britain, which was seeking to establish a Jewish state on the land of Palestine.
Also Read: Israel is and will always be a Crime against Humanity.
The Big Planning
The events of the Palestinian Nakba were brought about by the World Zionist Organization and Britain, which adopted the organization's project based on cancelling the rights of Palestinian Arabs in Palestine and replacing them with Jewish nationalism.
The establishment of the organization and the holding of its first conference was the beginning of the political "Zionist" work organizing the establishment of the Jewish state on the land of Palestine.
Britain's interest was preceded by the Jews themselves, in protecting them, as London opened a consulate in Jerusalem in 1838, and the first letter from the British Foreign Office to the Deputy Consul, in which it requested "to protect the Jews even if they are not British".
Jewish immigration to Palestine took on a more organized and intense character in 1882, following the escalation of the Jewish problem in Russia.
At that time, the Ottoman authorities that were ruling Palestine tried to prevent the Jewish settlement of Palestine. In 1887, they separated Jerusalem from the mandate of Syria, and placed it directly under the supervision of the central government, to give greater care and attention to this region.
"The Nakba" 1948
In 1948, the Jews established 292 colonies on the land of Palestine, and they formed military forces from the Hagenah, Irgun, and Stern organizations, numbering more than 70,000 fighters and preparing to declare their state.
On the evening of May 14, 1948, Israel announced the establishment of its state on the land of Palestine, and was able to defeat the Arab armies, and seized about 77% of Palestine, or about 20 thousand square kilometers and 770 thousand, of its total area of 27 thousand square kilometers.
Israel forcibly expelled 800,00 Palestinians, out of the 925 thousand Palestinians who lived in the area which it announced the establishment of its state.
Until 1948, the number of Palestinians in the entire land of Palestine reached one million and 400 thousand people.
At that time, the Zionists destroyed 478 Palestinian villages, out of 585 villages that existed in the occupied area, and committed 34 "massacres", and 5876 kilometers, represented by the West Bank, were annexed to the Jordanian administration, while the Gaza Strip, which has an area of 363 square kilometers, it was included in the Egyptian administration.
Massive arrests since the Nakba
The Palestinian Prisoners Club confirmed that more than a million Palestinians have faced arrests since the years of the Israeli occupation until now, and these systematic operations constituted the most prominent policies it has followed against the Palestinians and Arabs since its occupation of Palestine.

The Prisoner Club indicated, in a press statement, on the 74th anniversary of the Nakba, that the announcement of this number comes "despite the complex and difficult monitoring and documentation attempts during the Nakba, including the arrests carried out by Zionist gangs at the time, as part of an ethnic cleansing process, forced displacement and theft." for the Palestinian land.

He explained that despite the absence of accurate data on the number of detainees and prisoners at the time, there is an estimate that more than a million Palestinians have faced arrest since the years of occupation.
The Palestinian struggle continues
From the Nakba until this day, Israel has been able to kill, displace, demolish, and usurp Palestinian lands, but this has not diminished the determination of the Palestinians.
Also Read: A history of lies: Lying deliberately is Israel's modus operandi in the West Bank

From the first intifada to the battle of Sayf Al Quds and the daily individual operations, the Palestinian people are still resisting, and the right of return is still a forthcoming project.
The Palestinians confirm today, from the martyr Muhammad al-Durra to the martyr Shireen Abu Aqleh, that Palestinian blood will not be in vain.

Every drop of blood that falls on the Palestinian lands is a precursor to the upcoming liberation.
Impact of Technology on Human Rights
We are living in an era of disruptive technologies, witnessing incidents of human rights violations with the use of technologies. History always changes itself with the introduction of revolutionary technology. Introduction of technologies like Artificial Intelligence, Machine Learning, Big Data Analysis and IoT are such technologies that are changing the way societies are behaving, people's relationships are evolving, businesses are conducting and the overall future is being shaped.
AI has been considered a tool-free from biases in the human decision-making process. But many incidents show that the issue of racism and systematic discrimination are rooted in AI tools and technologies through its algorithms. Indeed, AI poses a greater threat to human rights violations of vulnerable sections of society by facilitating discrimination and hence manifesting a new wave of oppression and torture based on technology.
Racial Discrimination by AI Tools and Algorithms
It has been witnessed how AI-based face recognition systems repeatedly failed to provide equal treatment to Black people and even present them with a derogatory view.
Google Photos, an AI-Based advanced face recognition system 2015 categorised the photos of two Black persons as gorillas.
Researchers also revealed in their studies that algorithms that find out which patients need additional medical care underestimate the medical needs of Black patients enhancing the racial discrimination in the medical needs of Black people. This problem was highlighted in an AI-based medical decision-making solution provided by a leading healthcare services company, Optum.
This racial bias has been identified in many other leading companies' software and medical tools as well.
The algorithm was not intentionally racist but particularly excluded race when considering the medical needs. It considers only costs as criteria to determine the needs for future medical care. White people spend more on medical care presented that they would need more care in future as well. In this way, it is excluding the Black people for future medical care who already suffer from a lack of spending on necessary medical needs.
Now, the increased use of AI-based solutions could perpetuate digital bias in society and hamper the rights of equal treatment and the right to protection.
Many countries like Hong Kong, India, China and Denmark are adopting the AI-based face recognition system as a tool in predictive policing. But research points out that such tools are unevaluated for their inherited biases and further enhance the pre-existing discriminatory law enforcement practices in the policing system. It has been found that such face recognition algorithms have repeatedly put Black people at a higher risk of being perceived as a high-risk offenders.
Related Article: Techno-Racism: Technology Automating Racial Discrimination
Perceived Threats from Technology for Human Rights Violations
Data Privacy and Surveillance
It has a long history of collecting private data and information of citizens by the governments in the name of national security, economic stability and other social benefits. Now with the advent and intrusion of more advanced technologies, even private companies are collecting a huge chunk of personal, private and financial data of people in the name of serving them in their best interest. Sometimes even people remain unaware about their data being kept by the companies and bought and sold with other parties without their consent. This form of data theft and sharing is hampering the right to privacy. People should have complete control of their data and information. The government needs to be equally focused on issues of data control, privacy, surveillance, digital rights and protection along with the step-up of digital infrastructure.
Source of Unemployment
Universal Declaration of Human Rights under its Article 23, International Labour Organisation through Article 1(2) and International Covenant on Economic, Social and Cultural Rights declares collectively for the protection against unemployment and the right to work.
But rapid automation, AI and IoT based technological tools and business solutions are fast disrupting the industrial way of doing business. The future of work is seen as more automation based. Many researchers are already cautioning about the huge job loss in the future market due to AI-based automation.
Businesses are also willing to adopt advanced technologies to replace their human workforce for the achievement of more precision, fewer defects and errors, higher productivity, lesser cost and higher profits. One Chinese company, Changying Precision Technology, 2017 successfully replaced around 90% of its human workforce with machines and achieved great success by enhancing productivity by 250%. Likewise, Adidas is moving towards companies which are only robot-based.
This will force the people to engage in low labour wages and face less work opportunities. It will affect mostly the already vulnerable low and middle-skilled groups who depend on low wage jobs and manual work. But eventually, AI might disrupt every field and pose a threat to job security for all skilled and less-skilled workers.
It seems that technology may further divide the world into extremely poor and extremely rich sections of society. Thus it is highly required by the national and international governments to force a balance between technology and human relations so that human societies, work relations and their rights remain safe. Technology should be an enabler for humankind rather than a cause for its doom.
Restriction on People's Movements and Choices
It is the basic right of people to freely move. But many countries are using AI-based surveillance systems to check on the illegal activities and movement of the people. But such systems are placed in areas without people's knowledge with underlying biases toward Black people, refugees and migrants. In the name of community policing and predictive policing, such surveillance are only creating mistrust between the police and the community members.
In addition, countries like the USA are employing cameras to take pictures of people inside the vehicles while entering and leaving the country.
Key Takeaways
Technology should not aim to reduce humans to just a string of 1's and 0's in the database and dictate the control of machines over them without considering the ethical, emotional, and psychological dilemmas and needs.
Machines can not replace the human wit, intelligence, emotions and decision-making ability that needs humane rationale.
It is important to consider and use technologies as an enabling hand to humans rather than degrade their position in society by amplifying pre-existing biases of race, status, nationalism, gender or religion.