Rohingya refugees: how long will their suffering be overlooked?
The horrendous tales of Rohingya refugees' sufferings permeates in what is known as the world's largest refugee shelter. Cox's Bazar, a region situated at the southeastern part of Bangladesh shelters thousands of Rohingya refugees from Myanmar.
The growing population in the camp is concerning the government; and is now shifting the thousands of atrocious refugees in a remote, low-lying island in the Bay of Bengal; an area exceedingly prone to flooding and cyclone.
In the middle of the ongoing chaos; a new study's report dictating the aggravating mental health of traumatized refugees is nerve-racking.
Myanmar military crisis, 2017
Antonio Guterres, UN Secretary-General defines Rohingya as, "one of, if not the, most discriminated people in the world". Now numbering less than a few in million; before 2017, Rohingya Muslims were one of the many racial minorities and largest Muslim community in Myanmar; a predominantly Buddhist country.
Despite a considerable population existence; the Myanmar government deny citizenship to the Rohingya community, claiming them to be illegal immigrants from Bangladesh.
Long before the evacuation, due to racial discrimination and violence, hundreds of Rohingya have been fleeing out of the country. The governmental exodus begins on 25th August 2017 post the deadly attack on 30 police post by the Rohingya Arsa militants.
According to Médecins Sans Frontières (MSF), a medical charity group, more than 6,700 Rohingya; including an estimated 730 children were murdered in the military crisis of 2017. Police forces and local mobs attacked and burned Rohingya villages into ashes. Rape and sexual abuse of women by military forces of Myanmar were also seen in the confrontation; according to Amnesty International.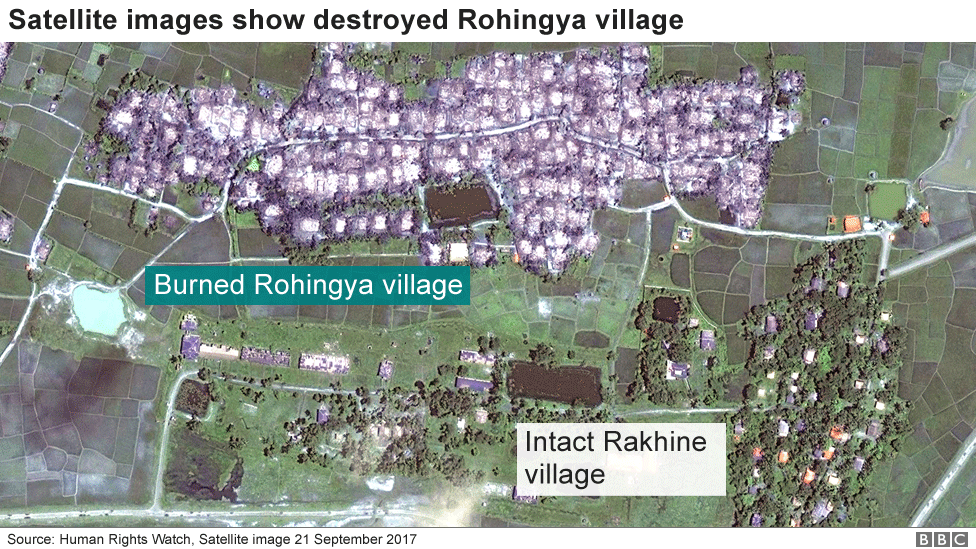 In 2018, the UN investigations' published report accused the country's military of "intended genocide"; the government was trying to carry out "ethnic cleansing". The case against the Myanmar military known as 'Tatmadaw' was also filed in the International Court of Justice (ICJ) by other Muslim countries.
Though, the Myanmar government denies any such genocide and says that the military was just executing the Rohingya militants. To this date also, the conflict between the military and the rebellion Buddhists of the Rakhine ethnic group.
Rohingya Refugees: Escaped for life
Hundreds of thousands of Rohingya refugees immigrated to Bangladesh during and post the military confrontation. All the refugees were living in Kutupalong, the largest refugee camp in the world, which shelters more than 600,000 refugees.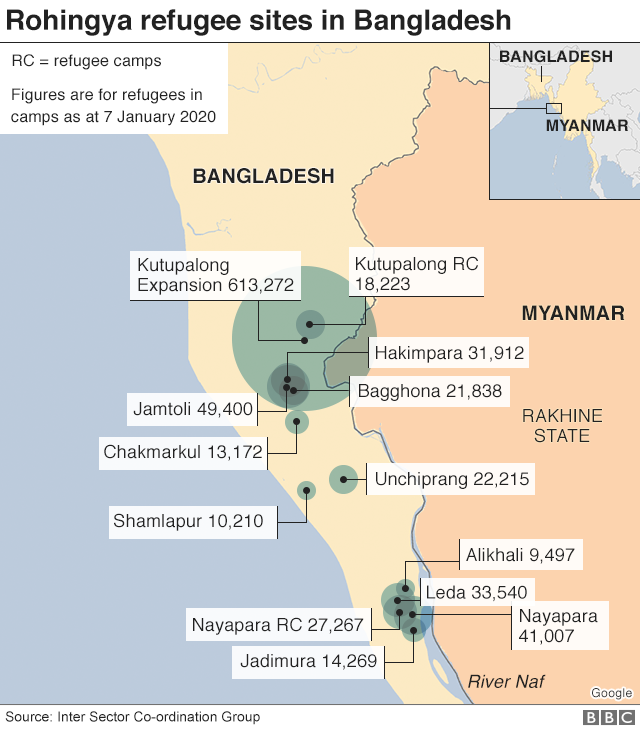 Already, Bangladesh is the most densely populated country in the world; witnessing the huge number of immigrating refugees, in 2019 the country's government set forth that they would no longer accept Rohingya refugees from Myanmar.
Each hut in the refugee camp holds horrifying stories of the genocide, their pain, and suffering to this day in unfathomable. Now with the controversially shifting them to the newly surfaced island of Bhashan Char is causing more distress amongst the already terror-stricken refugees.
Despite human rights groups claiming, the island not being safe for survival, with almost no facilities at all; on 4th December, the Bangladesh government transferred 1,642 Rohingya refugees from the camp to the wrecked muddy island, no bigger than a large city park.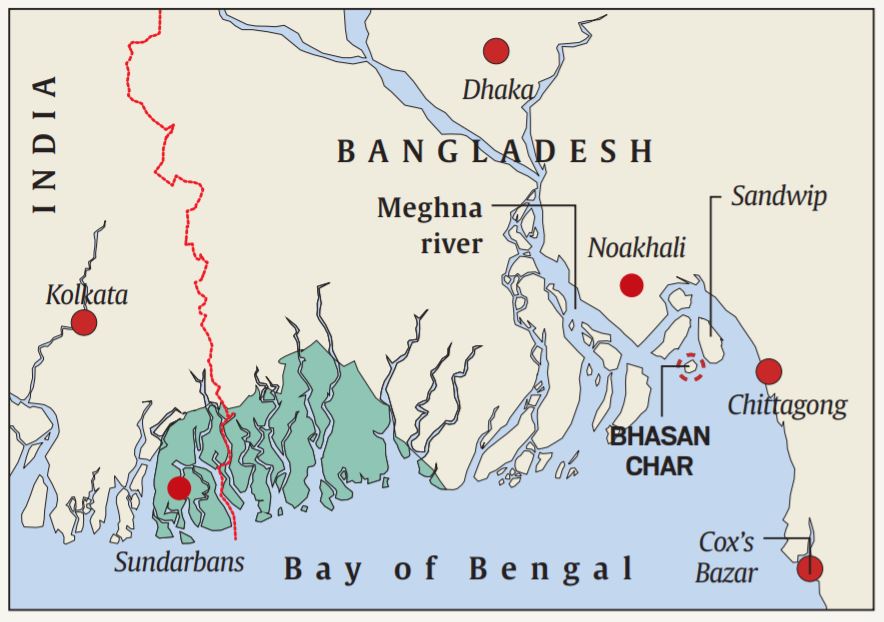 Though engineering firms from china tried to make the island suitable for human inhabitation aid agencies are still not satisfied and worry about the uncertain conditions of the island.
The worsening mental health condition
A new survey reports published on Thursday reveal that the genocide and poor live conditions in the camp have led to "severe mental health crisis" amongst the survivors not only in Myanmar but also in Bangladesh. The numbers are staggering if not surprising.
88.7% of Rohingya refugees shows either mild or severe symptoms of depression.
84% exhibit symptoms of emotional distress.
61.2% indicates symptoms of Post-Traumatic Stress Disorder (PTSD).
The report is a 99-page study, made after research conducted from March 2018 to November 2020 and was published by Fortify Rights. The title or the paper read; "The Torture in My Mind: "The Right to Mental Health for Rohingya Survivors of Genocide in Myanmar and Bangladesh".
The report also says, "91.3% of Rohingya refugees in Bangladesh face some level of difficulty carrying out common daily activities, such as maintaining basic hygiene, engaging in social or religious activities, or performing other daily tasks. Of those who experience functioning difficulties, 62.3% attributed these difficulties to their ailing mental health".
Some work is being done by the Bangladesh government, but it is not answering the needs of the refugee's Mental health. Now, shifting to a completely remote place will make their condition more abysmal.
Hunting a way out for the distressed Rohingya refugees
According to Dr Ambia Parveen, chairperson of the European Rohingya Council; the best solution to the crisis is peaceful and dignified reparation of Rohingya to Myanmar; she added: "Resettlement or relocation to an island or any other mechanism is not the sustainable solution to our crisis".
But returning to the place where, they have lost so much would surely not be easy. Many believe that genocide against Rohingya is still going on in Myanmar.
Dr Parveen says, "If the Rohingya sheltered in different countries mainly in Bangladesh are not returned to their home country Myanmar with citizenship rights and safety, it may prompt some other countries to operate the equal type of persecution against their minority people".
244 Million Out of School Children (Where's Their Right to Education?)
Education is the most basic right of every child. But for a staggering 224 million out of school children, education is a luxury they can't afford.
That's why, through this article, we are debunking the false mirage of all the "development in educational" and shedding light on:
The current status of such millions of out-of-school children
Major driving forces behind the education crisis globally
Potential solutions
244 Million Out of School Children Globally
In 2022, a UNSECO report displayed that over 244 million children and youth between 6 and 18 won't start a new school year, with the most out-of-school children in the Sub-Saharn region (98 million).
Research has shown that children are the first to bear the brunt in today's war-torn world and calamities heightened by skyrocketing inflation and extreme climate events.
Though the numbers have come down after the sharp COVID-19 (290 million), the current wars, inflation, and climate change have left aid organizations responsible for financing universal education without sufficient funds.
Throughout the globe, there are various factors causing children to drop out of school, with some countries being hit harder than others. Nigeria, Yemen, and Afghanistan, in particular, are grappling with a staggering increase in the number of out-of-school children, largely due to the following underlying reasons.
High Inflation – Low Economic Safety
For parents unsure, if they'll have a next meal, sending children to school is the last thing on their minds. For example, over 80 million people in Nigeria live below the poverty line. This has led the country to one of the worst national education crises.
"I miss my teacher, friends, and all my schoolmates."

10-years old Treasure, Nigeria (source: Frace 24 English)
Security threats, extreme poverty, and lack of public schools contribute to Nigeria's education catastrophe. Like Treasure, 20 million Nigerian children are out of school, making them highly vulnerable to child labor, abuse, and underage marriages.
8-Year Long Civil War
In Yemen, out-of-school children are at increased risk of exploitation – being forced into civil war (child soldiers), early marriages, and child labor.
Mansour, a 16-years old boy, broke his spine in an accident at work in 2019 and has been unable to walk since. Once, Mansour went to school, studied, and regularly met his friends. Now, he is completely dependent on his mother for everything.
And Mansour is not alone.
Yemen's war has forced 2 million children out of school, wrecking their future. Moreover, 3.7 million Yemen students consistently miss school due to the withholding of teachers' salaries (almost 2-3rd of Yemen's teachers have not received their salary in seven years).
Taliban Takeover
Since Taliba's takeover in 2021, Afghan women over the age of 12 have been banned from school. With the new academic year starting in March, hundreds of thousands of teenage girls remain barred from classes.
Today, 80% of Afghan girls and young women (2.5 million) are banned from school. Out of which 30% have never even gained a primary education.
Despite repeated claims of reopening schools and universities for women, the Taliban (the de facto government) has failed to follow through. The group made similar claims during its previous rule from 1996 to 2001, but the girls were banned throughout the five-year rule.
"(the ban)takes away their ability to participate in their community in a way where they can ultimately have jobs, become doctors or teachers."

Catherine Russell, Unicef (Source: al Jazeera)
While the international community has made the right to women's education the critical condition for aid negotiation, the Taliban is only giving empty promises in return.
Can Out of the School Children Crisis be Solved?
The out-of-school children problem is multifaceted and diverse. Almost every country's fraction of students don't go to school, but the numbers are significantly high in war-torn and under-developed countries. Even for students who are going to school, the quality of education and learning opportunities in such countries is vastly different.
According to a recent study by the world bank, these children are at the Irish of losing $17 trillion in lifetime earnings. And unless actions are taken, learning losses will continue to endanger the future of these children, nations, and the world.
Experts advise that providing school meals to students will encourage poverty-ridden families to send their children to school for food. But this will need funding from international governments and organizations.
Education- A Fundamental Right
The world has come a long way in making education a fundamental right. From only 1 out of every ten literate individuals two centuries ago to today's 9 in 10 adults with essential reading and writing skills – we've made progress.
But, to tackle the current and looming world problems in the 21st century and beyond, we'll need a strong team of educated people. It's hard to imagine that even today, millions of children are growing up without the opportunity for education that we had. But the reality remains the same.
So, yes, we've come a long way, but a lot of work is still left to make education a fundamental right for every child globally.
Israel's intense Practices to Uproot the Palestinians in Jerusalem
Palestinians experienced the bloodiest and most brutal year of all time in 2022. They witnessed an unprecedented increase in the number of settlers, settlement expansion, martyrs, and confiscation of lands, especially in Jerusalem. The occupation's relentless endeavours aim at uprooting the Palestinians in Jerusalem by controlling more Palestinian lands. They try to impose facts on the ground by building and expanding settlements and legitimizing building settlements, especially in Jerusalem.
Jerusalem is like no other city in Palestine. Israel's ideology puts more greed in Jerusalem than any other city in Palestine. The focus on Jerusalem pictures a conflict between two histories, two geographies and two very different identities. It includes the Palestinian Arab native and the trespassing zionist. Accordingly, Israel's ideology directs at eliminating the cultural landmarks of the capital or the Holy City. In addition, it aims to fake history aimed at reshaping the city with its exclusive Jewish output. They make it after erasing the Arab historical identity and its expression of Christian and Islamic diversity. Consequently, taking into consideration all intense practices to uproot the Palestinians in Jerusalem.
Geographical and Demographical Judaization
Israel's Jewdization ideology plan started its first steps in Jerusalem by initially cutting off Jerusalem from its perimeter. Their point was isolating Arab Jerusalemites from their civil, national and administrative institutions and from any activity that would maintain their interdependence. Their first planned step was initiating a vast campaign to isolate Jerusalem from its Palestinian surroundings, politically, geographically, economically, socially and demographically. They also erected the apartheid wall around the Holy City as well as settlement belts around it entirely. Israel also constructed and strengthened settlements in the heart of Arab neighbourhoods and the Old Town in Jerusalem.
Read more on this: Israel is Hiding Crucial Demographic Facts About Palestinians
Land Confiscation
Moreover, Since Israel's occupation of Jerusalem in 1967, Israel has begun confiscating lands inside Jerusalem, and other Palestinian cities until it expanded to the ghetto of the Old Town which Arabs inhabited and had no trace of Jews. Land confiscation expanded until it reached the Mughrabi neighbourhood, Beit Safafa village, Beit Jala, al-Nabi Ya 'qub, and Sheikh Jarrah area lands. Land confiscation has been happening and still happening until this day under Israel's false pretexts. Israel has also promulgated legislation and laws prohibiting construction in large areas covering various areas of the city. In addition, they have announced other areas as "green areas" for no building.
To this day, The Israeli occupation exploits the classification of Palestinian lands according to the Oslo Accord (a, b and c) to tighten control over Palestinians, especially in areas classified as (c) under its full control over security, planning and construction. Israel's occupation directly exploits 76% of the total area classified as (c); 63% of which regional colonial councils control. Equally important, the areas confiscated for military bases and military training sites represent about 18% of the West Bank area, as well as the apartheid wall and expansion that isolated more than 10% of the West Bank area.
Shamelessly, Israel's military forces forcibly expel Palestinian citizens from their homes, inhabit them by Jewish settlers arriving from abroad, and transfer Palestinian properties to the settlers. For example, Sheikh Jarrah's neighbourhood has been suffering from this issue. In 2008, the occupation authorities forcibly expelled the first Palestinian families from the neighbourhood and were repatriated by Jews. They expelled the Al-Ghawi family by force of arms from their homes in the Sheikh Jarrah neighbourhood. To date, 28 Palestinian homes remain threatened with expulsion and transfer of their homes to settlers.
Demolishing "Unauthorized Construction"
In order to build homes in East Jerusalem and Area C, Palestinians must apply for a permit from the Israeli authorities, who control these areas. The vast majority of demolition orders are issued because a home or structure has been built without an Israeli permit. Every year Israel demolishes hundreds of Palestinian homes under the pretext of what Zionists call illegal construction in East Jerusalem (unauthorized construction).
Zionist authorities impose doubled penalties on Jerusalemites such as high financial fines reaching tens of thousands of shekels, actual imprisonment, and instructions requiring Jerusalemites to prove ownership of their land by highlighting the land registry. They would also oblige Palestinians to obtain the consent of their neighbours including the Mukhtar of the village or the village chief. Generally, demolition orders are based on false pretexts that Israel considers demolishing their homes itself or even making the situation harder by issuing self-demolition for the Palestinians.
Residence, Mariage, and family reunion
In order to maintain its grip over Jerusalem, Israel took racist Judaizing uprooting practices for the Palestinians in Jerusalem. They included the withdrawal of Jerusalemites' identities, based on a series of racist regulations, laws and judgments. This policy abolished the residence right of Palestinians living in Jerusalem, on the outskirts of Jerusalem, and outside Palestine. In that case, when the families of the banned Palestinians from entering Jerusalem apply for permission to visit them, they grant them an exit permit without returning, nonetheless.
Israel has also applied a compulsory approach to students studying outside Jerusalem. It requires them to renew their identity cards in a manner that disrupts their studying. The right of residence is revoked for those who spend seven years outside Jerusalem for the sake of education. Israel can, under its laws, easily deprive any Palestinian of residence in the city. Internal staff shall apply these instructions automatically without referring to any other reference.
Apart from this, Israel prohibits Palestinians from marrying or reuniting with their spouses from the West Bank and Gaza. As racial discrimination reflects the demographic conflict between Israel and the Palestinians. Consequently, all these tyrannical practices serve the interest of Israel to forcibly uproot the Palestinians in Jerusalem.
For more: Israel Has No Right to Exist if Palestine Has No Right to Exist
General view
Psychological warfare is Israel's best-known ideology for uprooting Palestinians to clamp down on Palestinians compelling them to leave their lands. Palestinians will never forget Israel's true face. They will never forget the execution of the veteran journalist Shirin Abu Akleh. They will never forget the illegal assassinations, willful injuries, arbitrary arrests, torture and other ill-treatment, persecutions and collective punishments against Palestinians, including many children. violence has always been a key feature of Israel. Palestinians will never forget. And they will never forgive.
The Crises of Multiculturalism In Europe And The Question Of The Muslim Immigration
The Crises of Multiculturalism in Europe
In the part of the world considered to be the West, multiculturalism initially originated in the nineteenth century in the American context. Even then it was a broad phrase that was difficult to define since it has descriptive, strategic, and normative connotations. This discussion to this date still often pops up in political debates and government gatherings in Europe aimed at discussing what all things should be considered to encompass it. However, the generic definition refers to a society's cultural, ethnic, and religious variety on an empirical level and clearly differs from monoculturalism or the presence of only one culture in a society. To understand the crises of multiculturalism in Europe, its important to understand generic meaning of multiculturalism.
Terence Turner, an anthropologist at the University of Chicago attempts to define multiculturalism in his 1993 essay in the following terms:
"In calling for the formal equality of all cultures within the purview of the state and its educational system, multiculturalism represents a demand for the dissociation (decentering) of the political community and its common social institutions from identification with any one cultural tradition." (Turner)
Unlike other western countries such as the United States, Australia, and Canada, European countries were not very quick to welcome cultural diversity until the late twentieth century. Even the contemporary reality of Europe, keeping in view particular incidents like hate crimes in places like London and Germany against Muslims to the passing of laws such as the veil ban in France; dictates a crises of multiculturalism in Europe.
Read here, The Scope of inter-religious pluralism within Islam
When did European Nations Embrace Multiculturalism?
It is a widely held belief that European nations did not outrightly embrace multiculturalism until the late twentieth century. And that it was specifically the post-war immigration and country-specific measures to integrate incoming immigrants seeking asylum in Europe that preceded this newly approved transformation. As a result, when considering crises of multiculturalism in Europe, multicultural policies and in fact understanding this colossal concept in its entirety are almost always limited to the integration of immigrants who arrived during the post-war wave of migration.
The tense relationship that Europeans have with religiously and ethnically diverse minorities, notably Muslim immigrants, is at the center of both national and international discussions and disputes.
These current disputes and the debatable state of Muslim minorities in Europe, however, cannot be understood in isolation solely from the point of view of the present migrant or refugee crisis.
Even before the tragic 9/11 attacks or attacks in other parts of Europe like the London bombings on 7 July 2005 referred to as 7/7, ethnic and religious conflicts had already begun to prompt a reconsideration of multiculturalism as a sustainable ideology for Europe.
Multiculturalism, on the other hand, has become ingrained in most European countries' daily lives and it won't be incorrect to say that it cannot possibly be entirely reversed. However, issues arising at both the institutional and decision-making levels, as well as on the societal level through general public opinion, have made daily life more difficult for Muslims of various ethnocultural groups who are either living or wish to live their lives according to their religious and cultural traditions.
Also, read Communalism and Economic Marginalisation of Muslims
The question of Muslim migration in Europe
Europe has seen a record surge of asylum seekers from countries that are predominantly Muslim in recent years. This influx of Muslim migrants has sparked a huge debate in some nations concerning immigration and security policy, as well as concerns about the existing and future numbers of Muslims in Europe. The crises of multiculturalism in Europe is dictated to a very large extent by the question of the Muslim migration. Migration has been a contentious subject almost since the time of its inception.
But the more intriguing debate around the question of migration is always the largest influx of Muslim migrants. However, it is important to understand the history of Muslim migration in Europe. There are primarily two reasons why Muslim migrants were coming to Europe in large numbers and at a fast pace.
The first reason was the economic migration of Muslims from third-world countries in search of jobs and earning opportunities. The second reason was the numerous and continuous wars in predominately Muslim nations that pushed the fleeing Muslims to migrate to Europe.
Read here, Islamic Democracy: Is Democracy Compatible with Islam?
Economic migration of Muslims from third-world countries
Those who had previously left their nations in quest of work, social benefits, and greater earnings were the earlier migrants. The vast majority of these first-generation migrants arrived from third-world countries in the 1950s and 60s when they were young and looking for work. They had no intention of settling permanently, rather they only planned to come to earn enough money to save in order to send it back home. These migrants rarely got white-collar jobs and usually were restricted to doing manual work in factories and industries regarded as the "unprofessional work sector".
Overall, these migrants helped towards the economic prosperity of many European countries by building railroads and roads, cleaning and maintaining the streets, government, and private offices, working in coal mines and industries, and taking up occupations that Europeans were unwilling to do themselves.
In Western Europe, there was no "migrant crisis" till then and, by extension, no "Muslim migration influx" until 1970 as such. In public spaces, migrants were mainly unnoticed, and Europeans were not only insensitive but indifferent to them. These migrants did not explicitly exhibit any radical or specific religious obligations, nor did they demand any space for it, since they did not want to dwell permanently in Europe.
Muslim migrants were not explicitly discriminated against or prejudiced due to their identity because they contributed to the well-being of European societies. While there was classism as well as racism, there was no manifestation of anything that would be recognized as Islamophobia. In short, migration was regarded as a benefit rather than a burden, and even less so as a threat.
Read here, The Forgotten Jammu Massacre
Muslims fleeing war and conflict in predominantly Muslim Nations
The second reason for the Muslim migrant influx in Europe is people fleeing war and conflict zones. Millions of people have been forced to escape their homes around the Muslim world due to a variety of such factors, including interstate conflicts, civil wars, US-led military campaigns in Afghanistan and Iraq, in addition to a variety of other natural calamities like earthquakes and Tsunamis. Many people have crossed national boundaries and are now living as refugees in neighboring nations. Most of these migrants however preferred to go to European countries in search of asylum and larger educational and earning opportunities, but besides everything for a safe war-free environment.
While fleeing war and death in their own countries millions of Muslim migrants are still in limbo waiting for confirmation on whether they can make stable lives for themselves in European countries. However, many of the migrant Muslims who were seeking asylum in Europe and did actually manage to get in are still unsure if they can call Europe their home.
Despite the fact that the Muslim migrants were escaping war, they were later subjected to intolerance, discrimination, and violence in the countries in which they sought refuge.
Since, unlike the earlier economic migrants, these migrant Muslims came to Europe looking for a place to call home, they were exhibiting their religious identity in public, and it did not settle well with the Europeans this time. These Muslims living in Europe were started to be seen as outcasts based on the visibility of their "Muslimness'. Any outward display of Islam like the wearing of a hijab by Muslim women or the growing of a beard and wearing a skull cap by Muslim men started to be seen with contempt and resulted in the phenomenon of Islamophobia. While the roots of Islamophobia are widely contested, it only came to be recognized as an existing phenomenon around this time.
Also, read How Practical is the Secular Democracy of India? Curbing of Religious Freedom in Kashmir