Bride Slaves: the living nightmare of thousands of women in India
Human Trafficking, a felony that most of the people feel aversion towards but in some distant rural part of India this sinful offence has been going on for ages and still subsists. Women are being trafficked from other states or countries to become bride slaves.
But despite numerous efforts by the governments and organisation from around the world how has it managed to thrive till date?
Slavery
Slavery had been a sickening part of world history and can be dated back from as early as 3500 BC among Sumer in Mesopotamia. Today, except for penal labours, all from of slavery is illegal. In spite of this Human Trafficking remains to be an international concern.
About 40 million people worldwide are enslaved, according to a data released in 2019; 38% of which are in forced marriages. According to data from the National Crime Records Bureau, 2016; 33,855 people are trafficked either kidnapped or lured for forced marriages, half of which were underaged.
Paro: bride slaves of Haryana
The misogynist attitude of India's rooted patriarchal society has led to fretting sex-ratio in various states. The state that stands first in the queue is Haryana, with 831 women per 1000 men. In this states, women are not safe after birth but soo are not before birth; because of female foeticide, baby girls vanish from mother's womb without a trace.
This has caused a severe lack of women in the state, leaving thousands of men without a wife. To fill this gap thousands of women around the country are being trafficked and then sold to becomes bride slaves (paro) for the rest of their lives.
Usually, these victims are trafficked from extremely poor states like Assam, Bengal, Jharkhand and Bihar. They are either kidnapped or the victim's family is lured with money in exchange for their daughter and with a promising luxurious life for their daughter.
Hasina
Hasina was 14-years old when she was trafficked from Kolkata to Gurnawat Haryana where she was married to a man 25-years older than her age.
She is now 25 and has no remembrance of her past. She lives in a small hut without any water or electricity supply with her 4 kids, two sons and two daughters, whom she is raising singlehandedly. Hasina toils on the field to feed her family.
Tahmina
Tahmina was 13-years old, when her own elder sister along with her husband trafficked her to Haryana, 2000 Km away from her hometown, away from her mother. Where she was forced to marry a man 30-years older than her.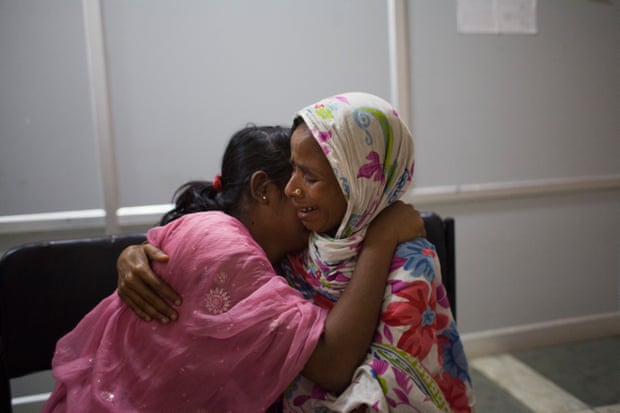 An anti-trafficking charity, Empower people have helped her to escape and reunite with her mother. When she met her mother, she was so terrified that she couldn't talk. After some time she dictated the horrific incident that happened with her. She just drew on a pink paper where she wrote that she was sold for 50,000 INR.
She said that her sister promised her to take to Delhi, but instead they took her to Haryana. Tahnina says, "They took me to Haryana and kept me in a room. Strange men were coming to see me and offering money and my own sister was outside that room knowing what was going to happen to me".
Contact Marriages: bride slaves in Hyderabad
Other than Charminar Fort, Hyderabadi Biryani and Hossein Lakes; the capital city of two states Andhra Pradesh and Telangana, Hyderabad is also famous for contracts marriages. For decades the city has been selling women, usually underaged to the foreigners visiting India on visitor's Visa.
Muneera Begum, 2009
Muneera Begum was 11-years old when she was married off to a 75-years old Omani man by her stepfather. She recalls that all her stakeholders; her mother, stepfather and the agent were paid 15000 INR for the deal.
Promptly after the nikah, she was taken to a hotel, where she stayed for two months. In the duration, she was brutally tortured physically and mentally by her husband. After two months his husband sent her back to her parent's home and he fleed back to Oman.
Three months later the incidents, after finding herself pregnant; through the agent who made the deal at the first place Muneera tried to contact her husband only to hear 'Talaq, Talaq, Talaq.'
Muneera is not an isolated case
What happened with Muneera is not an isolated case every year thousand of such deals take place in Hyderabad. The victim is either abandoned after a certain period or flee with their owner overseas as bride slaves.
According to Shaheen Women's Resource and Welfare Association, a Hyderabad-based association that is trying end malfeasance of contract marriages; in the year 2017, 2018 and 2019 there have been 153, 83 and 66 registered cases of contract marriages respectively. But the Association believes that the true numbers are much higher, as most of them go undiscovered.
Rachakonda Police Commissioner, Mahesh M Bhagwat says in his statement; "Many men from West Asia come here on 15-day visas as visitors, solicit girls and then leave the country. It becomes extremely difficult for us to catch these people once they have left the country because the embassies often don't cooperate and there are other protocol issues"
Bride Slavery: The long-lived tradition
The above cases are not stories, but the realities of thousands of women who till date are living a miserable life as bride slaves. A documentary publishes in November 2016 shows that most of these cases don't end well. Some of these victims are even sold twice or thrice while in some places, one woman is married to 3 or 4 men together.
For very long these bride slaves have been treated as commodities, which once used can be passed to others or when bored can be abandoned. Slavery of any kind in an indictable crime legally but above that, it is a violation of human rights.
Israel is hiding crucial demographic facts about Palestinians
For decades,  Israel has been hiding crucial demographic data and facts about the Palestinians West of the River Jordan (Israel proper, the West Bank, including East Jerusalem, and the Gaza Strip). During this period, Successive Israeli governments consistently sought to inflate the number of Jews while deliberately belittling the number of Palestinians.  The purpose of this manifestly racist and still-ongoing policy is to portray the Palestinians as an insignificant and shrinking minority.
"The Palestinian womb is overwhelming Israel"
Demographic facts and data are considered Israel's best-guarded state secrets.
However, from time to time, Israeli officials make racist statements reflecting Israeli anxiety toward the growing Palestinian population and Palestinian demographic data and facts.
 Moreover, the toxically racist Israeli media normally resort to "Statistical manipulation" to ensure the pathologically insecure Jewish citizens that Jews are still a large and growing majority of the population.
This week, a senior doctor at the Soroka hospital in Beir Sheva in Southern Palestine was quoted as saying that  "the Arab womb is overwhelming the Jewish public" in the country.
The doctor, Gideon Saar, a cardiac surgeon, was recorded on video, saying the remarks during an election gathering to promote the notoriously racist former Justice minister Ayelet Shaked.
Short is the robe of lying!
As we all know, mendacity has always been and continues to be Israel's modus operandi and ultimate lifeline. Israel lies about almost everything, from how it came into being to its possession of nuclear weapons. So, we shouldn't be surprised a bit to discover Israeli efforts to cover up demographic realities in occupied Palestine.
Indeed, lying rather obscenely is simply an integral part of being Zionist.
Read Also: Is anti-Semitism essential for the survival and growth of Zionism and Jewish peoplehood?
Honesty and being Zionist are eternal oxymorons and shouldn't be used in the same line. Israel lies as often as Israelis breathe.
Rare admission:
In 2014,  the Head of the Military Administration in the West Bank, euphemistically called the Civil Administration, made a rare admission when he pointed out that the number of Palestinians between the River Jordan and the Mediterranean exceeded the number of Jews. 
The admission has since been confirmed by many Israeli scholars, including Sergio Della Pergola, an Italian-Israeli demographer and statistician.
Some irate right-wing officials dismissed the shocking demographic revelations as "spurious and distorted." But Della Pergola, a Hebrew University Professor, dismissed these right-wingers as "delusional."
Three out of four Russian immigrants are "non-Jewish"
According to the Israeli media, it has been revealed by official Israeli circles that hundreds of thousands of "Jewish" immigrants from the former Soviet Union are actually "nom-Jewish" according to the so-called "Law of return." The Ynet English website on 17 November, 2002,  reported that in 2020, three out of every four Russian immigrants were actually non-Jewish.
The "shocking" report came  after leaders of the religious and fascist Jewish parties, which won the recent elections in Israel,  expressed intention to amend the  Law of Return and reopen the sensitive question of who counts as Jewish according to Jewish law or Halacha.  According to the Jerusalem Post, only 28% of Jewish immigrants from the former Soviet Union were actually Jewish. The same source reported that between 1990-2020, the percentage of truly Jewish immigrants didn't exceed 36%. 
Palestinians have a clear majority
Today,  data shows that the existence of a Palestinian demographic majority west of the River Jordan (Israel and the occupied Territories) is a clarion fact that only the willfully blind refuses to see. In fact, if we deduct around 500,00-600,00 non-Jewish immigrants from the former Soviet Union from the projected Jewish population, the Palestinian majority becomes an axiomatic fact that even the most dishonest Israeli politicians wouldn't deny.
According to Palestinian and Israeli experts, the Palestinian population today exceeds the Jewish population by at least 300,000 people.
However, some hot-tempered Israeli leaders and pro-settler circles keep indulging in prevarication, statistical sophistry and outright lies to produce an otherwise rosy outlook.
Apartheid to make "them" out of sight and out mind"!   
Israel, especially the so-called  "deep state,"e.g.,  the hawkish security establishment, has been using a variety of criminal tactics to neutralize the problem. These tactics include the following:
1- Denial and concealing crucial Palestinian demographic data and facts, classified as "top secret"  from the general public, while making the classified data available to top politicians, like the Prime Minister, the President, and Mossad Chief. Moreover, military censorship has been barring the normally-liberal Israeli media from discussing the matter or making "harmful" Revelations.
2- Maximizing systematic persecution, repression and state sponsored-terrorism against the Palestinians for the purpose of coercing them to emigrate as the Zionist gangs did in 1948, when 750,000 Palestinians were forced to leave following the perpetration by Jewish terrorists of genocidal massacres like Dir Yasin, Tantura, Dawaymeh, etc. Indeed, for decades, Israel claimed the refugees were not expelled but left voluntarily.
Read Also: Rectifying Nuclear Imbalance with Israel should be a strategic priority for Egypt, SA and Turkey
3- Confining as many Palestinians as possible to the smallest possible territory.
4. Refusing to grant non-Jews building licenses to construct a home in (Area C) of the West Bank, which constitutes more than 65% of the occupied territory.
5- Demolishing Palestinian homes in the contiguity of Jewish colonies or in areas coveted or slated for settlement expansion. It is estimated that Israel demolished more than 50,000 Palestinian homes in Gaza and the West Bank since 1967.
6-  Applying two sets of laws, one lenient, another harsh and draconian, to  Jews and Arabs living in the same area, even the same neighbourhood.
Yet Zionist Jews bark furiously and uncontrollably like rabid shipyard dogs whenever someone calls the racist entity apartheid? Do they want the world to celebrate with them their "exemplary egalitarianism" and the kosher savagery meted out to the helpless and virtually abandoned Palestinians whose only "crime" is their being goyem and therefore un-kosher? Is this the way Jews are supposed to pay back for Muslim protection for many centuries in the Middle East, North Africa, Turkey and many other places?
I advise doubting Jews to read "the Jew and the Cross" to realize the huge difference in the treatment Jews received under Islam and Christendom. ( see The Jew and the Cross – Dagobert David Runes).
Exercising some honesty and rectitude is always beneficial and rewarding.
7- Israel has been manipulating statistical data and demographic facts to give the impression that the Palestinians are not actually a nation, but a cacophonic set of sects and tribes with very little common bonds.
Thus, Israeli statisticians divided Palestinians into Muslims, Christians, Bedouins, Jerusalemites, Israeli Arab citizens, and Circassians. Samarians, etc.
This sort of statistical mutilation is not met with a reciprocal sub-categorization when dealing with the Jewish community which has far more ethnic and religious heterogeneity. For example, the Orthodox Chief Rabbinate doesn't consider a majority of American Jews (Reform and Conservative Jews) to be bona fide Jews. Orthodox Jews, who are in control in Israel, routinely quarrel and scuffle with Reform and Conservative Jews at the Western Wall esplanade, shouting obscenities at them and calling them abusive epithets like "Goyem" (non-Jews) and "Notsrim" (Christians).   
Demographic holocaust
One might wonder how Israel would deal with its demographic dilemma in the medium and distant future. Some Israeli leaders, especially within the jingoistic religious messianic circles don't hesitate to use far-fetched explosive terms like "demographic holocaust" to describe the Palestinian demographic advantage.
The scandalously corrupt analogy between one of the greatest tragedies in the history of mankind on the one hand,  and the survival and growth of the Palestinian people in its own ancestral homeland on the other,  cheapens the holocaust and seriously corrodes international efforts to combat true, virulent anti-Semitism. It also exposes the brutal ugliness of the Zionist mindset.
Unfortunately, we Palestinians have learnt that nothing can be dismissed as unthinkable as far as the depraved Zionist mentality is concerned. Indeed, a state that shamelessly argues that Jews have an inherent right to be racist "because they are a special people" can do anything, however ghoulish and nightmarish or diabolic it may be.
That is why, the Rabbis of Gush Emunim, who represent religious Zionism, declare openly that the solution for the Palestinian problem is a combination of three measures: Transfer or collective deportation; a tight, humiliating apartheid regime; and\or a war of extermination. Frankly, I prefer to believe these evil rabbis rather than notorious pathological liars like Netanyahu, Lapid, and Biden.
Delhi Air Pollution: 18 Million People at the Risk of Severe Health Problems
Delhi Air Pollution: Delhi, the capital of India, is one of the most polluted cities in the world. But winter is especially cruel here. Each year, October, November, and December bring together an exceptionally dirty environment, where over 18 million people are forced to live with a quilt of smog covering the capital and nearing cities.
2022 is nothing different. With the Air Pollution Index (API) at 337, the condition of Delhi's environment is worsening.
The big question now is: what causes such disastrous air pollution in Delhi? What are the inferno reasons that pollute the air of entire northern India? And how are Delhites coping with the pollution?
An Overview of the Problem: Delhi Air Pollution
According to an India Today Web Desk article, Delhi has topped the list of the most polluted cities worldwide for the fourth consecutive year. The survey was initiated by SoGA, where the organization listed 20 polluted cities around the world in which Delhi ranked in the first position.
The air quality here in Delhi gets so bad in winter that the government needs to declare a public health emergency in response to exacerbating air pollution.
Like every year, the state government shut down schools, stalled all construction and industrial activities, and implemented an odd-even scheme traffic rotation to prevent air pollution.
"We can't see the skyline. The air is unbreathable and traveling to work is extremely dangerous as you can see anything after 2 meters in the smog. This is not severe! This is an emergency—the next level of severity."

Abhishek singh, a Delhi resident told mzemo
This condition happens every year when Delhi experiences a massive spike in air pollution—unfortunately, initiating the reason for two deaths in the country "EVERY MINUTE."
What is Behind Delhi Air Pollution?
The unfortunate thing about the population of Delhi and the Delhi government is that they are not entirely responsible for the severe air pollution in their state.
According to SAFAR (System of Air Quality and Weather Forecasting and Research), 48% of Delhi's air pollution is responsible for stubble burning in Punjab and Haryana.
Delhi's AQI has been in the severe zone (401-500) for seven days between October 20 and November 14 this year. The percentage of farm fires that contributed to Delhi's PM 2.5 on each of these days ranged from 26% to 48%.
The primary contributors to the dangerous situation in Delhi include
Stubble Burners – The Deed Owners
Though stubble burning has been an agricultural practice for centuries, the combined mechanical harvesters leave behind the stalk of the crop in the soil, which is around 2 feet high.
Therefore, to save money and time, farmers, instead of cutting the remaining stalk, set fire to the entire field so that a new batch of crops could be grown as soon as possible.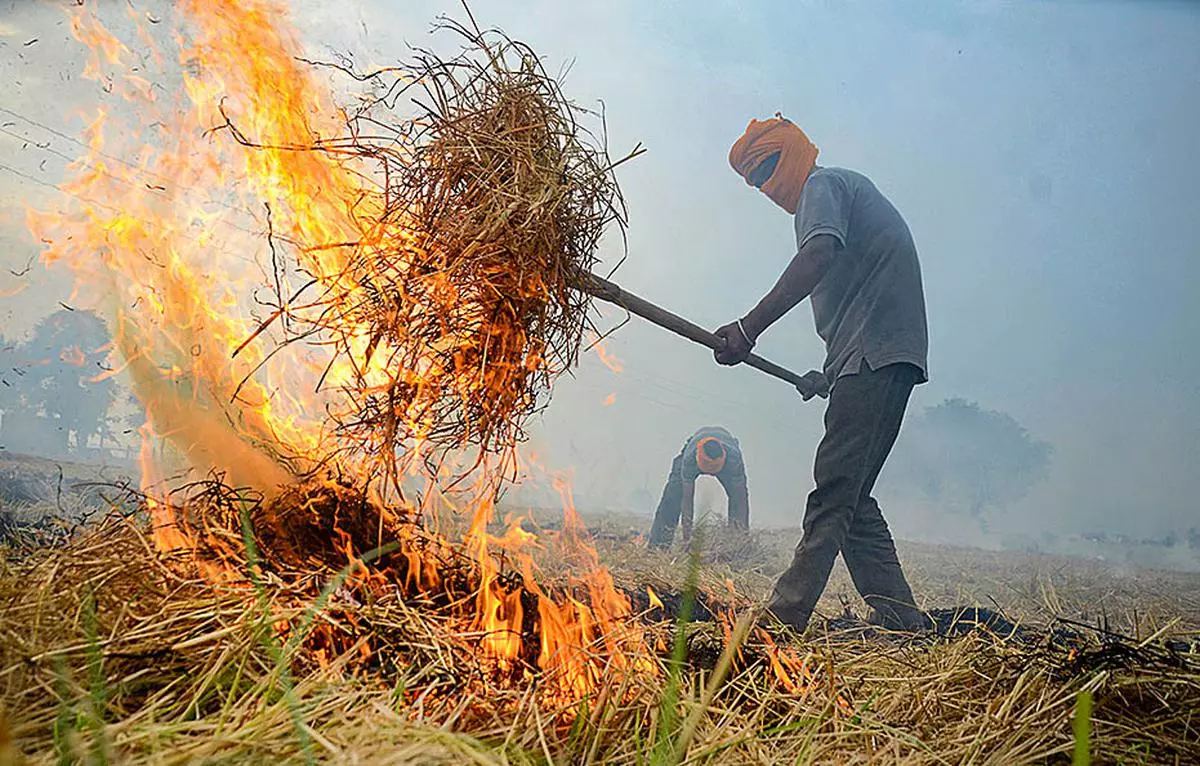 After the year 2009, stubble burning became even more popular when the governments of Haryana and Punjab passed a law order to conserve water.
However, despite the concerning issue of air pollution in the past few years, the stubble-burning culture still continues.
The Himalayan Cool Winds Worsen the Delhi Air Pollution
The stubble burning in Punjab, Haryana, and Western UP creates fumes that blow away toward Delhi due to the strong winds during winter.
Combined with the cold winds coming from the Himalayas, this smoke gets trapped in Delhi's air due to temperature inversion. The Himalayan mountain acts like a kind of barrier for Delhi, directing the smoke towards the capital.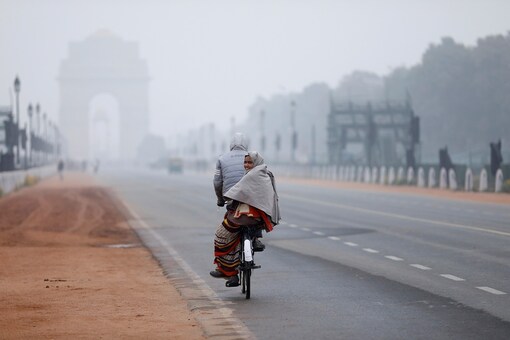 Additionally, the weather also plays a significant role in worsening Delhi's pollution. During the winters, cold mountain air rushes down from the Himalayas towards Delhi. Arriving cold air from the Himalayas beneath a layer of warm lowland air creates a dome over the state.
The warm air keeps pollution trapped on the ground with nowhere to go. So when stubble fire smoke reaches Delhi, it blends with urban pollution and forms toxic smog.
All these reasons combined, Delhi experiences dangerous air pollution that is so high that even air quality meters cannot accurately gauge its level.
The Co-Partners of Stubble Burners
During October-November, India celebrates their premier festival of Diwali, where lighting crackers worsen the situation in Delhi.
When the weather was considered, the survey discovered increases in PM2.5 concentrations, one of the most dangerous particles for human health, to approximately 40% high on the second day of the festival.
The Delhi government, however, made significant efforts to reduce the effects of burning crackers in Delhi pollution but failed to implement it thoroughly.
Stubble burning in Punjab and Haryana peaks in October end- and November. While the contribution of Diwali crackers significantly affects the air quality of Delhi.
Nevertheless, the contribution of stubble burning is Delhi's primary cause of air pollution.
Delhi Air Pollution: The Solution
The unique geographical location of Delhi, coupled with its huge population, puts the state in a fragile position. In the interview with Mzemo, Abhishek said that the condition is getting worse every year.
However, there are a few solutions.
The controllable thing for Delhi is to use public transport, the Metro, or trains to travel. Secondly, reduce the waste or bifurcate the plastics and dry waste from wet. Third, implement strict rules and regulations against the Punjab and Haryana governments.
And most importantly, the government needs to come up with policies that to restore quality air in Delhi, especially when the life of 18 million people are at risk.
Read Next: COP27 Climate Change Summit: Greenwashing Scam Imperilling Human Rights
Palestine is Entrenched In the Heart of Qatar World Cup
Almost every match of the Qatar 2022 World Cup has witnessed signs of having Palestine entrenched in the heart of World Cup's fans by either raising the Palestinian flag, wearing a Palestinian kufiyah or chanting slogans in solidarity with the people of Palestine. Palestine is a kind of country that is physically absent but spiritually present in the heart of the World Cup in Qatar. There is hardly a match, event, or promotional activity without the presence of the Palestinian flag, even though its team does not participate in the tournament. This edition of the World Cup tournaments is, by all means, different and holds significant importance since its beginning 92 years ago for the Arabs and the Palestinians. Since the beginning of the tournaments, Palestinians have been looking forward to spreading awareness about their suffering and getting their voice heard on a large scale.
What is in the heart, is in the heart
Arabs' unity at its best in supporting Palestinians is present in a chilling way in the Mondial. This is almost the first time for Muslims, Arabs, and especially Palestinians to have their powerful platform to speak aloud. They need to speak loudly about their suffering in the largest gathering ever. The Palestinian flag has been flown with pride at stadiums across Doha since the tournament kicked off.
The unifying power of football has been unmistakably displayed, with Palestinians eager to throw their support behind Arab teams upsetting football's international elite. On the other hand, Arabs have also shown signs of solidarity with the Palestinians during the tournaments. "My friends and I have been exchanging videos posted online showing Arab people waving the Palestinian flag, it's a testament that we are one and Palestine is alive in the hearts and minds of all Arabs," a fan said. Furthermore, Arab activists on "Twitter" launched a campaign to boycott companies supporting the "Israeli" occupation, and widely raised Palestinian flags during the World Cup Qatar 2022. Beautifully, Tunisian fans chanted for Palestine and raised the Palestinian flag outside the stadiums beautifully displaying Palestine entrenched in the heart of the World Cup.
Qatar encapsulates timeless universal solidarity with Palestine
It is not surprising to see the Qatari fans' support for the Palestinians in the Mondial. On top of all supporting countries, Qatar has always shown solidarity with the Palestinian question whether spiritually or financially. Significantly, Qatar has seized the chance not only to spread Islamic culture and history but also the Palestinian question as well. Likewise, a Qatari man filmed a video on social media showing him distributing Palestinian armbands.
Several Qataris wore armbands featuring a pro-Palestinian design at the Mondial, according to photos posted on Twitter. The armbands bore the black-and-white design of the kufiyah scarf that is synonymous with the Palestinian cause. They were an apparent response to players and officials protesting FIFA's players who wear the gay armband on the pitch. On top of all of that, Winterhill Hospitality, the official Qatar 2022 FIFA World Cup hospitality-booking site, has put 'Occupied Palestinian territories' as a country option, without mentioning 'Israel' on its list. Moreover, it launched a popular campaign called "The Palestinian Dream" in Qatar. It aims to raise awareness of the Palestinian cause and the crimes of the occupation. It also has another aim: taking advantage of the major global event "World Cup".
In addition, a Qatari man appeared in a video refusing to talk to an Israeli reporter as a way of showing solidarity with the Palestinian cause. Not only him, but also many Qataris showed refusing to interact with Israeli reporters. They also held the Palestinian flags high in every street, car, and stadium.
Israel is hopelessly isolated as Palestine is entrenched in the heart of the masses
As a sign and a result of showing solidarity with Palestinians, the masses have hopelessly outcasted and isolated Israeli media in front of the world. The Israeli media appeared isolated amidst large numbers of Arab fans. Whenever knowing their Israeli identity and hear their broken Arab accent, pro-Palestinians rally around them with dozens of Palestinian flags. For more, click here. "We feel hated, surrounded by hostility and unwanted," an Israeli journalist said. Another Israeli reporter interviewing a Saudi fan burst into anger shouting that "Israel stays for doomsday." This is a sign of covering up the distress and anger in which he is. This Mondial has proved the hatred of Arabs, Muslims, and some Westerners worldwide for the Israelis. A Saudi fan was overwhelmed in a video telling an Israeli reporter that he is not welcome here.
As a result, Israeli media started to flounder for being a redundant intolerable guest. "After a while, we decided to claim we were Ecuadorian when someone would ask us where we were from," an Israeli reporter said. Read more on this: Is anti-Semitism essential for the survival and growth of Zionism and Jewish peoplehood?
The Yemeni, Saudi, and Tunisian masses gave a harsh lesson to the Israeli journalist Jay Hochmann. This happened when he stood among their groups to impose himself among them, so they cheered "Palestine". Furthermore, Yediot Ahrnot said that their coverage of the World Cup showed the magnitude of the Arabs' hatred of Israel. It also noted that Iranian, Qatari, Jordanian, Moroccan, Syrian, Lebanese, and Egyptian fans were looking at them with hate looks.
General view
Summing up, it is the instinct of Arabic peoples to show such solidarity with Palestinians. All the presented signs show that Palestine is entrenched in the heart of World Cup fans. Through their unity and awareness, the Palestinian question is strongly dominant in the scene. Most importantly, let us not forget the enormous efforts of Qatar of supporting Palestinians in all circumstances. One of the most critical factors to make full benefit of the Qatar World Cup in support of the Palestinian cause is to communicate directly with match commentators, presenters, and influencers. This can be via television, radio channels, or social media sites to highlight, talk about, and address the Palestinian issue during their comments on the games.
In addition to the need to interact on social media sites via several tags, most notably Palestine in the World Cup, to get the issue to the extreme and the most significant gatherings. This interaction proved that the question of Palestine is still alive and still entrenched in the hearts of all Arabs and Islamic peoples in the World Cup. Qatar World Cup FIFA has become the main platform to convey the Palestinian question to the whole world. On the other hand, negligence and outcast, at least, are what Israelis got due to their bloody deeds against Palestinians. From our platform, we announce our support for Qatar and the Palestinian question as well.