Islamophobia Among The Nations
Islamophobia is when people around you harbor an exaggerated fear, hatred, bias against or even hatred towards those of who proclaim the Islamic religion. Any parent or a student will attest to having a fear of being bullied in any sphere of life. As a matter of fact, be it at the workplace or in school, being on the edge of being oppressed is naturally despicable. It is even worse if you are looked down upon because you exhibit characteristics seen to be with a minority such as skin color, race or even, a different socioeconomic background.
As dreaded as it is to be bullied, would you imagine living in a country where a majority of the people you are likely to meet, have that extreme feeling of hate and negative prejudice towards anyone of your religion? 
Having a life whereby people will take on their heels when they see you entering a shopping mall fearing you may be out there to bomb the store? Won't you break due to this unfair treatment? I bet most will agree that this is hard. 
Islamophobia is when people around you harbor an exaggerated fear, hatred, bias against or even hatred towards those of who proclaim the Islamic religion. This behavior has seen its prevalence among the western and European countries. Recently, some African countries are following the trend. While the reasons behind the said unjust treatment are debatable.
Three Main Reasons Fuelling Islamophobia Among the Nations
1. Cultural Stereotyping
Did you know that old stereotypes can affect generations and generations of a said group of people or community? You will also be surprised that when most people lack general knowledge or information on a said topic, they peg their understanding of the problem on the existing stereotypes. 
For instance: all those findings documented on Edward's manuscript, Orientalism about the inhabitants of the Middle East and North Africa laid a foundation to the now thwarted Islamophobia. 
Muslim-Arabs being the principal inhabitants were portrayed to be a weaker race that was predominantly primitive and misogynist. They were also seen to exhibit aggressiveness and violence. Incidentally, it is these kinds of analogies that have seen Muslim men being singled out as possible terrorist and more security measures have been put in place to watch them in some airlines. Given such a background, the Muslim community has been handled with bigoted suspicion which is unjust to the Muslim faithful.  
Ever since such findings were documented, the western nations formed a perception that the Muslims are less deserving equal rights and opportunities in the job market. The aggressive behavior has been in the late '90s associated with extremist behavior such as terrorism.
In addition to that, educational curricula are biased in that it has mainly painted a negative picture of the Muslim religion.
2. Fear of Foreigners by Natives
Psychologically speaking, if you form a habit of relying on a stereotype to describe a particular culture, they may consciously or unconsciously gain a bias towards that community. 
When Muslims are continually associated with extremism, chauvinist and terrorism, communities around them may envision them as threats to their lives. Recently, Aljazeera has exposed a segment of the Indian community that has blamed the COVID-19 pandemic on Muslims. So, those existing narratives facilitate a kind of Unfounded fear in the members of the said nations. 
Again, if you carefully examine, there has been a hype on which community dominates which area. In an era where people can freely immigrate, the natives have been seen to feel as though the immigrants have come to take away their jobs, lives and maybe at some point take over their country. As these concepts strive to settle, Muslims, who are majorly seen to have originated from Asia and Northern Africa face the same kind of discrimination. A good example is in America where Muslims who live there are experiencing bigotry owing to President Trump's act of empowering white supremacists. At the end of the day, they may end up lacking equal opportunities as other occupants in that country. 
3. Anti-Muslimism Advances and Crusades
While some see Islamism as a religion, other people at a glance see Islamism as a political mine. 
Research by Center for American progress has, in many instances carried out studies which has deduced that some organizations have purposed to spread hate messages through funding radicals and publishing literature that has had a negative impact on how the world view Muslims. 
At the same time, take a look at the social and mass media platforms, when there is a crime that has been done by Muslims, it is magnified to look like a hill yet other people commit equally severe crimes, and the media do not give those equal weights. Again some of the media segments have been set only to criminalize the religion. 
In other instances, movies have been scripted and filmed with themes that portray Muslims as public enemies. The same case applies to publications made filled with literature that is intended to bash the Islam religion, making them look like people who are cold-blooded, ruthless, and those are rigid to civilization. Others, including video games, have been strategically manufactured to make even children at a tender age take in the same mind-sets.  
On the same note, policies and laws have continually been passed with both national and international advisories, and issuance of travel bans in the Americas to Muslim populated countries in the fear citizens may become victims to terror attacks.
Conclusion
Islamophobia is slowly wasting away the value of togetherness and cohesion in nations. The more this is brewed in, the more governments will continue turning away from each other and even citizens turning against their fellow citizens. As opposed to this, it can be a good idea if it is given the same attention just as vices like bullying, apartheid or even racism. It would also get better if everyone pulled efforts to ensure that Islamophobia is slowly diffused out of the community.
Muslim OBC Reservation scrapped by BJP government of Karnataka
Muslim Reservation under OBC scrapped by the BJP government of Karnataka. On March 30, the BJP government in Karnataka announced a cabinet decision to eliminate the 4% Muslim OBC quota, which had been allocated to the two most powerful communities in the state, the Lingayats and Vokkaligas. Muslims have been considered a backward class in Karnataka for more than 100 years. Following closely behind, the government granted 101 Scheduled Castes (SC) internal reservations. Both of these choices have been the subject of heated political discussion. The state has become one of the most communally polarised in India due to the policies of the Basavaraj Bommai-led BJP government, particularly the most recent official statement regarding the updated reservation formula.
Read here, UN Defender Demands End to Crackdown on Kashmiri Activists
Why did the BJP make this decision?
The BJP was under pressure since the community led by Kudalasangama Seer Sri Jayamruthyunjaya Swami has been fighting for 2A status in the OBC list for the community for two years. The community derives strength from the numerically significant Panchamasalis, a sub-sect among Veerashaiva-Lingayats. The decision was made well before the Vokkaligas exerted any significant pressure on the BJP, which is trying to take over the Vokkaliga-dominated Old Mysore region.
An allegedly pre-dated government order regarding the transfer of category was published two days after the announcement of the elections and the rationale provided for this new reservation formula is blatantly communal, defying even the 'neutral' language of administration, reports The Wire.
Also, read Festival turns bloody after Hindutva Mob Burnt Centennial Mosque
Double-faced Politics of the BJP
In order to demonstrate its commitment to secularism, the Bharatiya Janata Party (BJP) has been reaching out to Pasmanda (Backward) Muslims in North India. However, in the southern state of Karnataka, the same BJP has transerred socially and educationally backward Muslims from the Other Backward Classes (OBC) category of society to the forward caste grouping, known as the Economically Weak Section (EWS). This clearly shows the double-faced politics of the BJP in India.
Read here, The Saudi-Iran Deal and its Implications
The Justification of the BJP Government
The BJP has used a 2010 ruling by the Andhra Pradesh High Court as a justification, which declared reservations for Muslims under the OBC quota as illegal, to support the withdrawal of the OBC quota for Muslims (Category II B). It has been maintained that the 1994 decision by the H. D. Deve Gowda administration to include Muslims in the OBC category was not supported by any factual facts.
No new reports or studies were cited for the change in the OBC status of Muslims. Chief Minister Bommai and Union Home Minister Amit Shah only said there is no provision in the Constitution for reservations for religious minorities reports The Indian Express.
Read here, Dehumanizing Representation of Tribals and Muslims in the Oscar fame RRR
Rallies organized by the Muslims
In the meantime, rallies were organised by the Muslim community in Karnataka in areas like Vijayanagara, calling for the reinstatement of the reservation that had been granted to them under the "2B" category after Muslim Reservation under OBC scrapped by the BJP government. JD(S) leader H D Kumaraswamy took aim at the BJP administration on Monday, claiming that it planned to abolish the reservation in order to incite animosity between Muslims and Hindus and to gain electoral advantage. "The objective behind the decision is the policy of divide and rule employed by the BJP. They think that if Muslims hit the streets (to protest), they will benefit from it. Fortunately, Muslims have remained peaceful," he said.
Also, read Pro-Khalistan Activist Amritpal Singh declared fugitive- What is happening in "India's Bread Basket" Punjab?
Communities are Protesting the BJP-led Policy
On Monday (March 27), a large protest organised by the Banjara, Bhovi, Koracha, and Korama communities in Shivamogga district, Karnataka, descended into violence when people started throwing stones at former chief minister BS Yediyurappa's home. Banjara leader Sharda Pooryanaik, a former Shivamogga Rural (SC) JD(S) MLA, said in a media interview that "The government should have held consultations with various caste groups before bringing the changes…There have been demands for a proper caste census to arrive at the quota requirements."
The Banjara community, a Scheduled Tribe in Karnataka but also on the list of Scheduled Tribes in bordering states like Andhra Pradesh and Telangana, was at the forefront of the protest on Monday. The Banjaras, who are part of the group that has been given a 4.5 percent quota, are displeased with the government because they "were earlier able to corner a large chunk of the Dalit quota due to their enterprising nature, and now fear their share will be restricted to only 4.5 percent of the total," The Indian Express reported. This is according to the leaders of the most backward SC groups in the Shivamogga region, where the demonstrations took place after reservation under OBC got scrapped by the BJP government
Also, read India: Violence Against Women on Holi Reeks of Communal and Racial Tensions
Agitations criticized by the BJP
The agitations have been criticised by BJP officials, who claim that the Congress is behind it. Local Congress leaders have incited [the demonstration], according to CM Bommai. They are inciting violence because they cannot stand that the BJP has brought social justice to these communities. The Banjara community must resist giving in to this. The BJP has always stood up for the neighborhood and will do so in the future.
Read here, Demolition Drives in Kashmir- Is India following the Israeli Model in Kashmir?
India- The Killing of Gangster-Turned-Politician Atiq Ahmad
Atiq Ahmad, a gangster-turned-politician, and his brother Khalid Azim alias Ashraf were shot dead on Saturday in Prayagraj, Uttar Pradesh while being escorted for a medical examination while in police custody. The shooting happened on the grounds of MLN Medical College. Around 10 p.m., when media personnel followed the two while they were being led to the hospital by police for a medical examination, shots were fired. After killing Atiq and his brother, the assassins could be heard yelling "Jai Shri Ram" in the terrible videos of the attack that leaked online. The three killers posed as journalists and murdered the Ahmad brothers. The assassins during a media interview have been apprehended and named. Arun Maurya, Lavlesh Tiwari, and Sunny Singh were three people that were apprehended, but no formal announcement of their names was made.
Also, read Pro-Khalistan Activist Amritpal Singh declared fugitive- What is happening in "India's Bread Basket" Punjab?
Glorification of the Killing
The former Samajwadi Party MP, 62, was killed hours after the last rites of his son Asad Ahmed, who was gunned down in a police encounter in Jhansi two days ago. The most shocking part of Atiq and Ashraf's killing is that the Muslim prisoners were being escorted by about a dozen police personnel for a routine medical check-up. This brazen killing and its filming and then broadcasting have sent shock waves across the country, especially among the leftist-leaning individuals regarding right-wingers taking law into their own hands. Many are worried about how law and order are rapidly vanishing from India, a country claiming to be the world's largest democracy. What is further disturbing is the unabashed glorification of this killing by not just the common people in India but also many BJP leaders.
Read here, India: Violence Against Women on Holi Reeks of Communal and Racial Tensions
Who was Atiq Ahmad?
It would be an understatement to say that Atiq Ahmed was a problematic personality. The 60-year-old Prayagraj native was born into a low-income family and dropped out of school, but over the years he accumulated enormous money, benefited from political patronage and power, and developed a significant following in his hometown and beyond. He was chosen from the city five times as a state assembly representative beginning in 1989. In 2004, he was chosen from the Phulpur seat to serve in the parliament.
He is referred to as a by Vikram Singh, a former director general of the state police of Uttar Pradesh, as some "sort of "Robin Hood, a Dr Jekyll and Mr Hyde type of character" who "spent lavishly to help poor people – paying for weddings, giving them money during Eid festivals, and helping poor women buy school uniforms and books for their children".
Also, read The Saudi-Iran Deal and its Implications
Turning into a Criminal
As Atiq Ahmed was charged with kidnapping, murder, extortion, and land grabbing, this image began to fall apart. He was accused of being engaged in more than 100 instances that had already been filed against him, but the victims were allegedly too terrified to file charges. Over the course of two decades, Ahmed spent time behind bars, yet he still managed to control the underworld in Uttar Pradesh and make sure his men were safe. However, Ahmed's influence started to decline as the local Samajwadi Party cut its links with him and the Hindu nationalist Bharatiya Janata Party took office in the state. He was detained for assault in 2017 and later sent to Gujarat, a state in western India.
The most current action against him got underway in February after video surfaced showing a group of men shooting Umesh Pal, a crucial witness in the 2005 murder of Raju Pal, a lawmaker associated with the local Bahujan Samaj Party. Pal was a critical witness in the case. The Ahmed brothers had been charged with taking part in Pal's slaying.
The murder in February that was seen on video started a chain of events that resulted in Ahmed and several members of his family and followers being killed, his wife being tracked down after with a bounty on her head, two of his sons being imprisoned, and the other two sons, who are minors, being placed in government protection homes.
Also, read Demolition Drives in Kashmir- Is India following the Israeli Model in Kashmir?
Indian Politicians divided over killing of Atiq Ahmad
Dharmpal Singh, a BJP leader and minister for Uttar Pradesh, asserted on Sunday that the Opposition was responsible for the murder of gangster-turned-politician Atiq Ahmad. Singh claimed that Ahmed was going to expose a lot of information following his detention, which resulted in his death. "The truth is that the opposition is involved in getting Atiq killed. Some serious secrets were about to be revealed, that's why the opposition got him murdered," said Singh, the state animal husbandry and dairy development minister, who arrived here on Friday to attend the BJP workers' conference for the Chandausi civic polls.
In addition, Asaduddin Owaisi, the president of AIMIM, claimed on Friday that those responsible for the murders of gangster-turned-politician Atiq Ahmed and his brother in UP were acting in a similar manner as Nathuram Godse, the man who killed Mahatma Gandhi, and labelled them "terrorists" who were a member of a terror module. Owaisi, who was speaking to a crowd here, questioned why UAPA had not been applied to them. He targeted Yogi Adityanath, the chief minister of Uttar Pradesh, for the murders of Atiq Ahmad and Ashraf, both of whom were in police custody.
Read here, India: School Principal Booked After Students Recite Iqbal's Poem- What Makes Muhammad Iqbal a Contentious Figure in India?
Al-Qaeda Threatens India over Killing of Atiq Ahmad
The radical organization Al-Qaeda broadcasted a message on the eve of Eid ul-Fitr promising retaliation and referring to Atiq and his brother Arshad as "martyrs." A seven-page magazine was published with the message by As-Sahab, the group's media branch. Additionally, it pledged to 'liberate' Indian Muslims. After Atiq Ahmed and his brother Ashraf were killed, and AQIS voiced outrage over this and hailed them as "martyrs" in the message.
Further, slogans for Atiq Ahmed and Ashraf, gangsters turned politicians who were killed before the camera while being in police custody at Prayagraj last week, were on Friday heard close to the largest mosque in Bihar's capital.
Also, read How Practical is the Secular Democracy of India? Curbing of Religious Freedom in Kashmir
The Assailants wanted to "Become Popular"
The assailants of Atiq Ahmad, a gangster turned politician, and his brother claimed they did it "to become popular." The attackers who shot Atiq and his brother Ashraf while they were being brought for a medical test in Pragyaraj have admitted to have committed thid crime, according to ANI. They were arrested after they voluntarily turned themselves in.
"We wanted to kill Atiq Ahmed and his brother Ashraf with the aim of completely wiping off the Atiq-Ashraf gang and making a name for ourselves," the FIR quoted the arrested assailants as telling the police.
"The moment we received an update about Atiq and Ashraf being taken into police custody, we planned to kill them by posing as local journalists and blending with the crowd," the FIR stated further.
"Three people have been arrested and are being questioned. A journalist was also injured as he fell down and a constable sustained a bullet injury," Prayagraj Police Commissioner Ramit Sharma said.
Read here, Sopore Massacre 1993- When 57 Civilians Were Killed in Kashmir
What About the Rule of Law?
The Uttar Pradesh state government has ordered an investigation, however, the unabashed killing of Atiq Ahmad has unleashed a series of backlash and criticism from major local and national politicians who have concerns about say about honouring the law and order in India.
Vikram Singh, former director general of Uttar Pradesh's state police, told the BBC that Ahmad's murder was unacceptable. "Death in custody is bad enough, murder is worse," he said.
Lawyer and politician Kapil Sibal said there had been "two murders" in Uttar Pradesh – "one, of Atiq and brother Ashraf and two, of Rule of Law".
A 40-year-old Muslim man, who didn't want to be named, told the BBC that people were shocked. "How can somebody be killed in front of the media and the police? He was a convicted criminal I agree, but that doesn't mean he can be shot like that. What about the rule of law?" he asked.
"Many of us are wondering if he was killed because he was a Muslim. I don't know if that's true, but this incident has terrified the city. We deserve better." he added.
Also, read The Scope of inter-religious pluralism within Islam
Why is Zakir Naik Wanted in India – The Radical Preacher Explained
He has 3 million subscribers on YouTube, 593k followers on Instagram, and has delivered thousands of lectures on Islam worldwide. But Zakir Naik, the 57-year-old popular Islamic preacher, is wanted by Indian authorities, banned from entering the UK, Canada, and Bangladesh, and on the run since 2016.
Recently, the preacher made headlines after his controversial statement during a lecture in Oman – "Hindus in India love me so much that…."
But before we dive into the reality of the alleged 'radical preacher,' it's important to know – Who is Zakir Naik? Why is he called the 'radical preacher'? And What charges does Zakir Naik face in India?
Here's an explainer:
Who is Zakir Naik?
Zakir Abdul Karim Naik was born and raised in Mumbai, India, where he completed his education with an MBBS degree. His interest in socio-religious activities grew in his 20s, after which he founded the now-outlawed Islamic Research Foundation (IRF) in India.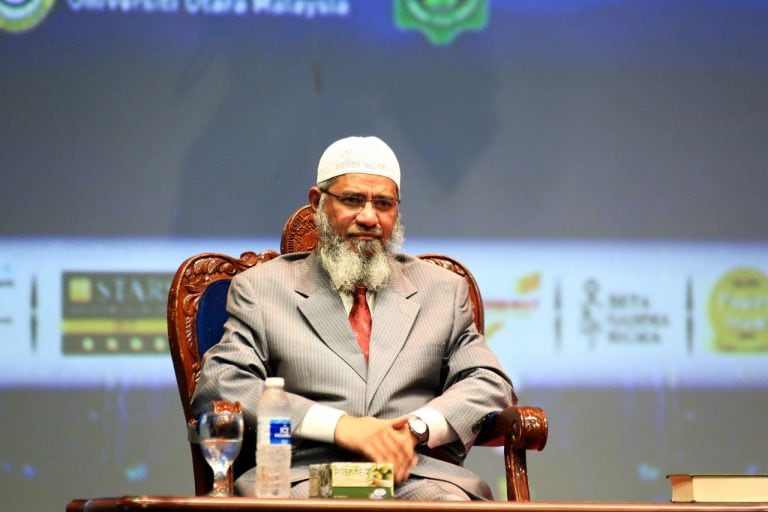 Zakir Naik also founded a Dubai-based broadcast, Peace TV, a channel now prohibited in the UK, Canada, India, and Bangladesh. And he is especially popular amongst Muslim youth, primarily due to his trademarks, Western suit, skullcap attire, and English lectures.
Over the years, Naik has become a subject of global attention after one of the attackers in the 2016 Dhaka attack (that killed 22 people) claimed to be inspired by his speeches.
Now 57 years old, the Islamic preacher left India in 2016 amidst accusations of promoting religious hatred and money laundering. Mr. Naik, however, denied the claim saying his remarks were taken out of context and distorted.
What charges does Dr. Naik face in India?
Soon after the Dhaka attack, India's counter-terrorism activity had filed a complaint against Zakir Naik. He was accused of unlawful activities and of stirring religious hate.
Today, Zakir Naik is wanted in India for instigating terrorism, inciting religious tensions, and money laundering (millions of dollars). However, the court judgment delivered by Judge Manmohan Singh halted the ED from seeing Naik's properties drawing similarities between Zakir and Asaram Bapu (self-styled spiritual guru now behind bars) in January 2018.
However, after the accusations, Naik fled India in 2016 and has been living in Malaysia ever since with permanent residency.
In 2017, India revoked Naik's passport and asked Malaysia to deport Naik in 2018. But, somewhere in between, even Malaysia banned Zakir from delivering public speeches after continuously trying to stir up religious feelings and making racial statements against the country's Hindu and Chinese minorities.
Read next: Qatar FIFA 2022, A Civilized Model Of Islam
Why is Zakir Naik called the "Radical Preacher" in India?
Zakir Naik's name often makes healing for his provocative and controversial statement. For example, at instances, Zakir supported suicide attacks in his speech while citing Salam Audah.
He has also defended temple bombing in Pakistan, arguing that Islamic nations should forbid saying, "How can we allow this (building of churches or temples in Islamic states) when their religion is wrong and when they are worshiping the wrong?"
His views on 9/11, homosexuality, girls' education, and more have constantly kept him in the spotlight, giving him the title of 'radical preacher.'
Where is Naik Today?
Recently, Zakir was spotted daring India to arrest the country's many godmen. Recorded on camera, he can be seen covering Indian Hindu women. It was at this lecture that he was found saying:
"The problem is that the majority of Hindus in India love me. They love me so much that it is creating a problem for the vote bank. "

Zakir Naik
While all this was happening in Oman, the Indian Ministry of External Affairs said it was talking to the government of Oman to extradite Zakir so that he could be sent back to India to face justice. But the latest report states that Naik's work in Oman is done, and he is returning to Malaysia.
Zakir Naik & The Indian Government – Bottom Line
According to Indian officials, Zakir Naik is a nuisance and a threat to any country's religious harmony.
"With his large following, he is just a speech away from promoting riots and acts of terror, and yet he remains a celebrity in a certain part of the world – the Gulf."

Wion, indian news channel
However, despite Indian authorities' immense efforts to apprehend Zakir Naik and seek his extradition from Malaysia, Qatar, and Oman, International police refused to grant New Delhi's requirements for a Ref Notice against him (with the most recent being in 2021).
Moreover, Interpol dismissed the NIA's charge sheet against Dr. Naik, stating that soliciting donations during speeches and endorsing a religion does not amount to any criminal offense.